Signal has been designed from the ground up with a privacy-first approach. The storage menu in the Signal app helps you see exactly how much storage space Signal files are taking. It also has some features to help you save space with Signal on Android.
Let's see how to save storage space on your Android phone used by the Signal app.
Save Storage Space on Android Used by Signal
Signal's storage menu can help you review all the Signal files. You can set a certain number of messages as the maximum number that you want to keep. When you reach this limit, any older messages will get deleted. It can be really helpful if you have limited storage on your phone.
Related: How to Make High Quality Calls in Signal App Over Bad Networks
First, make sure you're using the latest version of the Signal app. We need to stop media to download the Signal app on your phone. Then we can set the auto-delete function for the older messages, and the storage manager lets you save some space on your phone as well. Here are the steps.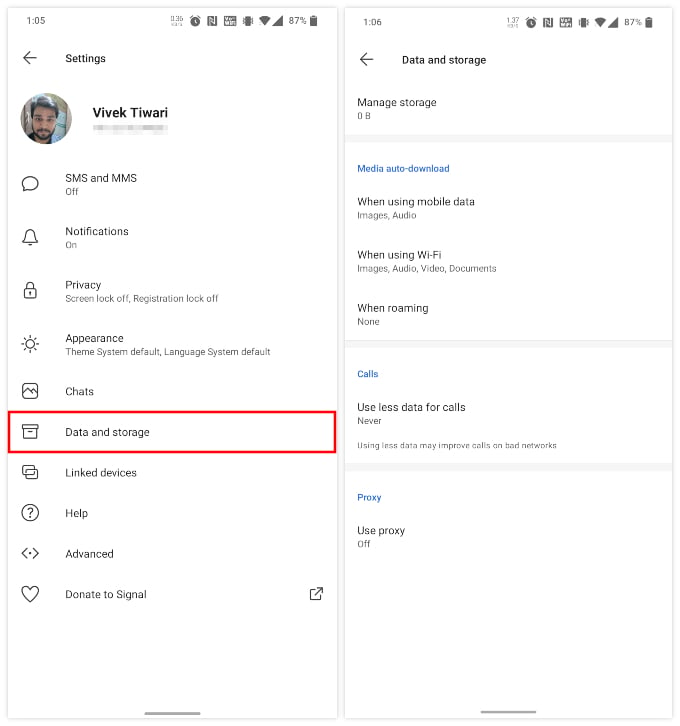 Open the Signal app.
Tap on the three-dot overflow menu button in the top-right.
Select Settings.
On the Settings page, select Data and storage.
To manage media auto-download, tap When using mobile data and uncheck all the options, then tap OK.
Similarly, select When using Wi–Fi, uncheck everything, and tap OK.
On the Data and storage settings page, select Manage storage.
You can delete all your messages by selecting the option at the bottom "Clear message history."
To delete messages based on time, tap Keep messages and select one of the available options.
To delete messages based on the number of messages, tap the Conversation length limit and select any option.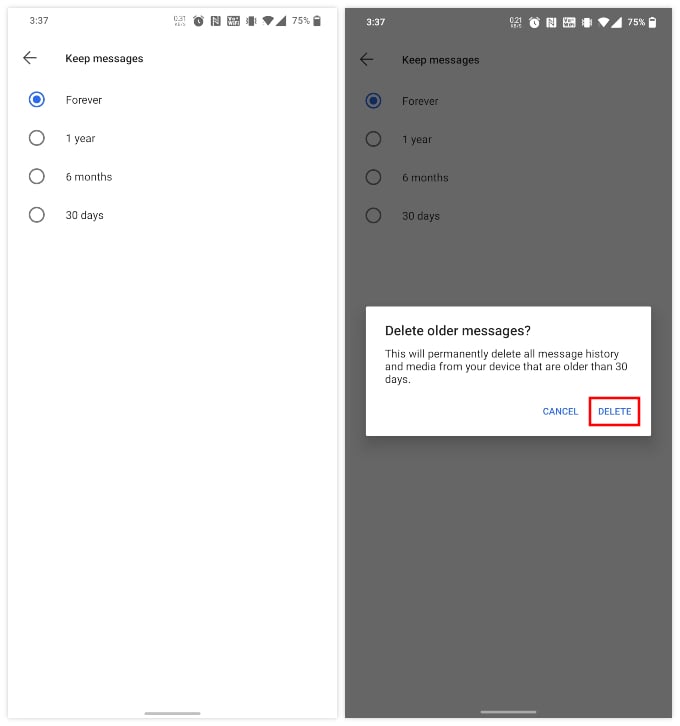 Signal allows users to configure which type of media should be auto-downloaded and when. This was introduced as a data-saving feature. However, it can also be a storage space-saving feature. If you stop all auto-downloads, you can choose which media to download, and ignore the rest.
You can also tap REVIEW STORAGE to view all your Signal media files and documents. The graph shows you how much of your storage is being used by which type of data.
Related: How to Send Signal Messages Without Saving the Contact
The Signal is just a chat app. Therefore, it probably shouldn't be the biggest space hog on your device. However, if your device is low on storage space, a few hundred megabytes can make a lot of difference. Hopefully, the tips above will help you save space on your Android with Signal.