Google Chrome tabs are really helpful in doing multiple tasks at a time. It helps you visit several websites at a time, and the Chrome tabs can help you to be more productive at work. Too many open tabs create confusion. You may not be able to find which tabs are open. You can search open tabs in Chrome if you have too many of them.
In this guide, we will show you how to search tabs in Google Chrome that are open.
Google Chrome Tab Search
Google Chrome tab search is a new feature added to the Chrome browser. Before reading further, make sure you have a latest version of Google Chrome browser installed in your PC.
To update your Google Chrome browser on PC or Mac, go to Chrome menu > Help > About Google Chrome. There you can download and install the latest update for Google Chrome.
Once you have the newest Chrome browser installed, look for the down arrow drop-down button left to the minimize button on the upper-right corner. Click on the dropdown button to see all the open tabs in Chrome. You can search open tab in Chrome tab from the menu you just opened.
From the search tab menu, you can also quickly jump between tabs and close open tabs. To jump into a specific tab, enter the tab name (website title) and click on the tab from the list.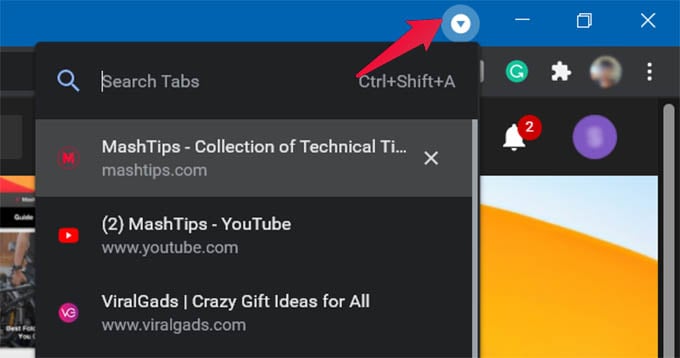 Instead of clicking the drop-down arrow on the Chrome window, you can also use the keyboard shortcut Ctrl+Shift+A to search open tab in Chrome.
That is all about searching open tabs in Chrome on PC or Mac. The search tab feature has not arrived on Chrome for mobile (Android, iPhone, and iPad) yet. This productive feature on Google Chrome can definitely ease up your job while working with tens of tabs at a time on Chrome browser. It includes the reopened tabs in Chrome as well.