Are you annoyed seeing multiple listings of the same contact on your phone? Whether you use an iPhone or Android, you can clean up your Contacts list by merging the duplicate contacts effortlessly from your phone or a computer.
In this guide, let's see how to delete or merge duplicate contacts in one click on your Android phone.
Merge Duplicate Contacts on Android Using Contacts App
The default Contacts app on your Android phone must have an option to find and delete duplicate contacts. Before trying other options, it is worth checking out the Contacts app first. The below steps worked for me to delete multiple contacts on my Android phone.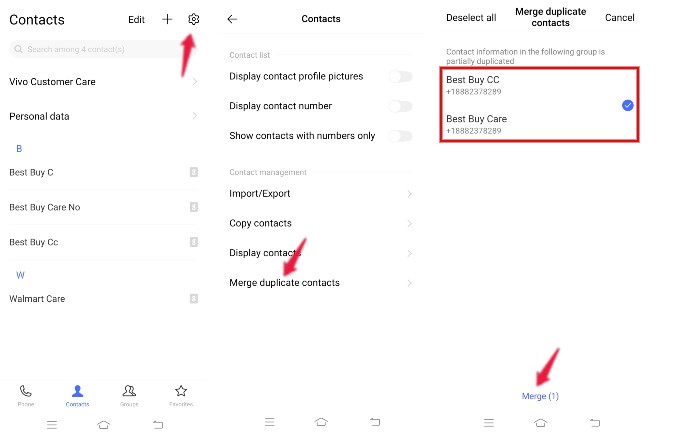 Open Contacts app on your phone and tap the Settings icon on the top right.
From the list of options shown, tap Merge duplicate contacts.
You will see the list of duplicate contacts (multiple name cards with the same phone number) stored on your phone. Select them.
After selecting them, tap Merge on the bottom of the screen.
Now, the duplicate contacts are removed successfully from your Android phone. You will no longer see contacts saved in different names (or even same name).
Related: How to Sync Contacts to Google Gmail Account on Android and iPhone
Delete Duplicate Contacts on Android Using Google Contacts
You can use the Google Contacts app to delete duplicate contacts if you are storing Contacts on your Google account instead of your phone storage/SIM card. Let's see how to do that.
Launch the Google Contacts app. You can download the app from the Google Play Store if it doesn't come preinstalled on your device.
Next, tap the profile icon on the top right and select the Google Account for which you need to delete duplicate contacts. Then, tap Fix & manage on the bottom of the screen.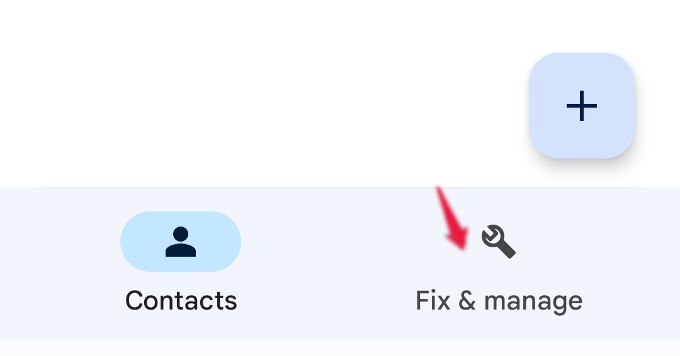 In the new screen, tap Merge & fix. If there are duplicate contacts, you will see an option Merge duplicates.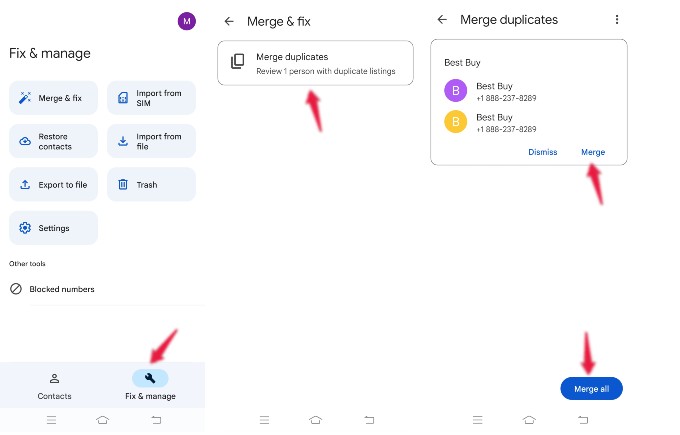 When you tap on Merge duplicates, you will see the list of all duplicate contacts on your screen. Tap Merge all to get rid of all multiple contacts. You can also tap Merge to delete single duplicate contact.
Merge Multiple Contacts on Android from Computer
Instead of installing Google Contacts app on your phone, you can delete the duplicate contacts from any browser on your computer.
Launch any browser and login to your Gmail account. Next, click the Google apps icon located on the top right of the screen. (near profile icon)
Then, click Contacts icon from the list of apps shown. You can instead go to contacts.google.com.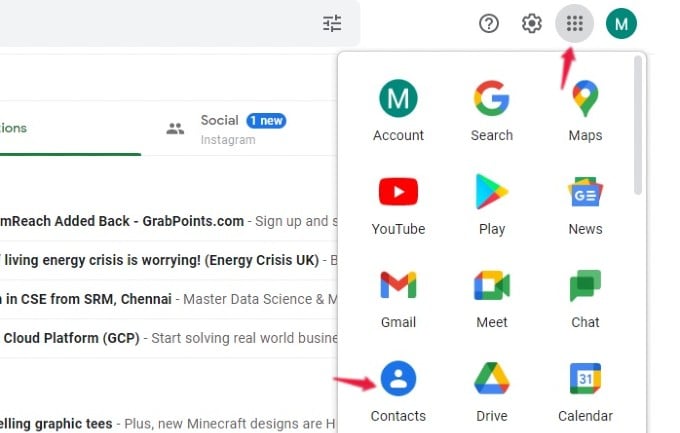 A new tab will get opened, and you can see the list of your Contacts on the right side of the screen. On the left sidebar, click Merge & fix. You can see that list on the right if you have any contacts that need to be merged. You can click Merge or Merge all to merge single/multiple duplicate contacts.

Well, it is good to try out any of the above methods to merge duplicate contacts so that your contacts list will not look messy.
Related: How to Send WhatsApp Message Without Saving the Number on Android
FAQ: Merge Duplicate Contacts on Android
Why my contacts are duplicating?
When you have contacts stored in multiple accounts like SIM card, device, or Gmail, you will likely face the issue of duplicate contacts as you might have stored the same number under same or different name card.
How do I delete multiple contacts on Android?
You can use the default Phone app or Google Contacts app on your Android device to merge duplicate contacts.