Google introduced Android Wear, new OS platform for smart watches and wearables ahead of Apple watches. There are lots of smart watches currently in the market based on Android Wear and other Wearable platforms.
Unfortunately none of them are fully qualified in terms of technology features, hardware sensors or smart phone integration.
Still the wearable technology in its infancy and incomplete in hardware design, technology and operating system. All these smart watches are developed to sync with smart phones and carries unique apps and features.
At this time, the smart watch race is still continuing and more devices are in the future list including from Apple. Most of the features includes hear rate monitoring, app notification from your smartphone and limited inbuilt apps in the smart watch.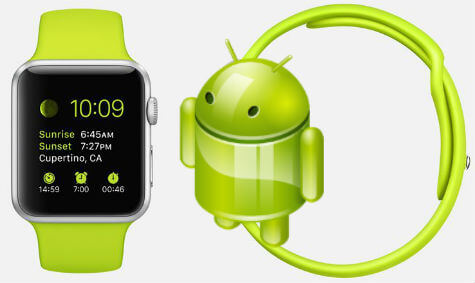 These lists of smart watches are the best from the available smart watches in the current market. If you are an early adapter, this list is for you to find the one fits your needs.
Moto 360 is a beautiful smart watch coming in distinctive round shape with Android Wear platform. The device can pair with any smart phone that has Android 4.3 or better. The watch is compatible for Google Now and bringing up Google Hangout notifications, weather forecasts, driving directions and heart rate monitor. The inbuilt pedometer can track your activity throughout the day.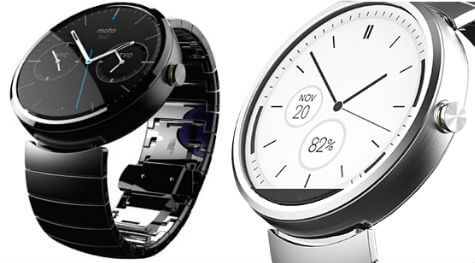 Moto 360 is good looking in round shape and beautiful design is coming with 1.56-inch 320 x 290 screen display, powered by a TI OMAP 3 processor with 4 GB of storage and 512 MB of RAM. The deice weighs in 49 grams, with 320 mAh battery.
LG G Watch (Amazon)
G Watch powered with Android Wear, with IP67 certification (water and dust-resistant). The G Watch shows the display always and allows you to check the time and see new information at a glance without touching it. LG G Watch can be paired with any Android smartphone running Android 4.3 and above. The device is compatible with Google Now, able to give you the app notifications, weather notifications etc.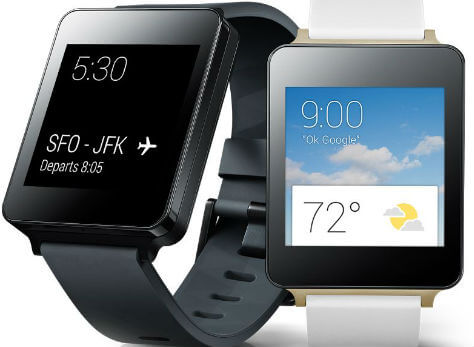 G Watch is coming with a 1.65-inch IPS LCD screen, powered with quad-core 1.2 GHz Snapdragon 400 processor, 4 GB storage and 512 MB of RAM. The device weighing 63 gm with 400 mAh battery.
Samsung Gear Live (Amazon)
Gear Live is from Samsung with Google Android Wear platform and IP67 certification (water and dust resistant). This device is compatible with any Smartphone with Android 4.3 or higher. This device can find your heart rate and sync with your Smart phone app notifications like email, text. Samsung Gear can provide turn-by-turn navigation steps and it is coming as Google now compatible that means you can say "OK Google," to ask any question.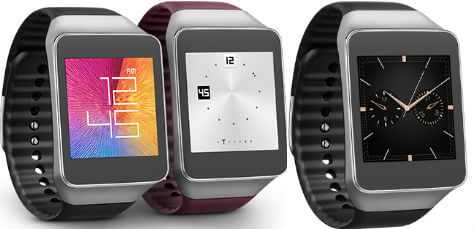 Gear Live is coming in 1.6-inch Super AMOLED display powered with quad-core Snapdragon 400 CPU, 4 GB storage and 512 MB RAM. The device weighs 59 grams with 300 mAh.
Sony Smart Watch 2 (Amazon)
SmartWatch 2 is launched with IP57 certification (waterproof and dust resistant). This device is capable to communicate any smartphone or tablet running Android 4.0 or above. The watch coming with inbuilt app like compass, timer, stopwatch and calculator. SmartWatch 2 can be used as remote to make or receive call, check call history and pop up with app notifications like text messages, emails, calendar, Facebook and Twitter.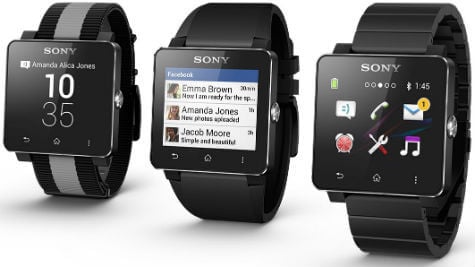 Smartwatch 2 is coming with 1.6" Transflective LCD screen powered with Single- Core ARM Cortex-M4 weighing around122.5 grams. No other information regarding the storage and memory is not available at this point.
Samsung Gear 2 (Amazon)
Samsung Gear 2 launched Tizen operating system from Samsung and 2 MP BSI camera with IP67 certification. The device only compatible with Samsung devices including Samsung Galaxy S5, Galaxy Note 3, Galaxy Note 2, Galaxy S4, and Galaxy S3. The features includes notifications, voice command to respond texts, and standalone music player. This watch allows you to control your TV using WatchON and the built-in IR blaster from Gear 2 smart watch.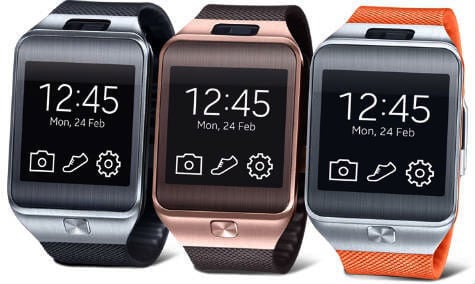 Gear 2 has a 1.63-inch Super AMOLED screen and is powered by a dual-core 1GHz Exynos processor, 4GB of storage with 512 MB of RAM. The watch weighing 68 gm with 300 mAh battery.
Pebble Steel (Amazon)
Pebble Steel is built on Pebble OS, 5ATM  standard for water resistance and can sync up with both iPhone and Android phones with always on display. The watch doesn't have microphone, speaker, touch screen, voice control or color display. Pebble gives your app notifications from your smart phone both Android and iPhone with built in pedometer.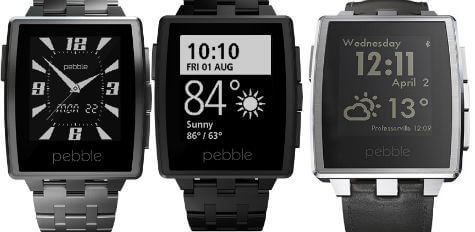 This device has non-touch, monochrome "e-Paper" display, powered with Single- Core ARM Cortex-M3, 1 MB storage (limited for 8 apps) and 96 KB RAM.  The device is weighing 99 gm with 130 mAh battery.
Apple is expected to join in the war in early of 2015, Google and Samsung are expected to launch more devices in 2015 and let us expect at least a dozen of new devices in 2015 to lead the wearable market.