YouTube Premium has tons of features that you do not get in your ordinary YouTube account. Even the YT Premium has many features you may not find that easily. Still, you can try out new YouTube Premium features before everyone else.
Let's see how to get early access to the new YouTube Premium features if you have a Premium account.
Try New YouTube Premium Features Before Everyone
You need to be a YouTube Premium subscriber to test out experimental new YouTube features. If you are a YouTube Premium user, just follow the simple steps below.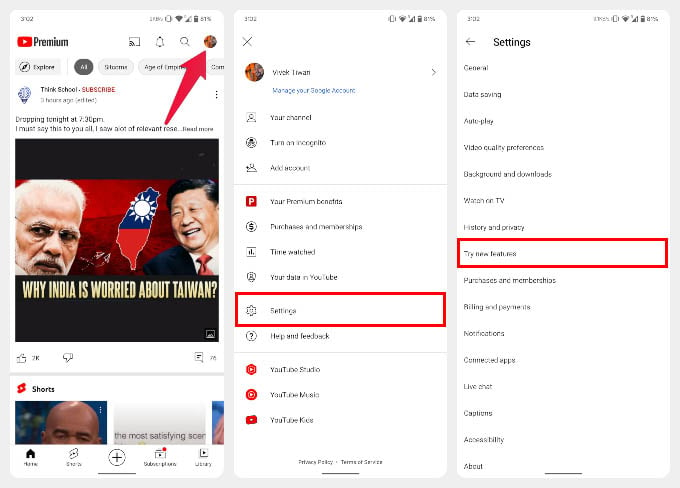 Open the YouTube app.
Tap on your profile image in the upper right corner.
Select Settings.
Tap on Try new features.
Scroll down to the feature you want to try. For this tutorial, we will enable Picture-in-Picture on iOS.
Press the TRY IT OUT button.
If you're already trying out another experimental feature, you'll see a pop-up dialog. Tap TRY IT OUT again.
This will enable Picture-in-Picture mode for the YouTube app on your iPhone and iPad. Alternatively, you can also go to youtube.com/new from a browser and enable the feature you want.
Related: How to Disable YouTube Premium Background Play on iPhone and Android
How to Use YouTube Picture in Picture Mode on iPhone or iPad
Since we have enabled the feature, we might as well make sure that it works. Picture in Picture is not a new feature, especially on iOS. But when it comes to YouTube, Picture in Picture is a premium feature. Even if you are a YouTube Premium subscriber, though, PiP or Picture in Picture only works on Android. But now you try YouTube PiP on iOS as well.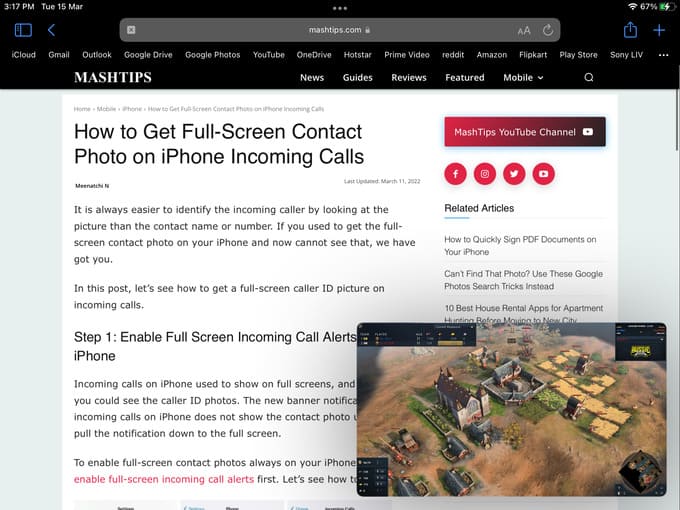 Once you've enabled it, you can use YouTube PiP on your iPhone/iPad normally like you use Picture in Picture on any other app. For those that don't know, to use YouTube PiP on iPhone and iPad, you just have to swipe up to go home or press the home button while the video is playing.
Picture in Picture is one of those features that were actually first introduced on iOS, not Android. YouTube, however, has been rather slow in bringing the feature to its iOS app. That means if you paid for YouTube Premium, you still weren't getting the full feature set.
Related: How to Upload Local Music Files to YouTube Music and Stream Anywhere
Things to Keep in Mind
With this experimental YouTube Premium feature, you can enjoy your YouTube video while using another app. There are a few things to keep in mind, though. YouTube PiP on iOS is only available until April 8, 2022, as an experimental feature.
Google may extend the deadline, as it has done before. The other alternative would be that the feature becomes available for every YouTube Premium user.
Similarly, other new YouTube features in this experimental section also have an expiry date. There is always something new to try here, though, so you'll never run out of new YouTube Premium features to try. Especially since you can only try out one feature at a time. So, if you decide to try YouTube Picture in Picture on iOS, you can't turn on any other experimental feature. If you do, that will turn off Picture in Picture on iOS automatically.
That makes sense from a telemetry point of view. Google is probably collecting data about these experimental features from your app. In case of a crash or error, for instance, it makes finding the cause much easier.
Related: Your College Email ID Is a Discount Card: Don't Pay Full Price for Gadgets and Apps Anymore
FAQ: Try New YouTube Premium Features
How do I try new features on YouTube?
You can try out new YouTube features as a YouTube Premium user. To do this, go to youtube.com/new in a browser or to Settings > Try new features in the YouTube app. When you see a feature you want to try, click or tap on the TRY IT OUT button.