Getting photobombed by someone or something is really annoying, and Google understands it. The magic eraser on Google Photos lets you pull out and erase anything that ruined your photo. Be it some birds or your annoying cousin. The Magic Eraser, as of now, is a Pixel-only feature and you can use it if you have a supported Google Pixel phone.
Now, let us find out how you can use the Pixel magic eraser to remove objects and photobombing from your photos.
Google Photos Magic Eraser
The Pixel 6a, Pixel 6, and Pixel 6 Pro are the only phones with the magic eraser function. You also need Google Photos on these phones to use the Magic Eraser. If you have a Pixel 6 device, chances are you're already using Google Photos anyway.
It works pretty well most of the time, and you can remove any number of unwanted objects.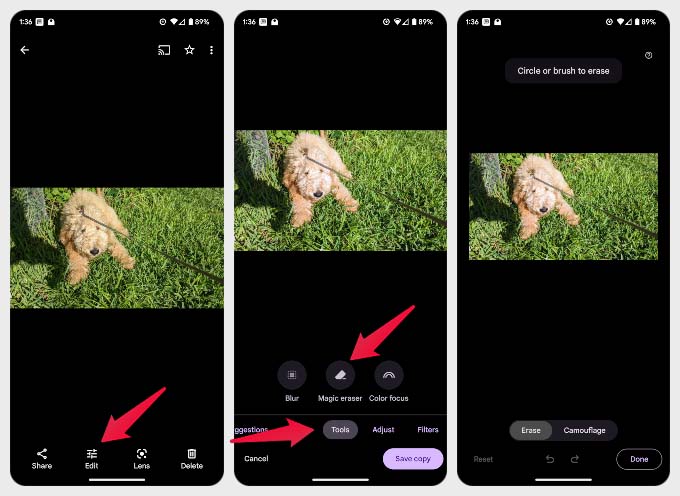 Open the Google Photos app on your Pixel.
Open the photo you want to remove an unwanted object from.
Tap on Edit.
Scroll to the Tools tab.
Tap on Magic eraser.
Make sure the switch at the bottom is toggled towards Erase and draw with your finger over the object you want to remove.
Watch the Google Photos magic eraser work its magic and tap Done.
Tap on the Save copy button to save the edited image.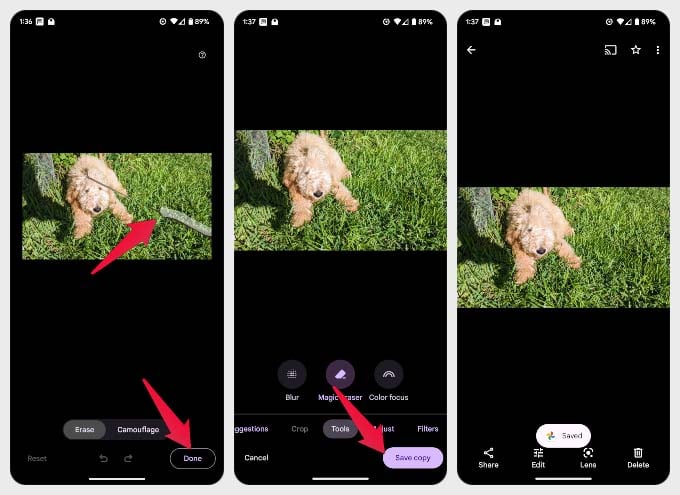 As you can see in the sample photos below, the Pixel 6 magic eraser works like magic. The dog's leash disappears like it never existed. You can try this with all objects, even people and pets, that appear in the background and ruin your photos.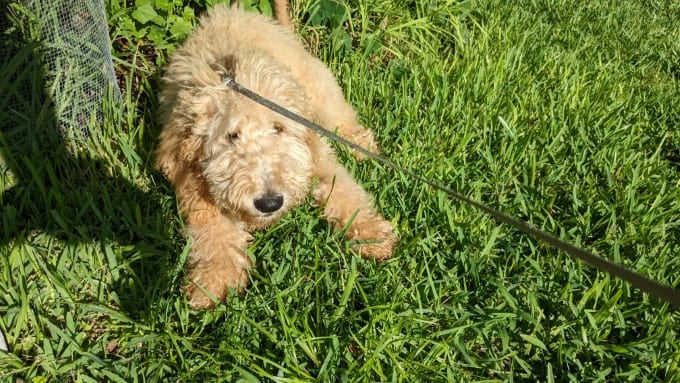 If you want to remove background from photos on Android, we have a list of the best apps and websites to remove background from a picture without Photoshop.
Related: 7 Best Ways to Boost Battery Life and Fix Battery Drain on Your Pixel Phone
FAQ: Pixel Magic Eraser
Can you get Google magic Eraser?
Magic eraser is a feature that's exclusive to the Pixel 6 lineup for now, so that includes the Pixel 6a, Pixel 6 and the Pixel 6 Pro. It'll also be available, of course, to any newer Pixel devices. While Google hasn't committed to anything, considering their track record, we expect the feature to available for Google Photos users on any Android some time in the future.
Is Google Magic Eraser any good?
While it does work like magic, it should be noted that it is indeed not magic. Magic eraser works well most of the time, but there are situations where it will not work as well as you hope. That can result in an unnatural warping of the background.
How to get Google Photos Magic Eraser
The feature is exclusive to Pixel 6a, Pixel 6 and Pixel 6 Pro and newer devices. While there is a lengthy workaround to get the feature on other Pixel phones, there's nothing of the sort for other Android phones. Even the lengthy workaround for Pixel phones does not really work. It requires installing a specific version of Google Photos, which is already outdated.
How do I erase part of an image?
If you have a Pixel 6 or newer with Google Photos, you can remove objects from the background on any photo using the Pixel magic eraser feature. The steps to do so have been described above in detail.