NFL (National Football League) is the #1 popular sports event among the TV viewers in the US. Thanks to the streaming revolution, you need not stick to a single channel like ESPN or NFL Network to catch the live-action. Whether you want to watch only your local team or every NFL match live, there are multiple options available based on your needs.
In this post, let's take a look at some of the best ways to watch NFL on your Amazon Firestick.
1. Official NFL App
If you are a die-hard of the American Football league who don't wish to miss even a single match, then the best option is to buy NFL game pass and get the official NFL app on your Amazon Firestick.
How to Install NFL App on Fire TV/Firestick
First, let's see how to install the NFL app on your Fire TV/Firestick.
Direct Method
Switch on your Fire TV.
Then, using your Firestick remote, click Search icon on your Fire TV home screen.
Enter the word NFL on the search bar.
Next, select the app NFL from the list of results displayed on your screen.
Click Get button to install the app on your Firestick.
Using PC
If you find the above method time consuming, then you can quickly install the NFL app on your Firestick from your computer.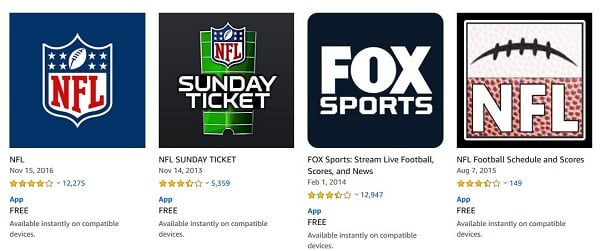 Log in to your Amazon account from Chrome or any other browser.
Enter the NFL app or NFL on the search bar.
Click the app titled NFL from the list of results.
Next, click Get App button located on the right. Make sure your Firestick is selected under the drop-down box titled Deliver to:
That's it. The NFL app has been successfully downloaded to your Firestick/Fire TV.
Related: How to Change DNS on Fire TV Stick
NFL Game Pass Subscription
Now, in order to start watching NFL on your Amazon Firestick, you need to buy the NFL game pass from the official website. NFL game pass is available in the majority of countries including EU, Asia, the Middle East, and more. However, the pricing will vary based on your geographical location.
Based on your need, you can choose any of the three plans given below:
– Pro : Annual Subscription @ $17.99
– Super Bowl Pass: Fixed Term Subscription @ $9.99 (monthly)
– Free: Annual Subscription (includes access to NFL Network Live 24/7, downloadable NFL Highlights)
With the official NFL app and game pass, you can enjoy watching live or replay of the recent NFL matches of your favorite teams.
2. Paid Streaming Apps to Watch NFL on Fire TV
Are you already using a paid streaming service like Hulu to watch your favorite TV channels? Then, you need not buy NFL game pass or install NFL app on your Fire TV. Instead, you can watch the NFL on Firestick with your existing plan or by purchasing a sports add-on.
Now, let's take a look at some of the popular paid streaming services to watch NFL on your Fire TV. Since all the apps listed below are available on the official Amazon store, the installation process won't take more than a minute.
Sling TV
Sling TV is a popular live TV streaming service that offers three types of monthly plans: Sling Orange ($20), Sling Blue ($20), Orange & Blue ($35). The most affordable Sling Blue plan grants access to NFL Network, Fox, and NBC so that you can watch NFL matches on Sunday and Thursday. If you want to get access to NFL Red Zone and other sports channels, then you can subscribe to the Sports Extra add-on, which costs $10 per month.
Download: Sling TV
FuboTV
FuboTV primarily focuses on channels that provide access to live sports including NFL, MLB, NBA, and more. The classic base package (also known as Fubo Standard) costs $54.99/month and offers a bunch of live sports channels including NFL Network, NFL Red Zone NBA TV, CBS Sports Network, and more. Other significant features of FuboTV include a 7-day free trial, Cloud DVR (30 hours), and Standard Screen Sharing (up to 2 users at once).
Download: Fubo TV
AT&T TV NOW
Even though AT&T TV NOW (formerly known as DIRECTV NOW) is pretty expensive when compared with Sling TV, still it is a good option to watch football on Firestick. In addition to sports, news & movie channels, AT&T NOW also offers access to NFL Network on some of its plans. The base plan costs $65 per month. To get more information about the different packages/plans, you can check out the AT&T TV NOW website.
Download: AT&T TV
Hulu Live TV
With the Hulu Live TV subscription (60+ channels @ $54.99/month), you can stream major league games live including the NCAA, NBA, NHL, NFL, the English Premier League, and more. In addition to providing access to top national sports channels, Hulu Live TV allows you to watch local sports channels as well. Plus, Hulu offers a free trial for 1 week.
Download: Hulu
YouTube TV
YouTube TV doesn't provide access to NFL Network or NFL Red Zone. However, you can still watch the live games on CBS, ESPN, FOX, and NBC, if you are an existing subscriber of YouTube TV. You don't need to worry about installing APK, as the official YouTube TV app is available on Amazon Appstore.
Download: YouTube TV
3. Free Apps to Watch NFL on Firestick
Well, there are some people who wish to get anything for free of cost. If you are someone who falls under that category, then you can try out the below listed live TV apps to watch NFL on Firestick for free. However, it is highly recommended to make use of a trusted VPN provider to avoid copyright issues or bypass geographical restrictions. If you are new to VPN, you can check out our article to Install VPN on Firestick. We have prepared a list of best VPNs for Amazon Firestick/Fire TV.
Kodi
Do you wish to watch live NFL on your Firestick for free? Then, Kodi is your best bet. The official Kodi Add-on repository has a bunch of add-ons like USTV Now, DAZN, SlingTV that provides access to many NFL matches including Thursday night, Saturday night, and Sunday night. If you are new to Kodi, then you can check out our other article to Install Kodi Add-ons on Firestick.
Yahoo Sports
Yahoo Sports is a great option not only to get live score updates on NFL but also to catch the teams in live-action as well. However, the official Yahoo Sports app is available only on the Google Play Store and iOS App Store. So, the only way to get Yahoo Sports on Firestick is by sideloading APK from a trusted source like APKMirror.
Download: Yahoo Sports APK
Mobdro
Mobdro is a free and open-source application that searches for free streams of content from the web and organizes them under various categories like sports, music, movies, news, and more. To watch a live NFL match or an archived one, you have to check out the Sports section of the app. You don't need to pay for the app, as most of the features are available in the free version itself.
Download Mobdro (Free/Paid)
Swift Stream
With Swift Stream, you can get access to more than 700+ live TV channels across the world in HD Quality for free of cost. Using this app, you can watch all the major channels that broadcast live sports events like NFL Network, NBC, FOX, ESPN, CBS and more. Since it provides access to channels from several countries including the UK, US, and Canada, Swift Stream is a cool option to watch free sports on Firestick.
Download Swift Stream (Free)
Since the apps listed below are not available on the official Amazon Appstore, you need to sideload the APK files on your Firestick. You can check out our other post to Sideload Apps on Fire TV. You can view the NFL without cable, with the above-described solutions.