Amazon Prime Day Sale is around the corner and we're all excited. The Prime Day Sale starts on July 12th and will go on till the 13th. There are tons of cool and exciting offers that you cannot miss. What's more, there is the Prime Day Home Deals Early Access which gives Prime members access to daily price cuts on top products.
This time, we got a list of the best Prime Day Home and Kitchen Early Deals that you should never miss out on. Take a look at what we've got you in-store.
Sony X91J 85" 4K TV
Amazon Prime Day is the day you see exquisite offers on 4K Smart TVs. But wait, here's the Sony X91j 85" 4K TV that up with an eye-catchy price drop as a part of the Prime Day Early Access. This great Prime Day deal is a "never in a lifetime" offer that lets you get one of the most splendid and premium 4K TV out there. This 4K TV from Sony has a powerful 4K HDR processor along with a priceless display. You get seamless connectivity apart from the 4K visuals and dynamic audio.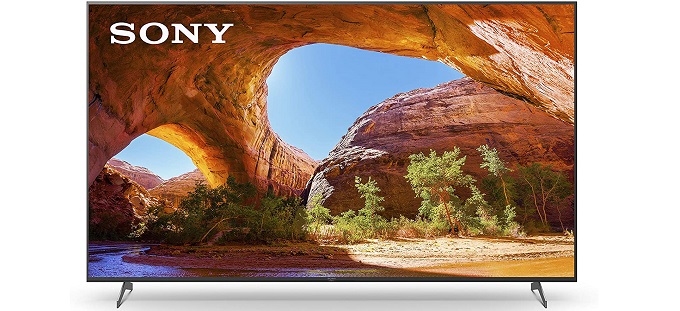 The Sony X91J 4K TV runs on the Android OS, making it rather versatile. It comes with X Motion Clarity as well as the Dolby Atmos that enhances your TV experience. You can even stream content from pre-installed streaming apps like Netflix, Amazon Prime Video, and many more. We definitely believe it's the right time to buy yourself a 4K TV as it's a 'never before' offer that you could never miss.
Key Features: 4K HDR | Inbuilt WiFi | 4K HDR Processor | Dolby Atmos | X Motion Clarity | Acoustic Multi-Audio | Android OS | Google TV inbuilt | Google Assistant and Alexa Support
Related: How to Watch 4K on Netflix from Your PC, TV, and Phone
Samsung HW-A450 Sound Bar
The Samsung HW-M450 is one of the best soundbars to upgrade your home theatre setup. You can get it live on the Amazon Early Deals right now. It is one of the best prime day home electronic deals that you shouldn't miss. This 2.1 channel soundbar has an inbuilt sub-woofer. An 80-watt amplifier powers up to four sound drivers and another 160W amplifier for the wireless subwoofer.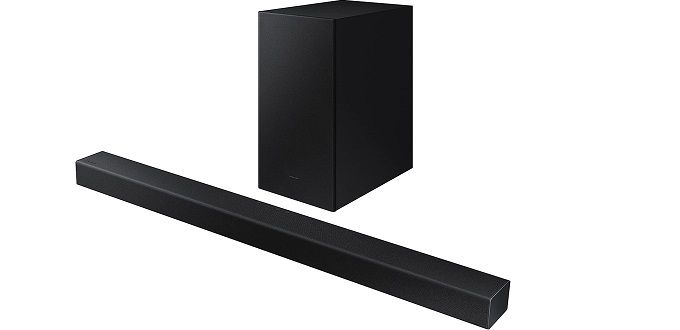 This Budget soundbar comes with a bunch of modern features. It has Dolby Digital sound and surround-sound expansion. It delivers more overall depth and clarity. The Samsung HW A450 also comes with Bluetooth and connects with your phones via the app.
The smart app gives you access to online music stations. In fact, you can control the power, volume, and functions such as equalizer with your phone. A thing worth mentioning is that the Samsung HWA450 favors wireless Bluetooth. Apart from that, it is one of the best soundbars that you should definitely buy before the Prime Day sale ends.
Key Features: Wireless connectivity | WiFi and Bluetooth | Channel Output: 2.1 | Includes 16 Beam Drivers + 75 W Subwoofer | Power Output: 300W | Dolby Digital TrueHD and DTS: HD | Alexa Inbuilt
Google Nest WiFi System (AC-2200)
The Google Nest WiFi System works together to give each and every corner of your home high-speed internet. It can cut buffering and connection loss of any kind. It is a great home WiFi system that you should equip right now as it comes with exciting price drops ahead of the Prime Day Sales. This WiFi Router offers coverage of up to 4400 sqft. This means that the devices work in a combined manner to give the best possible WiFi speeds on a normal 4400 sqft home.
The Nest WiFi is a scalable and flexible mesh WiFi system. One of the routers goes into your internet modem and creates a WiFi network. The other point extends the coverage and keeps the connections alive everywhere. The Google Nest is capable of handling up to 200 devices at once. Moreover, the Nest WiFi router has an inbuilt mic and speaker that work as Google home. So if you're planning to get the new Google Nest WiFi Router, then rush to Amazon as it is one of the best prime day home deals that you shouldn't miss.
Key Features: Dual-band Support | Can Connect with up to 200 Devices | Max Coverage: 4500sqft |Inbuilt Google Assistant | Security: WPA2, Guest WiFi, Parental controls
Related: How to Upgrade Google Wifi to Google Nest Wifi
Kasa 2K Security Camera
The Kasa 2K Security Camera is the right choice if you're looking to enhance your home security. It's a great outdoor surveillance camera that comes at a pretty good price. However, it's one of those home gadgets that have recently seen massive price drops as the Prime Day Sales are nearing. This Prime Day home deal is for those who wish to make a smart home ecosystem.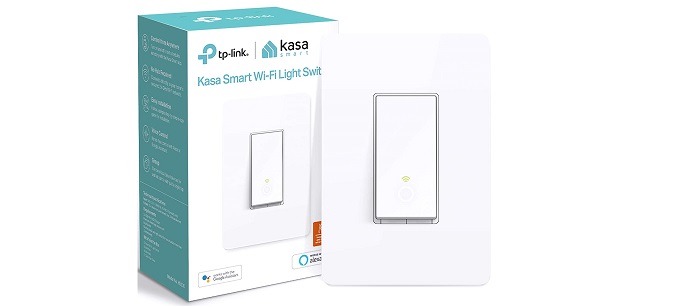 The Kasa 2K Security Cam is built for the outdoors and is rated IP65. It gives you superior daytime as well as nighttime visuals thanks to its StarLight Sensors. There is also a pair of integrated spotlights that lets you get color night vision to up to 98ft. If you ask, this is one of those few one-in-a-year price drops that you shouldn't miss. It might even see more price cuts on the Prime Day exclusive sale.
Key Features: 2K HD Footages | Inbuilt WiFi | Starlight Sensor | Dual spotlights | Coloured Night Vision | 2-Way Audio | Inbuilt Siren | Inbuilt Mic and Speakers
iRobot Roomba i2
If you're looking for a complete home cleaning smart gadget then we've got good news. The iRobot Roomba i2 is up with enormous price cuts right now as Amazon Prime Day is approaching. It's a great robot vacuum to consider buying right now as you'll be saving a hefty lot with the Prime Day best home deals.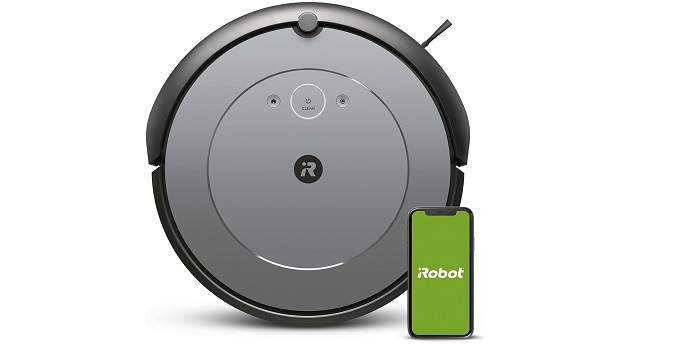 The iRobot Romba comes with WiFi connectivity and cleans your home in an automated manner. It features great suction power of 2000Pa and has some pretty good smart features up its sleeves. We bet you'll never get an exclusive price cut as you're seeing right now for any Robovacs out there.
Key Features: Inbuilt WiFi | 3-Stage Cleaning System | iRobot OS | Google Assistant and Alexa Support | 2000 Pa Suction Power | App-based operations | Real-time Notifications | Scheduled Cleaning
Related: Trifo Lucy Robot Vacuum & Mop Review: A Robovac Powered with Motion Detector Camera for Surveillance
Bissell Portable Carpet Cleaner
There is another great multi-purpose Vacuum cleaner that's designed to clean the carpets on attractive offers right now. The Bissell Portable Carpet cleaner is coming at 20% off on its price tag on account of the Prime Day Early Access.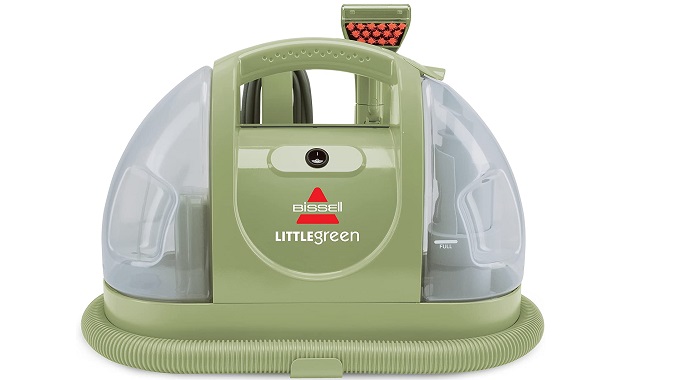 This Prime Day kitchen deal is something worth betting your money on because the vacuum cleaner is of sheer quality. Its portable, durable and offers great suction power. You can use it to clean your carpets and suck out pet hair and dander from sight. It comes with a dedicated HydroRinse Tool Hose that efficiently cleans your carpets in no time.
Key Features: Portable and Durable Design | Strong Spray & Suction | 48-oz tank Capacity | HydroRinse Tool
Black+Decker Dustbuster Hand Vac
We've got yet another Prime Day Kitchen deal that you should miss. Ths Black+Decker Dustbuster is up live at a great price and is worth every penny. It's a compact handheld vacuum cleaner that removes hair, dirt, and debris with ease.
This lightweight hand vacuum cleaner has recently seen a surge in production. And as a part of the Amazon Prime Day Sales, it comes at a decent budget that's affordable. The handheld vacuum cleaner is lightweight. It features a pull-out crevice tool for easy cleaning even in hard-to-reach areas. There is also a flip brush that comes with the full delivery.
Key Features: TriPower System | Compact and Lightweight | Low Drag Wind tunnel | 200W Motor| Upto 16Kpa Power | 250ml Dust Canister | Dual Power Modes- Eco and Max | 2500mAh Rechargeable Battery | Up to 20 Mins Runtime
Related: Eufy HomeVac H30 Infinity: Sleek Designed Handheld Vacuum
Levoit Air Purifier
Prime Day Sales have slashed the price of the Levoit Air Purifier. It is now available at a pretty low price and Prime members could get them right away with Prime Early Access.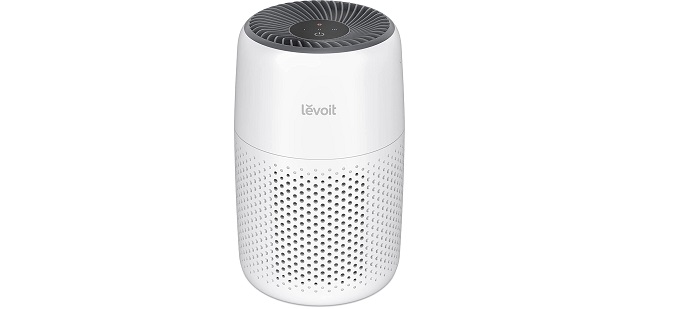 The Levoit Air Purifier that you see here is a bedroom air purifier that comes with the HEPA Filter. It is stylish and has a durable design that matches the aesthetics of the room. This HEPA Air purifier can capture 99.9% of airborne particles as small as 0.3 microns. It has an activated carbon filter that absorbs and traps pet hair and other fumes and odors. What's more, there is aroma therapy that gives a soothing smell to your room during the purification process.
Key features: 2 level purification | HEPA filter | Activated carbon treatment | Compact and light | Aromatherapy | three levels adjustable fan speed | LED light | Washable primary filter | Works on AC power supply
COSORI Air Fryer Oven
What's more joyful than having the Cosori Air Fryer in your kitchen? And yeah this time, you could get it online thanks to the Amazon Prime Day Sales. the Prime members can even hop on to Amazon as the Cosori Air Fryer is listed at a 20% lower than the usual price right now.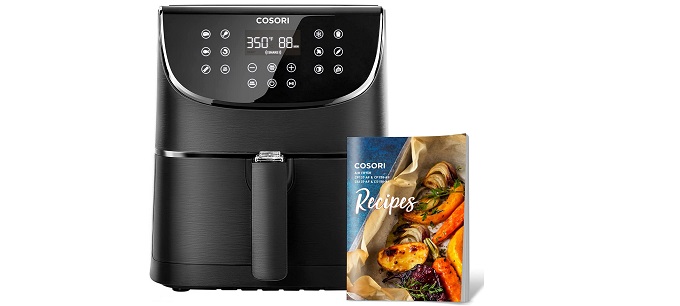 This Prime Day kitchen essential comes with a simple digital one-touch screen menu. It comes with 1700W power, ETL/UL listed, and FDA Compliant. There is a button guard and a cool-touch handle to prevent detachment by accident. The menu features 11 presets including Desserts, Bread, Root Vegetables, Vegetables, French fries, Frozen Foods, Bacon, Shrimp, Seafood, Poultry, and Steak. You can get up to a hundred original recipes from the Cosori community. If you're on the hunt for a smart kitchen essential then don't miss the Prime Day Sale as you'll be getting attractive offers on the product.
Key Features: 5.8 Qtr Capacity | 1700W | 11 Preset Cooking modes | Simple Touch Screen | Nonstick Basket
Related: Cosori 12-in-1 Smart Air Fryer Toaster Oven Combo: For the Chef in You
Kasa Smart Light Switch HS200
The Kasa Smart Light Switch HS200 is one of the best smart switches that you can get online. It is WiFi enabled and hence can be controlled via voice commands. It supports Amazon Alexa as well as Google Assistant. The switch requires a working 2.4GHz WiFi connection every time in order to function smoothly. It even comes with scheduled functioning and more.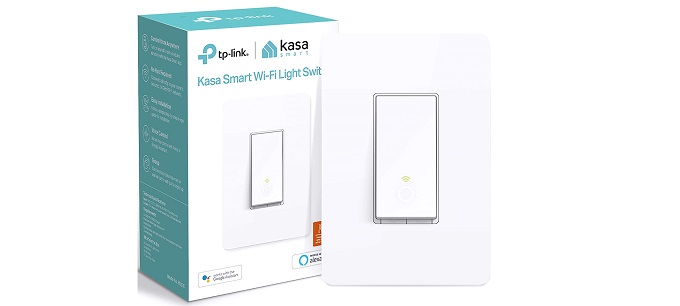 The Kasa Smart Switch is good in terms of build quality. As a part of the Prime Day Sale, the Kasa Smart Light is up live at a great discount. It's one of those few Prime Day Smart Home deals that you shouldn't miss out on.
Key Features: WiFi Connectivity | Alexa & Google Assistant support | App Support | Usage monitor | Scheduled Functioning | Kasa App
Related: 10 Best WiFi Smart Plugs to Work with Alexa & Google Assistant
Chamberlain MyQ Smart Garage Control
The Chamberlain MyQ Smart Garage Control is a great smart home automation gadget that's available on Amazon at a fairly reasonable price. It is available at a discount on account of the Prime Day Sale and is one of the best home automation gadgets you could buy right now.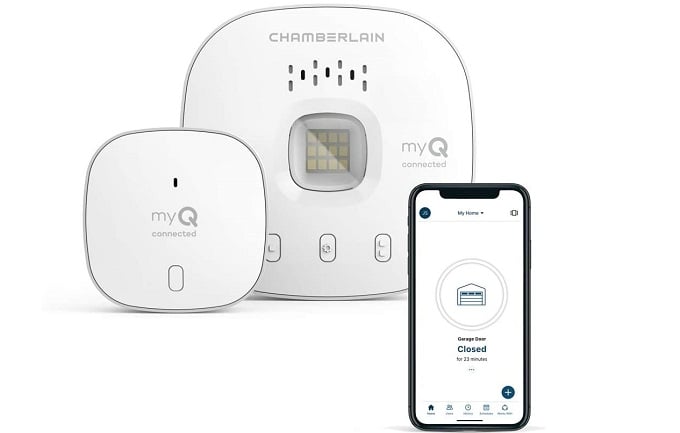 This garage door monitor control includes a smart Garage Hub as well as a Sensor. The units connect with each other and to your smartphones via WiFi. There is also Bluetooth that lets you control most of its operations from the app. This garage door hub gives real-time notifications of the number of opening and closing cycles. It supports almost all garage, good models, from all the leading manufacturers.
Key features: WiFi and Bluetooth | Access sharing | Real-time notifications | Google Assistant Support | myQ App | App-based operation | Compatible with all leading garage door manufacturers
Kasa Outdoor SmartPlug
The Kasa Outdoor Smart Plug includes 2 power outlets. These 2 AC outlets work efficiently and can be monitored from the Kasa App. The device features an inbuilt WiFi, which by the way lets you connect your smartphones with it. The easy-to-use and efficient smart plug is a must if you're looking to automate your homes.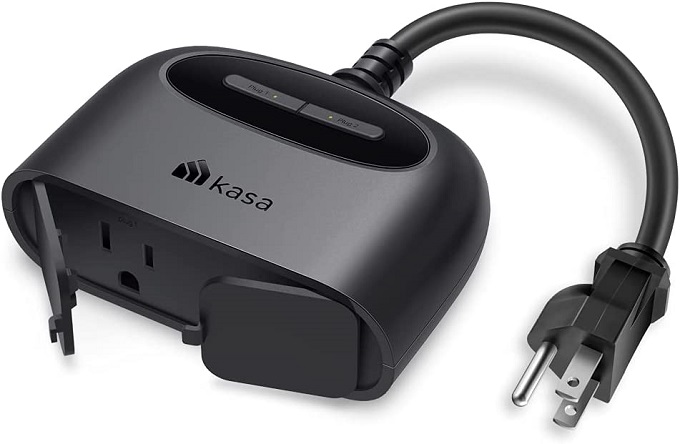 This smart plug has support for Google Assistant as well as Alexa. This lets you control the smart plug through voice inputs. On account of the Prime Day Sale, the Kasa Outdoor SmartPlug is available at a fairly low price right now. If you're a Prime member then you can access it right away as you'll be having early access to offers.
Key Features: WiFi Connectivity | Alexa & Google Assistant support | App Support | Usage monitor | Scheduled Functioning | Kasa App
Belkin Power Strip Surge Protector
Even if you're having all those smart gadgets, not equipping a power surge protector can prove fatal. Here's the Belkin Power Strip Surge Protector that comes with 12 AC power outlets. It is basically a multi-outlet surge protector kit that keeps your connected gadgets safe from voltage surges.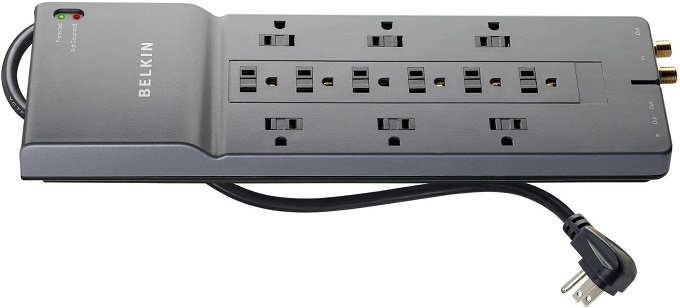 The device is heavy-duty and can withstand high power fluctuations. The 12-outlet design lets you connect most of your AC-powered smart gadgets with ease. The Belkin Power Strip Surge Protector is now available on Amazon at a fairly low price thanks to the Prime Day Home Deal.
Key Features: 12 AC Outlets | 1-in-2-out RJ11 input | Child Safety Sliding Locks | 8 feet Power cord
Creative Design Charging Station
The next great gadget that you could buy from Amazon right now is the Creative Design Charging Station. This charging station lets you charge 6 devices including the Apple Watch. You get 6 USB ports that let you connect your smartphones, tablets, or iPads with ease.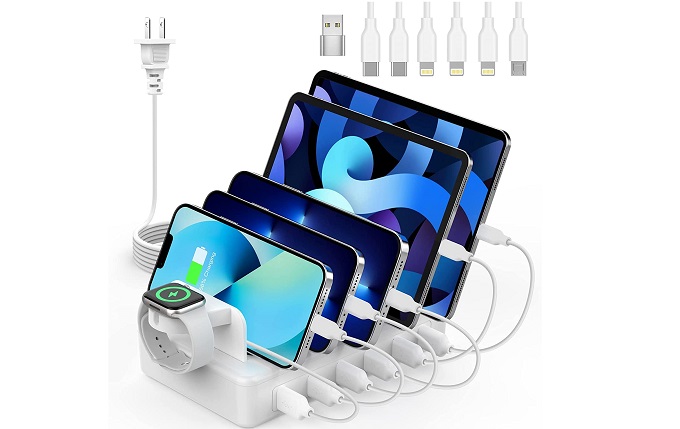 The USB charging station includes 3 lightning ports along with 2 micro USB and a type C cable for other Type C-enabled devices. This Apple Charging station offers a max output of 50W. It lets you charge all your devices in a more arranged and clutter-free manner. The ports on the charging station identify your connected device and automatically optimizes the charging unit.
Key Features: includes 6 Charging Ports | Total Charge Output: 50W | Sturdy & Durable | 1.3″ wide holders | Inbuilt Type C cables
Related: 10 Best Apple Charging Stations for Multiple Devices: 3-in-1 Charging Stations for iPhone, iPad, Apple Watch, AirPods
August WiFi Smart Lock
The August WiFi Smart Lock fits into your existing door deadbolt with ease. It's the best way to make your doors, smarter and safer. This door lock is WiFi-enabled. Hence you can connect and analyze its functions on the August Home app via WiFi.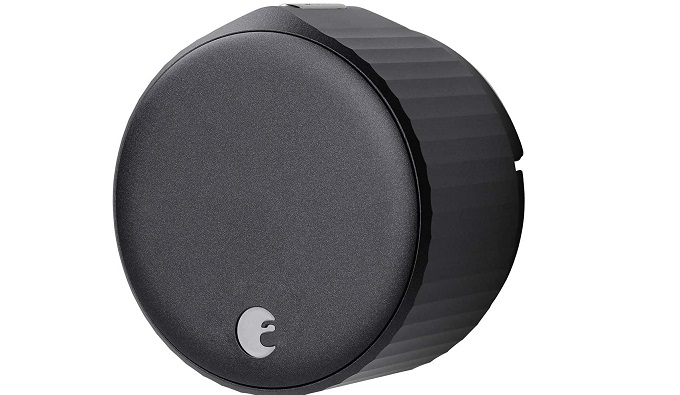 This Prime Day Home deal is pretty much essential if you wish to transform your home into a smart home. The August WiFi Doorbell has the Auto-Lock feature. It can even detect your presence and Auto Unlock when you are near the door. There are quite a lot of smart features this door lock has up its sleeves and it's up to you to explore them as the door lock is coming at a discounted price tag this Prime Day.
Key Features: WiFi enabled| Auto-Lock and Unlock | App-Based operation | August Home App | Alexa and Google Assistant Support | Apple Homekit compatible
The Prime Day equals prime savings and these are the top home essential gadgets that you should definitely try out. We've included gadgets of almost all categories, from Smart TVs, soundbars, and even to even Smart Plugs. Make sure to check them out and if you're an Amazon Prime member then don't miss out on the Early Access as it's a golden chance to get your fav stuff before the sale day rush sets in.