Holidays have never been this strange and 'lonely' for us. To patch up the current situation we all are in, many of our favorite apps are getting interesting holiday features and Waze is on the list too. Waze is a great navigation app that even helps you find the cops ahead of your route. The voice of Waze is now taken over by Santa. Surprised? Your Waze app also has the same feature.
Let us see how to make Santa our co-driver with Waze and get Santa's voice and Santa's sleigh on the navigation map.
Enable Waze Holiday Mode with Santa's Voice and Sleigh
Holiday Mode is a newly rolled out feature for Waze app users. Enabling it will instantly turn the app into a Christmas themed one. It replaces the default Waze voice with Santa's voice and the car icon on the map with a Santa's sleigh. Turn this on and watch your kids have fun listening to Santa while you drive.
Related: How To Add Country Holiday Calendar on Android Phone
Watch how to enable Waze Holiday Mode:
Related: 12 Best Christmas Alexa Skills to Try with Your Echo Speakers
You need to update the Waze app to the latest version in order to get the holiday mode. Open the Waze and tap the magnifying lens icon to open the side menu. You will see the option "Drive with Santa" there. Tapping it will enable the Waze holiday mode with Santa's voice and sleigh.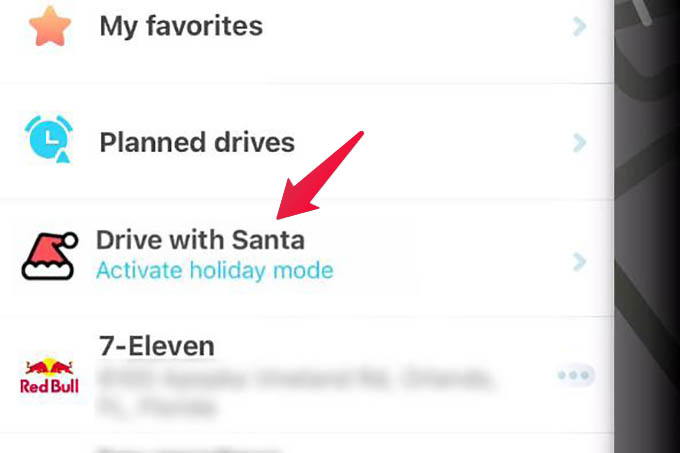 In case you do not see the option, see how to manually switch Waze voice to Santa's voice and change the car icon to Santa's sleigh.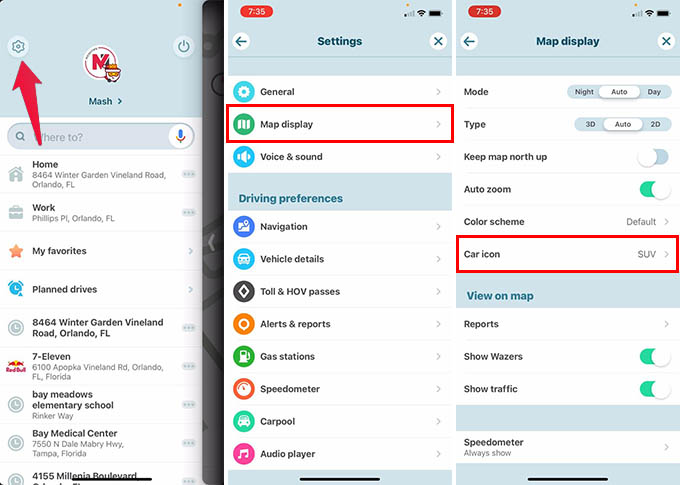 Open the Waze app and go to the side menu.
Tap the Settings cogwheel icon at the top left corner.
Open Map Display.

Tap on the Car icon and choose "Santa's Sleigh."
Go back to Waze Settings and go to Voice & sound.
Tap on Waze voice.
Select English (US) – Santa from the next screen.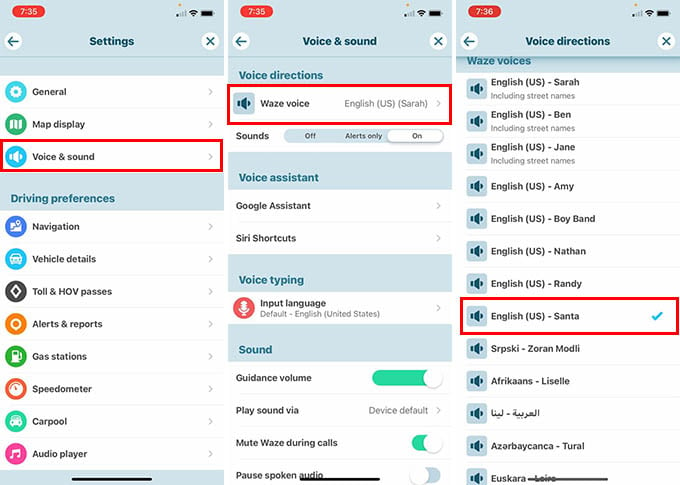 Related: Set Waze Default Map: Change Default Navigation App on Android & iPhone
There you go! Waze now gets an entire makeover with Santa's own voice and his sleigh right on the map. Instead of showing an arrow or car icon on the map display, it will be Santa's sleigh leading you on roads. Note that the feature is live for users from the US, UK, or Canada as of now.
Once you activate Waze holiday mode on your Android or iPhone, it will be available to use throughout the holidays. You can get Santa's voice and Santa's sleigh even on Apple CarPlay and Android Auto as well.