Windows 10, the latest OS from Microsoft is missing a critical piece of software, a DVD player. Windows 7 and old Windows versions have built-in Windows DVD Player. If you want to enjoy the full version of Windows DVD player on Windows 10, that cost you around 15 bucks.
Fortunately
, you can get excellent DVD Players for Windows 10 from third-party developers
. These free and paid Windows DVD Players support most of the video codecs.
These Windows DVD Players play most of the DVDs without downloading any
additional
codecs
.
Here is the list of best Windows 10 DVD players compatible with most of the DVD Video format.
Windows DVD Player
Through this update, the Windows DVD player makes available and eligible for Windows 10 upgrades. This DVD Player is available for free to the people who have upgraded to the current Windows 10 from Windows 7 Home Premium, Windows 7 Professional, Ultimate, Windows 8 Pro with Media Center and Windows 8.1 Pro with Media Center.
After upgrading to Windows 10, the Windows 10 DVD player automatically downloads on the system. However, this free offer is available for a limited time. For those who perform a clean installation of Windows 10 makes ineligible for the Windows 10 DVD player upgrade.
Free Upgrade to Win 7/8/ users | Support Page: Link
Windows DVD Player
Windows DVD Player is an official tool offered by Microsoft to play DVD. This Windows 10 DVD player provides the people a good, retro and old-fashioned way to watch the video or movie. Windows DVD Player is available for $15 from Microsoft store that can play the video files from DVD.
Windows DVD player supports only the DVDs. This app does not play or run Blu-ray discs. This native Windows DVD player built with simple controls for disc navigation. This Player supports multiple languages allows the user to customize the tool in their mother tongue.
Supported Formats: AVI, MPG, M1V, MP2V, MP3,MPEG, DVR-MS, MPE, WMV, MPV2, WM, MP2, ASFEVC/H.265 (.mkv), H.264/MPEG-4 AVC (.mkv), Matroska Video (.mkv), MKV audio file (.mka), MKV subtitle file (.mks ), 4K Video.
Download Windows DVD Player ($14.99)
VLC Player
When you search for Windows 10 DVD player, the name of VLC comes on the top. Launched as an open-source project, this VLC software has entirely changed the landscape of Windows media experience. The player comes with expanding features and characteristics that are available for premium players.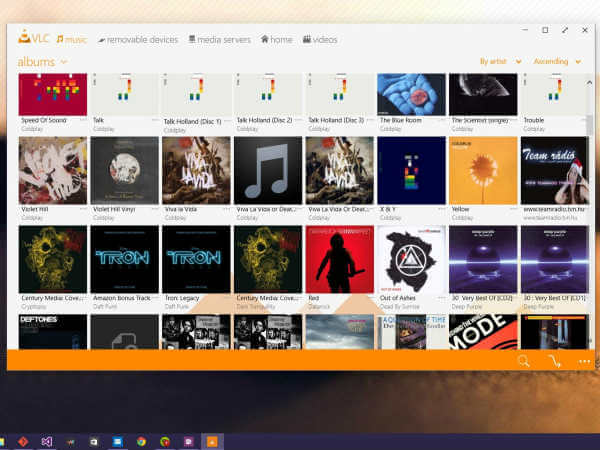 VLC Media Player support playing most of the media file types. For Windows users, the VLC player is an essential piece of software for the operating system. Coming with internet streaming, you can also turn the player a video and audio streamer on Windows 10. VLC is an excellent cross-platform and more versatile than any other player out there.
Supported Formats: DVD-Video, VCD, SVCD, CD-Audio, DVB, Cinepak, Dirac, DV, H.263, H.264/MPEG-4 AVC, H.265/MPEG HEVC,[65] HuffYUV, Indeo 3,[f] MJPEG, MPEG-1, MPEG-2, MPEG-4 Part 2, RealVideo 3&4,[g] Sorenson, Theora, VC-1,[h] VP5,[h] VP6,[h] VP8, VP9,[65] DNxHD, ProRes, and some WMV.
Download: VLC (Free Version)
5KPlayer
5KPlayer supports to play a regular or encrypted DVD without any additional codec. This Windows 10 DVD player gives the features that make it a jack-of-all-trades. With a dark graphical user interface, 5K Player offers the options interface right in the middle to provide better navigation.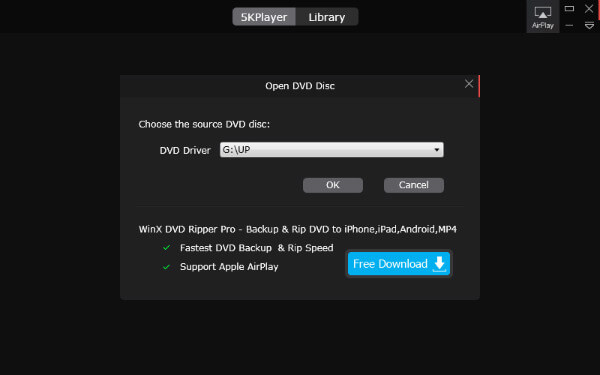 5Kplayer also supports downloading online videos from YouTube, Dailymotion, and Vimeo, etc. This Windows DVD Player allows the user to stream online through a web browser and listen to these streams. The player also comes with AirPlay mirroring to render video streaming across any other system including Mac OS and iOS.
Supported Formats: AVI, MPG, M1V, MP2V, MP3,MPEG, DVR-MS, MPE, WMV, MPV2, WM, MP2, ASFEVC/H.265 (.mkv), H.264/MPEG-4 AVC (.mkv), Matroska Video (.mkv), MKV audio file (.mka), MKV subtitle file (.mks ), 4K video.
Download: 5KPlayer (Free Version)
PowerDVD
PowerDVD is one of the most famous premium Windows 10 DVD Player. Giving the best immersive user interface, this DVD Player offers a great media entertainment experience. You can watch a DVD in an all-new way with TV mode, recreate the surrounding of a theater in your home with PowerDVD.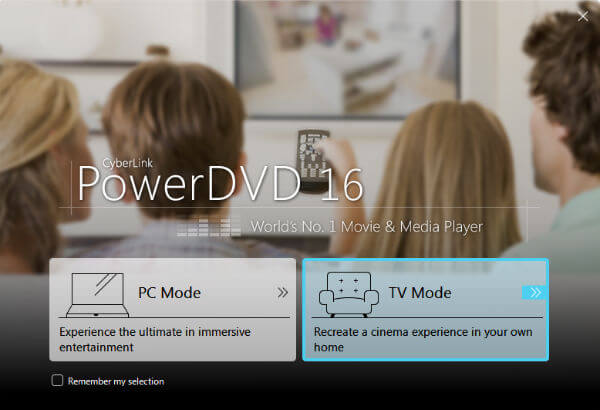 PowerDVD comes with Instant Play technology loading the DVD quicker than any other player. Leaving a smaller system footprint, this DVD player is easy to use and supports almost all formats. The user can customize the player theme and controls according to your needs and set your favorite image as the background.
Supported Formats: 265, 264, 26L, 3G2, 3GP, 3GP2, 3GPP, ASF, AVC, AVI, BSF, DAT, DIV, DIVX, DVR-MS, FLV1, H.265, H.264, HEVC, JSV, JVT, M1V, M2P, M2T, M2TS, M2V, M4V, MK3D, MKV, MOD, MOV1, MP4, MP4V, MPE, MPEG, MPG, MPV, MTS, MVC, QT, TOD, TP, TPD, TRP, TS, TTS, VC1, VOB, VRO, WM, WMV, WTV2, 360° Video: MP4 (H.264/265). 4K resolution.
Download: PowerDVD (Paid Version)
CinePlayer
Roxio CinePlayer is a good Windows 10 DVD player supporting 3D DVDs. The player is robust and multifaceted delivering outstanding playing experience. CinePlayer gives out remarkable output regarding audio and video in DVD playback on the system. This DVD player for Windows supports a variety of VGA cards and contains the best DVD navigation for the users. The player is CPU-friendly and works efficiently well for the old system even with low resources.
Supported Formats: AVI, MOV, MXF, MPG, TS, WMV, M2TS, MTS, MP4, MKV, Video Codecs[edit], YUV Uncompressed 8-10 bits, DIVX®, XVID®, MPEG4, AVC / H-264, VC-1, MPEG2
Download: CinePlayer (Paid Version)
The pulling of support of Windows Media Center in Windows 10 makes the playback of DVD as well as Blu-ray discs difficult on the PC. These DVD Players for Windows 10 are popular for running almost all well-known DVD formats without any hassle.