The trend of selfies struck its chords in the minds of youngsters. Android selfie app helps you to take the perfect selfies and provide you the chance capture the self-portrait image in a better way by adding several effects and filters. These best selfie apps help to perform the touchup, skin tone adjustment almost in real-time to get the best selfies out from your Android front facing camera. With these Android selfie editing app, you can get more stickers, filters that can apply real-time while you are taking the selfie to pose for the best portrait.
Many beauty camera apps are present on the PlayStore, and we are presenting here that best selfie editing app to transform your photos into next level.
Retrica
Retrica is one of the best selfie camera apps to express yourself with mesmerizing filters. This beauty camera app can capture some exciting selfies with the perfect filters for every occasion. Over than 100 stickers are present in this Android photo app to decorate your captured video and image. This Android app can turn your selfie into a message by doodling over the app.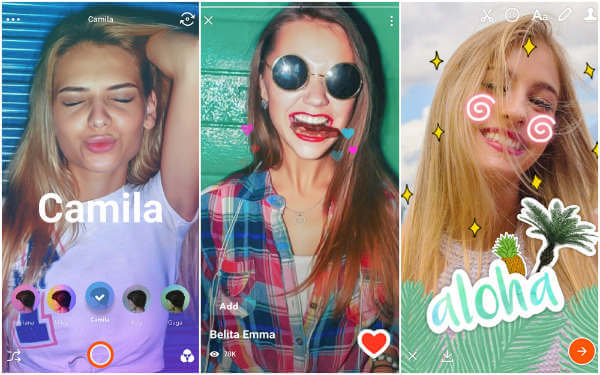 This selfie app comes with watermarking and timer making it an all-rounder photo-editing tool. The fun instant collage of the Retrica app allows the user to take multiple selfies at the same instance to build a beautiful collage. With this selfie app for Android, you can focus more on capturing yourself and fewer efforts and time in editing.
Download: Play Store
B612 – Selfiegenic Camera
B612 – Selfiegenic Camera is voted as No.1 in App Store across 52 countries. More than 300 billion users access the selfie photo app and capture glamour shots with less editing effort. Use new stickers every day and capture your current mood in each click with this most famous Android photo app. B612 featured with the amazing AR filters, which add much more life to the boring backgrounds easily.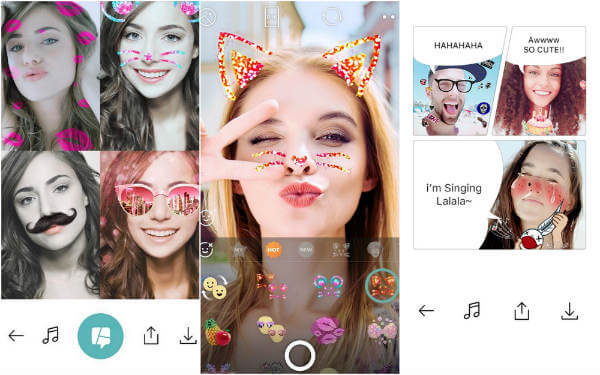 Let's have more fun with your selfies and move ahead from the simple texting to more exciting selfie MMS. This Android beauty camera app can also use to chat as if you are in a cartoon. You can achieve live beautification with the adjustments available to make the memory more special and memorable for the entire lifetime. Have the ultimate selfie tool to capture best portraits on the go on your Android phone.
Download: Play Store
Candy Camera
Candy Camera selfie app comes with silent mode that allows you to take silent shots with your Android phone. Just swipe left or right to get to the perfect filter to apply to your selfies and photos in real time. Candy Camera Android app inherits stickers for every season, occasion and trend to give you the best experience all the time whenever you want.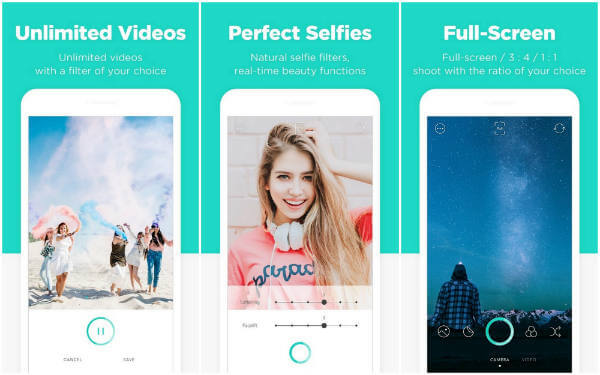 Just in case, if you don't like the stickers, every sticker is easily removable without any hassle from the image in real time. This Android photo app allows you to take multiple photos in one instance for college purposes. This Android selfie app is one of the most highly rated selfie editing apps present over the Google Play Store.
Download: Play Store
Cymera
With Cymera selfie app, you can capture instant and perfect selfies whenever you want. The special effects present on the app just pop out your face in the image. This CAmera App for Android does come with a 5-step process to perfect the skin makeover and give out the best skin makeover. You can use this app and combine up to nine photos into one and blur the background with a simple touch for more HD effect.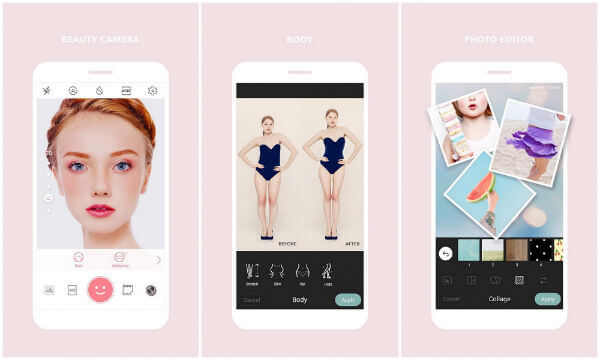 There are almost 200 kinds of natural hair and makeup items on the app to give you more control over the final image. No need to worry about bowlegs as you can shape your legs as well as your waist in the app to get your dream body.
Download: Play Store
Related: How to Get iPhone X Animoji on Android Phone and Tablet?
YouCam
YouCam also functions as a selfie Android app despite its features focused on photo editing. Make every picture perfect with the selfie feature of the app. The multi-face detection allows you to edit almost every face present in case of a group shot. You can Add contours to the face to bring out the best of your beauty and reduce the puffiness in eyes.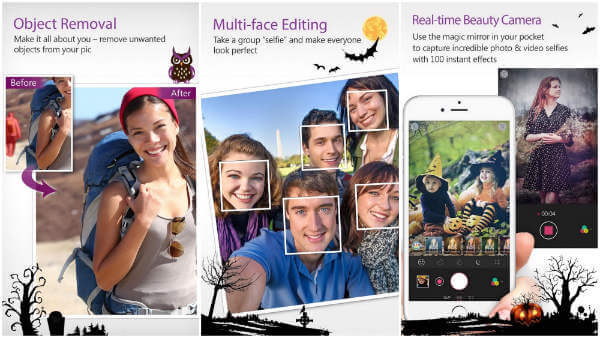 Look taller and leaner without the need of heels with this Android beauty camera app. Yuu can use the timer as well as your hand wave to take up a selfie. Turn every self-portrait into smiling one with ease to turn every sad face into a happy one.
Download: Play Store
Sweet Selfie
Sweet Selfie is the best beauty camera app that does come with smart auto beauty feature that is accessible with a simple tap. There are some unique and free filters matching up with your personality to enhance and generate great selfie images with Android. Change your way of taking selfies with this Sweet Selfies App and Android phone. This perfect selfie app comes with original face recognition prank stickers and giddy stickers.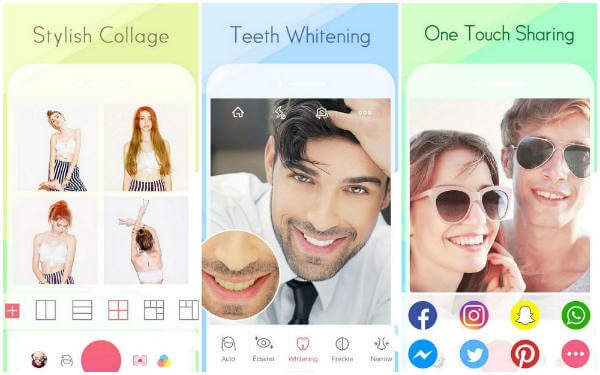 The best selfie camera app comes with more than 100 filters to make the image more amusing and create the perfect selfies. You can choose the considerate blur effect for the photo to upload the perfect one on Instagram. Beautify your photos and videos in a simple tap while capturing to generate ultimate the perfect selfies for you with the help of Android camera phone.
Download: Play Store
BestMe
BestMe is designed to take selfies by keeping in mind the requirements of a selfie lover. The selfie camera editor comes with exactly 125 real-time filters, helps you to visualize the series output in real-time before capturing the image. With the inbuilt timer, the person has more time for better execution and gets a proper selfie. Using this BestMe selfie app is easy and, this Android app comes with inbuilt support for selfie stick allowing you to get more functionality.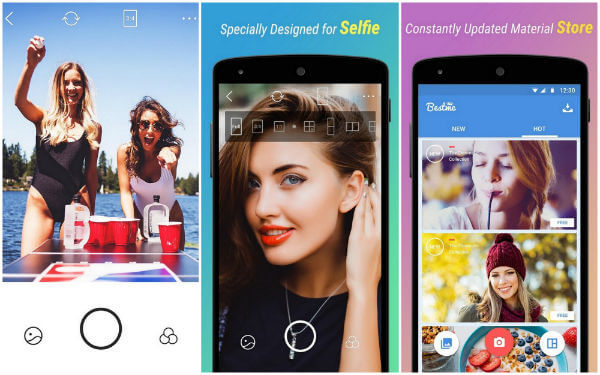 Share your clicked photos with one touch to social networking platforms like Instagram, Facebook, VK, LINE, KAKAO, Wechat etc. Just by double tapping the app screen, you can switch between front or back camera. Long press the filter image to set it your favorite or delete from the list. The selfie sticker and Emoji-grid photo make this Android photo app as perfect selfie app.
Download: Play Store
InstaBeauty
InstaBeauty selfie app lets you transform more charming and gorgeous in your selfie. With more than 50 million users, the app is great for taking selfies and gets the best out of it. Touch up your selfies quickly and easily like never before to make it a perfect selfie. Through the Quicksnap feature, you can take more than self-portraits in different poses until you can get the perfect one.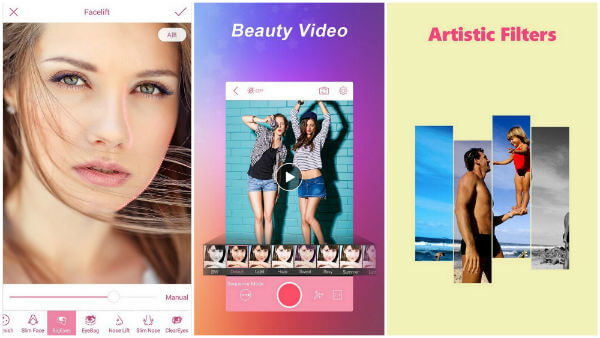 You can also beautify your video with the Beauty video feature. InstaBeauty enhances the footage on the go while recording to provide you a real-time experience. Do a facelift and nose lift with beauty camera app easily to enhance the facial expressions as well as looks.
Download: Play Store
Enhance your Photos with these Android Selfie Apps
Many people do like it and some of them do hate it, but despite this, it has now a part of our daily life. We do occasionally see the enormous feeds of self-portrait of several people on our social networking platform's timeline. Usually, people take selfies from their device's front camera or a selfie app that is present on the device.
Through these Android selfie app, you can take the perfect selfies and have some fun with hundreds of stickers and filters to beautify your images. The best selfie camera app allows you reach out the social media audience in a better way with less effort. The best selfie apps listed above for Android to give you more freedom to take perfect selfies with a short time to amaze your friends.