Google Slides is a free-to-use web-based program that helps you create presentations. While Google Slides does have a good number of tools and features built into the app, there are certain tools and features that you wish were available right away. Thankfully, the Google Workspace Marketplace has a good number of add-ons.
Today, we look at the best add-ons you can use to get the best out of Google Slides.
Install Add-Ons In Google Forms
The most appealing aspect of these add-ons is that they are simple to install and free to use (although some require a purchase after the free trial). Furthermore, these add-ons are only linked to your Google account, so you can use them on any PC if logged in with the same account.
Clear Rectangle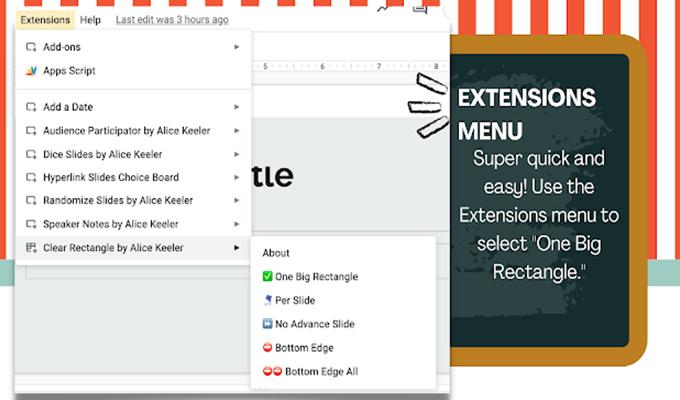 Clear Rectangle is a great add-on for your slides if you want to get a bit more creative. Instead of making links visible right away on your slide, you can easily add a simple and clear rectangle. What this rectangle does is act as a link to the website of your choice. Once you activate the clear rectangle, pressing the Control and K key keys on your keyboard creates a hyperlink that takes you to the next website. A simple, discreet, and easy way to visit websites without having to type in anything
Key Features: Discreetly Add Website Hyperlinks | Free To Use | Easy to Activate | Collects No Data Of any Type | Easily Add To Single Slide or All Slides
Install: Clear Rectangle
Randomize Slides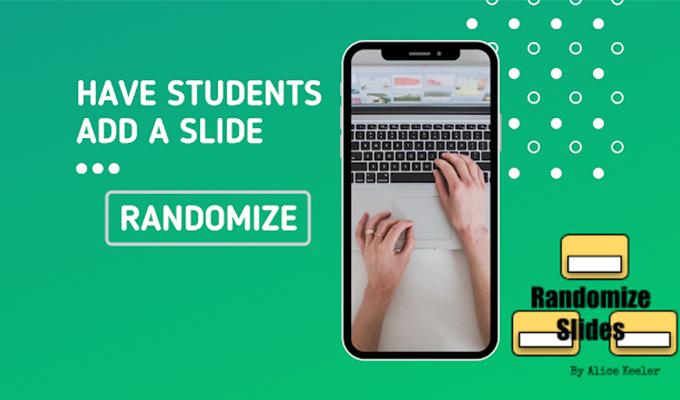 If you are a teacher, this is an add-on that you need to have. The Randomize Slides add-on lets you add slides that your students have sent in into one main Google Slide document. This is a great way to create a group or class contribution project.
Key Features: Free | Randomizes Slides In Main Slide Document | Adds Slides from Other Slides | Simple One Click Slide Randomizer
Install: Randomize Slides
How to Make A Cinematic Photo in Google Photos
Hyperlink Slides Choice Board
Want to create an ever more interactive Slide? The Hyperlink Slides Choice Board is an add-on that you need to install. You can add these hyperlinks to different text boxes, shapes, or even images. When you click on such Hyperlinks in your Google Slides, you quickly get a table of contents that lets you easily navigate and click on the topic you want. This is a useful add-on that teachers in schools and universities can use.
Key Features: Ad-Free | Easy To Use | Beneficial To Students and teachers | Create Interactive Slides | Does Not Collect Any Personal Data
Install: Hyperlink Slides Choice Board
How to Get Rid of Annoying Pop-Ups on Google Chrome
Slides Toolbox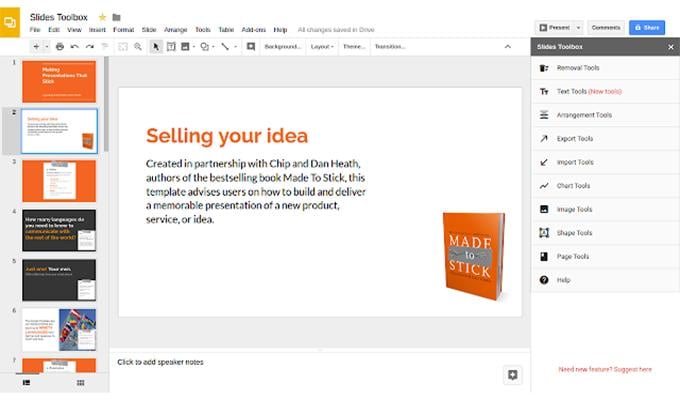 Slides Toolbox is an all-in-one handy add-on that lets you perform repeated functions with ease and at the same time. Additionally, it also has several tools that are not available in Google Slides. Tools such as displaying all characters in either uppercase or all in lowercase. The toolbox also has several multiple removal tools, such as removing blank textboxes, shapes, charts, and even grouped objects. The add-on also has multiple formatting, arrangement, and exporting tools.
Key Features: Multiple Tools Available For Quick Access | Additional Google Slides Tools | Easy To Access and Add |
Install: Slides Toolbox
Boost Your Productivity: Simple Steps to Install Google Desktop Search Widget on Windows 11
Dice Slides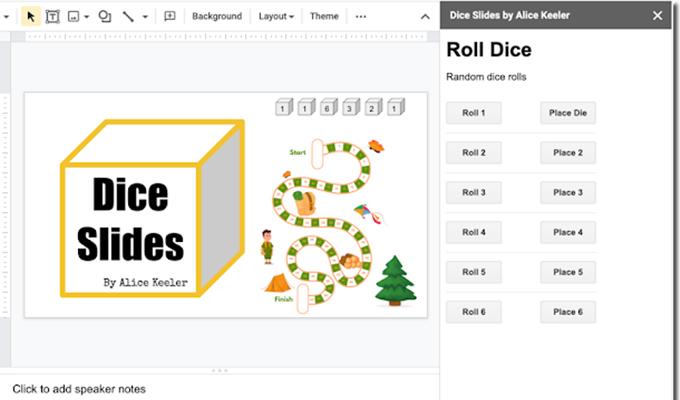 Here is another add-on that is great for teachers. If you want to make your class a bit more interactive as well as fun, you should consider installing the Dice Slides add-on. This add-on lets you play a number of Dice-related games within Google Slides This is a great way to play math-related games in your web browser for free via Google Slides.
Key Features: Free games | Easy To Install | Multiple Dice Games | Solve Various Math Problems | Free To Use | No- Ads or Payment Plans
Install: Dice Slides
Stickity for Slides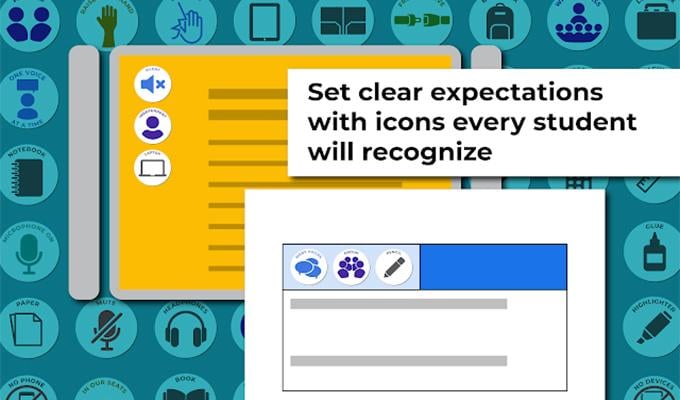 Social media is filled with a ton of stickers that you can use to express yourself. So, how about you make your Slides more interesting by adding stickers to your slides? With the Stickity for SLides add-on, you can insert several stickers into your Google Slides project. There are also interactive stickers that act as alerts and timers without being overly distractive. You also use these stickers to link to different web pages or set them as hyperlinks to other slides within the same project.
Key Features: Multiple Sticker Options | Interactive Stickers | Add Hyperlinks To The Stickers | Use Stickers As TImers | Free To Use | Quick Setup
Install: Stickity for Slides
SlideKit Templates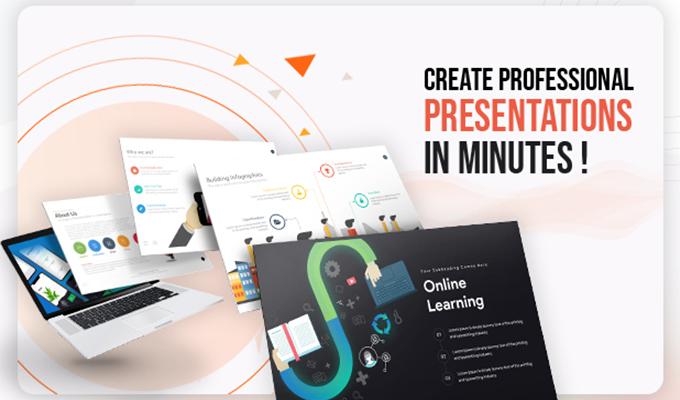 Creating slides, especially for those who are new to Google Slides, can be overwhelming. To simplify things for the beginner or the newbie, this SlideKit Templates add-on provides the user with multiple ready-made templates. The add-on has a large library of templates spanning different types of presentation topics. With such an add-on, you can save time by putting more research into the topic rather than wasting time to design your presentation.
Key Features: Easily Install Templates To Your Slides | 150+ Free To Use Templates Styles | Templates Available For 30+ Topics | Premium Slide Templates Also Available
Install: SlideKit Templates
Sapling Grammar Checker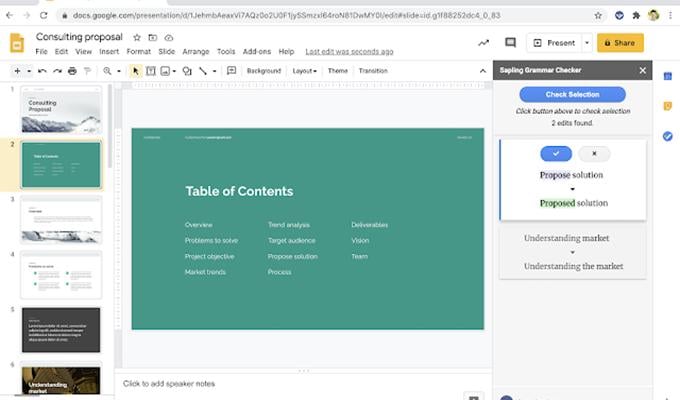 While you spend enough time researching your topic and arranging it on your slides, it is also important that you have your spelling and grammar rectified. Having the correct spelling in your slides gives you enough confidence to present your topic without any fear. The Sapling Grammar add-on helps you correct typos and also helps you rephrase your sentences so that the viewers easily understand it.
Key Features: Correct Typos | Fixes Grammar | Rephrases Sentences| Ensures Correct Spelling | Write Sentences In Different Tones | Browser Plug-in Available for Global Use and Correction
Install: Sapling Grammar Checker
Auto LaTex Equations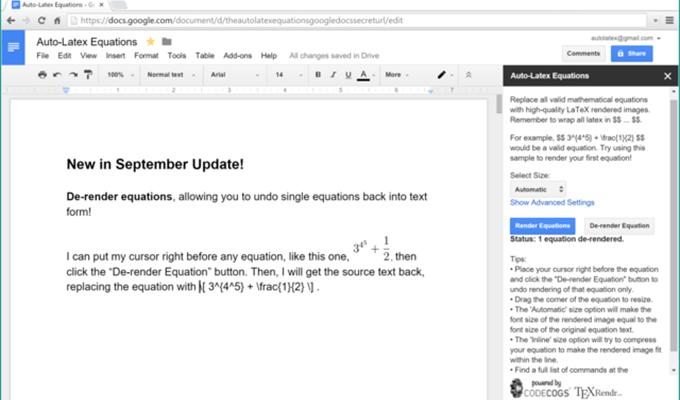 Are you creating a presentation on math related to some or many equations? Well, if you are not interested in arranging and formatting the equation into Google Slides, you can use the Auto LaTex Equations add-on. With the add-on, you can get the equation solved and its result displayed on the slide with the highest render quality available. You can directly type these equations and have the add-on solve them.
Key Features: Solve Equations Instantly | Deliver Outputs In Highest Quality | Solve Multiple Equations At A Time | Adjust Fonts and Colors | Easily Edit Equations | De-render All Equations
Install: Auto LaTex Equations
Automagical Forms
There could be a time when you would have to put in all your details from your Google Slides presentation into Google Forms. For many people, the only sensible option would be to type in the text from your Google Slides into Google Forms. With the Automagical Forms add-on, you no longer have to do manual work to get your data into Google Forms. All you need to do is install this add-on, and it will instantly copy all your data from Google Slides into Google Forms with just a single click.
Key Features: One Click Data Transfer | Creates Questionnaire From Sidebar In Google Slides | Best For MCQ and Short Answer Questions | Requires Premium For Image And Handwriting Detection | 6 Pages Per Month In Free Plan
Install: Automagical Forms
These are the best add-ons that you can install and use for free with Google Slides. Such add-ons help to improve productivity and also help save time by automating a number of functions on your behalf. These types of add-ons are great for those who are teachers who have a lot of projects and work dealing with Google Slides.
Google Slides presentations with these ten top-notch add-ons. From captivating visuals and seamless animations to powerful data analysis and collaboration tools, these add-ons open up a world of creative possibilities.
Elevate your presentations, engage your audience, and leave a lasting impact with the enhanced features at your fingertips. Embrace the power of technology to transform your Google Slides into dynamic, professional, and unforgettable showcases.