One of the most important apps for an Android device is a file manager. You see, the File Manager lets you browse all your files and folders on your phone. File explorers are needed to to delete old files and folders, rename folders, and even move them from one location to another.
Here are the best free file managers or file browsers that you can install on your Android phone or tablet.
Best Free Android File Managers
Files by Google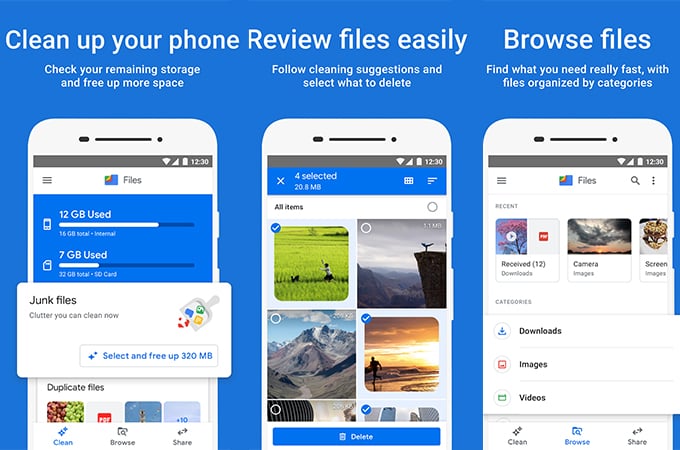 Files by Google is free and has all the bells and whistles, such as being able to back up your files easily to Google Drive. You can perform all essential functions including browsing through files, renaming, moving, deleting, and creating new folders.
With the Files app installed, the file manager app can wirelessly transfer files to another phone. All your files can be shared using WPA 2 encryption, thus guaranteeing safe transfers between the two devices. The intelligent suggestions let you clear up storage in one click.
Key Features: Dark Mode | File Cleaning Suggestions | Works on Android 5 and up | Clear up Temp and Junk files easily
Download: Files by Google (Free)
Related: A Complete Guide to Use Files by Google
Simple File Manager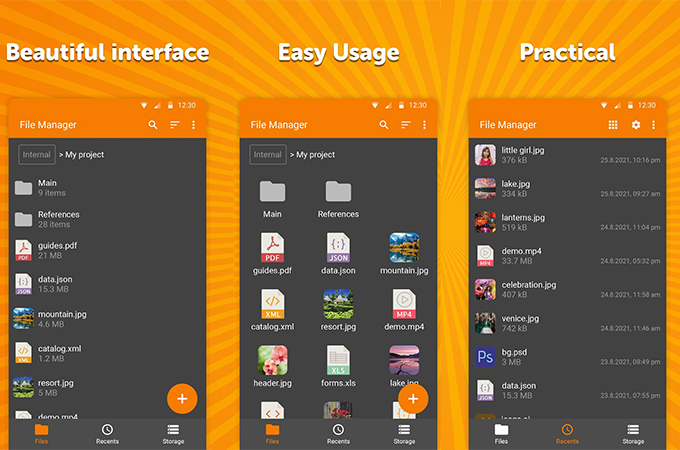 As the name goes, the Simple File Manager is a very basic Android file explorer. No fancy frills or striking features. This is a great file manager if you simply want to see your files stored internally or on removable storage. Yes, it cannot cut, copy or paste files. But, if you know, it's a good option to install on a kid's or an elderly person's phone.
You can see the files that you have recently opened, and also see how storage is being used by these files on your device. Well, if you love the file manager, you can purchase the pro version of the File Manager that has all features
Pros:
Simple UI interface
Easy to use
Cons:
Lacks features for power users
Key Features: Completely Free | No Ads | Password Protect Files | Customize Colors and Theme
Download: Simple File Manager (Free)
FE File Explorer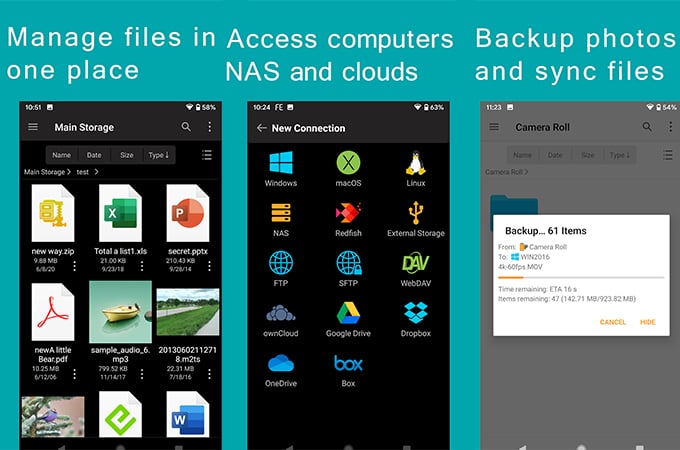 FE File Explorer allows you to access your files that are stored on your PC, Cloud Storage service, or even on NAS storage devices by connecting your phone to the WiFi network. You can perform all the basic functions like cut, copy, paste, rename or delete files using this File Manager.
One of the cooler features of the File manager is the ability to transfer files between an Android and iPhone wirelessly. You can quickly transfer files to and from your PC or NAS to an Android device. The File Manager lets you stream your videos and audio files without downloading them from the cloud or PC.
Cons:
Can't access removable external storage files
No file sync
Key Features: Built-in Music Player | Connect FTP Server | Archive Winrar and Zip Files | DArk and Light Modes | Tablet Mode for Android Tablets
Download: FE File Explorer (Free)
Related: How to Add Multiple Users and Work Profile on Android
Astro File Manager and Cleaner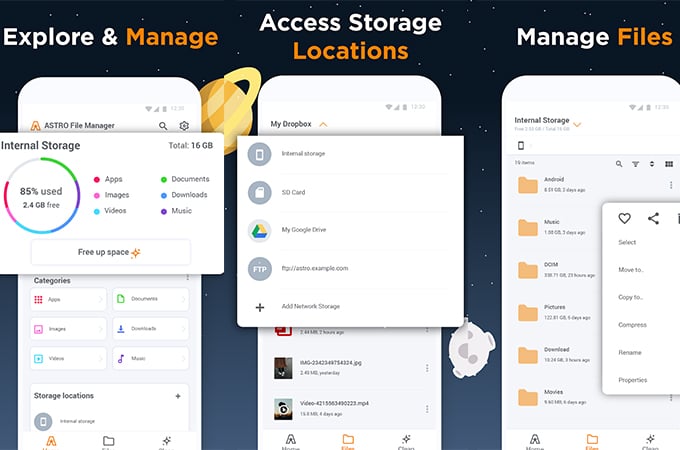 One of the oldest File Managers is the Astro File Manager. Transferring, copying, renaming, and deleting files can be done quickly. The file manager can also categorize all types of files for easy viewing. Astro File manager also lets you organize your files on any cloud service.
Easily create backups of your app's data to your device's SD card or external storage like OTG drives. The user interface is simple and easy to use. Plus, it's free and has no ads.
Key Features: Storage Cleaner | Easy File Search | Access files from NAS or Cloud Drives
Download: Astro File Manager (Free)
Cx File Explorer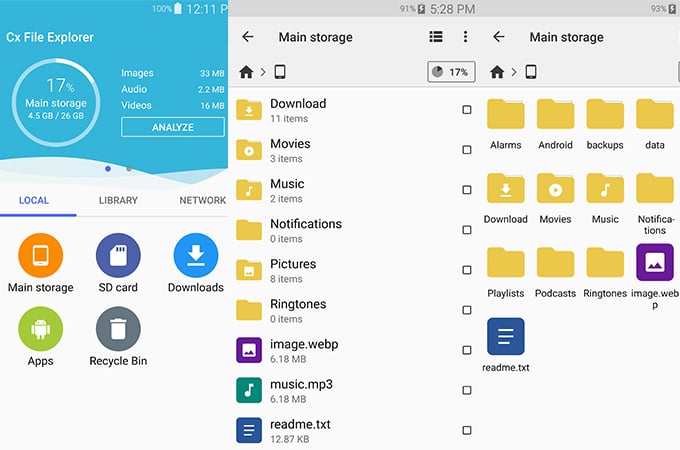 For those who love a clean and simple user interface with all the basic functionality and additional features, Cx File Explorer is a good choice. For starters, it does your regular File Manager functions and lets you manage files between your PC or macOS systems.
On the app's home screen, you see the total storage available and usedand how much space each file type takes up. Any apk files that have been downloaded can be easily spotted by Cx File Manager.
Pros:
No Ads
Fast and Responsive
Cons:
No Dark Mode
No custom icons or labels
Key Features: Lightweight | Built-in Audio player | Storage Cleaner | Completely Free
Download: Cx File Explorer (Free)
Related: Cannot Open Zip Files on Android? Use These Apps to Unzip Files on Android
MK Explorer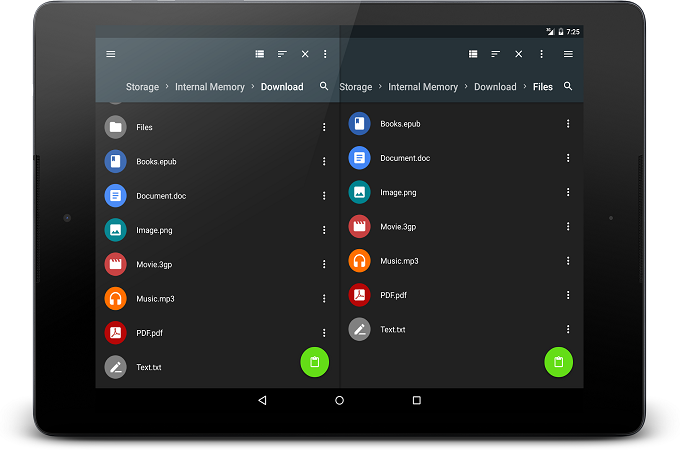 MK Explorer is a lightweight file manager for Android. As basic as it gets, the app lets you browse files, rename, delete, move and also manage rar and zip files. The file browser has a search function that allows you to search for all files that have been stored on your device.
Another great aspect of MK Explorer is the ability to add shortcuts to your device's home screen, which lets you quickly set up keyboard shortcuts. Apart from simply viewing the default file icon of your files, MX Explorer enables you to view thumbnails of your images, audio, and video files right away.
Pros:
No Ads and Trackers
Supports Tablet UI
Key Features: Dark Mode | Root Access Built-in Gallery | Built-in text Editor | Built-in Music Player | Multiple Language Support
Download: MK Explorer (Free)
Solid Explorer File Manager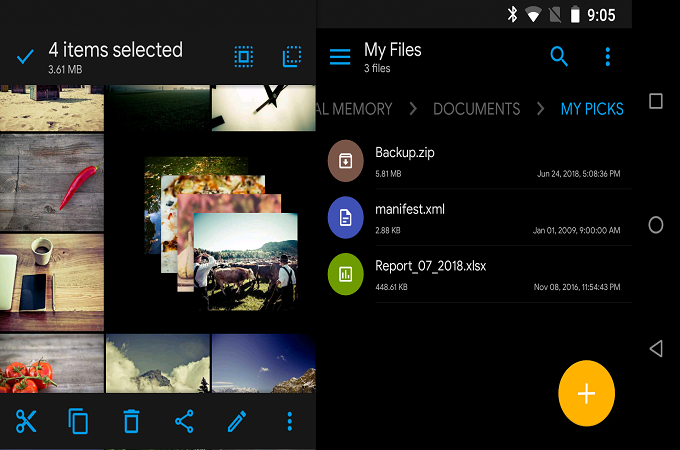 Solid Explorer is another popular file manager for Android that has been around for quite some time. As you would expect, you can copy, paste, rename and delete files right away. You can also back up your files and connect to various cloud storage services just by using file manager.
Never worry about your files and folder security, as the app has an encryption system to protect all of your files. You can also use your fingerprint to secure your files with the app. You can easily view your field in an organized manner.
Pros:
Simple Interface
Android Tablet UI
Key Features: Dark Mode | Batch Rename | Themes and Icon Sets | FTP Server | Built-in Media Player
Download: Solid Explorer File Manager (Free)
Related: How to Hide Apps and Files on Android
FX File Explorer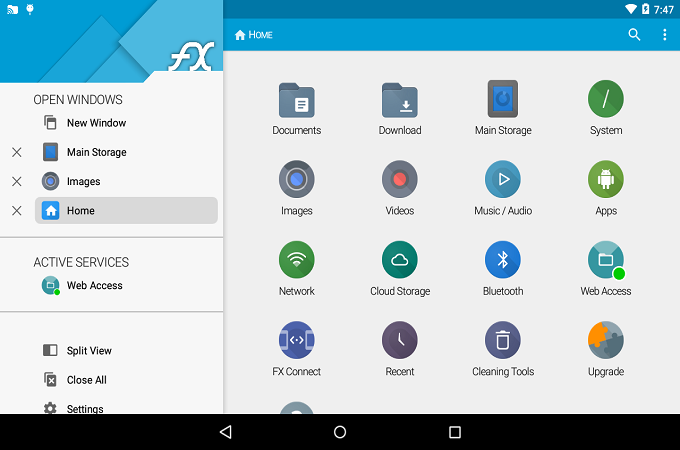 FX File Explorer is a straightforward file manager for all the basic functions you would perform such as browsing files, renaming, deleting. Its search bar lets you search for all files stored plus the Recent Files section.
You can also view the total storage and open multiple windows with the FX File Manager. If you have root access on your device, FX File Manager allows you to explore PK files and even access a text editor.
Pros:
No Ads
Support for Tablet UI
Cons:
Gallery and video player locked behind paywall
Key Features: Open RAR and ZIP files | Dark Themes | Set Custom Icons
Download: FX File Explorer (Free)
Total Commander File Manager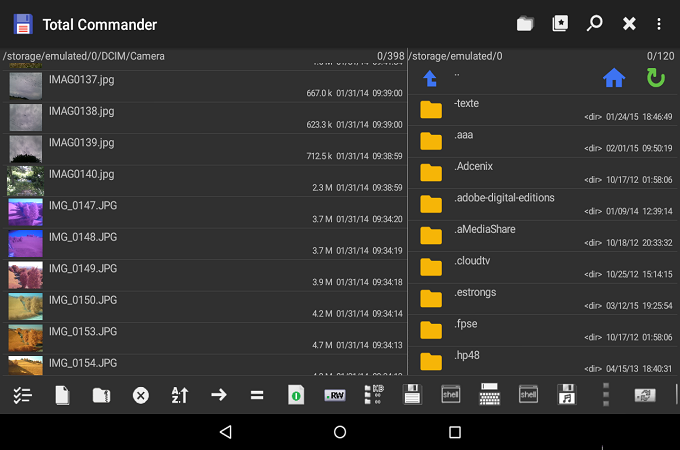 Using Total Commander, you can perform all the functions as well as even drag or drop your files and also select multiple files at the same time. You can also share files to other devices straight from the file manager using Bluetooth. The file manager also has a thumbnail view which lets you easily spot files without having to open them.
Visually impaired persons can also use the file manager thanks to a feature that turns the icons into text. There are no ads or trackers in the app, thus protecting your files and keeping them safe.
Pros:
Zip file managing

Add bookmarks
Key Features: Dark Themes | Install Plugins | Supports Multiple Languages | Supports Rooted Devices | Virtual panel Mode
Download: Total Commander File Manager (Free)
Related: How to Create File Shortcuts on Android Devices?
X-plore File Manager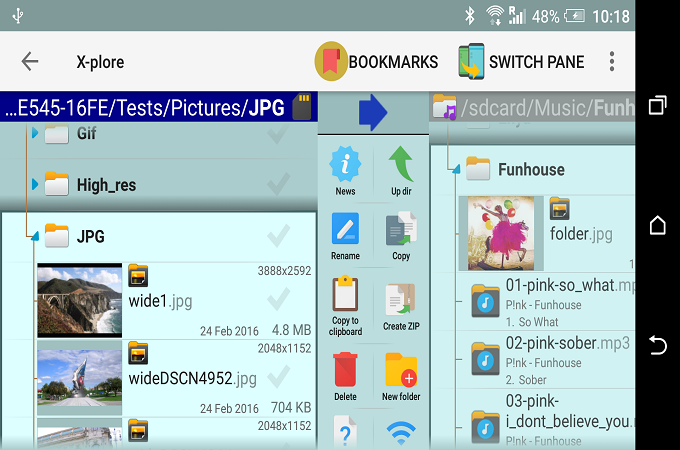 Are you someone that is a superuser and wants a cooler-looking file manager? Try X-plore File manager. This is a dual-panel file manager that lets you navigate through directories on the side and open a folder on the other panel. You can also view your images and texts with the built-in viewer, reader, and player.
Plug in your OTG drive to browse, copy and move files between the storage devices. The built-in disk map also shows you how much space a file or folder is taking space on your device. Customization with the file manager thanks to the configurable buttons and key shortcuts that you can set up as per your liking.
Pros:
View PDF Files
Reads APK Files as Zip Files
Cons:
Media player and wifi sharing locked
Not for basic users
Key Features: Access cloud storage services | Batch Rename | Hex Viewer Zip and RAR file Viewer | Multiple File Selection
Download: X-plore File Manager (Free)
These are the best file manager that you can install on your Android device. All of these are ad-free and do not have in-app purchases. The best file manager on this list has to be Files for Google. It is because of the features that are useful for every Android user out there, plus the ability to share files wirelessly.