The NAS storage devices can address almost all your storage issues. Be it your home or the office, these best Network Attached Storage get the work done real quick.  With the Network Attached Storage connected to your home or office network, you get access to your files 24/7. Being connected to the internet makes it rather easy and efficient to access all your stored files. You can store as many high-resolution photos and videos as you want with a NAS device.
You can also give access to others using Network Attached Storage. This way, your team members can get the required files immediately when they are away. There are other ways to do this, like using some cloud storage services. However, it may have some security concerns. With a NAS drive, you can assure seamless file sharing without any safety risks. The only thing you have to take care of is to buy the best NAS storage device for your needs. You can get NAS drives from many different brands these days. They all claim to offer excellent features and functionalities to meet your demands.
Here's our list of the best NAS storage devices for home and office that you can buy right now. This will help to make things a little easier for you.
WD My Cloud Personal NAS Storage Drive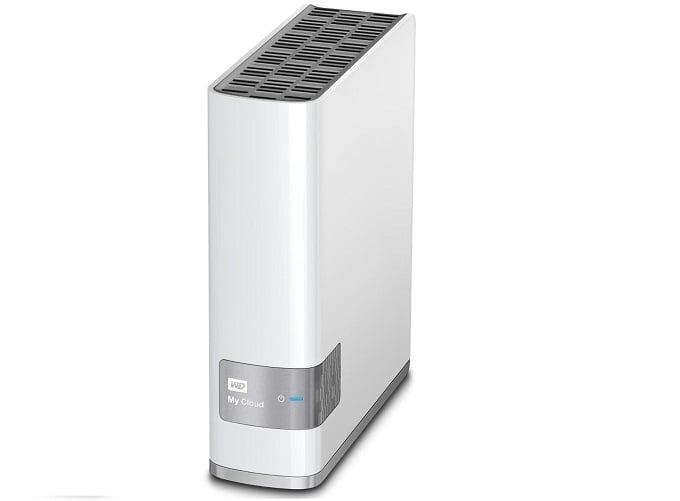 WD My Cloud Personal is one of the best network-attached storage that helps centralize and back up all your files. It auto-updates your devices so that all your content is in a safe place. You can connect to your account directly by signing into MyCloud.com or using the My Cloud app.
The NAS storage device comes with advanced sync software. This helps to keep your files up-to-date across all your devices. You can also create a common network using the NAS drive for your friends and family to share photos and videos with ease.
WD My Cloud Personal is easy to set up and use. You can stream to any DLNA-compliant device using the NAS drive. There is a USB 3.0 port at the back of the NAS device. Thanks to this, you could transfer some important stuff to your personal HDD or SSD as a local backup.
Pros:
Whole-home storage
Simple installation
Automatic backups
Cons:
Apps are not that great
Cannot stream media via the cloud
Key Features:
Capacity: 2TB to 8TB
Remote file access
Compatible with Windows and Mac
Photo and video backup for mobile devices
DLNA and iTunes media server support
USB 3.0 and Ethernet connectivity
Related: Best 4 Cloud-Based Productivity Software & Reasons to Switch
QNAP TS-231P-US Personal Cloud NAS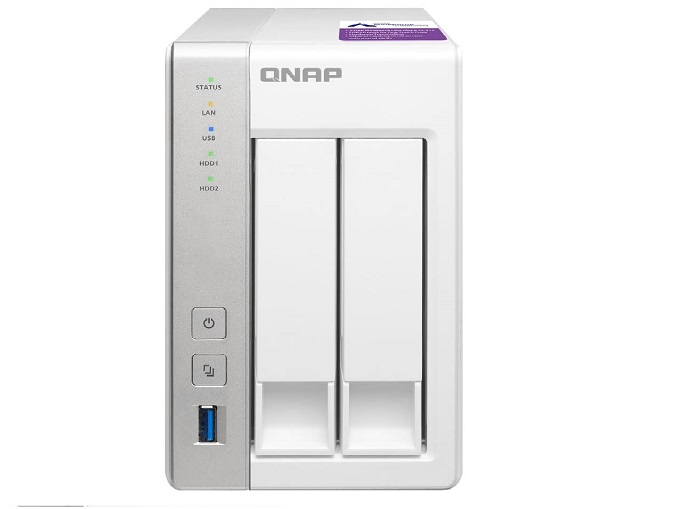 QNAP TS-231P can be the ideal choice for those looking for a powerful yet affordable NAS network storage device. The NAS drive blends well to meet your personal and small office needs. It also comes with an advanced Qsync feature. This makes it easier for you to use the NAS drive for backups.
The TS-231P Network Attached Storage works on a dual-core Cortex-A15 processor. This assures you faster reading/writing speeds and reliable performance in all environments. QNAP TS-231P has an enhanced hardware-based encryption engine too. This makes the NAS Hard drive the best NAS for home storage needs that's enhanced with robust security features.
QNAP TS-231P has two drive bays, which expands its capacity to 20TB. This makes the NAS drive a worthwhile option for small businesses too. You also get an Online Document app with the NAS drive. This makes it simpler to view, edit, and store your files directly to the NAS storage.
Pros:
Affordable pricing
Excellent performance
Two drive bays
Cons:
Connectivity can be spotty
Complicated installation
Key Features:
Capacity: Up to 20TB
Remote access
AES 256-bit full volume encryption
Feature-rich apps
DLNA, AirPlay, and Chromecast support
USB 3.0 and LAN ports
BUFFALO LinkStation 220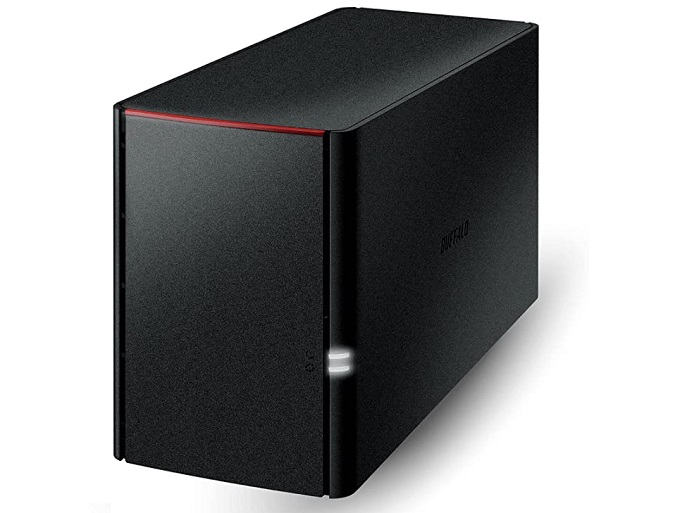 BUFFALO LinkStation 220 is one of the best NAS storage devices with integrated BitTorrent support. This means that you can download files directly to the NAS drive. You can even get the dual-bay NAS  network storage unit in different capacities based on your needs.
You can use BUFFALO LinkStation 220 to stream online content with ease. There is also an option to use the NAS drive as an iTunes server. However, it does not have many advanced features as that seen in other best NAS devices. Still, this Network Attached Storage for the home can be a great deal for entry-class personal cloud needs.
BUFFALO LinkStation 220 is easy to set up. It features a quick Plug N Play design that lets you access all your files real quick. It also makes it easy to access and share your files using the NAS storage. You do not need a computer to manage the files either. All the files can be accessed using your mobile devices.
Pros:
Dual drive bay
Good security features
Easy configuration
Cons:
Lacks advanced features
Can experience connectivity issues
Key Features:
Capacity: 2TB to 8TB
WebAccess apps
Built-in Bit Torrent client
Apple Time Machine support
Works with DLNA and UPnP-connected devices
USB 2.0 and Ethernet ports
Related: Best Torrent Apps for your Android Phone
Synology DiskStation DS1019+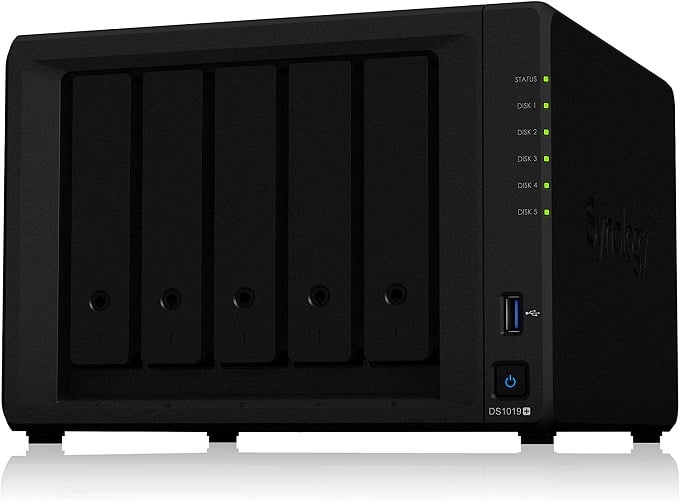 Synology DiskStation DS1019+ is one of the best NAS storage devices with five bays. It offers you fast and reliable performance in any condition and offers many valuable features too. You also get multiple RAID choices with the Network Attached Storage device.
The NAS hard drive works on a quad-core Intel Celeron J3455 CPU with an AES-NI encryption engine. This assures you quality throughput and quick reading/writing speeds. The apps in Synology DiskStation DS1019+ are quite impressive too. Besides, you can also scale the NAS storage unit up to 10 drives with a dedicated expansion unit. This makes it the best NAS option for business uses.
Synology DiskStation DS1019+ is designed to handle 4K video streaming and seamless data backups. The system is easy to configure and does not require much technical know-how. This makes it one of the best NAS for home and a versatile choice for small-office users.
Pros:
Speedy performance
Great selection of apps
Easy to set up and use
Cons:
High pricing
Suited for small to medium business users only
Key Features:
Capacity: Up to 70TB
DX517 expansion unit can increase capacity to 140TB
IP camera management
Supports all major file sharing protocols
Versatile storage
DLNA, Chromecast, Apple TV, and Roku support
Related: 5 Free Cloud Services to Upload and Backup iOS Photos
TerraMaster F2-221 NAS Storage Device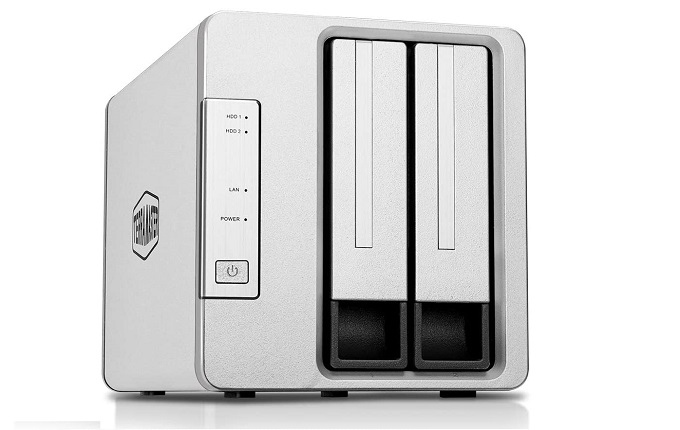 TerraMaster F2-221 comes with many helpful features to simplify your backup needs. The NAS drive is powered by Intel Apollo dual-core CPU. This ensures you will always get the most reliable performance from the NAS hard drive.
The file-transfer performance is impressive, making it one of the best NAS for Home. This NAS Storage can deliver fast reading/writing speeds in any environment. Your files are secured with AES hardware encryption, so there is no risk of unauthorized access. What's more, the NAS drive supports multiple RAID configurations as well. This allows you to access, share, and stream your content easily as per your need.
The Network Attached Storage unit has multiple I/O ports. It supports 4K video transcoding too. This makes it an ideal choice for home and personal needs. Besides, TerraMaster F2-221 offers more apps than its predecessor NAS hard drives. However, the apps catalog is not as extensive as that you can see with other best NAS drives.
Pros:
Powerful hardware
Great file-transfer performance
Real-time hardware transcoding
Cons:
Difficult setup process
Limited apps
Key Features:
Capacity: Up to 28TB
Supports hot-swapping
Multiple RAID configurations
AES hardware encryption
Advanced BTR file system
USB 3.0 and LAN connectivity
NETGEAR ReadyNAS RN212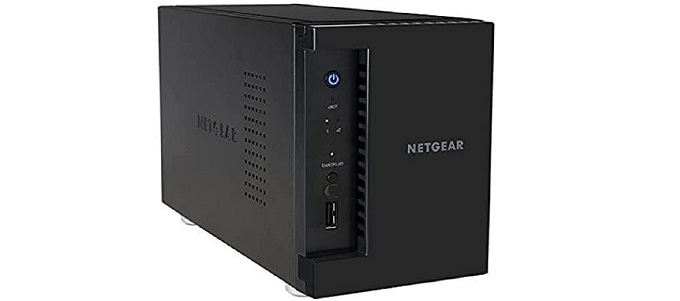 Netgear ReadyNAS 212 is one of the best NAS storage hard drives you can buy today. It delivers reliable performance in any environment, simplifying your data backup requirements. The NAS drive also comes with the B-Tree file system to offer extensive backup and redundancy features.
The NAS device works on a powerful ARM Cortex A15 CPU. This gives you smooth DLNA streaming and simple file playback. You can also define remote-to-local or local-to-remote backups via FTP and other protocols. However, you cannot browse remote FTP folders. Instead, you will need to manually copy and enter the path.
Netgear ReadyNAS 212 can be the best NAS hard drive for office uses because it is easy to set up and manage. It also comes with advanced safety features. This ensures that your content is safe from unauthorized access. You also get a powerful desktop app with the NAS drive. It allows you to manage syncing and automatic backups easily.
Pros:
Fast and responsive performance
VPN-based ReadyCLOUD
Great streaming options
Cons:
Operational glitches at times
Expensive for home use
Key Features:
Capacity: Up to 16TB
BTR file system
Built-in antivirus
Dual Ethernet ports
Link Aggregation mode
3-year warranty on chassis
WD My Cloud EX2 Ultra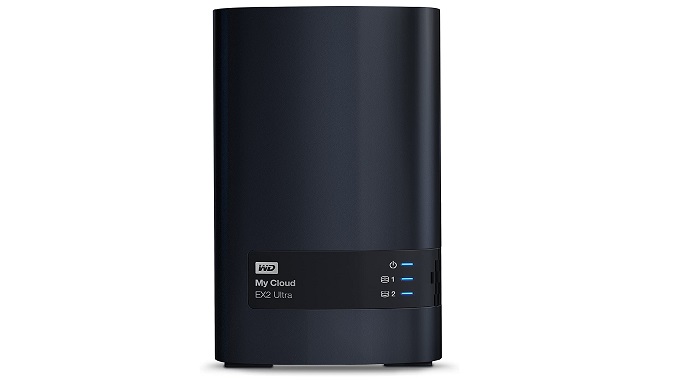 WD My Cloud EX2 Ultra allows you to organize your files with enhanced security protocols. It comes with a high-performance Marvel ARMADA 385 dual-core processor for smooth HD streaming. This makes it the best Network Attached Storage drive suited for home and office needs.
This NAS hard drive syncs content across your connected devices. This ensures you can easily access and share files and folders as required. WD My Cloud EX2 Ultra offers Microsoft Active Directory support too. This can be especially beneficial for small business uses. It can essentially act as a NAS server for backups and P2P downloads.
WD My Cloud EX2 Ultra allows you to take advantage of different RAID modes. This ensures better data redundancy as well as faster performance in all conditions. You can easily customize the configuration as per your specific needs. In any case, the RAID configurations will help to protect your important data.
Pros:
Simplistic operating system
Ultra-fast file transfers
Allows streaming with Plex
Cons:
Lack of app support
Can experience software glitches at times
Key Features:
Capacity: 4TB to 20TB
My Cloud OS 3 software
Automatic file synching
Dual bay for RAID setups
Milestone ARCUS surveillance software
USB 3.0 and Gigabit Ethernet support
Related: How to Connect External Hard Disk to Home Network over WiFi without PC
Synology DiskStation DS218j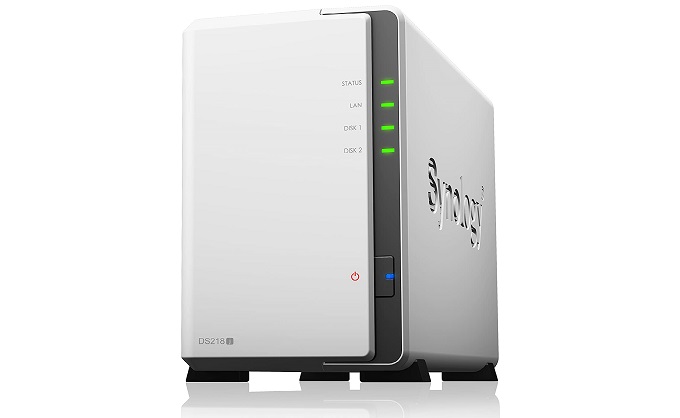 Synology DiskStation DS218j is the best entry-level NAS drive out there. It comes with notable management options and third-party app support. The design of the Network Attached Storage unit is quite stylish too. This makes it the best NAS drives for home and personal use.
The NAS hard drive features a user-friendly console that simplifies your file backup and sharing needs. It delivers good reading/writing speeds. You can use Synology DiskStation DS218j as a media server or cloud server. There is an option to turn the NAS drive into an IP camera surveillance station.
Synology DiskStation DS218j also offers you multiple RAID options. This bolsters the security features of the full-featured backup solution. Besides, the NAS drive is easy to install and use as well. You can add more than 1000 local users to the network using Synology DiskStation DS218j. This makes it a solid dual NAS hard drive you can rely on in any circumstances.
Pros:
Reasonably priced
Easy to set up and use
Great collection of apps
Cons:
File-transfer performance is not that great
Can run into iTunes library sync issues
Key Features:
Capacity: Up to 24TB
Multiple RAID configurations
Hardware encryption engine
Integrated media server
Supports up to 14 IP cameras
USB 3.0 and LAN ports
Seagate Personal Cloud NAS Storage Drive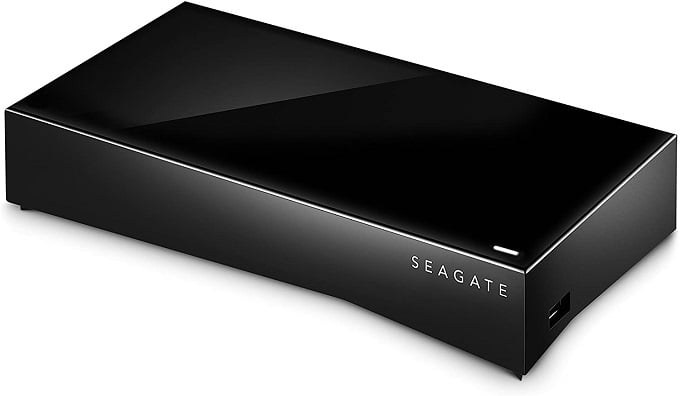 Seagate Personal Cloud NAS Drive offers you convenient network storage options. It is easy to set up and use and sports a sleek design that will blend well with your home décor. This makes it a great option for home and personal NAS storage needs.
The Network Attached Storage unit offers good storage capacities with its dual drive bay. You can also mirror the content from one hard drive to the other to keep an extra backup. This will offer more security to your important files. You can easily create a secure place to store your photos, videos, and other documents.
Seagate Personal Cloud is the best NAS for home users that also works with cloud accounts. So you can easily sync data from your Dropbox or Google Drive account to the NAS drive. It allows sharing content and streaming them using Chromecast and Roku too. This comes quite handy to share your files with your loved ones via a secure URL.
Pros:
Automatic backups across all devices
Remote access to Personal Cloud
Supports Plex Media Server
Cons:
Can experience performance issues at times
Not that flexible
Key Features:
Capacity: 4TB to 8TB
Remote file access
RAID support
Integrated media server software
Supports 4K streaming
IFTTT compatible
Related: 8 Best NAS Devices for Home Network to Access Remotely
BUFFALO TeraStation 3410DN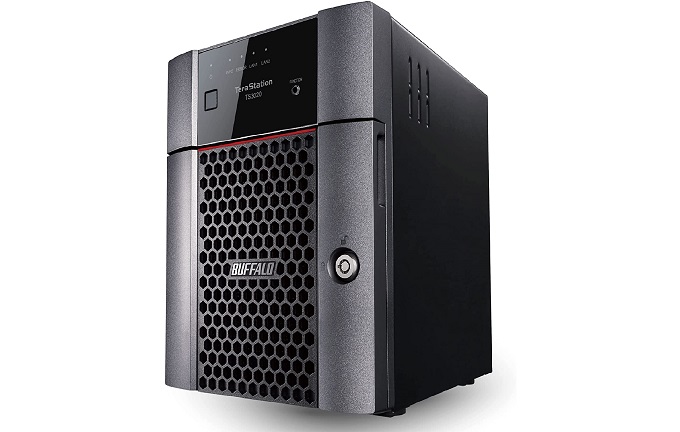 BUFFALO TeraStation 3410DN is one of the most popular NAS drives for offices. It comes with many high-end features and reliable performance. This ensures that the NAS hard drive can fit the needs of any business environment easily. You can use it as a data repository or for creating backups of your important files.
The NAS storage unit comes with advanced RAID capabilities that keep your files safe. Even if one of the hard drives fails, you can retrieve the data easily. This is possible using the mirror backup in the NAS device. Buffalo TeraStation 3410DN is a versatile and reliable NAS hard drive for offices.
The dual-core processor of Buffalo TeraStation 3410DN takes care of all the automation tasks perfectly. You can even turn it into a media online content streaming device. The NAS drive will offer a comprehensive solution for your data backup and protection needs.
Pros:
Easy to install and use
Seamless performance
Low power requirements
Cons:
Designed for professional users only
Limited storage space for the price
Key Features:
Capacity: Up to 16TB
NAS-grade hard drives included
Compatible with Microsoft Azure, Dropbox, OneDrive, and more
Integrated Cloud and Private Cloud backup
USB 3.0 and Ethernet support
3-year warranty
Related: Best Solutions to Transfer Files between Windows and Mac
---
FAQ: NAS Storage Devices
What are the things to consider while buying NAS storage drives?
NAS drives will ensure that you can protect your files with excellent security features. This may not sound that crucial for individuals. However, protecting important files and assets is critical for businesses. The above-mentioned NAS drives suit home and office uses. You just need to pick one that will suit your specific requirements. Here are 5 things that you should consider when choosing the best NAS drive: Capacity, Backup/Recovery, Connectivity Options, Security Features, and Price.
How much capacity do I need for NAS storage?
You would surely want to store as much data in the NAS hard drive as you can. Therefore, choosing a unit with the right capacity to meet your needs will be the first criterion. Choosing a multi-bay NAS drive will offer you more flexibility. So when deciding on the capacity of the best network-attached storage, think about your future needs too.
Does home NAS need RAID?
Most of the best Network Attached Storage devices offer automatic backups. However, not all do. Therefore, check that the NAS hard drive you choose offers the right backup and recovery options for your needs. Besides, see if it is RAID-enabled. This will allow you to keep multiple backups of your important data.
Can you sync NAS drive with Cloud and other devices?
The best NAS drive will sync data across all your devices. This allows you to access your files from connected PCs or mobile devices. So make sure that the NAS drive you choose offers you the ability to access and share your files. Check if you can have remote access to your files too.
Is NAS storage secure?
NAS drives for home offer you peace of mind knowing that your files are secured. The backups should be encrypted with high-end security protocols. This way, you can retrieve them in case of an emergency. Make sure you choose the best NAS drive that offers the best security possible.
Is buying a NAS worth it? Are they expensive?
The prices of NAS drives vary greatly as per the features offered by the unit. You should keep a flexible budget when choosing a NAS drive. Prioritize your requirements and then shortlist the best NAS storage units that offer you those services. This will make it easy to pick the right Network Attached Storage for your needs.
Is 2TB enough for NAS Storage at home?
For home and personal needs, NAS storage with 2TB to 4TB will be enough. Yet, for office uses, you may need around 8TB to make the most of it.
Apart from these, your choice for a NAS device should depend upon its application. Have a clear idea of all your requirements and weigh them against the features of the NAS drive. This will allow you to get the best Network-attached storage drives.