Live Wallpapers have been very popular on Android for a long time. In fact, until just a few years ago, every manufacturer was adding some exclusive built-in live wallpapers with every new flagship phone. That craze seems to have come down a bit. It's actually difficult to find the Android live wallpapers these days that aren't just video wallpapers.
There are actually a ton of apps that offer a collection of live wallpapers. Almost all of those live wallpapers are just looping videos. That's not to say they're bad, but they're not quite as customizable or interactive as actual live wallpapers. On this list, we will list both kinds of apps, because some of those video live wallpapers are beautiful too.
Best Live Wallpapers for Android, 2023
Forest Live Wallpaper
We begin the list of the best Android live wallpapers with my personal favorite. If you love Material Design wallpapers, Forest Live Wallpaper should be somewhere at the top of your list as well. The wallpaper features, as the name suggests, a forest, and some mountains. The design is minimal and there's not a lot going on. This gives your home screen a minimal and clean look.
The best part, which makes it one of the best Android live wallpapers for me, is that it changes colors throughout the day. There's a slight shift in color in the evening, and then a night scene appears in the night. It can also display current weather conditions, but you will need to provide your own open weather API for it.
Especially since I use an automatic dark mode schedule, this wallpaper compliments my use case so well. Because often, in the darkness of the night, you turn on your phone, and you have to face a bright wallpaper that looked so good in the day. That won't happen with Forest Live Wallpaper, unless you choose it.
There are also a few different color schemes based on different seasons, 3D Parallax effect options and the ability to show or hide various elements or layers.
Download from PlayStore: Forest Live Wallpaper
How to Disable Annoying Windows 11 Lock Screen Wallpaper
Paperland Live Wallpaper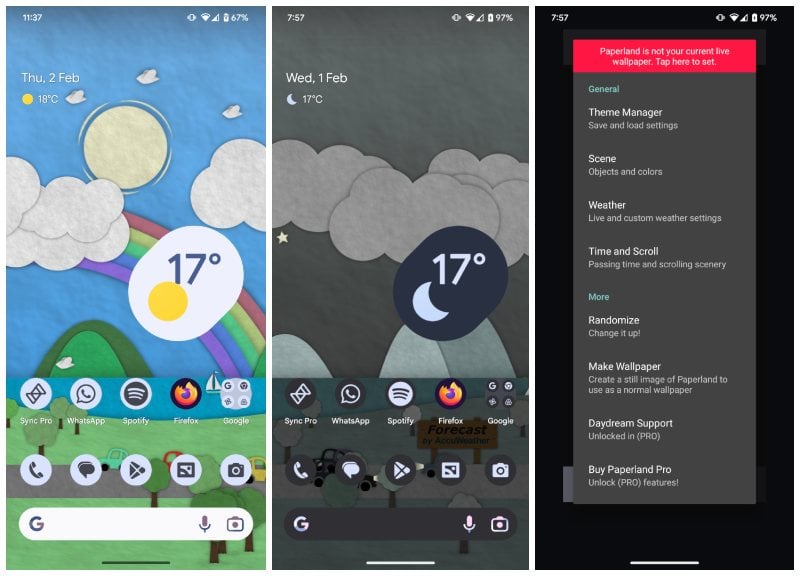 Continuing with the material design, we have Paperland Live Wallpaper. This is very similar to forest live wallpaper, in that it is based on material design. Unlike the previous one, though, the layers in this wallpaper actually look like they're made of paper. And that paper not only gives it the name, but also adds that bit of charm to the whole thing.
This one too changes colors, but only into the night, and it's not a gradual progression towards the night. Paper land is highly customizable and also displays current weather conditions. If you prefer, it can also let you create a still image from the live wallpaper. The developer Joko Interactive has a few other wallpapers on their Play Store page with the same style, including a Pro version of Paperland.
So, basically, Paperland has a few siblings called Papersea and Minima. Papersea is almost identical to Paperland as the name would suggest, barring the scenery it depicts. Minima, on the other hand, features some of the classic abstract material design wallpapers in a more live version.
Download from PlayStore: Paperland Live Wallpaper
Chrome Galaxy Live Wallpaper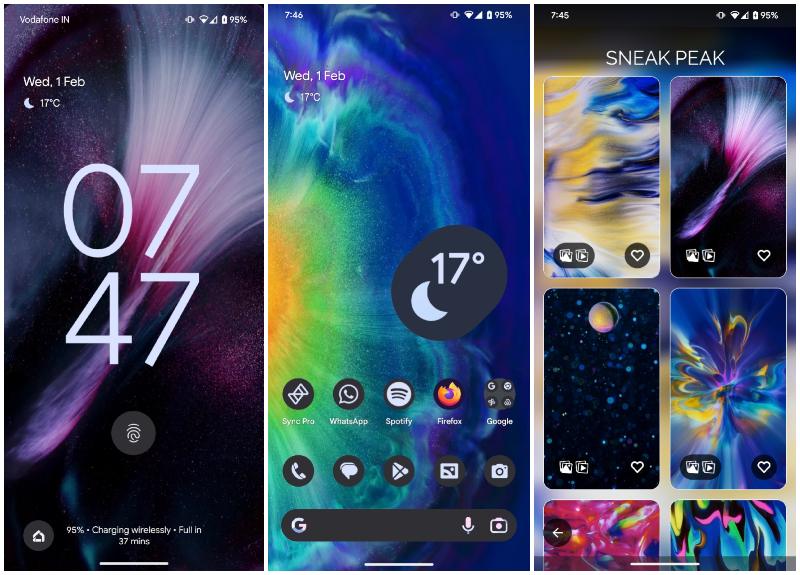 If you're tired of generic random wallpapers, how about wallpapers designed by an artist? Even better, how about live wallpapers designed by an artist? Because that's what Chrome Galaxy Live Wallpapers are. This is an app by Roman De Giuli, who has a YouTube channel as well. If you want a preview of how amazing this app's wallpapers are, look him up on YouTube.
These are all basically video wallpapers created by him that run for 20 seconds before looping. What makes this app different from other apps with a video wallpaper collection, is that all the wallpapers here follow a similar theme.
This is a stunning set of video wallpapers that you will not find elsewhere. The app has zero ads too, and it still gives you 30 live wallpapers for free. If you love what you see, and I think you will, you can buy more packs to get up to 250 wallpapers. It also lets you just use a still image of any live wallpaper instead if you're worried about battery life.
Download from PlayStore: Chrome Galaxy Live Wallpaper
How to Set Video Wallpaper on Android: Make Live Wallpaper from Any Video
Muzei Live Wallpaper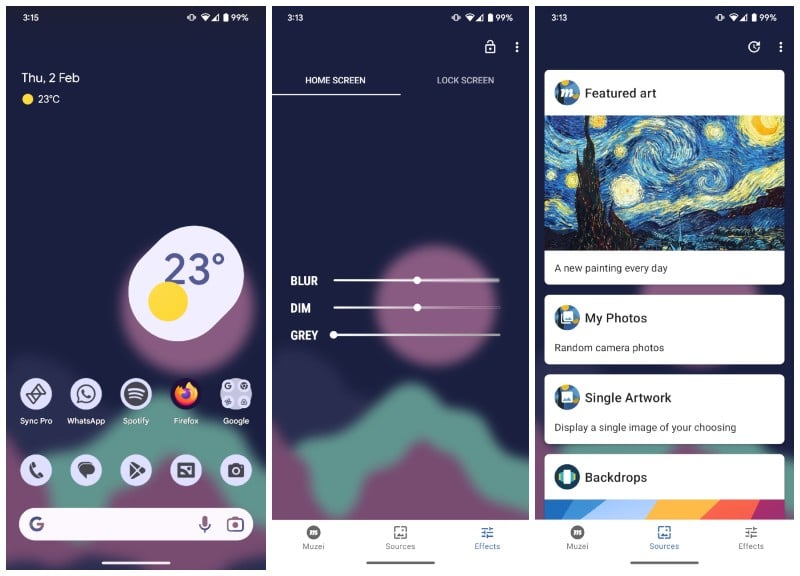 Muzei is more of a wallpaper slideshow than your typical Live Wallpaper. It replaces your wallpaper each day with "famous works of art". The app will also dim and/or blur the wallpaper to make sure your icons and widgets are always easy to see.
Since it is basically a slideshow of photos, the app also gives you the option to use your own photos instead. It even lets you select wallpapers from other apps you have installed. Muzei lets you adjust the dimming, blur, and grayscale levels using sliders, so you can tune the wallpaper to your liking.
If an interesting piece of artwork pops up and is blurred or dimmed, you can double-tap on the wallpaper to remove any effects and see the art in all its glory. This and a three-finger tap are gestures that can be customized to Temporarily disable effects, Next Artwork, View Artwork Details or None.
Download from PlayStore: Muzei Live Wallpaper
Cartogram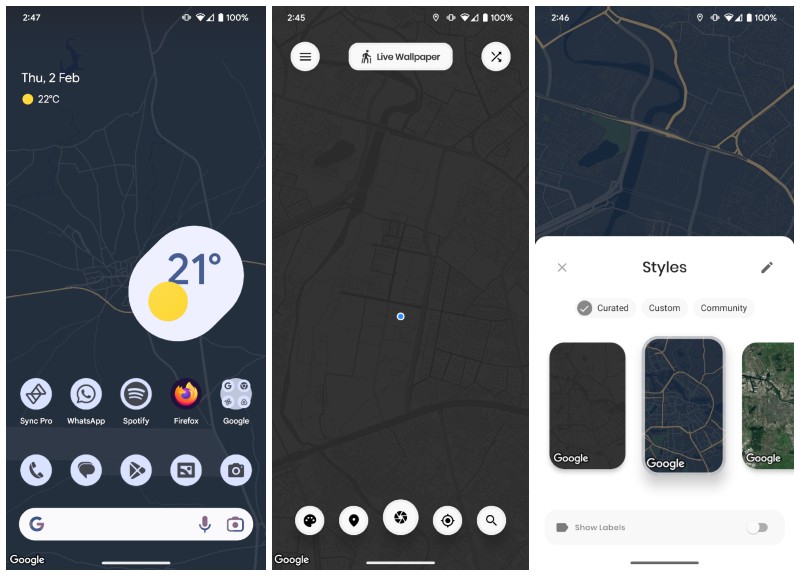 Cartogram is another favorite of mine because it's such a unique idea. If you've ever wished Google Maps was baked right into your home screen instead, this is as close as it gets. Cartogram sets a map of your current location as your wallpaper. There is an option to simply use a static image, or a live wallpaper which will change as you move around.
Having a map on your home screen, under your widgets and icons, can be messy. It can make everything hard to see. That's why Cartogram gives you so(oooooo) many options to customize your map. There are minimal options with various color schemes, both light and dark or colorful. If you fancy, you can even use a satellite view instead.
If you really want to make the wallpaper functional as well, you also get the option to turn on map labels. This takes away the clean aesthetic, but you will know where everything is simply by looking at your home screen. My only gripe with the app would be the interface, which is just full of buttons without labels. As a new user, you would have to tap on each one to see what it does.
Download from PlayStore: Cartogram
How to Customize Google Pixel Icons, Wallpapers, and Grid Size
Wallpaper Engine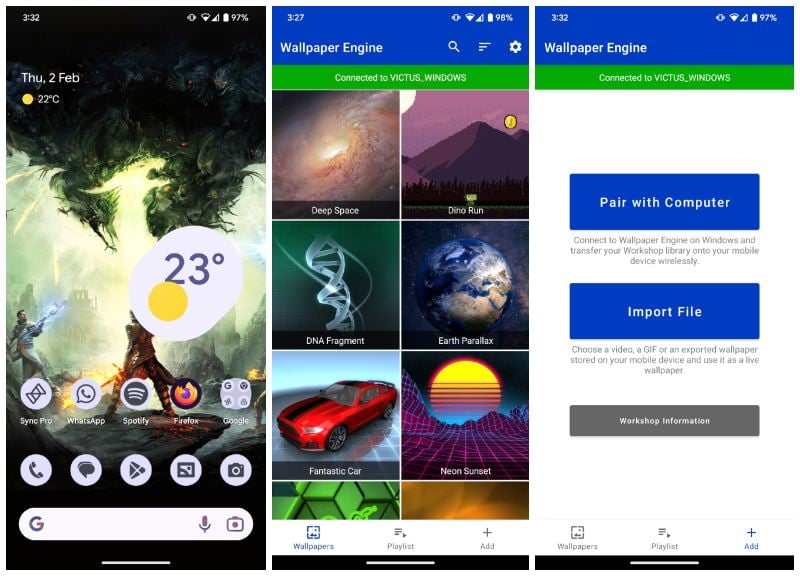 If you really are into live wallpapers, you probably enjoy them on your desktop too. In that case, you've probably heard of Wallpaper Engine. The Android version is more of a companion app to the desktop version. It does come with a few built-in live wallpapers. However, you can't access the vast community library as you can on the desktop.
If you have Wallpaper Engine on the desktop, you can pair the two and export your desktop live wallpapers to your phone. The process is a little more complicated than other apps on this list, but if you already have Wallpaper Engine on the desktop, it's worth the trouble. There is probably no live wallpaper app on Android with as vast a community and content library.
The desktop version is not free, though, if you want to access the huge number of user-generated live wallpaper library. It costs $3.99 on Steam. It's also one of the few apps that lets you create your own live wallpaper.
Download from PlayStore: Wallpaper Engine
Betta Fish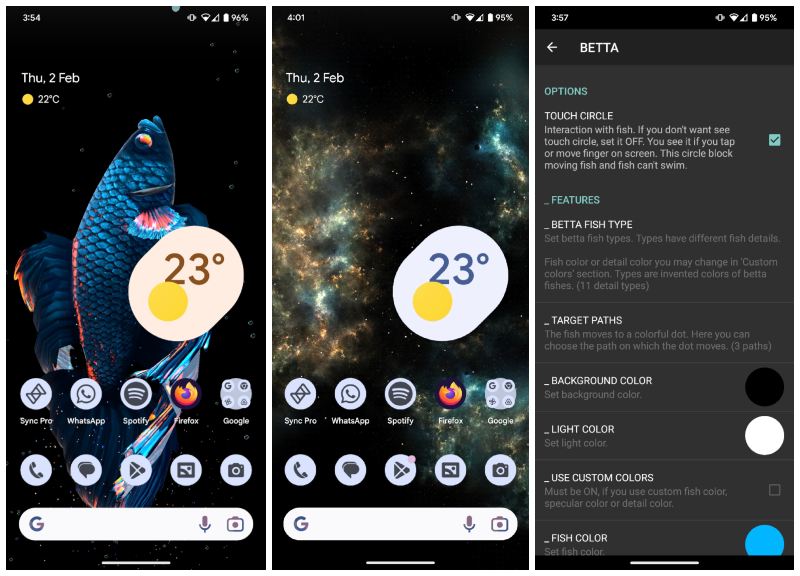 If your device has an AMOLED display, it would be almost criminal to ignore this wallpaper. That's because the background here is completely black, and the colorful fish offers a beautiful contrast to that. It looks good on non-AMOLED displays as well, by the way. This little Betta Fish just looks stunningly gorgeous as it moves around on your home screen.
This is one of those beautiful things that you only truly appreciate when you see it yourself. Screenshots cannot do it justice. The wallpaper is also very customizable. You can change the type of betta fish, set the path, change background color, fish color, customize bubbles, and more.
Although, you would have to unlock all those settings with a one-time payment. Developer maxelus.net has more wallpapers if you're not a huge fan of this one. I would highly recommend Amoled, again, for AMOLED screens. Shadow Galaxy is another one I like, and it's also fairly customizable, as well as free. Shadow Galaxy Anniversary Edition will cost you, though, as it does offer plenty more features.
Download from PlayStore: Betta Fish
Walloop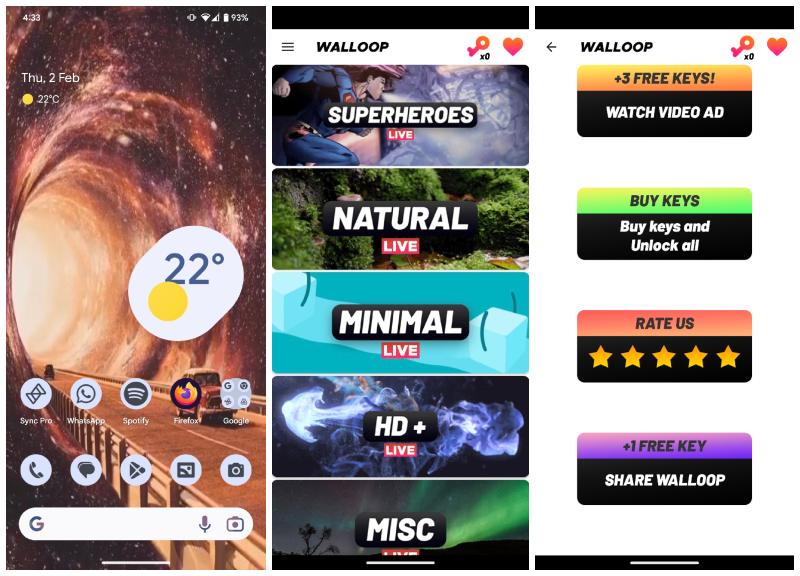 Walloop is another app that is a collection of video wallpapers. This one is free, in a way, kind of, if you don't mind watching video ads for your video wallpapers. Watching one video ad gives you 3 keys which can unlock one wallpaper. Alternatively, you can buy keys with money.
It does feel a little cheap on the part of the developer, but obviously this probably makes them a lot more money than traditional ways. At least you don't have to watch ads while merely browsing the wallpapers, which is extra annoying and does happen on some apps out there.
If you can work with the situation here, the selection of wallpapers is excellent. Wallpapers are divided into various sections to make them easier to browse. Some of these categories or sections are AMOLED, seasonal, nature, anime, abstract, superheroes, minimal, etc. It even lets you use your own video or GIF as a wallpaper.
Download from PlayStore: Walloop
Wave Live Wallpaper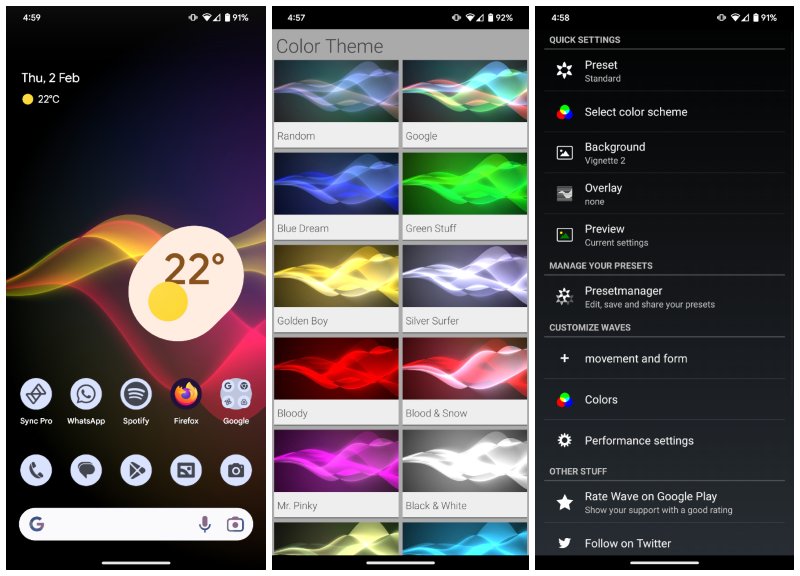 Remember the good old days when Sony Xperia flagships were actually good? I liked everything about them, especially those live wallpapers. Wave Live Wallpaper would definitely make you feel nostalgic if you had a Sony Xperia back in the day.
If you didn't, fortunately you haven't missed out on the wavy goodness necessarily. Wave Live Wallpaper has a bunch of customization options for the waves and background. By default, the waves will automatically change colors. There are a bunch of pre-built color schemes you can choose from as well.
It gives your home screen a clean, beautiful and dynamic look. The app was clearly inspired by Sony's wallpapers, and it even has the old the holo design. It's not free, though, and will cost you $2.49. If you ask me, it's totally worth it. But being a former Xperia fan that never switched from those wavy live wallpapers as long as I had my Xperia, I may be a little biased.
Download from PlayStore: Wave Live Wallpaper
12 Best Messaging Platforms for Android and iPhone Users in 2023
KLWP Live Wallpaper Maker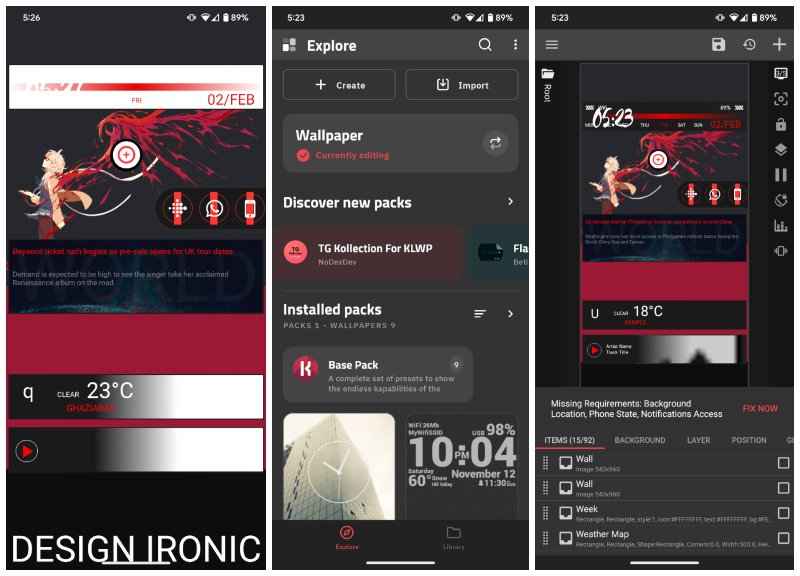 To say the least, KLWP is the KWGT of Live Wallpapers, if you're familiar with KWGT. If you're not, first, why? And second, KWGT is a "Kustom" widget maker app. KLWP, similarly, is an app that lets you create custom live wallpapers. But don't worry, you won't have to.
KLWP is widely popular, and you will find so many live wallpapers built for KLWP on the Play Store or elsewhere on the internet, such as on Reddit. So, even though it is by far the most capable live wallpaper creator on Android, you can just use it to enjoy what others have created.
KLWP live wallpapers can even be highly interactive, and there are many that are designed to just replace your entire home screen. They can have app icons, widgets, you name it. Despite all the options, though, it's not suited for someone who isn't into customization a lot. If you just want a simple live wallpaper that looks nice, you can pick any of the apps listed above. KLWP is free, but if you really want to load wallpapers created by others, you will have to buy the Pro key.
Download from PlayStore: KLWP Live Wallpaper Maker, KLWP Live Wallpaper Pro Key
Needless to say, there are a huge number of live wallpapers for Android that haven't made this list. And while some of them are absolute trash, show a ton of ads, there are some good ones out there as well. If we've missed one of your favorite live wallpaper apps, let us and everyone know in the comments.