Pixel phones come with the 'Flip to Shhh' gesture which lets you flip to mute your phone. It is a handy and quick shortcut to turn on Do Not Disturb Mode on Android. If you have a Google Pixel device, 'Flip to Shhh' or flip to mute is already a built-in feature. You can still get the Flip to Shhh on any Android phone if you don't have a Pixel.
Let's get started.
Enable Flip to Shhh on Google Pixel
Google Pixel phones have the Flip to Shhh feature inbuilt. Like many other Pixel features, including squeeze and shake, the Flip to Shhh is a gesture, and you can find the setting on the gestures settings page.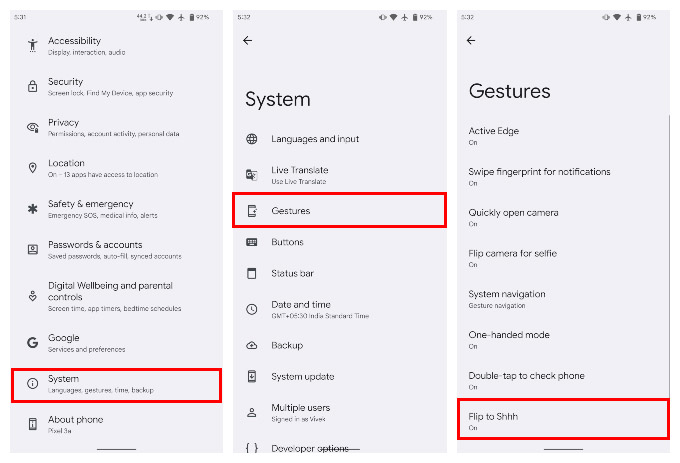 Open Settings on your Pixel.
Scroll down and tap on System.
From there, select Gestures.
Tap on Flip to Shhh.
Turn on the toggle on the next page.
From now on, you can simply flip your phone face down to silence it. This is much more useful when the morning alarm annoys you, compared to smashing your phone or fiddling with the on-screen controls while you're struggling to wake up.
Related: Wake Your Android Phone Without Touching the Screen Like Google Pixel
Enable Flip to Mute on Any Android
If you don't have a Pixel, you can still flip to mute your phone with a simple app. It's not the most groundbreaking feature, but once you start using it, you wonder how you've been living without it until now.
The app we'll be using is called Flip and you can download it from the Play Store for free. The app will detect when you flip your phone and turn on Do Not Disturb mode, essentially giving you a flip to mute feature.
Download: Flip DND: Flip to shhh..shush!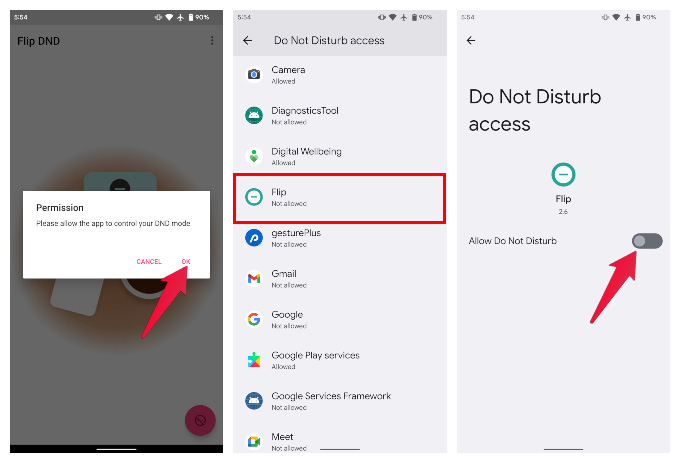 Install Flip from the Play Store.
Launch the app.
Tap OK on the permission dialog asking for access to DND mode.
This will redirect you to the Do not disturb access page.
Find and select Flip from the list of apps.
Turn on the toggle on the next page.
Tap Allow on the popup that appears.
That's all you have to do, and flip to mute works right out of the gate. By default, the app also shows a notification so that you'd know it's running. If you don't want it, you can hide it. Simply tap Hide notification on the notification itself, or select Hide notification from the three-dot overflow menu in the app. This will redirect you to the app's notification page, where you can toggle off Notifications from the app.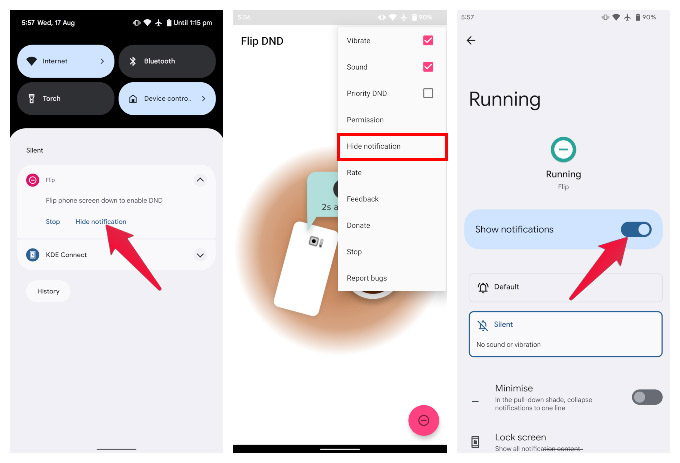 The menu in the app also has toggles to enable or disable certain features as per your choice. If you check Priority DND, flipping your phone will not allow notifications even from starred contacts and priority conversations.
Related: How to Get Pixel 5 Adaptive Sound on Any Pixel Phone (without Root)
Make Sure Flip to Mute Works Consistently
On Samsung, Sony, OnePlus, Oppo, Vivo, Huawei, etc. devices the app might be forced to shut down after a while. To make sure the app is always working, you may have to exclude it from the battery management settings on your phone.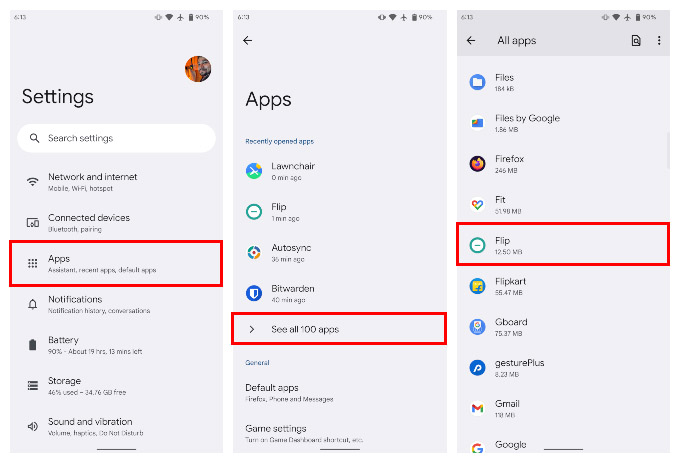 Long press on the Flip app icon in your app drawer or home screen and select App info.
Alternatively, go to Settings > Apps > See all apps and select Flip.
On the App info page, select Battery.
Here, select Unrestricted to make sure the app is always running.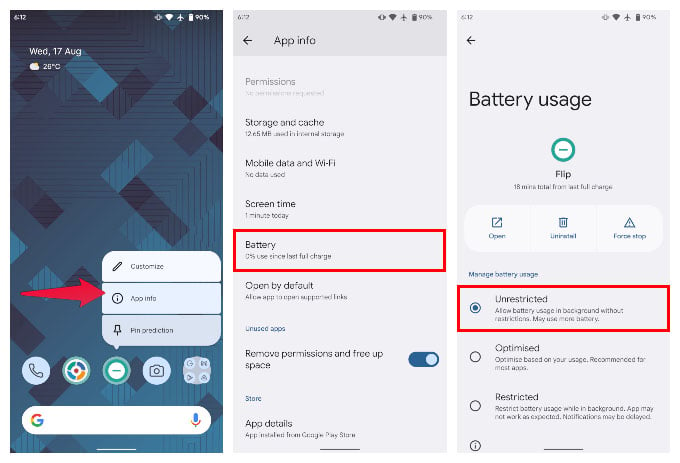 Most manufacturers include such aggressive battery management settings. So, unless you're using stock Android, there's a good chance that you will need to exclude the app from battery management settings.
Related: How to Check Battery Health On Android
FAQ: Flip to Shhh on Android
How do you turn on Do Not Disturb when phone is face down?
On Google Pixel devices, with Flip to Shhh enabled, you can flip your phone face down to shush it. This silences all calls and any notifications, vibrations as well as alarms.
How do I enable Flip to shhh?
On Pixel phones, you can enable Flip to shhh from the Gesture settings by following the steps mentioned above. On other Android phones, you may have to use a third-party app. The steps for that are also mentioned above.
How do I turn on flip to silent on Google?

Google Pixel devices ship with the Flip to Shhh feature that lets you flip your phone face down to put it in silent mode. You can enable this setting from Settings > System > Gestures.