Now that Google Pixel 7 and Pixel 7 Pro Android phones are official, we know practically everything there is to know about them. Both products are available for pre-order in advance of their October 13 release date. Before you do that, you must safeguard your phone from damage caused by drops and scratches. For those of you who have ordered a Pixel 7 series phone, here are several cases to keep them safe.
These are some of the curated lists of cases that offer the best protection for your Pixel 7 series smartphones without sacrificing functionality.
Spigen Tough Armor Pixel 7 Case
The Spigen Tough Armor is equipped with cutting-edge foam technology to provide superior shock absorption. The TPU and Polycarbonate design provides extra protection against falls and scratches. You can rest assured that your screen and camera won't get damaged thanks to the raised lips. Spigen Tough also has a kickstand for helping users with media consumption.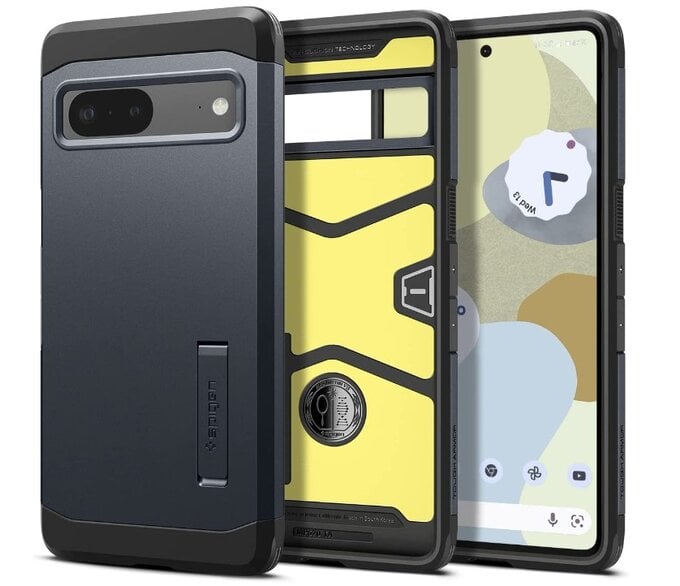 Key Features: Foam Technology for Shock Absorption | TPU and PolyCarbonate design | Air cushion edges | Raized Lips for Camera Protection | Kickstand | MagSafe supported
Regarding anti-shock protection, nothing beats the military-grade certification and Air Cushion Technology. Both Magsafe and wireless charging will work with this case.
Related: How to Use Pixel Magic Eraser to Remove Objects from Photos
Humixx Shockproof Pixel 7 Pro Case
With its 1.5mm raised screen borders and 2mm raised camera bezels, the Humixx case is designed to safeguard your Google Pixel 7 Pro's premium display and camera. The nano oleophobic and skin-friendly layer it contains provides excellent protection against dirt, oil, and fingerprints. In addition, a reinforced soft TPU bumper with a non-slip polymer coating is used in the case to provide a secure grip.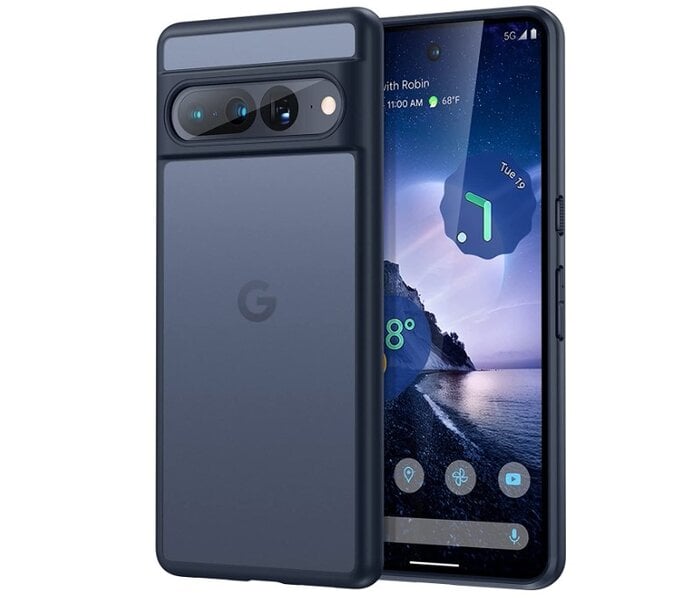 Key Features: 1.5mm screen bezels | 2mm camera bezel | Nano-Oleophobic coating | TPU Bumper | Wireless charger compatible | Four corner airbags for impact resistance | Non-Slip Polymer coating
You may charge your phone without removing this Humixx case because it is compatible with all wireless chargers. Protected from all sides by airbags, this case can fully absorb the impact of drops.
Aukvite Pixel 7 Case
The premium TPU used to make the Aukvite case for the Google Pixel 7 is both flexible and scratch-resistant, providing excellent drop protection and a comfortable grip.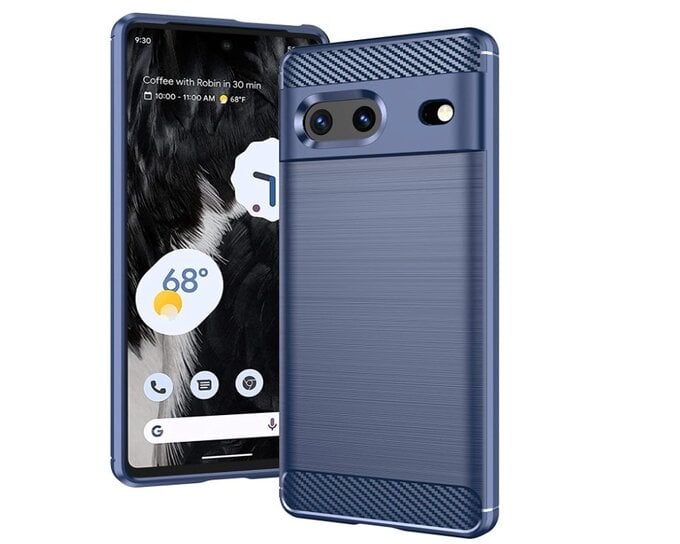 Key Features: Premium TPU | Comfortable Grip | Raised Frame for Protection | Precise Button and Port cutouts | Supports MagSafe charging
With its raised frame, the Google Pixel 7 case protects the screen and camera from drops and other damage. It also supports MagSafe and Qi wireless charging without any issues. It also has precise cutouts for buttons and ports.
Related: Pixel 6a Review: More Power, Less Camera, Good Enough?
Antshare Case with Screen Protector for Pixel 7 Pro
The superior soft TPU frame and the firm PC rear shell of the Antshare case combine to create a hybrid dual-layer design that is both lightweight and incredibly durable. This case is extra sturdy, has rounded corners for further protection, snaps together quickly, and has a smooth matte finish for a firm grip.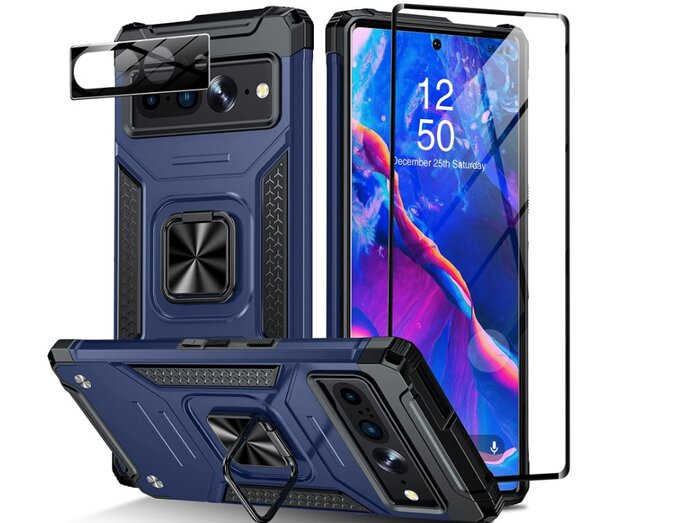 Key Features: TPU Frame | Polycarbonate Shell | Dual-Layer Design | Lens Shield for Camera Protection | Screen Protector with 9H Hardness
Included screen protector shields your screen from damage like cracks and scratches without affecting your ability to use the touchscreen. The raised bezel and a separate lens shield protect the camera lens from damage.
JGY Leather Wallet Case for Pixel 7 Pro
The JGY Leather Case is a 2 IN 1 Multifunctional Wallet, meaning it has multiple uses and can store various things, like your phone, cards, cash, and other personal documents. There are ten card slots and a safe zippered compartment within the wallet. There are slots for credit cards, a zippered pocket, and a cell phone holder.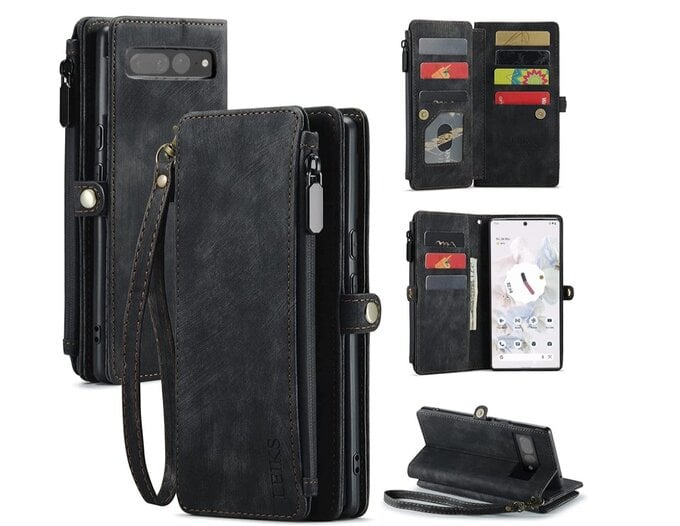 Key Features: 2-in-1 wallet case | TPU inner case | Raised Lip for Protection | Wrist Strap | Leather Outer Case for Premium Feel | Zipped Compartment for Storage
With the camera cutout on the back, you can snap photos quickly and effortlessly without even taking out your phone. The leather case and raised lip shield the camera from damage. There is an optional wrist strap as well. The inner case is made from TPU material.
Related: 14 Best Pixel 6A Accessories You Can Buy Right Now
Tunk Armor Pixel 7 Case
The Tunk Armor case has a swiveling ring stand that can be rotated to provide horizontal and vertical viewing angles. This magnetic car mount holder has a built-in metal magnetic sheet for stable adsorption.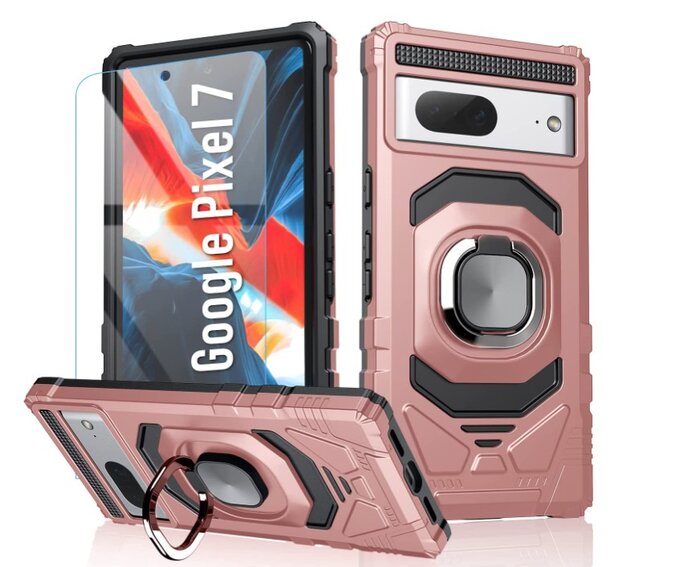 Key Features: Swiveling Ring Stand | Car mount holder | TPU Frame and Polycarbonate back | Precise cutouts | Non-slip bumper with grip
The refined Pixel & case's TPU frame offers a soft touch and excellent grip. The non-slip bumper offers superior grip and complete back protection with its rough edges and impact-resistant hard PC shell. The case is well-designed, with precise cuts for the speakers, camera, and charging port.
Spigen Ultra Hybrid Pixel 7 Case
The Spigen Ultra Hybrid Case combines a flexible TPU bumper and a tough polycarbonate rear for maximum protection. The completely see-through back lets you show off your phone's unique style. The screen and camera are lifted off flat surfaces and protected by the device's raised bezels.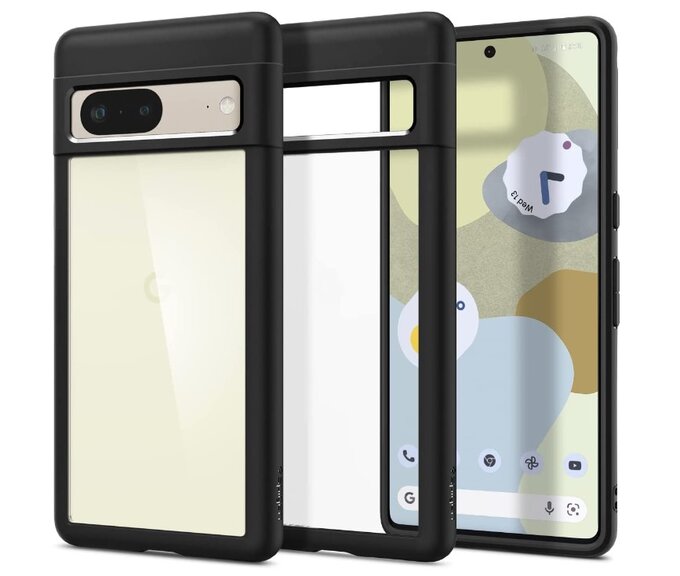 Key Features: Flexible TPU Bumper | Polycarbonate Exterior | Raised Bezels for Screen & Camera Protection | Air Cushion Impact Resistance | Precise Port Cutouts
All the port and button openings are generously sized, and they are precisely shaped so they can be felt and pressed easily. The air cushion edges provide protection from drops and other impacts.
Milomdoi Case for Google Pixel 7 Pro
The quality thermoplastic polyurethane (TPU) used to make the Milomdoi Case with screen protector is flexible enough to accommodate the Google Pixel 7 Pro's rounded edges while offering optimum protection from scratches. The nano electrostatic adsorption technology in the camera protector makes it simple to attach but resilient against accidental removal.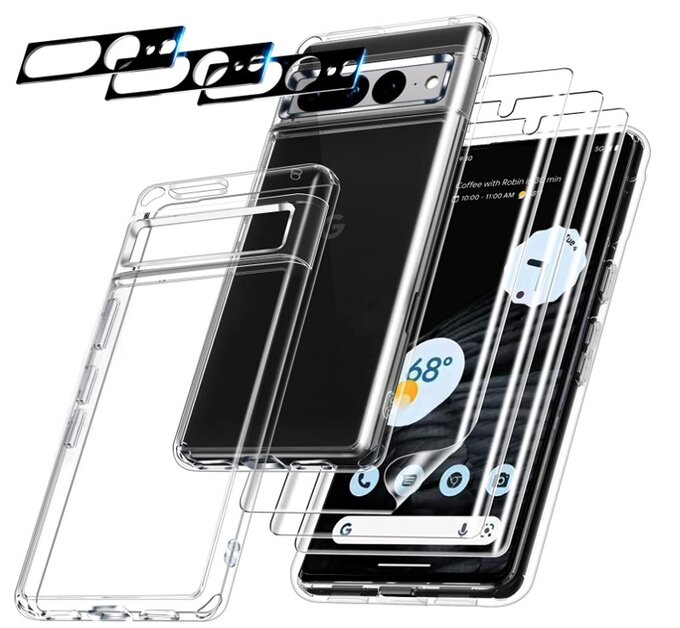 Key Features: TPU material | Nano Electrostatic Absorption | 9H Hard Tempered Glass | Oleophobic coating with Anti-yellowing | Supports Wireless Charging
Protecting the entire camera lens from drops, scratches, and other mishaps is no problem for glass with a 9H hardness rating. Thsi Pixel 7 Pro has a very slim profile, and it supports wireless charging. The new oleophobic nano-coating is effective against 99.9% of yellowing caused by UV radiation and sweat, allowing it to remain spotless and pristine for much longer than before.
Spider case Pixel 7 Pro Case
The screen and camera are protected from cracks and chips from drops thanks to the 1.5mm raised lips of the Spider case that surround both. It has an accurate opening for all buttons, sensors, and cameras. The ergonomic shape of this case makes it easy to hold in one's hand. The issues with fingerprints and smudges were resolved using quality frosted material that is scratch-resistant and slip-resistant.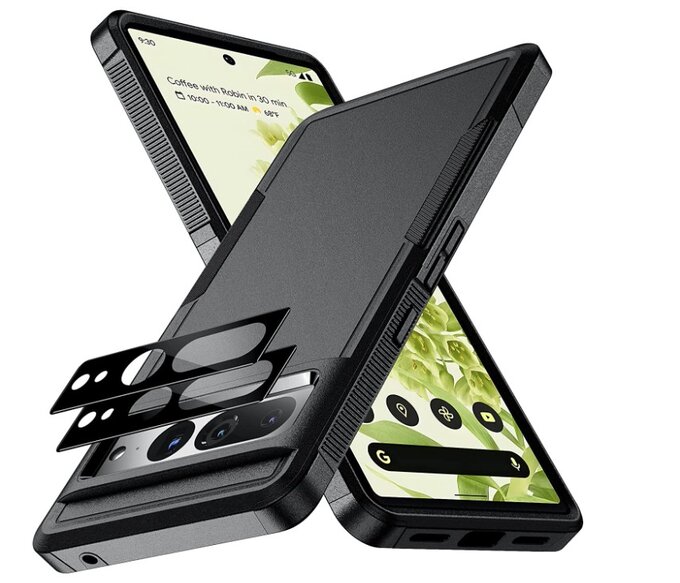 Key Features: 1.5mm raised lips for protection | Precise cutouts | Frosted Anti-Slip Material | Dual-layer design with TPU and Polycarbonate | Includes camera protectors
The dual-layer design of this case protects the phone from 360-degree falls and damage. The case has a rubberized inner lining and a rigid polycarbonate outer shell. The two HD transparent camera lens protectors are included in this guard against scratches and cracks.
Jioeuinly Pixel 7 Case
This soft case is made of semitransparent silicon for better protection and style. UV ink printing ensures that the designs retain their vibrant hues over time. It is resistant to dings and drops, making it a solid choice for protection.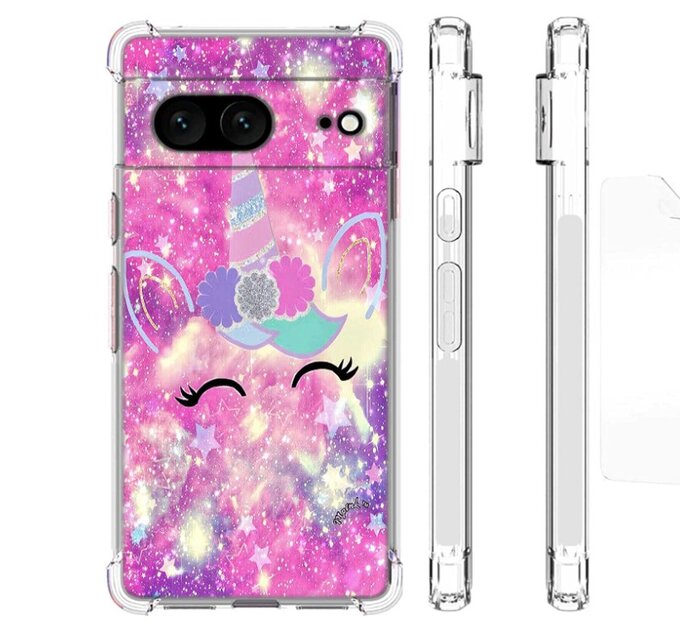 Key Features: UV resistant paint | Silicon case | Matte coating for grip | Includes screen protector and cleaning kit
The matte coating on the rear makes it easier to grip and more pleasant to handle. In addition, a screen protector and cleaning kit are included at no additional cost.
Casebeau Crystal Clear Pixel 7 Case
Made with premium Bayer's ultra-clear TPU and PC material, this case for the Pixel 7 is both transparent and oil resistant. The screen and camera are safe from drops and scratches thanks to the raised bezels. Lips of 1.8 mm surround the camera, the screen has 1.5 mm bezels, and the rear has 0.5 mm raised corners for total and additional protection despite its compact size.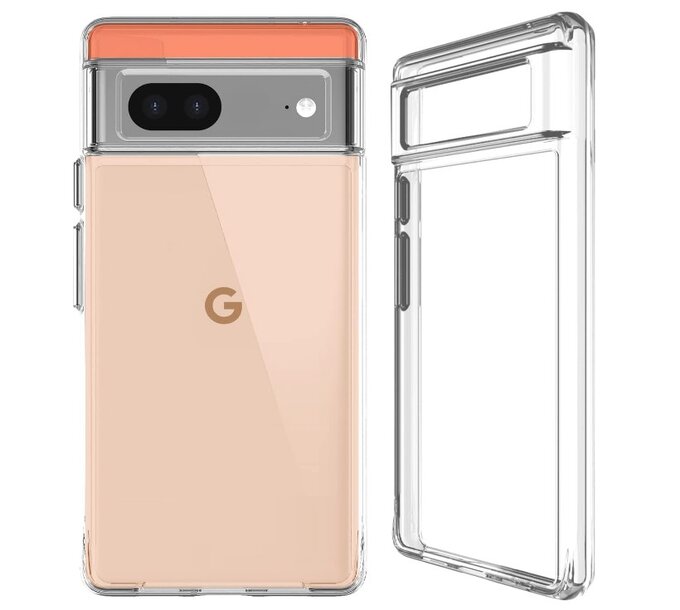 Key Features: Ultra clear TPU and Polycarbonate | 1.8mm camera lip | 1.5mm screen lip | Anti-fingerprint coating | Snug Fit
With the addition of the proprietary AF Anti-fingerprint coating, the upgraded ultra-clean backplane may greatly decrease fingerprint residues and maintain a spotless appearance over time. It fits snugly around your phone and prevents dirt and scratches.
GOLDJU Pixel 7 Case with Screen Protector
This protective case for the Google Pixel 7 is built to withstand drops, knocks, and scratches thanks to its dual-layer buffer design (made of Polycarbonate and TPU) and shock-absorbing edges. This Pixel 7 case has a metal ring that can be used as a stand so that you can watch videos without having to hold your phone. Screen and camera lens protection of up to 9H hardness is included in this case.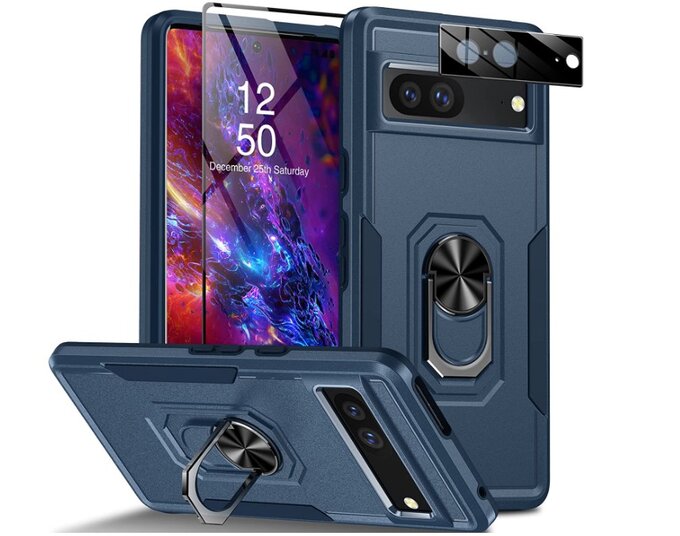 Key Features: Dual layer design | Metal Ring for Kickstand | 9H Hard Screen Protector | Precise cutouts | Raised Lips for Protection | Shock absorbing design
Easy access to all controls, cameras, and the charging connection is provided via the case's precision cutouts. The screen and camera lens are safeguarded by a raised lip on the design.
Temdan Google Pixel 7 Case
Temdan's Google Pixel 7 shockproof case has passed the Military Grade Drop Test, proving its ability to withstand falls of up to 10 feet. With its innovative double-layer shock absorber design and four anti-collision corners, this case is built to withstand the worst impacts. The protective screen bezel measures 1.0 mm, while the camera bezel measures 1.5 mm.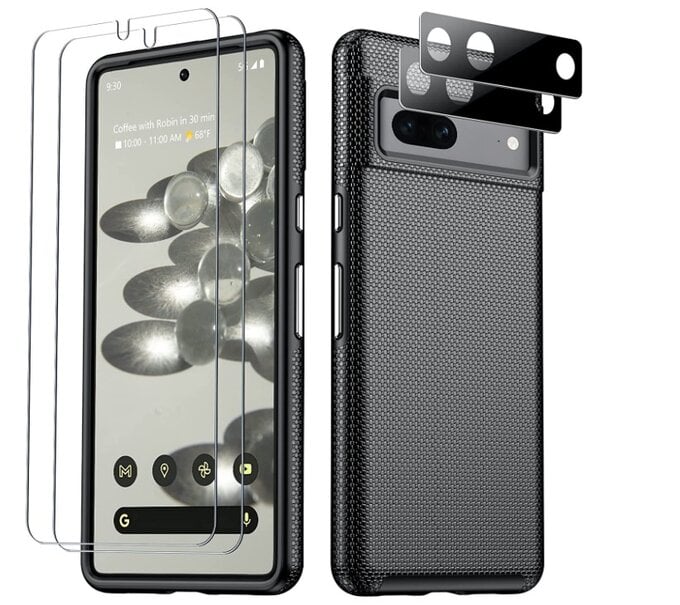 Key Features: Miltary Grade Shockproof Design | 1mm screen lip | 1.5mm camera lip | TPU material | Precise cutouts | Wireless charging supported
Temdan is made from Thermoplastic Polyurethane (TPU) with a double-layer protective design. The placement of the charging port, the lens, and the side buttons have all been carefully planned out. It can be charged wirelessly as well, without removing the case.
TAURI 5-in-1 Google Pixel 7 Case
The Tauri Case allows you unhindered access to your phone's ports, buttons, and speakers without adding unnecessary bulk. It has passed a drop test and is equipped with four corner airbags. The ultra-transparent TPU design lets you see your Google Pixel 7 in all its glory. It is difficult to get oily and yellow over time since the nano-antioxidant layer efficiently resists stains and sweat.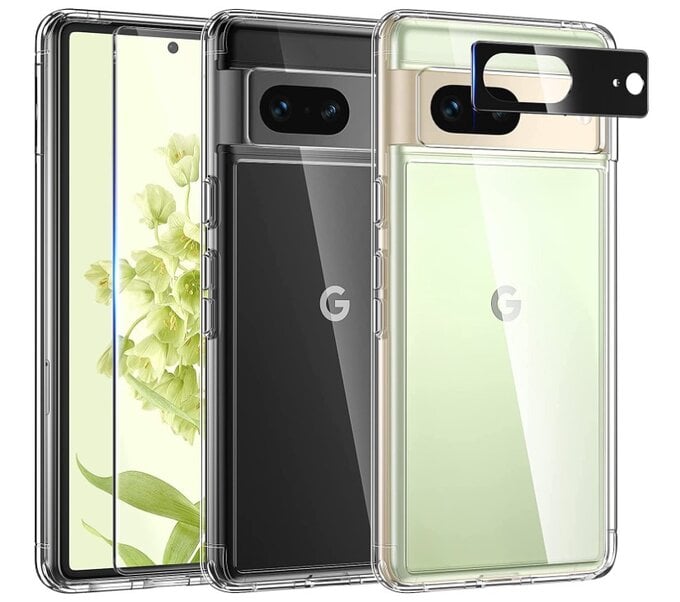 Key Features: Proper cutouts for ports | Four corner airbags for impact resistance | TPU material | 9H hard tempered glass | Nano Antioxidant layer | Includes Lens protectors
The included high-quality 9H Tempered Glass shields your Pixel 7 display from damage caused by scratching. Protect your camera with included 2-pack of lens protectors that won't compromise your pictures.
JGY Flip Magnetic Leather Case for Pixel 7 Pro
The JGY wallet case is made from premium materials, including PU leather and Shockproof TPU. This wallet has ample storage space, with three card slots, one ID slot, one receipt slot, and one zippered pocket. When your phone is inside a case with a strong reversible magnetic snap, it is completely protected from damage in the event of an accidental drop. The raised edges and a full-body design shield your phone's display from drops and scrapes.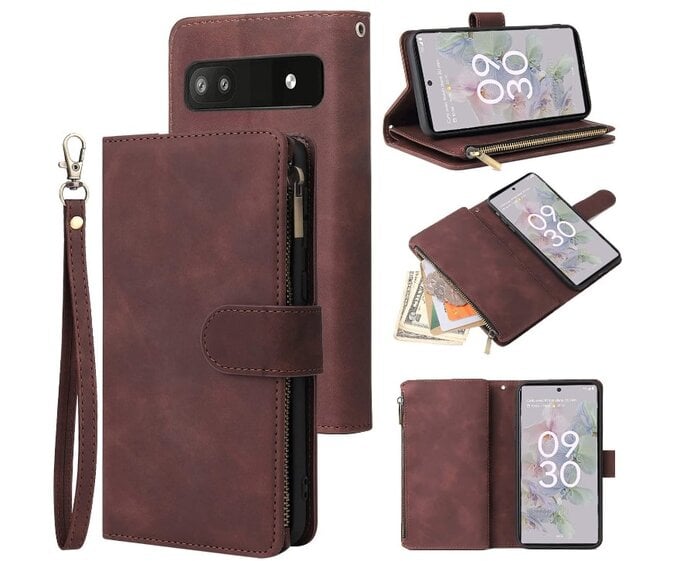 Key Features: PU Leather + TPU Design | Storage space for keeping cards | Raised Edges for Protection | Magnetic Snap | Kickstand Feature | Wireless Charging Not Supported
With the folio case's built-in kickstand, you can watch movies or TV shows in horizontal mode. It does not support wireless charging with a case on.
JGY Case for Pixel 7
This inner phone case's TPU design includes a magnetic buckle, a zipper, and a wrist strap, giving it a vintage aesthetic. There are ten card slots and a safe zippered compartment within the wallet. There are specific slots for your credit cards, your ID, and your phone, as well as a zippered pocket.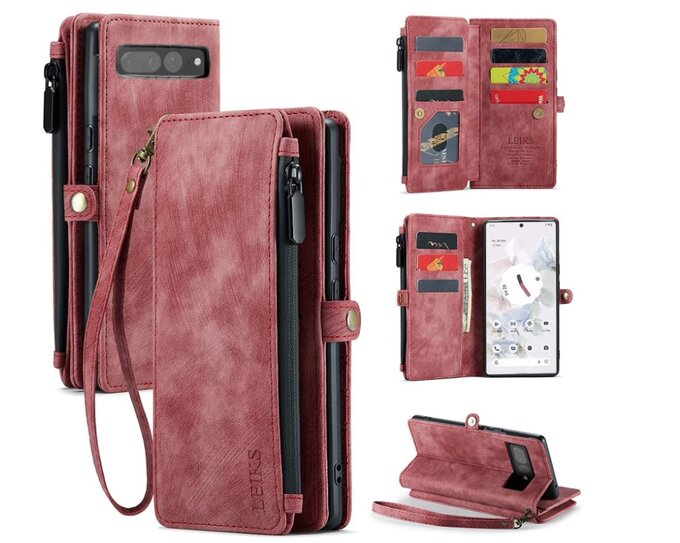 Key Features: TPU Design | Card Slots | Zipper Compartment | Leather Out Case | Raised Lip for Protection | Camera Cutout
With the camera cutout on the back, you can snap photos quickly and effortlessly without even taking out your wallet. The leather case and raised lip shield the camera from damage.
Aioria Case for Google Pixel 7 Pro Case
The polycarbonate back and soft silicone bumper work together to absorb shock and protect your phone from damage in case it is dropped. When the phone is face down, it is protected by the 0.5mm raised front edge. A slight elevation of 0.3mm between the frame and the camera's lens. With this case, your phone will be safe from accidental drops, shocks, and scratches.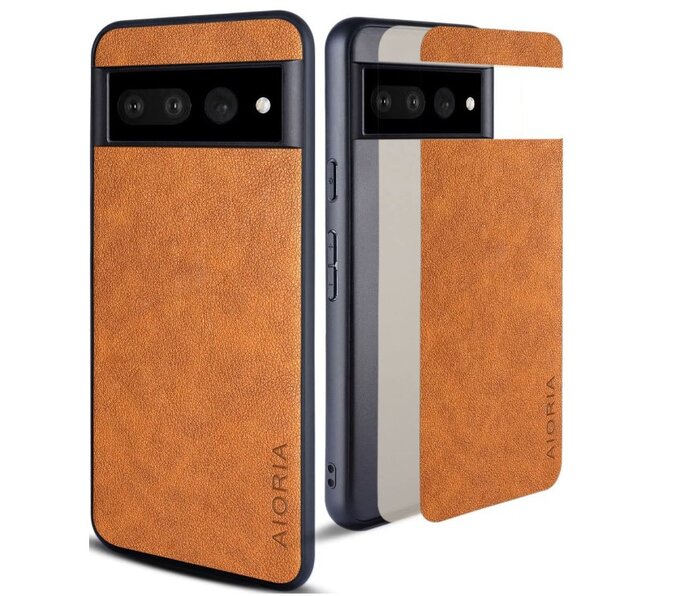 Key Features: Polycarbonate Back | Silicon Bumper | 0.5mm screen lip | 0.3mm camera lip | 4 color options | Remium Texture with Scratch Resistance
There are a total of four various colors to select from. The sleek skin's premium color and design bring out the most in your phone.
These are the best cases for the Google Pixel 7 and Pixel 7 Pro smartphones. The Pixel 7 cases and Pixel 7 Pro cases is available for purchase at a value-for-money price and protects your new phone from scratches and accidental damage.