Like any well-made app packed with features, WhatsApp has plenty to show. Like any other app packed with features, there are plenty of hidden WhatsApp features most people don't know about. That doesn't mean these features are not useful, however. For example, did you know you can write in bold, italics or strikethrough text in WhatsApp?
Let's see the best WhatsApp features those implemented in the apps in recent months, that's gonna be more fun and easy to use.
Hidden WhatsApp Features
WhatsApp started out as a barebones messaging platform with only a few nifty features. There were other platforms that offered a lot more but still got left behind. WhatsApp's simplicity definitely had some part to play. Today, however, WhatsApp offers many of the same features as other messaging apps did back then. The app is not so straightforward and uncluttered anymore.
This kind of growth has resulted in a number of WhatsApp features go unnoticed. This could probably be because users aren't expecting some of those features on WhatsApp. There are also plenty of features that get added to the app without the user ever knowing about it. It wouldn't be wrong then to call these WhatsApp features hidden. Here are some of the hidden WhatsApp features you should definitely know about.
Type in Bold, Italics, & Strikethrough on WhatsApp
Texts and emojis are usually all that you need to express yourself through your keyboard. These days you also have the option to use stickers, GIFs, memes, videos, pictures, etc. An overlooked aspect of texting though is that text can be formatted.

You can emphasize something by making it bold, or italic. Sometimes you may want to strikethrough text. WhatsApp lets you do all of that and it's easy.
To write bold text in WhatsApp, just put asterisks at the start and end like *this*.
To write in italics in WhatsApp, you can similarly use underscore like _this_.
Strikethrough your text in WhatsApp by using the tilde sign ~just like this~.
Use Typewrite Font In WhatsApp

Using bold, italics and strikethrough fonts in WhatsApp is really simple. But there's also a hidden typewriter font feature in WhatsApp. It takes a bit more effort to use compared to typing bold text in WhatsApp. But it isn't all that difficult either. Simply enclose your text within three ` symbols. So to write the word "Hello", for instance, type "`Hello"`.
Related: How to Get Animoji or Memoji Stickers on WhatsApp for Android
WhatsApp Starred Messages
Do you ever find yourself scrolling through a ton of texts from the other night to get to that one message you thought was really cute or funny? Or maybe it was an important text, with some notes. And it got lost in all the texts that came after it. Well, you don't have to do that.

Starred messages are not exactly a hidden WhatsApp feature. It's not buried deep down in any menus. Anytime you get a message you think you'll want to see later, just star it. You can do that by long pressing on the message. After that, tap on the star icon at the top. You can access starred messages by selecting Starred messages from the three-dot overflow menu on the main screen.
Place Favorite WhatsApp Chats On Homescreen
There are some contacts that are your favorites. There is a hidden WhatsApp feature that allows you to place these contacts on your Android home screen. If you're using a newer version of Android, even the OS lets you do that. So you have multiple ways to place a WhatsApp contact on your home screen.
Use App Shortcuts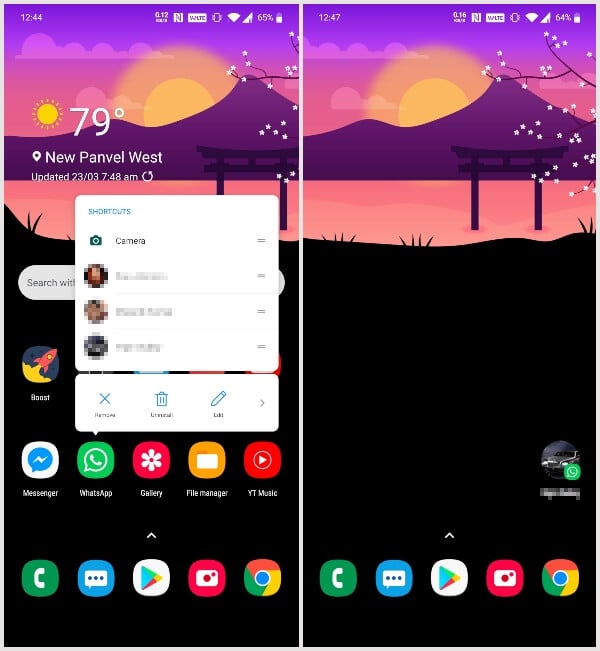 App Shortcuts were introduced in Android Nougat more than 3 years ago. WhatsApp is one of the apps that support this feature. It's also the easiest way to place a contact you frequently text on your home screen. First, long-press on the WhatsApp icon. You'll be shown a list of the three most frequent contacts. Drag and drop either of them to your home screen.
Related: How to Lock WhatsApp on iPhone with Touch ID/Face ID
WhatsApp Chat Widget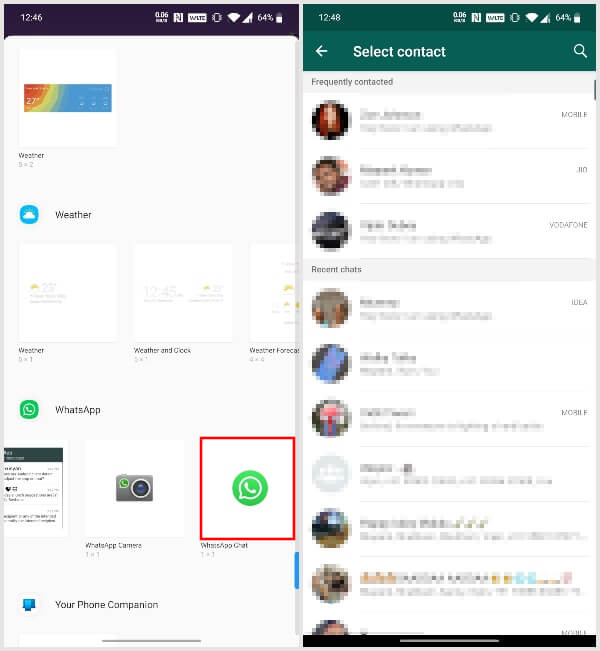 Another easy way to place your favorite chat on the home screen is via a widget. If you're using an older version of Android, you can still use this method. Long-press on an empty spot on the home screen or pinch out. Then select Widgets from the presented options. Next, drag and drop the WhatsApp Chat widget on the home screen. You'll then be asked to select one of your WhatsApp contacts.
Add Chat Shortcut From Within WhatsApp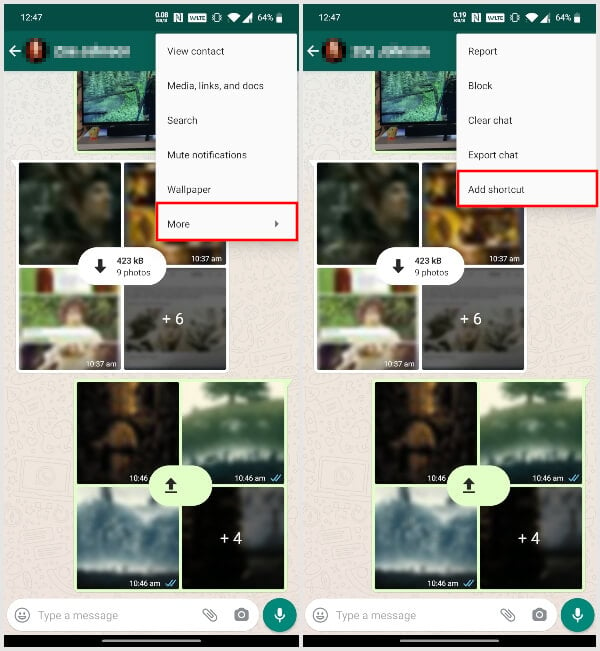 There's also a third way to achieve the same results. This is more of a hidden WhatsApp feature because it really is well hidden. To do this, open your favorite WhatsApp chat thread. Then tap on the three-dot menu button at the top and select More. Now select Add shortcut and then either drag and drop the shortcut on the home screen or tap Add automatically.
Related: How to Send WhatsApp Message without Saving Number?
Change Your WhatsApp Phone Number
WhatsApp works based on your phone number. Sometimes phone numbers can change, for various reasons. If you lose access to the number you were registered on WhatsApp with, you lose all your data too. But if you have a new phone number, you might want to change your WhatsApp number to that new number.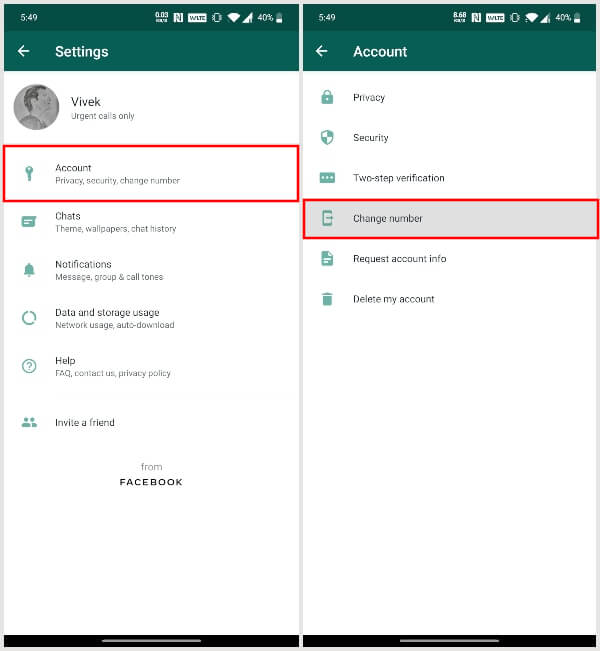 To do that, just launch the app and tap on the three-dot menu button at the top. Go to Settings > Account and select Change number. Follow on-screen instructions and enter your old and new numbers. After an OTP verification, your WhatsApp phone number will be changed.
Place WhatsApp Camera Shortcut On Home Screen
Want to quickly share a new WhatsApp status? Perhaps you like sharing a lot of images from your camera using WhatsApp? You don't really have to open the app every time. It's much easier if you place a WhatsApp camera shortcut on the home screen. Just long-press on an empty spot on your Android home screen or pinch out. Then select Widgets from the presented options. Now drag and drop the WhatsApp camera widget on the home screen.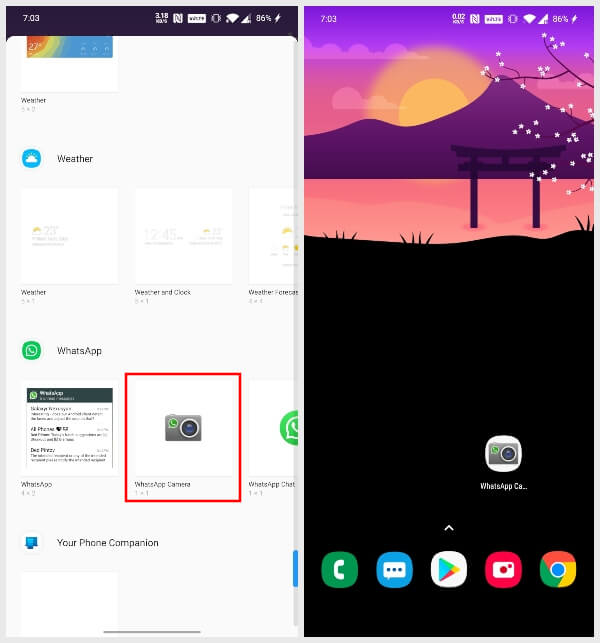 The WhatsApp camera shortcut sits on your home screen like any other app icon. When you tap the WhatsApp camera shortcut, it takes you directly to WhatsApp's camera interface. When you take a picture, you can immediately set it as a status or send it to a contact or a group.
Related: How to Cleanup WhatsApp Storage on iPhone
See New WhatsApp Messages On Home Screen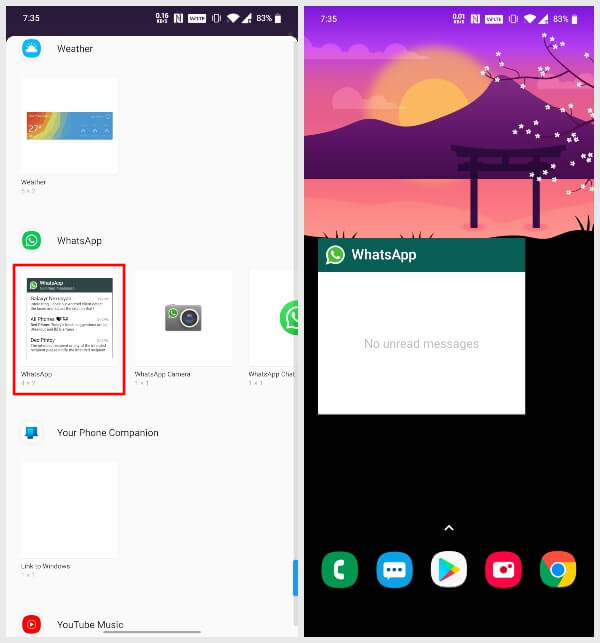 On Android, WhatsApp has allowed viewing all the new messages on the home screen for a long time. So this one is not as much a hidden WhatsApp feature as it is a forgotten feature. Similar to before, when you go to the widgets screen you can find the original WhatsApp widget. Drag and drop it onto the home screen and it will show you all the new messages from all chat threads.
Hidden WhatsApp Features
WhatsApp has plenty more features and you probably knew about some of the ones mentioned here. There probably are some other hidden features that we didn't consider hidden but you might. Share your thoughts in the comments below and let others know.