We can start learning from wherever or whatever place we are. Learning new languages via a language learning app also gives us the freedom to learn them in a more fun and interactive way. We can learn new languages at the time of our choosing and continue from at another time from where we left off. The language learning is easy and fun and you can do everything by your Android or iPhone with a good language app. This also eliminates the need to carry huge books or CDs as everyone today have a Smartphone.
We have compiled a list of top language learning apps that you would find helpful for learning new languages. Let us dig deep into the applications, one by one.
Memrise
Memrise is a great language learning app that provides you with funny and creative entertaining levels. This app has over 30 million language learners and you can learn directly from real people who speak the local language. This language app includes games and memes to help you remember words and you can also create memes to earn points to go to the next level of learning.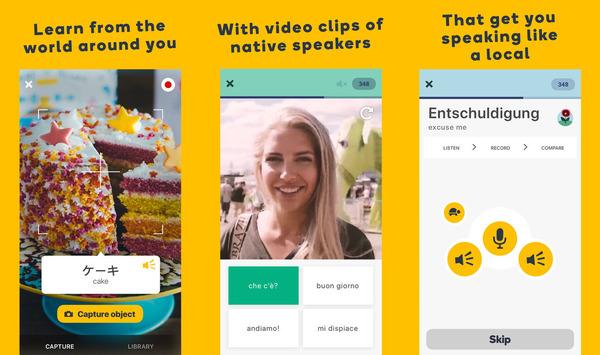 The app works even in offline mode so you do not have to rely on your internet connection. The pronunciation guide also helps you to check your pronunciation with the locals by recording a video. Furthermore, you can challenge your friends via games and learn while you play.
Spaced repetition and mnemonics are the powerful algorithms that drive this easy to use and interactive language learning application. It features a wide range of languages to be learned and you can also find standardized courses to expand your language skills.
Download Memrise: PlayStore | AppStore
Duolingo
Duolingo is a very popular app and is widely used by many people. This language learning app has an intuitive and fun interface. The courses featured on Duolingo are created by local language speakers and beautifully crafted for learning. In addition to this, the Duolingo app also features read/listen/speak, "Streak Count" which helps you that shows how many continuous days you spend learning the language.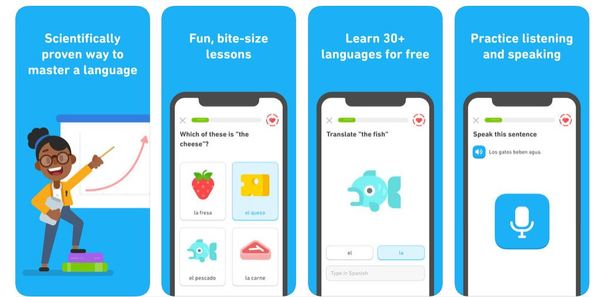 Furthermore, with its interactive UI, you often learn languages by doing fun activities. The difficulty level increases gradually, giving you ample time to strengthen your basics. Similarly, the lessons are very creatively designed, where you answer questions and head on to the next level. Duolingo is one of the most awarded apps both for Android and iOS and hence, one of the best in this list.
Download Duolingo: Android | iOS
Related: Best Spelling & Grammar Checker Online Tools for Writers
Bussu
Bussu is the most fun and easy way of learning new languages on the go. It has over 11 languages to learn and all the lessons are totally based on interaction with its 90 million users. It covers speaking, pronunciation, grammar tips and tricks, listening and writing lessons, dialogue lessons and much more.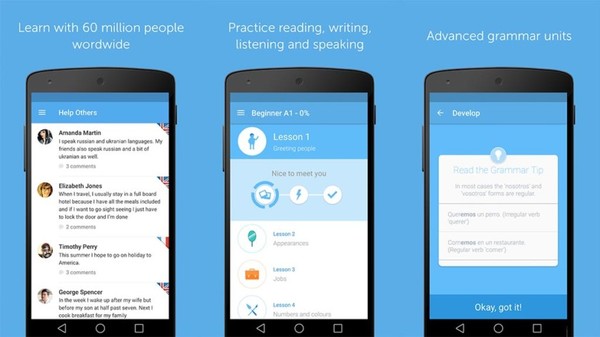 Furthermore, you can use Bussu without needing an internet connection. You learn new languages by submitting your exercises to the native speakers and they will help to in the process of learning. This language learning app lets you learn the important 3000 words within language training.
Additionally, it also features games, quizzes, and vocabulary games to learn and reach your personalized goal. Another great feature of Bussu is that it has a "Travel Course" which gets you prepared with the local language before traveling abroad.
HelloTalk
HelloTalk is one of a kind app that lets you interact and chat with native language speakers and learn language directly from them. This language learning application has a worldwide community with which the user can chat via video call, voice recording, text, or even doodles. Moreover, this app lets you learn a new language from any user and teach your language to another user.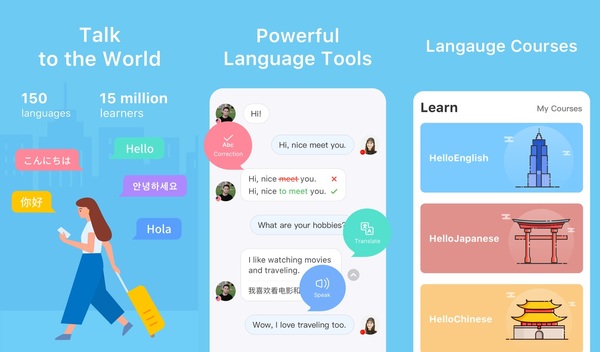 HelloTalk has a lot of features which you can use while chatting such as translator, correction, speak, etc. Furthermore, you can chat with an individual person or join a community to learn collectively with everyone. You can also select a tutor of your choice by age or country.
Download HeloTalk: Android | iOS
Babbel
Babbel is another great app for language learners. It is a subscription-based application. The free version of the app can be used to access 40 classes of any one language among the 14 language that it features. In addition to this, you can learn the new language step by step and learn the vocabulary from a wide range of topics like travel, culture or business. They have a separate mobile app for each language.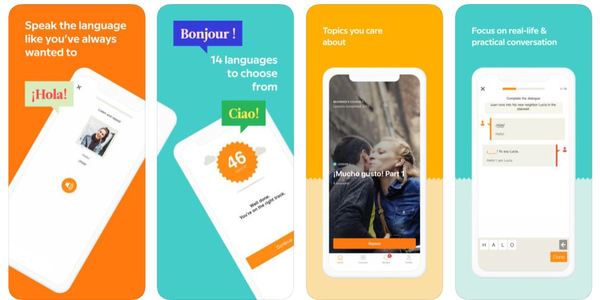 Most importantly you can view your learned words with the help of flashcards or pop-ups. Quizzes, pictures and other fun activities for learning make this a great language learning app. You can achieve your language goal by downloading your classes for offline use. This app is well suited for both beginners and professionals.
Download Babbel: Android | iOS
Also read: Best Speech to Text Android Apps for Taking Notes
Beelinguapp
Beelinguapp provides a different experience from all the other language learning apps. It contains audiobooks of stories and you can either read by yourself or listen to it anywhere, anytime. This app is great if you want to improve your pronunciation. Its karaoke feature lets you read with the audio in the background. It supports 13 languages for reading text side by side.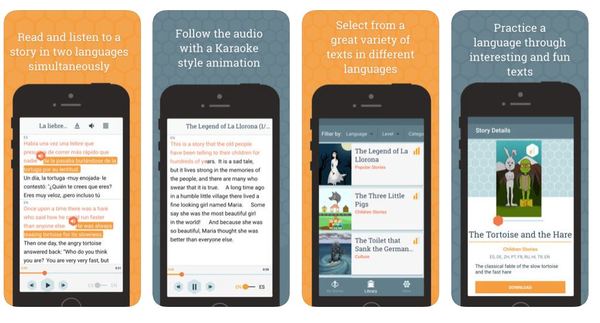 Additionally, it has a highlighted sentence feature that helps you to read the same sentence in both the languages. A fun and a great way to learn new language side by side along with your native language and as a result, improve your pronunciation.
Download Beelinguapp: Android | iOS
TripLingo
TripLingo is a traveler-centric app that is meant to help connect and interact with the locals in an easy way. This language learning app has a cultural guide that helps you to communicate with the native people. Additionally, it also has a translator to interact on-spot with the locals.
More importantly, this app features "Safety Tools" that consist of medical phrases, local emergency information. Similarly, it also features "Travel Tools" which can help you with currency conversion, tip calculator and more features. It has a WiFi-based calling service that allows you to make free international calls.
Download TripLingo: TripLingo | TripLingo
Rosetta Stone
Rosetta Stone is another subscription based language learning app. It has an immersive method for learning new languages via photos and phrasebook. Common phrases or words are attached to the pictures and you have to repeat the words which in turn helps you to practice pronunciation. This app also features audiobook that lets you learn the dialect and language on the go.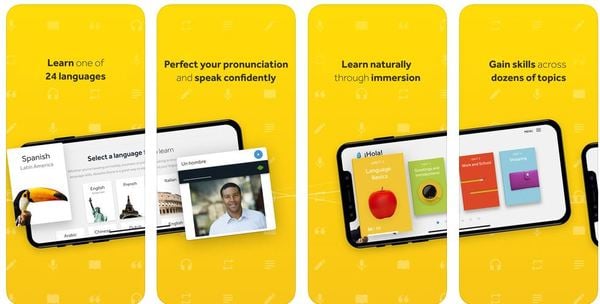 Similarly, with its very own Speech Recognition Technology, you can master the pronunciation and vocabulary. This application runs in offline mode also thus, allowing you to learn new languages at any time. It features lessons from up to 24 languages and the first 3 days are free for trial purpose.
Download Rosetta Stone: Android | iOS
Google Translate
Google Translate is a translator application that lets you translate any language. You just have to type the sentence or word in your own language and select the target language. It supports all the languages and also works in offline mode if you have downloaded the language pack. It is more of a translator than a language learning application but still, you can learn words or sentences in the target language.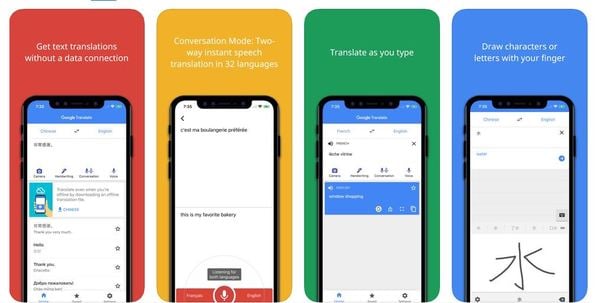 Furthermore, it translates texts, voice, or handwriting and also you can save translations for quick access. With its Augmented Reality feature, you can translate words from any picture via your smartphone camera. This is a great app for instant translations and with many language support.
Download Google Translate: Android | iOS
HiNative
As the name suggests, HiNative is a language learning app where you can ask questions to native speakers and get answers from them. This application is good for learning pronunciation and quick translations. It has an in-built question and answers templates that let beginner user interact with native speakers.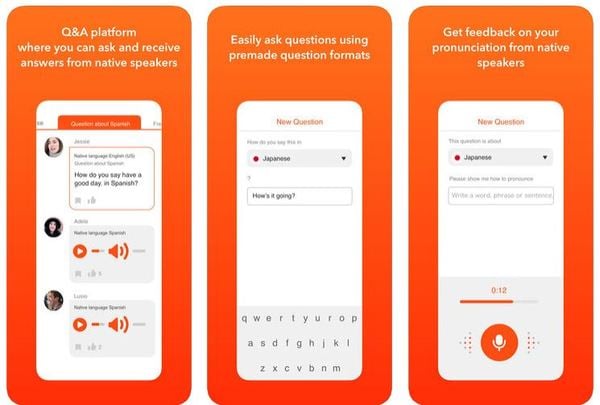 Further, you can also post voice questions via the easy to use interface. It has a base of over 4 million users. Not only native speakers but, people with good command over the language can also answer your doubts and help you with the learning process.
Download HiNative: Android | iOS
Best Language Apps for Learning New Languages
Shifting from your native country to another and not knowing the local language can be an issue. Whether you are there for work, study or vacation, you often come across a situation where you need to converse or respond in the local language. Not knowing the native language also does not allow us to connect with the place we are in. But, because of the language learning apps, we are not far away from learning any language.
We also learn new languages often out of curiosity or just to expand our knowledge. There are other ways apart from learning new languages via an app. We could spend hours reading a book, listen to CDs, take language classes and so on. But, the ease that these apps provide is great.