Online Grammar Checking tools are easy to use and no need to install in your PC. Most of these are free online tools that support spelling and grammar checking. The premium tools are built with AI to provide real-time feedback while you write online. Some of these English grammar checking tools allow you to concentrate more on the content rather on grammar.
These online grammar checking tools come handy for professionals and students to check English grammar and language grade while writing. Let us look at each of these English spelling and grammar checking online tools.
Grammarly
Grammarly is the most used grammar checking tool. This free grammar checking tool uses AI to help the user produce error-free articles. Grammarly supports Gmail, LinkedIn, Twitter, etc. This online grammar checker is available for web browsers and Google documents. You can install the software for Mac and Windows.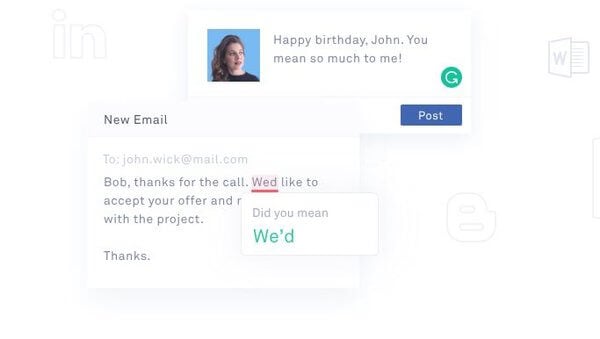 With the free plan, you can check copy-pasted words. It allows you to check punctuation and sentence structure as well. You can also add new words to the dictionary. Experienced writers can use this tool to maintain their reputation.
With the premium version, you get an advanced checking tool, vocabulary enhancer, and plagiarism checker. It is fast and offers smooth performance. This English grammar checking tool does a good job of finding small errors like left out commas. Moreover, you get higher accuracy as compared to other tools.
Link to Website: Grammarly
Related: 8 Best Notepad++ Alternative for Mac Users
Ginger
Ginger is a great alternative to Grammarly. This inline grammar checker tool features a real-time grammar checking that checks for errors as you type. The ginger grammar checker is suitable for both native and non-native speakers of the English language. You can improve your efficiency and avoid errors with this tool.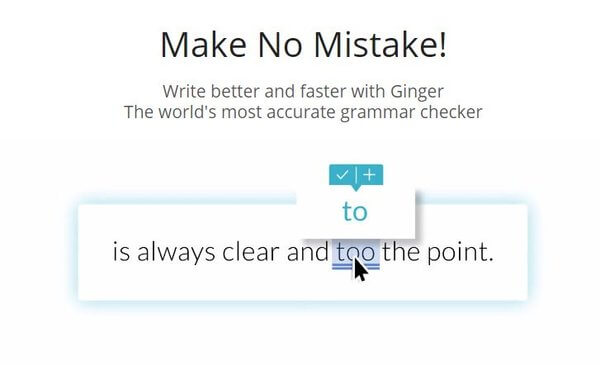 You can use Ginger with the MS-Word document. Moreover, ginger also supports other platforms, like Mac, Web browsers, etc. This online grammar checker shows synonyms and translation for the typed words. This Ginger grammar tool checks and corrects 30 different types of grammatical errors. It's proofreading is very accurate.
Ginger is one of the best grammar checking tools. Besides, it offers seamless integration with online and offline writing tools.
Link to Website: Ginger Software
Also read: Best Speech to Text Android Apps for Taking Notes
LanguageTool
LanguageTool is an online grammar checking tool. This tool is also available for the desktop to perform a grammar check on sentences. You can use these tools to check grammar irrespective of their source. This online English grammar checker supports Google Docs, social media networks, email services, etc.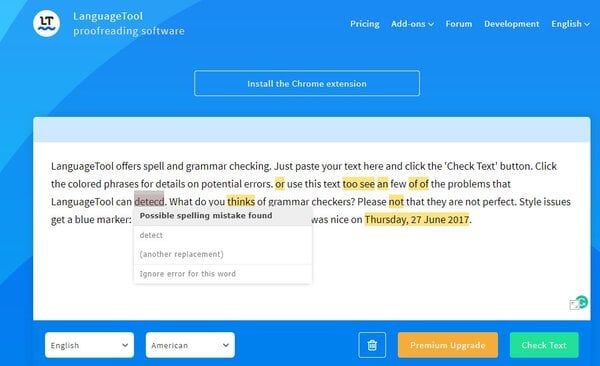 Moreover, this free online essay checker supports over 25 languages. The LanguageTool is regarded as the best tool for multi-language authors and websites. If you are looking for an effective proofreader, Language Tool is your best bet.
This English grammar checker tool also has a dictionary where you can add words or exceptions. It is simple in design and also can be used as an essay checker for students.
Link to Website: Language Tool
Related: 10 Best Text Editors for Windows, Linux, and Mac.
WhiteSmoke
WhiteSmoke is a good punctuation checker. You may find some errors as a grammar checker. Besides, you get a feature-loaded translator. This punctuation checker supports over 50 languages translation. You can do word-to-word or full-text translations. Moreover, it includes over 100 CV and email templates.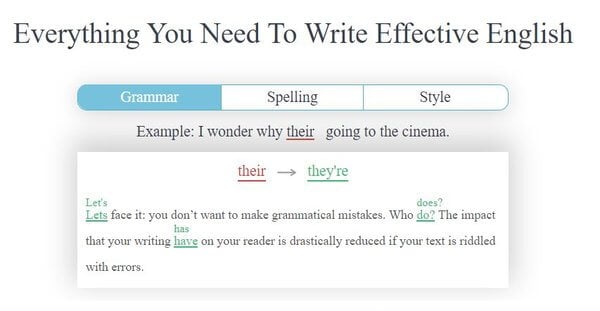 The main USP of WhiteSmoke is its highly accurate translation service. It is going to get better with regular updates. WhiteSmoke works across various platforms. You get a clean user interface on White Smoke and easy to use grammar checking and essay checker tool.
WhiteSmoke also helps you improve your writing style. This online punctuation checker is based on Statistical Machine Translation (SMT). Moreover, you also get a built-in plagiarism checker with this English grammar checker.
Link to Website: White Smoke
Hemingway Editor
Hemingway editor is the most efficient and best grammar checking tool. It makes your writing bold and clear. Hemingway gives you real-time statistics of your writing and the writing score. This online tool is ideal for students to use as an essay checker to get live feedback while writing.
Hemingway app highlights the lengthy sentences in yellow and difficult sentences in red. This online grammar checker is ideal to get your writing score. This grade your writing standard based on the complicated sentences and words you used. This is going to be an ideal too if you want to improve your writing style.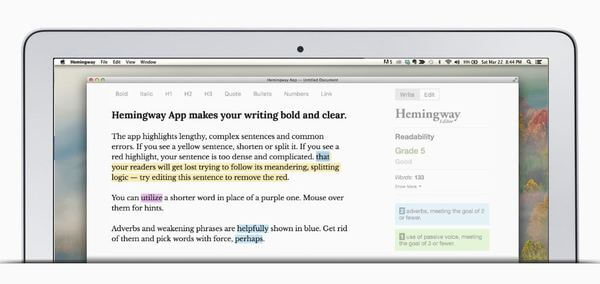 Hemingway app shows the use of adverbs, passive voice, or phrases that have simpler alternatives. You get integration with WordPress and MS-Office. Moreover, you get a clean user interface and it provides an easy to use environment.
Besides, you can use this tool offline for more productivity. You can use the online version for free.
Link to Website: Hemingway Editor
Also read: Best Short URL Tools to Replace Google URL Shortener
ProWritingAid
ProWritingAid is another grammar checking tool. It is apt for academic or student writers. You get a decent punctuation and grammar checker tool. This essay checker gives you feedback about your writing style based on the essay sentences. This spelling and grammar checking tool can help you to eliminate repetitive or unclear words.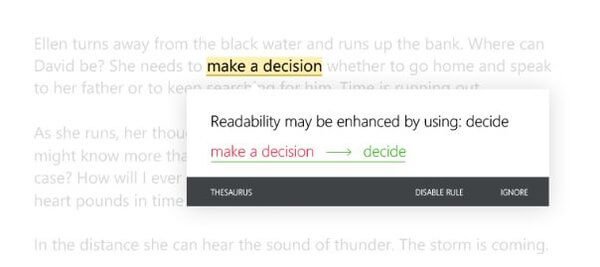 Moreover, you can avoid the use of cliches and redundancies. This tool also features a plagiarism checker along with the essay checking feature. You also get seamless integration with Gmail, Facebook, WordPress, etc with this ProWriting Aid.
The integrated AI lets you improve your writing style. This is a free online grammar checker, YO can get most of the features with the free version of this tool. Besides, it's premium version is also a cheap and great option for students.
Link to Website: ProWritingAid
GradeProof
Artificial Intelligence is evolving. Likewise, it uses AI to learn how the user writes. The more you write using GradeProof, the smarter it gets. It is also available offline. You can track statistics based on word count and readability.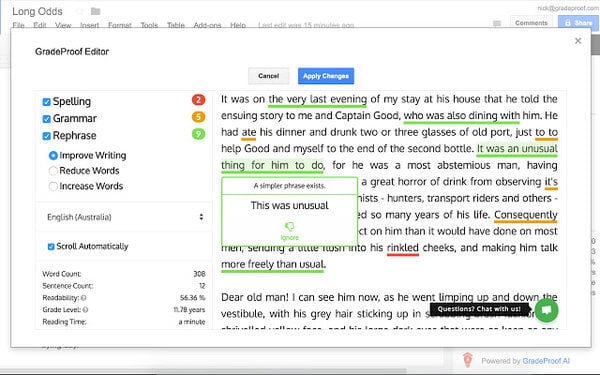 GradeProof spelling and grammar checker features an AI-based plagiarism checker. You have to buy a Pro version of GradeProof to use Plagiarism Checker. This free grammar checker is available separately for Google Docs and MS-Word. The customized dictionary option allows you to add new words into your dictionary.
GradeProof provides you with a detailed report of your writing. This spelling and grammar testing tool is the best tool for book authors or academic essay writers. When you writing with this tool you will get detailed feedback, that helps you to improve your writing.
Link to Website: GradeProof
SpellCheckPlus Pro
SpellCheckPlus Pro is the cheapest grammar checking tool available. This grammar tool has its limitations. It allows the free user to check up to 2000 words. SpellCheckPlus is apt for students who have English as their second language. You can get rid of confused words, grammar, and punctuation errors.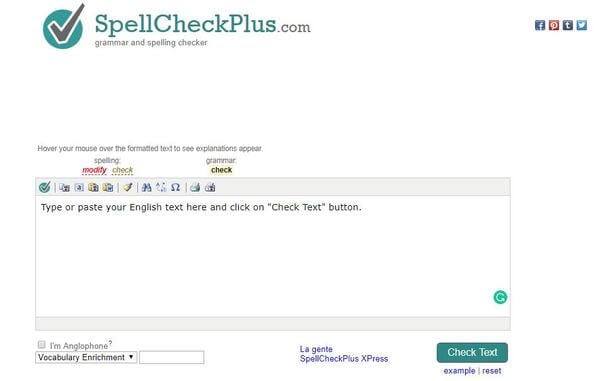 It gives you a report of committed errors category-wise. This spelling and grammar check tools help you to identify the errors with different color codes. This tool highlights spelling errors in red and grammar errors in yellow. You also get explanations on the errors in your writing.
Besides, it helps you to improve your grammar on a step by step basis. With the premium version, you also get a progress checker to improve your writing.
Link to Website: SpellCheckPlus Pro
Grammar is the most important skill for any writing profession. With good grammar, you can form meaningful sentences. But, being always perfect at it is not possible. No one would entertain a writer with poor grammar. Grammatical errors make the article poor, even if the idea behind the content is good. Even experienced writers commit grammatical errors. Most of them use grammar checking tools for error-free writing.
Today we have an app for almost everything we ask. And there are many grammar checking tools available. You can avoid errors by using these tools. Moreover, it lets you produce quality content and we have a good list of free grammar check tools above.
There are other grammar checking tools available. But this list gives you details about the best tools. You would never want your articles or piece of writing to be full of errors. These online grammar checkers help you understand your errors and drop them. You also become efficient to avoid them in future writings. Let us know in the comments if there are any other better tools for grammar checking we have missed in this list.