Not many would argue that Microsoft does what it does best, that undoubtedly is in Software. The Redmond giant started its way to the top as a prolific Software company. Though the Microsoft Windows Phone venture into the mobile platform has had an unfortunate ending, it has not stopped them from releasing a set of high-quality Android apps to the Google Play Store market.
Though it might come as a surprise as Microsoft is now one of the best developers for best Android apps. Keep in mind that Microsoft has always excelled in the field of software. Finally, Microsoft has turned its attention from ignoring other platforms to introducing its quality apps and services to the rival platforms like Google's Android and Apple's iPhone.
Microsoft Office apps are always the first ones to make the cut but we decided to talk about the latest best Android apps from Microsoft which are quickly gaining a lot of attention.
SMS Organizer – Clean, Blocker, Reminders & Backup
Well, isn't this interesting. An SMS organizer app from Microsoft for Android. We decided to feature this upfront with a solid reason. The Android SMS app is by far one of the best ones we have ever tried. In addition to the basic and straightforward SMS functionality, this Microsoft SMS app adds much-appreciated features that everyone can look forward to.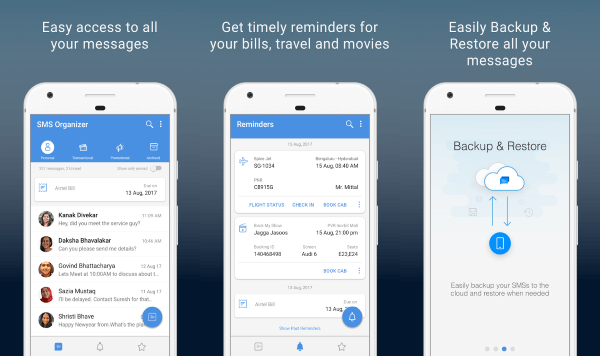 For starters, the Android SMS app starts with your mobile number registration. Right after your registration, the app filters the received SMS based on its purpose and source. This, in fact, is the highlight feature of the SMS app which other developers can surely take notes from. Microsoft's algorithm helps to filter and categorize the incoming SMS into Personal, Transactional and Promotional which helps to efficiently organize your messages like never before.
The Microsoft SMS organizer app really shines with the OTP messages as they provide the option to copy them directly as they are received. Furthermore, the Smart Reminder feature provides automatic Bank Account and other FLight and train notifications and reminders.
PlayStore Link: SMS Organizer
Related: Best Google Lite Apps for Low-End Android Phones with Slow Internet.
Microsoft Launcher
Microsoft revamped the already popular Arrow launcher and made it even more exceptional as the new Microsoft Launcher. If you think this launcher app from Microsoft is a silly attempt to bring the Windows Mobile UI experience to Android, well think again! Microsoft has added gorgeous visual overhaul to the launcher, enhancing the design goals that the Android ecosystem already has.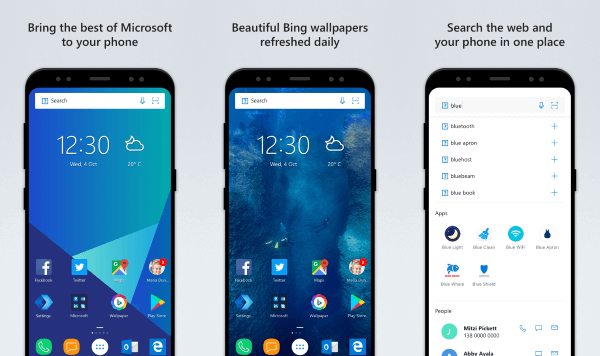 In addition to the transparency centered aesthetics, Microsoft launcher has a slew of great services and features. Particularly, the personalized news feeds which reiterate what Google feeds is but ends up short. Luckily, we can turn this feature off if we want to. Gestures, icon pack supports and backup&import makes the free launcher app for Android very compelling in comparison with the likes of Nova launcher prime.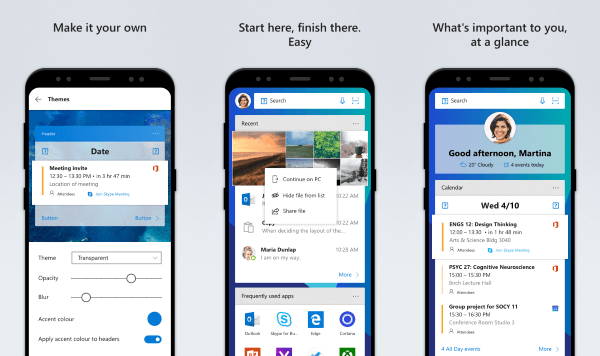 The Microsoft launcher buffs up the integrations that the Arrow launcher had with WunderList and Outlook with more Microsoft Services like the office. The most significant is the addition of  'Continue on PC' Windows 10 feature which has been highly talked about recently. Enabled when signing in with a Microsoft Account, this feature lets you continue the work that you are doing by opening the document file on the PC. Though not perfect and compatible with all apps, a welcome addition nonetheless.
PlayStore Link: Microsoft Launcher
Microsoft Cortana
For all those using a Windows 10 device, the name Cortana will be quite familiar. Microsoft's Digital Assistant started appearing in the Google Play Store for quite some time now. The Voice Assistant app is still an early access unreleased app in most countries. Android Cortana app brings the PC experience to your Android device by performing voice commands and syncing between the devices.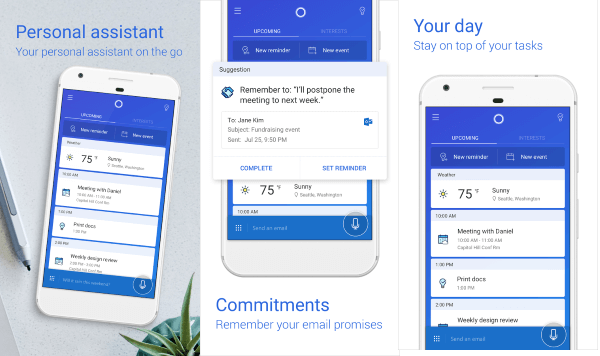 The Cortana app from Microsoft for Android is said to have much better improvements than ever before and can now even go on to replace Google Assistant as your default assistant for Android device. And of course, a complete list of permissions needs to be granted for this to work. Other than the common features, the Cortana app includes similar services and tasks like that of the Google Assistant. This includes Day briefings, Reminders, weather, news and other fun stuff.
In terms of the integration, Cortana still lags behind from Google Assistant. But it takes a right step in the seamless services you enjoy from your PC. The 'Continue On PC' works best with the Cortana app. You can sign in with your Microsoft Account from the Cortana app. Now have your most important notifications viewed directly in your PC notifications. Furthermore, you can even reply directly from your PC as well. Pretty neat indeed!
PlayStore Link: Cortana for Android
OneNote
OneNote is Microsoft's much-appreciated Note taking app. This Microsoft app brings much more to the table than your typical note-taking needs. The one thing that you will definitely like is the cross-platform capability. Take any mobile or PC platform you like and the OneNote service will have an ample application to fill your needs.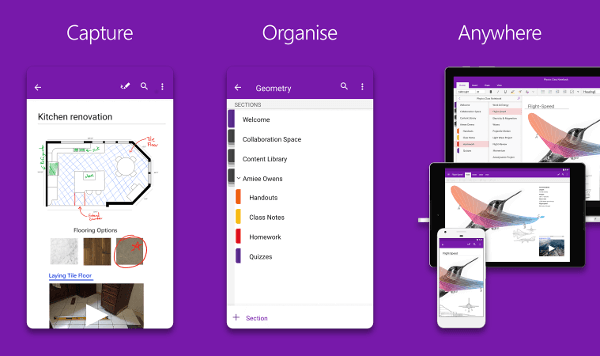 If you are not satisfied with the apps like Google Keep and Evernote, OneNote deserves a shot. The digital Notebook app for Android serves almost all business, research, and educational requirements. It can be your standard note-taking app, but it just doesn't end there. Scanning documents, creating handwritten notes, drawing highlights, and web clippings – the best Digital Notetaking app for Android just about does everything.  Sharing notes and working on them seamlessly makes them intuitive for meetings.
The Android Widget capabilities make the Microsoft OneNote a premium note-taking app for Android. The free version is limited to 500 notes which will surely be enough for most users. Once you go past that limit, the unlimited version has to be purchased for $4.99.
PlayStore Link: OneNote
Related: Best Note Taking Apps for Android Phone and Tablet
Microsoft Outlook
Among the majority of quality email clients available for the Android ecosystem, the Microsoft Outlook inevitably stands out. Even when compared with Google's Gmail, Microsoft's Outlook surely has a lot going for it.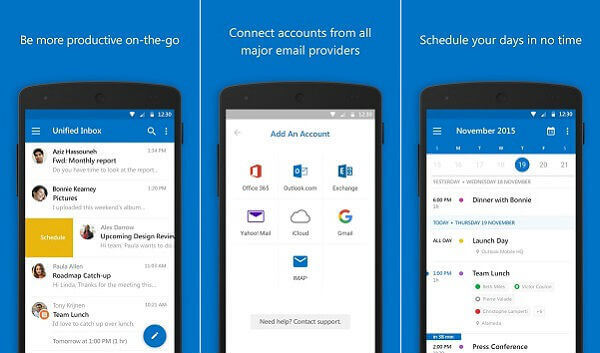 From the smart focussed inbox management to the integration with Microsoft's calendar and cloud storage, the best email client for Android is something you wouldn't want to miss out on. Microsoft Outlook app works exceptionally well with the Microsoft Mail, Microsoft live mail, Microsoft exchange, office 365, outlook.com, Gmail and Yahoo mails. The presence of the in-app message filter keeps the inbox safe from spam.
The integration with popular products like Excel and powerpoint and the implementation of swipe gestures make this Email client well worth the look.
PlayStore Link: Microsoft Outlook
OneDrive
OneDrive is an online storage and file hosting site for all your personal files so you can get to them from your Android device, computer (PC or Mac), and any other devices you use. The OneDrive app for Android lets you easily upload your media files to cloud. This cloud storage app lets you automatically upload photos and videos to your personal OneDrive account using Camera backup.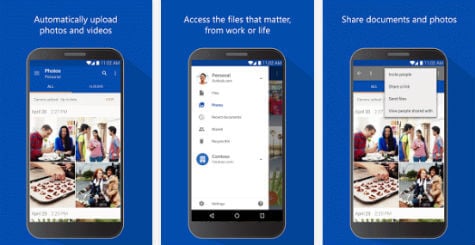 The recent update to the app has made it on par with the Google Drive. The only thing that brings it down is that the one drive basic only allows 5 GB of storage space. The availability of the built in Onedrive app on Windows 10 leverages the popularity that Onedrive has on the Google play Store.
PlayStore Link: Microsoft OneDrive
Also read: Must Have Android Phone Management Apps from Google
Best Android apps from Microsoft
So as we said before, Microsoft hasn't compromised even a bit on the qualities that it developed for its Rival Google's Mobile Platform. From this, Microsoft's intent is quite clear. Under Sundar Pichai, it has now decided to strengthen its services across all the major platforms. This is definitely a step in the right direction as users can now enjoy the Microsoft's quality apps and services with better than ever cross-platform capability.
Hope you found these Microsoft apps worthy of your Android device, feel free to comment below on the ones that you would want to be added to the list. Cheers.