Microsoft Teams keep getting better. A slew of new features was released recently and Microsoft has promised more in the coming weeks and months. A versatile app like Teams may need some hand-holding as it comes jam-packed with a number of features under the hood. That's where we come in.
Here are some of the best Microsoft Teams features that you should know about.
Microsoft Teams Features
Microsoft Teams' user base has almost doubled since the COVID-19 pandemic hit the world hard. The future is cloud and more users and companies are going to work remotely than ever before. With that thought in mind, let's begin.
1. Chat and Call – Communicate
One of the basic and primary functions of Microsoft Teams is communication. Duh. You can send messages, make audio and video calls with team members on all platforms. Whether it's individual or team communication, Teams is easy to use.
Teams work with a number of third-party telephonic and conferencing devices that you may come across in your organization. Screen sharing and call recording are expected and delivered.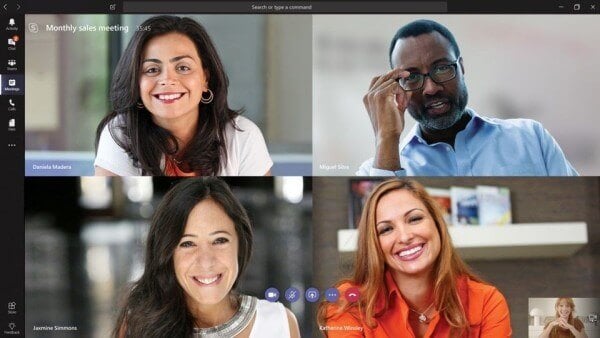 Taking a cue from Slack, Teams allow users to create channels for niche or specific topics. You can use the same channels to divide a large team into smaller teams or topics. Reduce email clutter. Channels can be further divided into private and public channels.
Finally, you can use Teams for holding live webinars or events where up to 10,000 participants can join at the same time. With the pandemic changing the way we work and communicate, this is going to prove instrumental in holding large public events, especially coupled with the power of VR headsets.
Also Read: 8 Best Google Meet Features That You Should Know About
2. Powerful Tabs for Apps & Files – Collaborate
Tabs are something that other team communications and collaboration apps lack sorely. You can easily create a new tab for documents, spreadsheets, presentations, PDF files, and so much more using a dedicated Microsoft app. Just create a new tab and choose the file that you want to open and edit in Teams. No need to have multiple apps open at the same time. Some examples are Word, OneNote, and Excel. Outside of Office apps includes SharePoint, Outlook, and Planner. Tabs is perhaps one of the most important and distinguishing features of Microsoft Teams.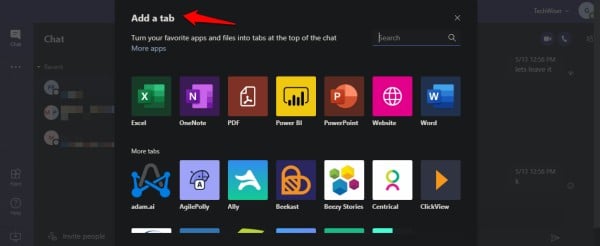 Not only this, but you can also connect with a growing library of third-party apps like Zendesk or Asana and open documents or files from them inside a tab. Just make sure you don't have too many tabs open. Don't go crazy with them as you do with those browser tabs, alright?
Note that you can build your own apps or even embed AI into it to customize the solution to your liking using their developer tools.
3. Platform Agnostic – Everywhere
Microsoft Teams is available on desktop for both Windows and macOS as well as smartphones on Android and iOS. There is a web app that works in the browser.
4. Guest Access – Everyone
Not everyone is using Teams or interested in using one either. What about them? You can send them an invite with limited access and permissions to your Teams channel or board. You can then chat with them inside Teams and work out details. Some examples where this could come in handy are buyers, suppliers, clients, transport authorities, and so on.
Also Read: 10 Best Team Management Apps for Managing Projects
5. Powerful Search
The search function can be used to not only find keywords or information from past conversations, but also from attached files and documents. What's more? You can also search OneDrive, Outlook, and SharePoint database right inside Teams. This will make your work-life that much easier and simpler.
6. Commands
Just type slash (/) to reveal a list of possible commands that you can give Teams to automate certain parts of your routine. There is a separate search bar at the top for this. This is one of the better Microsoft Teams features.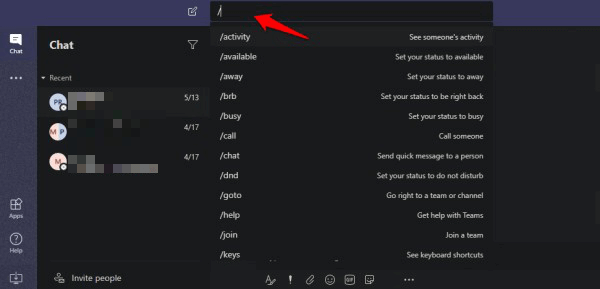 A number of everyday mundane, and not so mundane, tasks can be completed using commands. Some examples include calling someone, settings status, viewing activity of a team member, go to a certain place in Teams app, view keyboard shortcuts (very handy), and mention someone. To mention someone in a conversation, use the @name command instead. Other examples include @channel and @team. This will notify the person to view the message.
7. Bots, Bots, Bots
Microsoft Teams also supports bots. There are some 20+ odd bots right now and more may be added in the future. Bots further help automate certain types of tasks, thereby increasing the productivity of the users.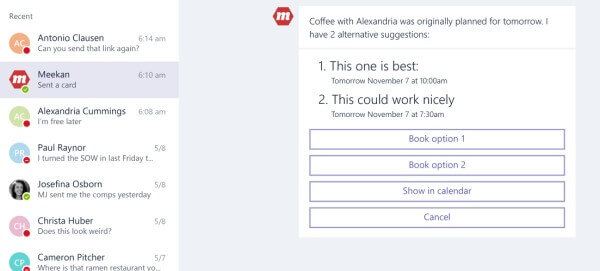 The T-Bot can be used to answer simple Teams related questions or FAQs. Useful if you are new to Teams or your team members are. Then there is the Stats bot that will pull data from a number of sources like Google Analytics and Salesforce and deliver it to you when you want. I highly recommend you check this cool Microsoft Teams feature and put it to good use.
Can't find a bot that suits your needs? Go create your own bot.
8. Connectors
A connector is a simple but very useful kind of a webhook that will allow you to connect to third-party apps. That in turn will send you prompt notifications from the app right inside Teams. One example can be Twitter. Once connected, you will receive all DMs inside Teams. A lot of companies provide customer support on social media these days.
Also Read: 12 Best Team Management Software Apps
9. Immersive Reader
One of the most overlooked Microsoft Teams features in the list. What immersive reader will do is read aloud messages or even entire conversations inside a channel. This handsfree approach will keep you free so you could focus on other aspects of your life.
Microsoft Teams Features
There are so many small features that we haven't even touched. You can create and then link together wikis, bookmark important parts for future reference, inline message translation, transcription of recorded meetings, templates for various business models (you can create your own), and so much more.
Microsoft Teams is a powerful app that does so much more than what meets the eye. I suggest you go give it a try right now. A hands-on approach is the best way to learn what Teams is capable of and what you it can do for you as a team or company.