No matter how strong your passwords are, they can get hacked and leaked in some ways. Passwords are more prone to leak from website servers where your passwords are stored unencrypted. If you have a habit of using the same password for multiple accounts, hackers can use these leaked passwords to get hold of your online accounts. To prevent that, it is always better to keep an eye on password leaks and check if your password is leaked. There are many password leak check tools available online to get accurate password leak information.
Let's begin.
Best Password Leak Checker Tools
Here is a list of useful online tools to check if your account credentials have been compromised.
Have I Been Pwned?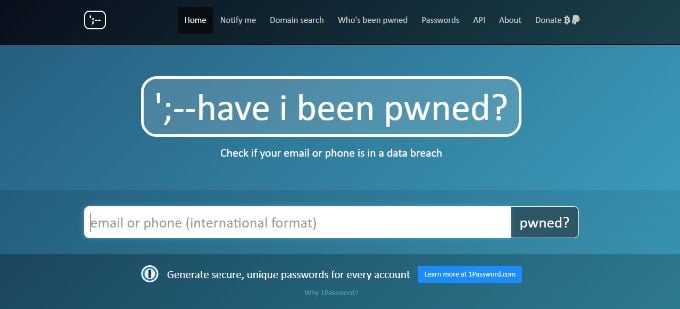 It is a widely popular online tool that keeps you informed about data leaks. The site provides a simple and intuitive user interface. We can check for email, phone numbers, or password leaks. You can also download an entire set of passwords in their encrypted format and the count of their occurrence in data breaches.
Key Features: Free to use | Simple UI | Huge database
Check out Have I Been Pwned
Firefox Monitor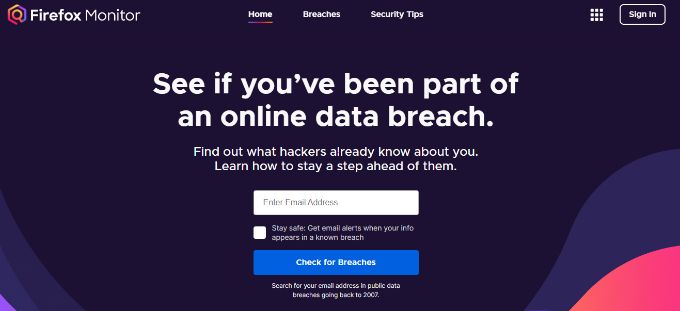 This online tool alerts you whenever your account has been compromised and how you can best protect your confidential information. You can also remain updated on the latest data breaches across the globe. The site provides several methods that ensure online privacy.
Key Features: Real-time alerts | Free to use | Monitor several email addresses
Check out Firefox Monitor
Related: How to Import Passwords to Chrome from Third-Party Password Managers
GhostProject
GhostProject has above 1.4 billion passwords compiled, which help to find pawned accounts. The site supports more than 85 password hashing algorithms, including MD5, OSX, NTLM, SHA1, MySQL and many more. You can search via email address, username and password. The premium plans offer unlimited search support and are cost-effective. GP premium is available at $30 per month.
Key Features: API support | Hash uncoded | Save costs | Free support
Check out GhostProject
DeHashed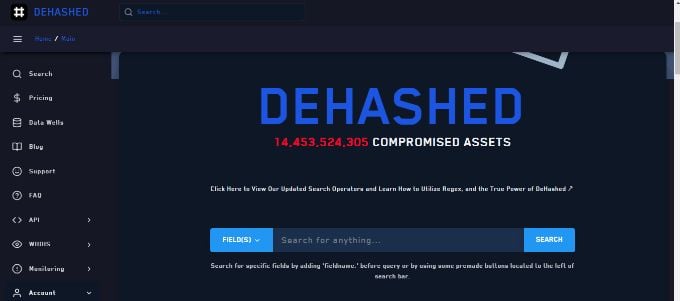 DeHashed has a vast search engine to find hacked accounts. It is used throughout the globe by security analysts, companies, journalists and everyday users. You can also get valuable insights to protect your account and confidential information. The site supports search for email, usernames, passwords, IP addresses, phone numbers, etc. Most services come at no extra cost, and continuously evolving private datasets are available. DeHashed also provides rich APIs that you can seamlessly integrate with your applications.
Key Features: Private Datasets | Affordability | Powerful Integrations
Check out DeHashed
Related: How to Check If Your Passwords Were Leaked Using Your iPhone
BreachAlarm

BreachAlarm allows you to check whether your account has been compromised anonymously. The site provides a feature for email notifications whenever your passwords appear in a data breach. It has a rich dataset of over 1.2 billion accounts that have been hacked in the past. A comprehensive list of the latest data breaches is also available.
Key Features: Affordable premium plans | 1.22 billion databases | API support
Check out BreachAlarm
Google Chrome Password Checkup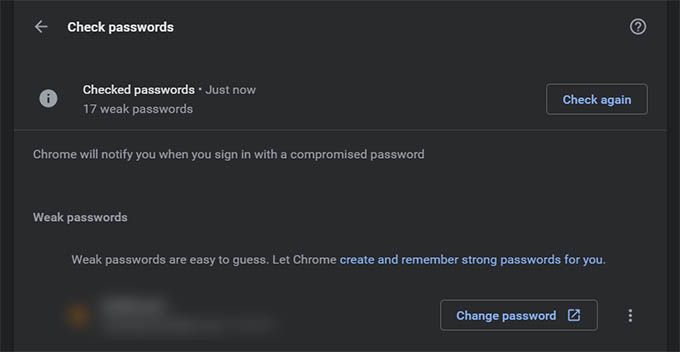 You have heard it right. Google Chrome has its password scanner, which alerts you in case of a potential data leak. Chrome provides a list of issues in all the setup accounts. You can also use Chrome's password suggestion tool to ensure strong authentication for your account.
If logged in to Google, click on the photo on the browser's top-right corner, then press the small key icon. The link will navigate you to the Settings tab. Go to Passwords -> Check passwords -> Check now.
If there are potential security threats found with your account, you will get a prompt to change your password. You can redirect to a link, which allows you to update the password easily.
Key Features: Free to use | Strong password suggestions | Huge database
Check out Google Password Checkup
Related: Where to Find Auto Saved Passwords in IE, Chrome, Firefox and Safari?
NordPass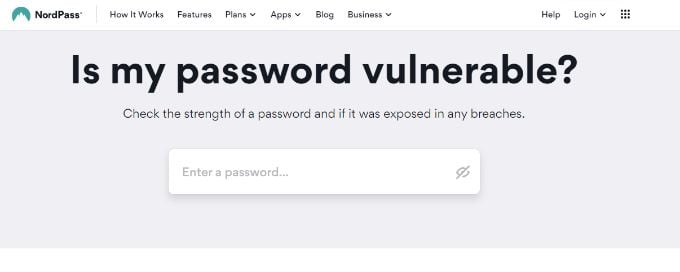 NordPass offered by NordVPN is a powerful tool to evaluate the strength of your existing password and whether it has appeared in any known cyberattacks. Nord's encrypted vault allows you to securely store your crucial details, credit card information, and passwords. It is a reliable tool developed by NordVPN, a widely popular cybersecurity app with above 14 million users.
Key Features: Password strength analysis | Autofill password functionality | Strong security protocols
Check out NordPass
Sucuri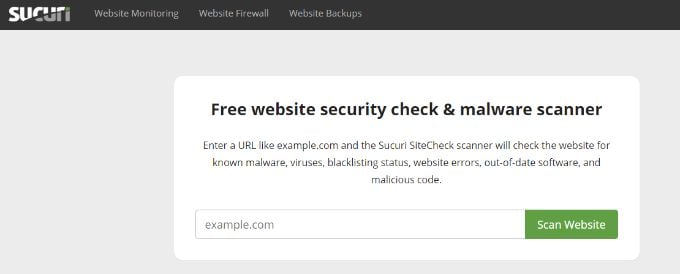 Sucuri scans several websites to search for potential vulnerabilities. It provides you with crucial alerts to change passwords for accounts that might have been compromised. The site actively filters malicious traffic on your site. Sucuri also comes up with a $16 plan for your website, assisting in harmful malware removal and secured browsing.
Key Features: Detect malicious code | Affordable plans | Real-time alerts
Check out Sucuri
Inoitsu Identity Services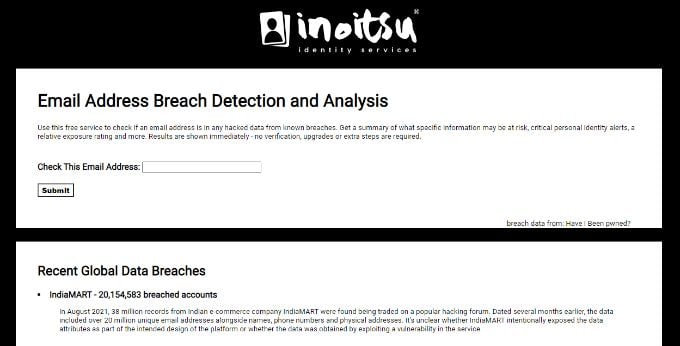 It is a free service to check if your email address has appeared in any known data breaches. The site summarises confidential information at risk, exposure rating out of 10, number of breaches, and the recent breach date. You get immediate results without any extra steps, log in or upgrading the plans.
Key Features: Free to use | Immediate results
Check out Inoitsu Identity Services
Related: Keeper Password Manager & Digital Vault Review: A Safe Place for Your Passwords
Personal Data Leak Check

This tool by cybernews has an above 500 GB database containing information about breached accounts. The site allows you to search for email addresses and phone numbers. It also provides tools like a Personal data leak checker to keep yourself safe online.
Key Features: Huge database | Free of cost | Strong password generator
Check out Personal Data Leak Check
The big umbrella of the internet knows a lot more about you than you realize. Therefore, it becomes vital to stay updated if your confidential information has been compromised. If it occurs, you can take prompt action and enjoy secure and seamless browsing.