When you shop for a workout headphone, the primary concern is sweatproof protection. The headphones for running and other sports activities are built to stay fit in your ear. The in-ear headphones with additional cables to connect together are the best headphones for running. In addition to this, there are earbuds for workouts are available; those are built to stay fit while jogging.
Here we have brought you a list of the best headphones for running that can be your companion during workouts.
Bose SoundSport Pulse
The Bose SoundSport is genuinely innovative. SoundSport is packed with a bunch of cool and robust features. This is one of the best in-ear headphones for running, that has a built-in heart rate sensor. Whether it's cardio or a single gym session, these workout headphones give you the accurate heart rate reading. The in-ear design of this Bose headphone works smooth and adjusts with mostly all types of ears.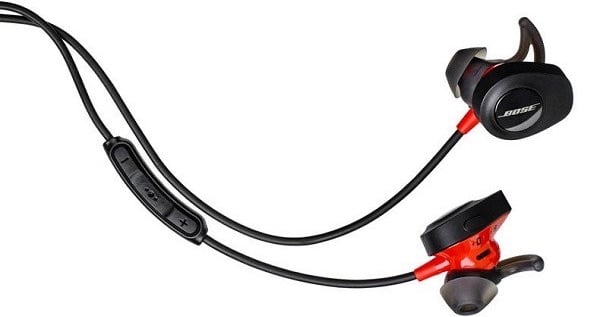 The sound quality is crisp with features such as the noise-canceling and auto volume adjusts. These sports headphones are slightly brighter-sounding with less bass impact but clear mids and trebles. You can always connect the SoundSport Pulse with your smartphones through Bluetooth or the NFC. There is no much lagging in pairing, and it is pretty quick to connect with your phone.
Coming to the battery part, Bose Workout Headphones features a rechargeable Li-ion battery that offers 6 hours of continuous music. A quick 15 mins recharge enough to juice up an hour of nonstop music. You may find the price a bit above the scale, but its Bose and they truly give you the value for your money.
Buy SoundSport Pulse from Amazon
Jaybird X3
The Jaybird X3 is a wireless in-ear workout headphones that offer smooth sounds and clarity. The X3 model is quite popular among fitness geeks with its in-ear design. Jaybird X3 headphones designed for running and workout that fit in securely. Thanks to this, you can keep focused throughout your workout, listening to some of the best motivational music.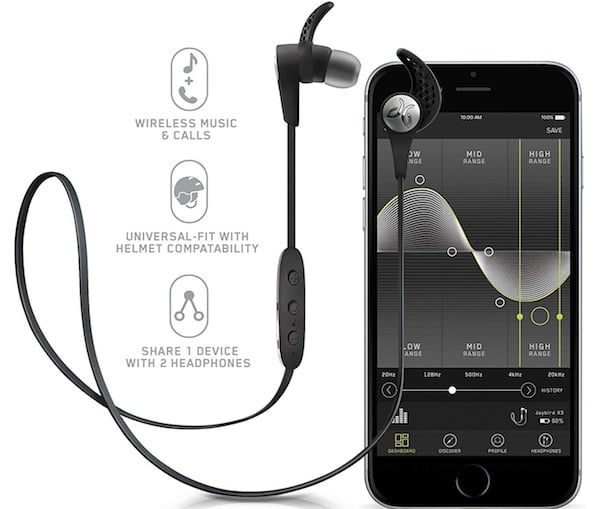 X3 can direct music into your ears with full and crisp audio clarities. You can connect these headphones to the smartphone through Bluetooth. A great feature worth mentioning is the presence of noise cancellation technology.
Apart from that, these wireless sports headphones are made out of a hydrophobic nano-coating material. This safeguards X3 headphones from sweat and water damages. Additionally, you can enjoy seamless music for up to 8 hours with inbuilt rechargeable battery power. Also, the presence of a microphone lets you place calls hands free.
Buy Jaybird X3 from Amazon
Jabra Elite Active 65t (Best for workout)
Great design, check. Portability factor, check. Yet, Innovation level thumbs up!!  That's what the Jabra Elite 65T sums up in total. The Elite is a state of the art wireless headphones that are designed to achieve in-ear stability. Elite Active is one of those limited innovative headphones that feature some of the best features in town.
Being sweat proof and light makes them the best companion for those fitness geeks who need a glitch of music energies. They truly sound excellent and are less irritant to the ears. Placing calls and receiving calls is quite quickly done. Thanks to two microphones placed safely within the earpiece.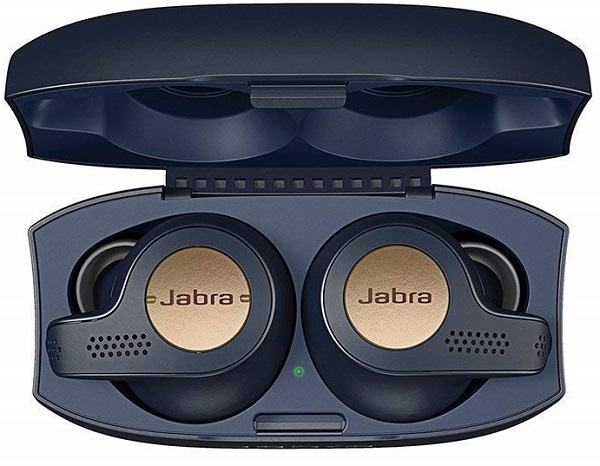 The Elite 65T features something innovative that brought your assistant much closer. The one-touch access to Alexa, Siri, or Google Assistant does ease you a bit. Also, you can download the Sound+ companion app for your phone. With a built-in new motion sensor, you could track your steps full time with this headphone.
Apart from that, the Elite 65t is equipped with the new Bluetooth 5.0. You could connect these sports headphones directly to Android or iPhone within the blink of an eye. As you know, Jabra takes power and battery life quite seriously, and this time, the elite 65t coupled itself up to five hours of battery power for continuous usage. Jabra's charging case delivers an additional two charges for the earbuds.
Buy Jabra Elite Active 65t from Amazon
Jaybird RUN (Best for workout)
The Jaybird's sports headphone, the RUN is a wireless earbud that goes neck to neck with the Jabra and Bose sports series. With the RUN accompanying you, you could sweat it out all day with the sweat-proof design. These are noise-canceling headphone that cancels out external noise for a crystal clear sound experience. Jaybird also provides custom-sized ear tips to fit into your ears accurately.  The best thing you could be sure about is that there won't be any wobbling and falling off, and you could stride off as much as you like.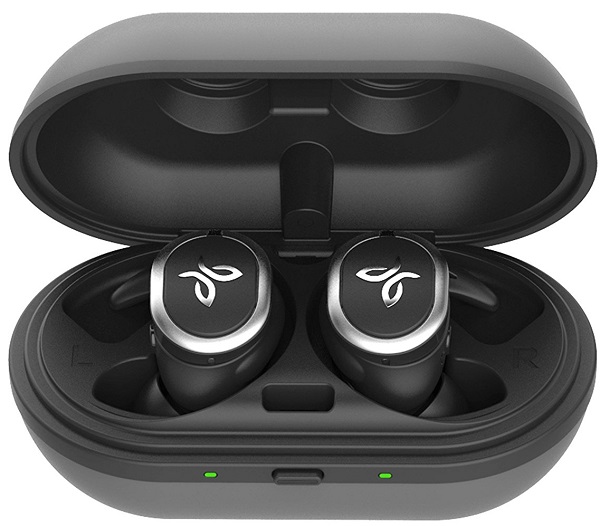 Like most of its competitors, the RUN also connects through Bluetooth connectivity. These running headphones can work for 4 hours non stop. These running headphones come with a charging case. The charging case can deliver two additional charging cycles, that can pull up to 12 hours in total.
Moreover, a quick 5 min charging does give you enough battery to run a whole hour. The earphones feature a single button interface that provides access to playback options, voice assistants, etc. You can also download the Jaybird companion app and enable customized music and settings from within the app.
Buy Jaybird RUN from Amazon
VAVA MOOV 28 Sports Earphones (Best for running)
The VAVA MOOV 28 is one of the best options to consider if budget is also a priority. Apart from those Bluetooth headsets mentioned above, these workout headphones are pretty much affordable and are packed with plenty of features.
What makes it popular among the gym geeks is simply because of its design. The MOOV 28 is crafted out of aluminum, and it ergonomically angled ear tip provides a better fit with rich audio qualities. The aluminum design is durable and withstands wear and tear that could occur during gym sessions.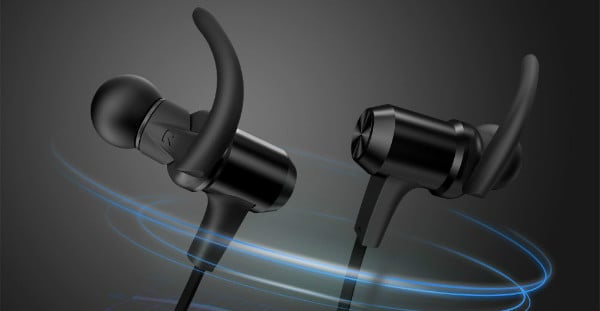 The additional magnetic tips on the headphones help you lock them together around your neck.  Also, the IPX6 splash-proof material with nano-coating sees to it that the device functions smoothly at times you workout die-hard or under light rains.
These wireless headphones feature a 120mAh battery that is capable of playing music for up to 9 hours of continuous use. You could charge it for an hour and still take them out for a great deal of time.
Buy VAVA MOOV 28 Wireless Headphones Sports Earphones from Amazon.
Soundcore Spirit X (Best for running)
The Soundcore Spirit X is a dynamic headphone that's crafted out exclusively by Anker. These sports earbuds are going to be a significant eye-catcher for athletes and fitness geeks with its sweat-proof design. This best workout headphone features a soft silicone ear tips, and don't forget the over the ear hook. This hook is useful enough to keep the excess cords safely intact.  These over the ear hooks come in handy when you under rigorous cardio or other kinds of stuff by making the rear portion feel less irritant.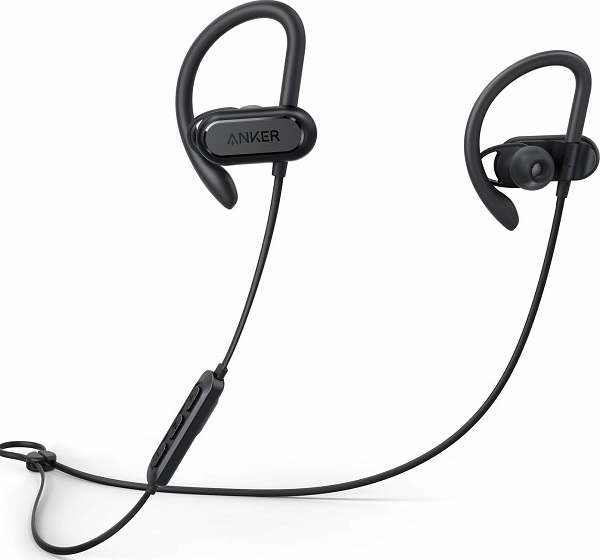 The 10 mm dynamic drivers make sure you receive the best sound quality throughout. These sports headphones give you approximately 12 hours of music playtime within a single charge. Also, the added feature of the quick charge mode is worth praising. You can connect the Spirit X workout headphone with your smartphone through the latest Bluetooth 5.0 without any fuss.
Buy Soundcore Spirit from Amazon
Plantronics BackBeat FIT (Best Neckband)
Looking for some hard motivation during workouts, well try the new Plantronics BackBeat Fit headset for a change. They are durable enough to withstand your most intense workouts with a waterproof design. BackBeat is one of the best workout headphones that meets the IP57 rating plus sweatproof nano-coating.
The design doesn't stress extreme noise cancellation, and instead, it allows surrounding sounds to reach your ear faintly. These could be a pro if your taking them from early morning jogs as you could be aware of the surroundings a bit.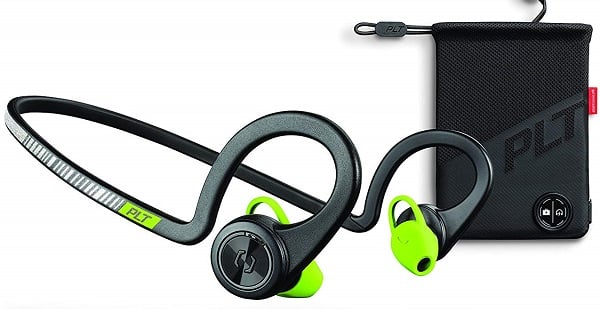 BackBeat also includes a reflective armband case for smartphones that doubles as a storage case for the headphones. These sports headphones are a pure blend of superior music and durable built quality. Talking about the connectivity part, yes, the BackBeat Fit connects through the new Bluetooth 5.0.
Also, you don't need to take out your phone each time in case of calls or emergencies as there is a built-in microphone as well as integrated playback switches. Coming to the charging port, it roughly takes about two and a half hours to buff up those batteries fully. Charging is done through the micro USB port that is accessible near the right earpiece.
Buy BackBeat Fit from Amazon
SoundPEATS Neckband Wireless Earphones (Best Neckband)
This Around-the-neck Workout Headphones made of an ultra-light shape-memory alloy. This neckband is great for easy carrying and comfortable when running, cycling, or exercising. The lightweight in design makes this headphone ideal for gym and workout. The magnetic lock keeps the earpiece attached to the neckband. With this magnetic attachment, no need to worry about the cord dangles around the neck.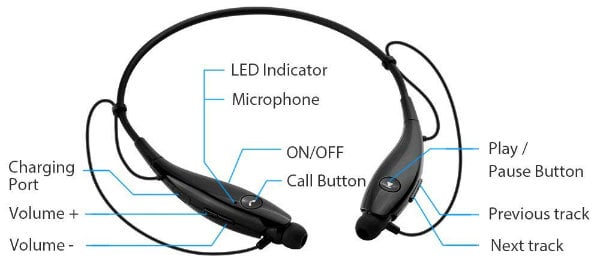 SoundPeats  supports two devices to connect simultaneously. The neckband headphone for running offers high-fidelity stereo sound quality with "aptx" codec. The built-in battery supports up to 10 hours of music and 240 hours of standby time and takes only 2 hours for charging. This workout neckband headphones are compatible with iPhone and Android.
Buy SoundPEATS Neckband from Amazon
AfterShokz Trekz Air (Best Neckband)
The AfterShokz Trekz headphones are quite rich in sound quality. The new bone conduction technology is, in fact, it's a standout feature. This running headphone delivers music through your cheekbones and ensures ambient sound clarities of the outside world through your ears. The bone conduction-based earphone offers a dynamic sound range, rich bass, and reduce natural sound leakage.
The IP55 certified headphone is good to repel sweat while you run and also resistant to dust and moisture. With one charge, the built-in battery offers six hours of continuous music or calls. The noise-canceling dual Mics  cancells surround noise while you talk.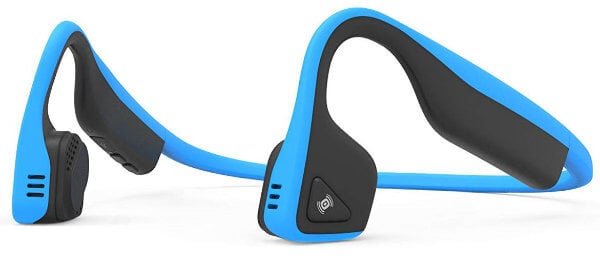 These wireless headphones are 20 percent lighter than those traditional headphones, and the wrap-around titanium design provides flexibility. These sports headphones can be easily connected through the new Bluetooth 4.1 technology. The multipoint pairing feature allows you to connect to your smartphone or PC with the headphones and easily switch between your devices also.
Buy AfterShokz Trekz from Amazon
Many nowadays love to hear music during their workouts and jogs. Also, the gym geeks tune into music as a source of sheer motivation; you need something extraordinary.
There you have it; these are some of the best and superior quality workout headphones that are useful for people who need music badly. Whether you're looking for earbuds that can handle high-impact gym sessions indoors or long-distance jogging outdoors, these headphones are guaranteed to stand out among all its competitors' thanks to extraordinary features.