Apple AirTags are pretty useful in tracking and finding your lost things if they are attached to one. The Find My app on iPhone usually comes in help to find your items, but what if you cannot reach your iPhone at the moment? You can use your Apple Watch to find lost items by tracking the AirTag, which comes pretty handy anytime.
Let's find out the way to track and find AirTag using Apple Watch.
Find AirTag with Apple Watch
If your Apple Watch is running watchOS 8 or newer, which is slowly rolling out to you, you can find the AirTag without pulling your iPhone out of your pockets. Lets' see how.
To find the AirTag, you need to first unlock your Apple Watch and open the "Find My" app with a green radar icon. Then, follow step steps as below: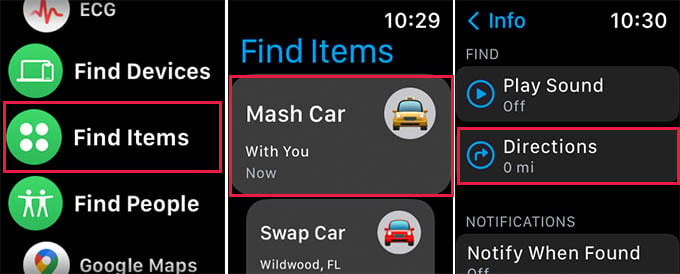 Scroll the digital crown and select "Find Items" option in Apple Watch Find My app.
From the next screen, scroll and select an item to find.
You will find the AirTag location and other information on the next screen. From there, scroll down and select "Directions."
You will then find turn-by-turn navigation to find your AirTag right on your Apple Watch.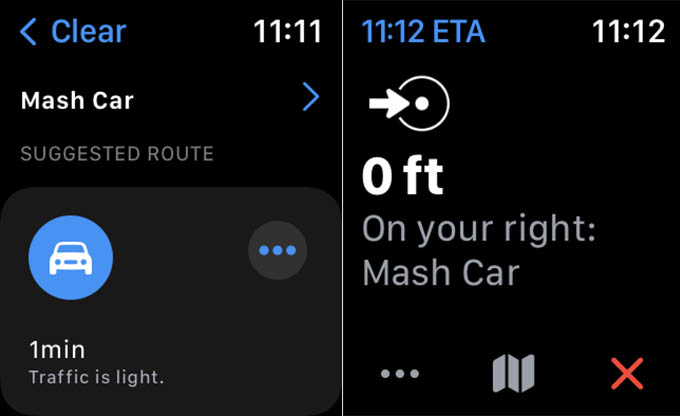 Unlike iPhone, you will not see any detailed location information other than turn-by-turn instructions. If you are using an Apple Watch Series 5 or older, you might get just the approximate location and not any turn-by-turn navigation. Thanks to the U1 chip in Apple Watch Series 6, you can find the AirTag with Precision finding if you own one.
Related: How to Find Nearby AirTag with Android Phone
Play Sound in AirTag with Apple Watch
If the AirTag is near you and you just need to find it out, you can chime the AirTag from the Apple Watch. Let's see how.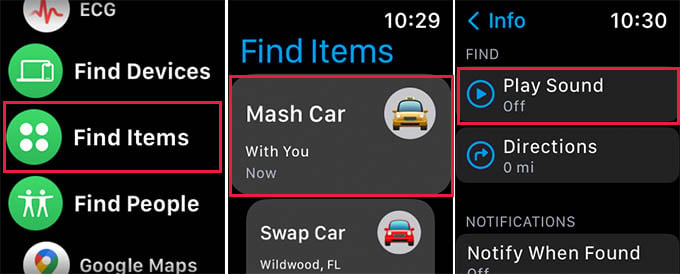 Open the Find My app on Apple Watch and select "Find Items" option.
Choose your item (attached to AirTag).
On the next screen, select "Play Sound" option.
Now the AirTag will start making a chiming noise so that you can find the AirTag immediately within your house or among your belongings. To stop playing the sound, tap the "Stop Sound" option that appears on your Apple Watch.
Related: How to Get Alert on Apple Watch When You Leave Your iPhone Behind
FAQ: Using AirTag with Apple Watch
Can you use AirTags with Apple Watch?
You can use your Apple Watch to find AirTags thus your lost items easily. Apple Watch can show you both directions to the AirTag as well as the option to chime the AirTag.
Can Apple Watch show navigation to AirTag?
Apple Watch can show you the directions to find the AirTag. Only Apple Watch Series 6 support the precision finding and turn by turn navigation for finding lost AirTags.
When AirTags was launched, Apple confirmed that the controls with Apple Watch were coming soon. With the WatchOS 8 update, Apple adds the AirTag finding option and lets you easily get your lost items back with the AirTag finder option in Apple Watch.