Digital photo frames are not a new thing. We all know they let you hang one single frame and slideshow a plethora of pictures. They have evolved a lot in the past few years, and you get a touch screen, more storage space, and even WiFi connectivity. Dragon Touch Classic 15 is such a digital picture frame with all advanced features, which we got our hands-on recently.
If you are not sure whether you should get this digital picture frame with WiFi from Dragon Touch, go through our quick hands-on experience with Dragon Touch Classic 15.
Content
Dragon Touch Classic 15 Digital Photo Frame
The Dragon Touch Classic is a pretty awesome digital photo frame that comes with a vibrant touch screen display. It is basically a 15.6-inches massive HD display that's transformed into a stylish digital photo frame. With this portable digital photo frame, you can experience clear and vivid memories with your loved ones.
The Dragon Touch Classic 15 comes with WiFi and lets you share photos from your smartphone with ease. Apart from being an all-out photo frame, you can even customize it to your needs. You can set screen savers, videos, or slide shows with cute transitions and effects. The design part makes it pretty adorable and eye-catchy.
There is a lot more to talk about this cool digital photo frame including installation, design, and file sharing.
Related: How to Stop an App from Using Cellular Data on Android
Dragon Touch Classic 15: Specifications
Dragon Touch Classic 15 boasts some really good hardware features and here is a complete specifications details for the digital picture frame.
| Specifications | Dragon Touch Classic 15 Digital Photo Frame |
| --- | --- |
| Display | 1920×1200 FHD Touchscreen Display |
| Controls | Remote controls, Touch controls |
| Storage | 16GB (40,000 photos) |
| Expandable Storage | SD Card, USB flash drive |
| Connectivity | Mini USB, SD, WiFi (2.4GHz) |
| Viewing Modes | Portrait & Landscape |
| Slideshow | Photos and videos |
| Supported Features | Music, video, photo, weather, calendar, alarm |
| Users | Up to 20 users |
| Power | Wall adapter, No battery |
Design and Build Quality
The Dragon Touch Classic on the first look seems nothing but a portable display. It's almost as the size of a regular laptop screen, meaning it's pretty massive for a photo frame. The body is made of plastic and to be frank, we really felt that the device is a bit bulky. There are raised edges near the display as well as near the rear-mounted switches.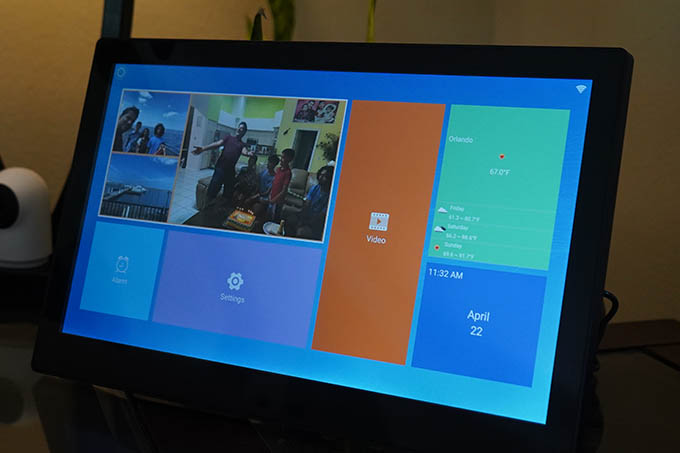 On the rear, you can also find a wall hanging mount bracket if you are planning to hang the frame on your wall. A dedicated power key is fixed right at the back. This made a bit of an issue while switching on when we hang it with the mounting brackets. Near to the top rear, you can find two decent stereo speakers. The speakers are okay but could have been better if they were placed at the bottom of the smart photo frame.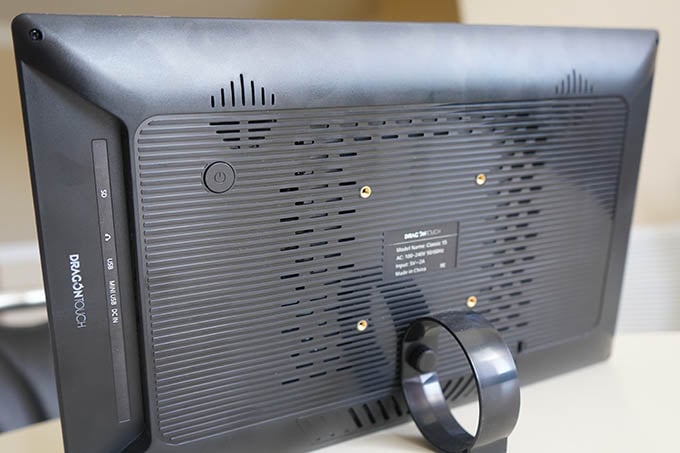 Coming to the sides, there are all the ports that let you transfer photos into the Dragon Touch digital picture frame. There is an SD card slot, USB, and a mini USB port for file transfer. Near to the USB port stands the DC power input. It is still confusing why do they include a mini USB instead of a more standard micro USB or a USB C. The mini USB is pretty much inconvenient, especially when you have to look for a spare cable to transfer pictures from a PC.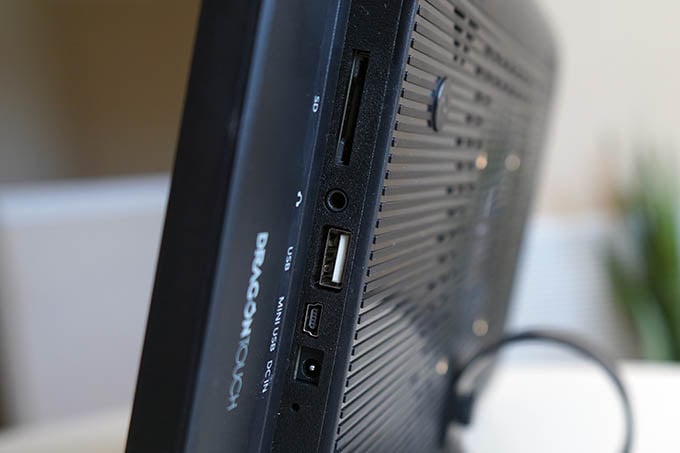 One more thing, there is a 3.5mm headphone jack right in between the SD and the USB port. We did a few initial tests but to be frank, we didn't really felt a need for one. It's because the device is basically a photo frame and even though you can play videos but of shorter duration, like around 30 seconds.
Installation and Initial Setup
Right after you open the box of this digital photo frame, you'll find the wall mount bracket as well as the table support or the feet. Attaching these is just a piece of cake and we did give both orientations a test.
The wall mount bracket compared to the table support leg can take a bit of time to get done. At first, we screwed the table support leg onto the lower back of the frame. You can easily screw it onto the frame but the thing that bothered me is the lack of adjustments. In case you need to adjust the angle or the alignment of the frame, you'll have to unscrew and screw it back with another screw hole.
After the physical installation switch on the display after you plug it with your power cable and the next thing to do is to connect it with your WiFi. It took a bit of time to switch on after the boot animation and the next pop up window directs you to connect it with your WiFi.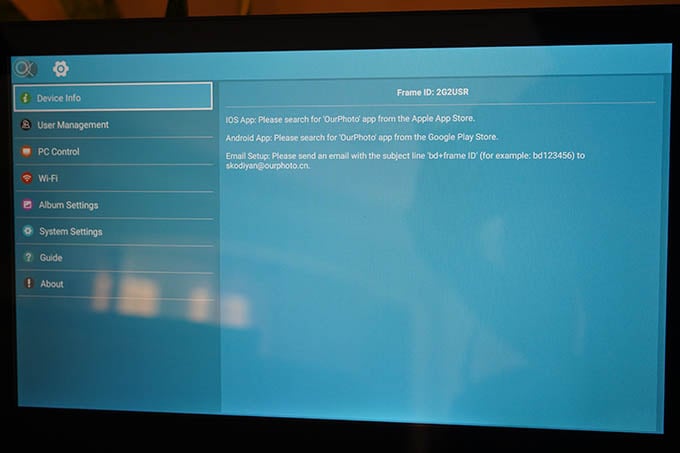 After that, you will need to input the frame ID that's accessible from the device info. The next step is to grab your iPhone or Android smartphone and download the OurPhoto app. After this, you are good to go and you can easily transfer photos or short videos via the app or through the USB cable or SD.
Display and Image Quality
The Dragon Touch Classic 15 digital picture frame comes with an intuitive touch screen display. The 15.6" IPS display comes with a glossy finish and has a native resolution of 1920×1200. It can very well reproduce effective and vibrant images and offers better clarity.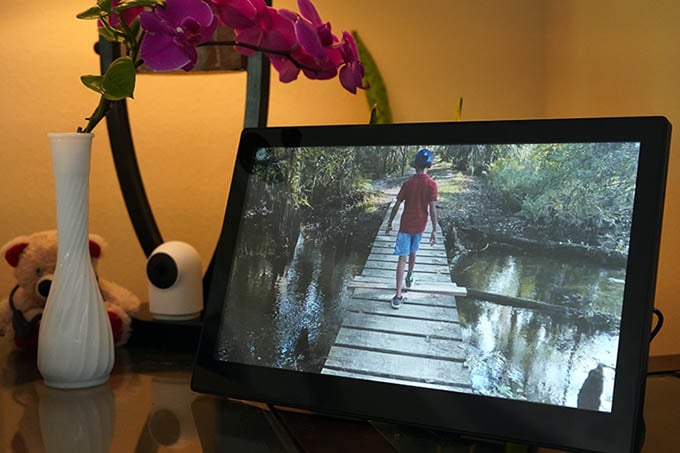 The LCD brightness is quite good in a normal indoor environment. However, the glossy panel reflects light and thus becomes an issue if the room gets direct sunlight. Another thing that we kinda felt as a con is that there is a lot of space between the outer frame and the display panel. This in turn makes the digital photo frame a bit bulky. The lower frame could have been in uniform with other sides.
Related: 21 Best Mother's Day Gift Ideas in 2021: Perfect Gadgets to Gift Your Mom this Year
Photo Transfer and Sharing
The Dragon Touch Classic 15, being a digital picture frame with WiFi, lets you transfer files wirelessly from your Android and iPhone. Dragon Touch offers photo transferring through WiFi, SD card, USB, and even through Gmail. From what we felt after testing all of the modes, the OurPhoto app does a decent job in helping you to transfer photos from phone to picture frame.
After connecting the frame to your WiFi network, you can pair it up with your smartphone via the OurPhoto app. The next method possible is sending images via email. This method is useful to friends and family members whose profile is added into the photo frame. If you do not want to add photos to the digital picture frame over the internet, use an SD card or a USB flash stick to slideshow your best memories.
Dragon Touch Classic 15 Features
Apart from the HD IPS display, inbuilt storage, and WiFi, the Dragon Touch Classic includes a remote controller, wireless sharing, and many more. Not all digital picture frames come with a remote or WiFI network. We were really impressed with the Dragon Touch's photo frame since it boasts both WiFi and remote controls.
Slideshow Mode: You can slideshow all your favorite pictures in this digital picture frame with soothing music in the background. You can even play videos up to 30 seconds from your memory, which is pretty cool.
App-based Controls: The app-based operation makes things pretty smooth and easy. There are options to select the duration of the slide show, preset images, and many more within the app itself. Wireless file sharing lets you share up to 9 images at once from your smartphones. A thing to note is that images from the Cloud storage tend to be a bit compressed at times.
Multiple Users: The OurPhoto app has all the controls and data transfers for the digital photo frames. You can use the same app to add other users to the photo frame, up to 20 of them.
Weather: Another interesting thing we found out is that you can get personalized suggestions of weather.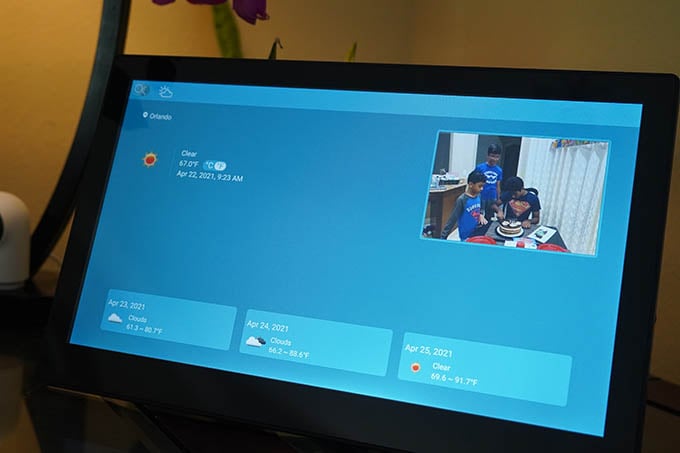 Alarm Clock: You can also set custom images or clock faces if you are planning to use them as a bedside clock alone.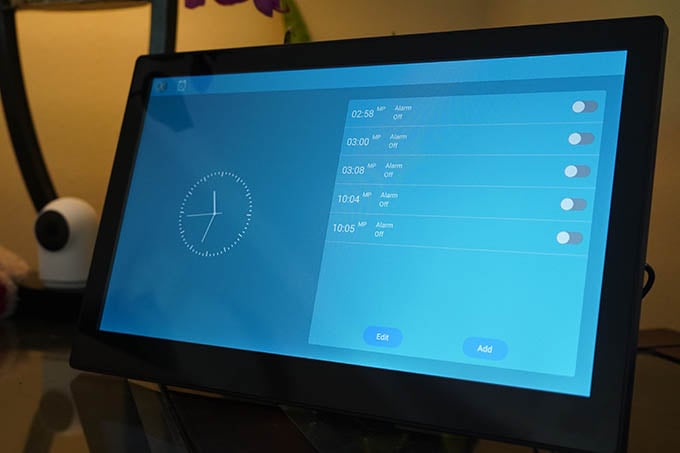 Calendar Sync: Check your calendar in this smart photo frame by syncing with your work or personal calendar.
Vertical Mode: You can use the digital photo frame in both vertical and horizontal mode. In fact, there is no kickstand specifically for vertical mode.
Play Music: You can enjoy your favorite music using the inbuilt speaker.
Even though the Dragon Touch digital picture frame works well with WiFi networks, it only supports 2.4GHz networks. Putting aside such downsides, Dragon Touch Classic 15 is a pretty neat digital picture frame for those who look for a smart photo frame.
Related: 10 Free iOS Apps to Convert iPad to Digital Photo Frame
Dragon Touch Classic 15: Pros and Cons
Dragon Touch Classic 15 is not something that stayed within our expectations. There are several ups and down in owning a digital photo frame from Dragon Touch. Here is a complete list of things we liked and disliked about Dragon Touch Classic 15 digital picture frame. Take a look before making up your mind.
Pros:
Massive 15.6″ touch screen display
Vibrant images and even supports video formats
Solid build and protective edges
Supports both landscape and portrait modes
App-based operation
WiFi support and Wireless file transfer
Easy initial setup and secure file sharing
Comes with mounting brackets
Affordable price
Cons:
Supports only 2.4GHz Wifi
No inbuilt battery
Cloud images undergo compression
No vertical kickstand available
Inconvenient buttons on the rear
Key Features: HD 15.6″ IPS display | 1920x1200p native resolution | Wifi support | Dual orientation | Dual speakers | USB and Mini USB port | SD card slot | Formats supported: JPEG / JPG / BMP/ PNG | Works on DC power supply | App based operation | OurPhoto app
Pricing and Availability
The Dragon Touch Classic 15 is an amazing deal while considering touch screen digital photo frames. The device is splendid and comes with wireless connectivity. The vibrant display, as well as a bigger 15" screen, makes it a perfect choice for a digital photo frame. At present, you can easily get the Dragon Touch Classic 15 from Amazon at a reasonable price of around $200.
Today's Deal: $90.00 Off
Final Thoughts
We've got our hands on this digital photo frame for a couple of days and frankly, we loved this device. The large 15.6" touch screen steals the show with its awesome HD picture quality. There are also two rear-mounted speakers that are not so bad. Other features like wireless sharing, WiFi-based weather, and calendar were all put to the test.
We are fully satisfied with what the photo frame has up its sleeve. Also, certain minor downfalls like the lack of a Vertical Kickstand and adjustable leg do give you a hard time. If you're planning to upgrade from the traditional photo frame to a new digital one then try this Dragon Touch digital picture frame with WiFi.