Amazon Echo is loaded with Alexa Voice assistant to help you. However, you are not utilizing the full power of Alexa Voice Assistant. There are tons of Alexa Skills available on Amazon stores to enable for Echo device. These Alexa skills can extend the potential of your voice assistant with Amazon echo device. Now the question, how to enable these skills on your Alexa?
Let us see how to enable Alexa Skills on Amazon Echo to extend the features and functions.
Most of the Alexa skills are hidden gems, that are not loading as default. You have to go to Amazon and enable those skills to activate with Alexa. Let's see how to enable these Alexa skills to get more fun with Amazon Echo.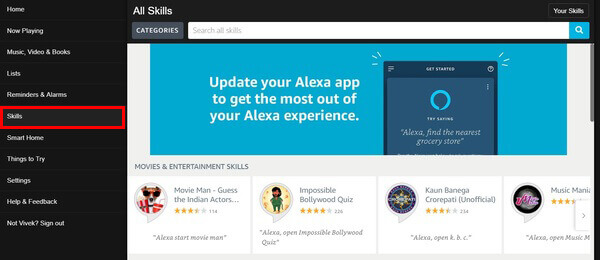 Visit alexa.amazon.com using computer browser.
Sign in using your Amazon ID.
From the left column, select Skills.
Search for the skill using the search bar or browse the skill cards below it.
Click on a skill card to open the skill page.
To enable a skill, click on the ENABLE button.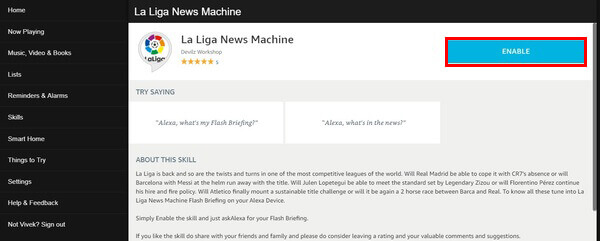 You can explore more Alexa skills on this account. There are more fun games, news, podcast and other skills listed over there. You can enable the skills and start the fun!.
Related: Alexa Echo Spot Settings: How to Customize Display and Settings?
You can also use the Alexa app on Android or iOS. The steps are similar, the interface is slightly different. You'll need the Alexa Android app or the Alexa iOS app, of course.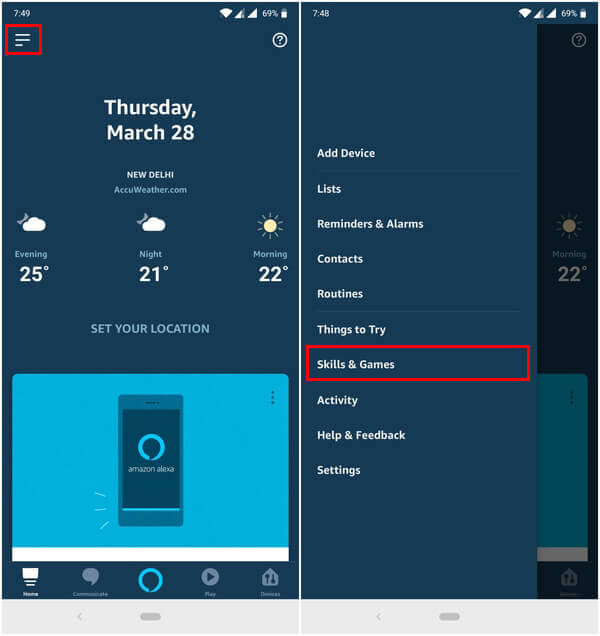 Launch the Alexa app.
Tap on the hamburger menu icon to open the side menu drawer.
Select Skills & Games.
Tap on the search icon in the top right and search for a specific skill.
Alternatively, you can browse for skills.
Tap on a skill card.
Press the ENABLE TO USE button.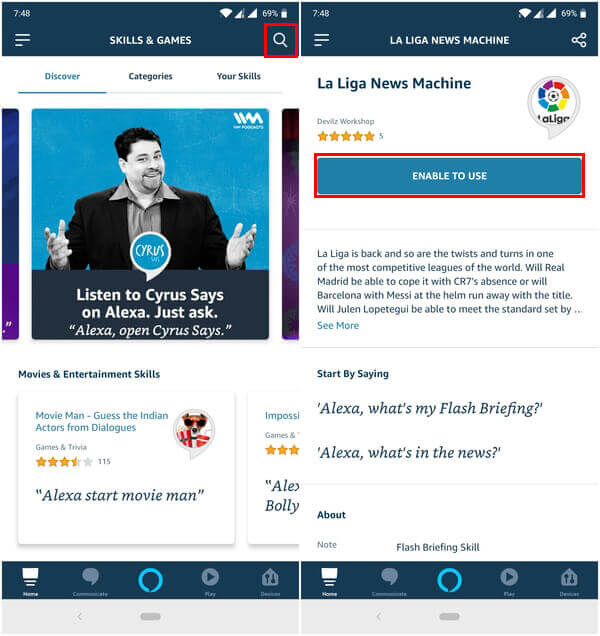 We've used the Android app for demonstration above, but the iOS app is exactly similar so you can follow the same steps on iOS too.
Now you know how to enable Alexa Skill. There tons of Alexa skill waiting for you in the Amazon Store. Here is the Amazon Alexa Skills collection and enjoy them.
Related: 21 Best Smart Home Devices for Alexa, Compatible with Amazon Echo
Enable Alexa Skills on Amazon Echo
You can follow the same procedure to enable skills from Amazon for any of your Alexa enabled device. There are games, news, and a lot of other skills in the Amazon store dedicated to Alexa voice assistant. Just follow the quick procedure to enable the Alexa Skill and extend the power of your Echo device.