All of us live in a world where we see every person with their heads down and tapping their thumbs on the screen of their smartphones. People are engaged in their devices for most of the time during the day and night. Live streaming is there serving as a great way to interact with the people in real-time. Talking about live-streaming apps, the name of Twitter-owned Periscope is the first app to be talked about. Due to its simplicity, it is a favorite of many individuals.
But are there any apps that far better than Periscope? Here is the list of Periscope Alternative Apps for Android and iOS that might answer your question.
Facebook Live
After launching the service earlier just for celebrities with a verified page, the Zuckerberg-owned empire has expanded its accessibility to a larger audience. This live streaming app has a significant benefit that it is built on the social networking site itself.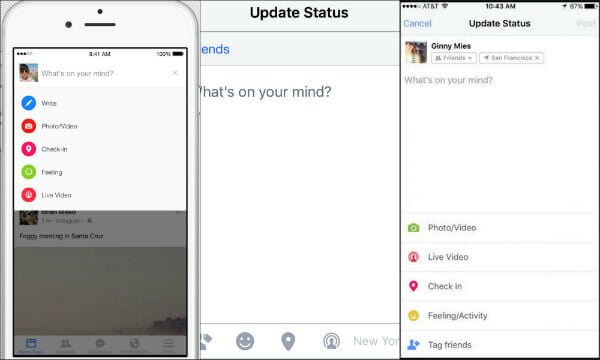 No need to download any additional app other than the official Facebook app for use. Just tap on the video link present on the bottom right and you're good to go after the instructions.
The app lets you fiddle with many of its built-in features. One such feature is Live Producer that enables scheduling live streaming on Facebook and a few third-party apps. Facebook Live enables going on a live streaming session with multiple participants as well. It is free to use as any Facebook service so you are in for a treat for sure.
Key Features: Built-in streaming feature within Facebook App | Easy to use | Live Producer
YouTube Live
All of us access YouTube for the sole purpose of video streaming, but with the launch of its live streaming, the scenario completely changed. The live streaming is allowed to anyone who has 100 or more subscribers giving all the same footing. The feature is handled by the site and can be accessed by clicking on the 'Enable' button on the Account features page.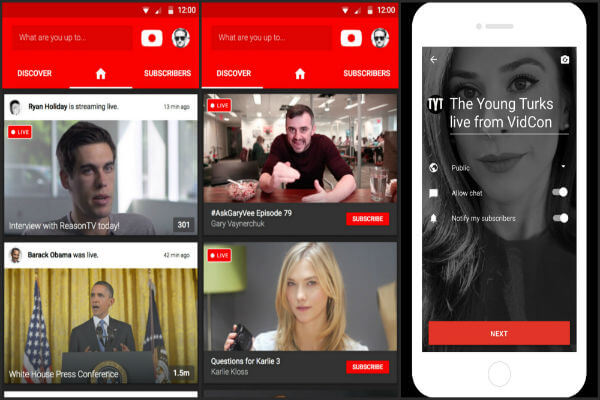 You can access it via YouTube (website) via a webcam or its mobile app. You have greater control over the live stream such as adding encoders for gameplay. The streaming service lets you schedule your next live stream as well. You can select the 'latency rate' depending upon what sort of conversation and video resolution you want with the stream.
There's a live chat option that streamers can use to chat with their viewers or check out what they want to say. YouTube Live is filled with a huge catalog of features that the company usually updates pretty often. By the time you are reading this, YouTube might have added a few features for that matter.
Key Features: Monetization | Live Chat | Multi-Camera support | Unlimited Event Duration | Cards Insertion
Related: 7 Best Skype Alternatives for Windows, Mac & Smart Phone
YouNow
With YouNow, you can chat with live broadcasters and connect with your audience by going live! Have fun joining broadcasters as a guest, creating selfies, sending gifts, interacting with your community, and capturing moments. DISCOVER: Browse live broadcasts and catch up on what you missed in the Moments feed. Connect with creators, artists, musicians, and your favorite personalities.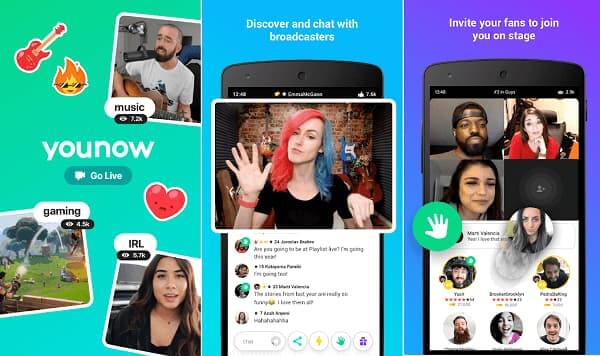 YouNow gives you a simple, easy to use interface that you can use. It lets you go live on the platform to showcase your talent which is a good way to network. No matter if you are a musician or gamer or vlogger, YouNow got your back. The live chat option lets you interact with the broadcasters and audience to a different level. Note that it has strict policies on vulgarity and you might get banned or suspended violating the rules.
Key Features: Broadcast/stream videos | Interact with users/broadcasters | Explore content
Related: 7 Best WhatsApp Alternatives for Free Text and Call
Glide
In the midst of several live streaming services providing an app, there is Glide that has some unique capabilities making it different from others. It is simple to use and just requires an account to use the services for the purpose of doing live streaming. Like Periscope it also offers the person to have a real-time conversation and has a messaging limit that is about five minutes.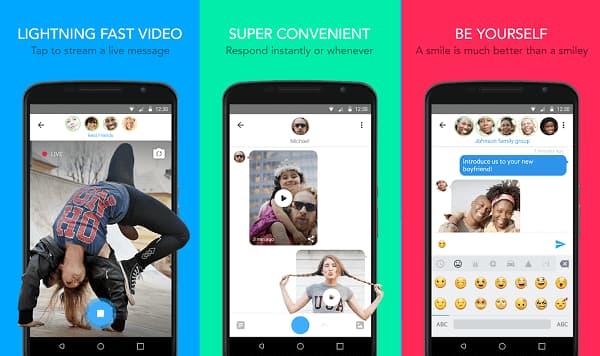 Unlike others, Glide lets users chat via texts on the app while on a video call. It is one of the fastest and stealthy ways to communicate. It is a quality facetime app that offers high-quality video chat experience. You can upload the recorded video on other platforms after reviewing it. There's a feature to take a screenshot of the ongoing video in case someone wants it.
Key Features: Cool Filters | Take a Snapshot | Video Chat with real-time text chat
Related: Best Streaming Services: Quick Comparison Between Disney+, Netflix and more.
Livestream
Livestream is a great app to let your family, friends, colleagues or anyone else to join in an event they can't make to. It allows you to discover, experience, and broadcast live events to encounter a more social live event service and broadcast in HD quality direct from iPhone or Android. With its live vlogging tools, Livestream maintains a consistent user experience. Post, record, like, and comment even when we are using the app offline.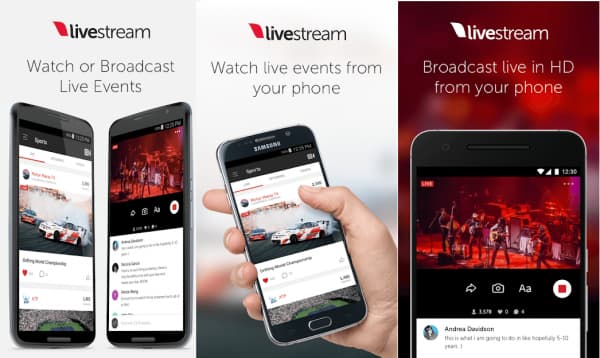 Socialize in a new style with Livestream, the app lets you stream where your family, friends, and others can watch. You can also discover the content you'd love such as a concert and watch it live if someone is live streaming it. All the content is in HD resolution that you can view on your phone or tablet. You can also stream it on your TV via Chromecast.
Key Features: Stream or watch live streams | Stream it on TV via Chromecast | HD video resolution
Stre.am
It gives you the option to stream whatever you are doing whether watching a game or encountering a great moment at the same time. Designed for all sorts of users the multi-platform service is free to use. As soon as you make your account on the app, it initiates the search of your friends using the app and provides a list of popular users that helping you to figure what the app is about. Offering easy and understandable options, it is a viable option other than Periscope.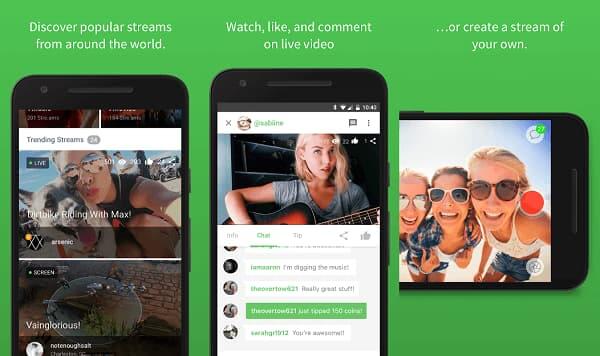 There are a plethora of features that you can hail with "Stre.am" or "Stream". It lets you screencasting your gameplay or movies or whatever you want. On the other hand, you can broadcast yourself doing something or capturing a good moment around you. The best thing about Stre.am is that users can monetize their content and cash on it although there are various factors associated with it. The app lets you interact with users around the globe so you aren't restricted to any particular country.
Key Features: Stream video or watch it live | HD quality streaming | Monetize content | Screencasting
BIGO LIVE
Another famous live stream app that supports talented performer shows and personal live streaming. This supports the Vlogs as well as live streaming, and explore the start Broadcasters and celebrities. There are various paid and free virtual gifts that are prepared in this app to show your passion and appreciation to live streamers. You can invite your friend to co-host the streaming with this BIGO LIVE streaming app.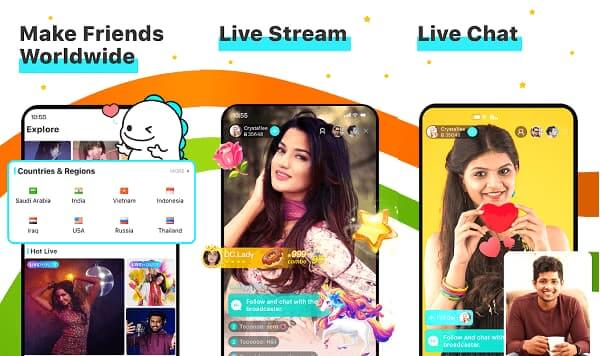 Tired or bored? Check out Game Center where users can play games like Ludo, Snakes and Ladders, and others. The app is pretty extensive when it comes to the user base across the globe so you won't find it boring anytime soon. Most of the users are frequent so you can follow them, have a text or video chat with 'em.
Key Features: Watch Live Streams | Free Live Video & Voice Chat | Game Center | Live PK
Skeegle
If you are looking for a more private app than Periscope, then Skeegle might be the best option. It allows only a selected number of people to be able to access the live streams. Any person chosen by you will get an alert via the app during the live streaming and if they don't own the app then a text with a link will be sent to them. Videos are stored in the cloud and can be played any time by the chosen streamer.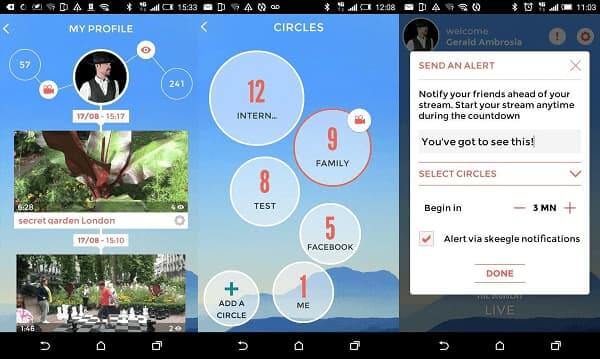 The app lets you stream or watch streams either publicly or privately by creating groups. It supports multiple languages as well. Note that this app isn't available on either Google Play Store or App Store so a link to download its APK is listed below.
Key Features: Stream content | Create group & stream privately | Notification alerts for users
Download for: Android (Third-party) | iOS (Third Party)
Likee
Formerly known as Like, the Likee app is a powerful live-streaming tool you'll find. The app has a tonne of stickers and filters that users can select to create their content. There's a Supreme feature that lets you create mind-boggling videos on the go. Add superpowers to your portfolio by adding 'superpowers' in your videos. The user base on this app has exceeded millions which means you can get hands-on your favorite content creator and celebrities.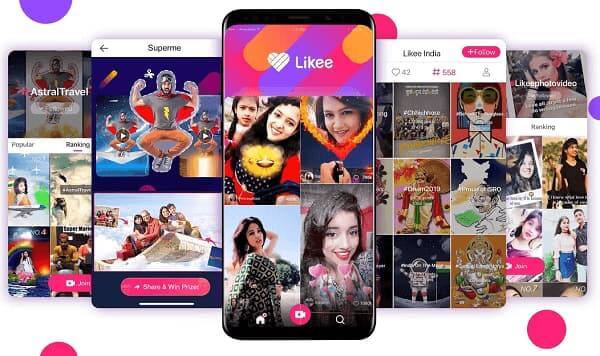 Likee gives you an extensive list of tools that you can use to create quality and interesting videos. You can use its makeup and microsurgery tool to get a perfect look virtually. Video dubbing feature has a catalog of thousands of movies that users can select to dub and upload the video. Overall, it is one of the largest broadcasting platforms where you'll never get bored.
Key Features: Music Magic Filters | Superpowers | Video Dubbing | Makeup & microsurgery
MeetMe
It is a community of more than 100+ million people from across the globe. When you sign up for MeetMe and enter your interests, the app automatically finds the results of like-minded people. The app is many things accumulated in a single platform which includes live streaming, texting, voice calling, and video calling and top of all, making new friends.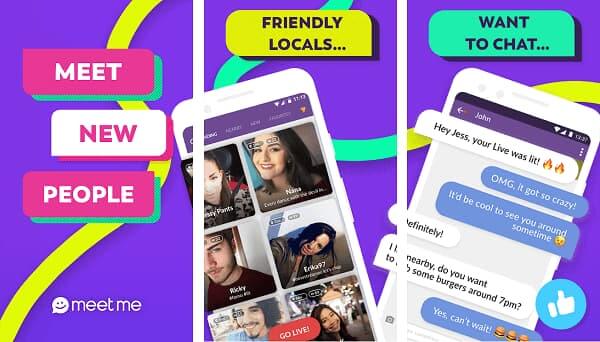 Rant about the thing you love or hate or flaunt that new car you bought or anything, you'll have people watching you via live streaming. You can watch their live streams and archived videos too in case you are bored. All in all, the app is a must-try if you love trying new ways to socialize in this age of the internet.
Key Features: Stream, Chat, Call | Connect with 100+ million users | Easy to use | Virtual Gift Store
Coco
Go nuts on Coco or 'Coconut'. The app is a premium live streaming service where you can find new friends just like that. Connect with localities or wander around the app to find people of your interest from across the world. The app gives you access to a whole lot of content ranging from creative short videos to live streaming of people flaunting things, moments, and more.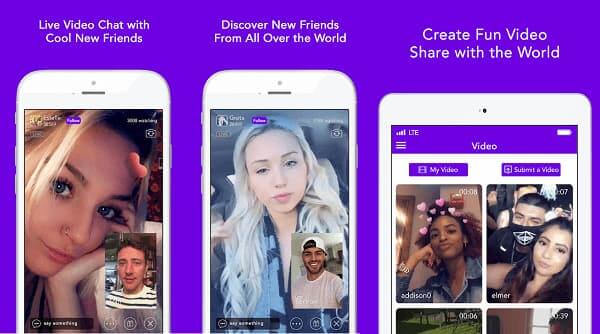 You can use the voice chat or video chat or even messaging feature within the app to communicate with others. Find someone to live stream with or find your favorite streamers to watch their content on the go.
Key Features: Steam content across the users | Watch live stream | Voice, video, and text
Download for: Android | iOS
FaceCast
FaceCast from VBP Live Video Streaming brings a lot on the table. It is equipped with a GPS tech that lets you find friends and soulmates nearby. It is an app that aids in finding new friends and gives you a 1-on-1 chance to video chat with strangers before you both mutually accept the friendship. Unlike other apps, there's no level or number limit on live streaming so you can freely broadcast your live stream across all the users and I mean whoever wants to watch it.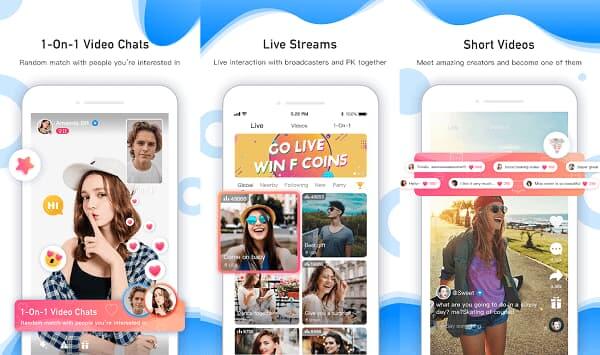 You can create short creative videos spanning over 15 seconds and share on the platform allowing others to follow you. Get more information about celebrities and their interests since celebrities now use these apps to broadcast almost anything from information on upcoming projects to their personal life and whatnot.
Key Features: One-on-One video chat | GPS enabled to search nearby | No level & limit on live streaming
Related: How to Call US Land Phone & Mobile for Free While you Abroad
Uplive
Rated as one of the best live streaming apps, Uplive has a series of features that users can interact with. It has a huge user base that lets users interact with people across the globe. There's a dedicated game center that you can hail to relieve stress such as The Jungle Adventure-Road of Gold and so on. Apart from that, users can use the real-time translation on a click that lets you interact with others without language being a barrier.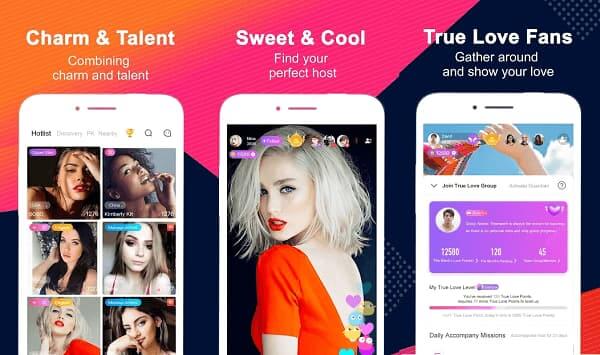 Go live on Uplive or check out from a huge catalog of live shows and archived videos. It is technically a never-ending source of entertainment spread across various genres. You can video chat, voice chat, and even text other users to stay in touch and communicate.
Key Features: Real-time translation | Game Center | Virtual gift store
Camfrog
Camfrog is one of the best alternatives to Periscope. It offers excellent group video call capability. Users can connect with any of the thousands of chat rooms available and make new friends. Complete a daily streak to get virtual gifts for free or check out the virtual store to buy gifts you can give others. It is free of charge which means you don't have to pay even a penny for both domestic and international calls and chats.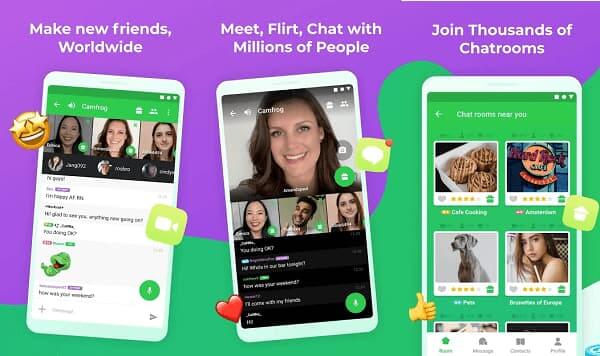 The app is cross-platform so anyone with Android can talk to iPhone users and vice versa. It works in the background in case if you want to continue a call while doing something else which is a great feature. Go public with group chats and whatnot or move to a private chat room with the one you want to talk in complete privacy without any prying eyes. These are just a few of the features that you'll find on Camfrog, there are many others that I haven't listed here.
Key Features: Unlimited videos & streams | Video, voice, & text chat | Virtual Gift Store | Free to use
Twitch
Don't tell me you haven't heard of Twitch yet. It is a powerful live streaming and broadcasting app, especially for gamers. Yes, Twitch is synonymous among gamers with hundreds of broadcasters going live to show their gameplay & more. The app available on both iOS and Android lets you watch live streaming free or on-demand. There's more to the app such as the broadcasters can create mini-games, quizzes, and more.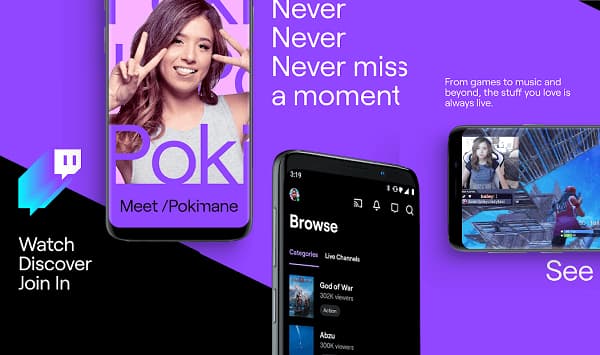 Broadcasters can monetize their content, upload short clips or a full-length live video that will be archived later. It offers a lot to handle the interactive-ness of the streaming session that you'll love for sure. Overlay ads or use a subscription model to churn revenue out of your gameplay. For the audience, they can literally watch any game and learn new skills just with a flick of a finger. The best thing about Twitch is that you can play both single and multiplayer games for endless hours.
Key Features: Intuitive UI | Dark Mode | Broadcast gaming videos | Play single & multiplayer games | Live Chat
Meerkat
Many critics term Meerkat as the biggest and the fierce competitor of Periscope. This live streaming app came first in this category and was present in the market long before Periscope. While live broadcasting, the viewers can text chat with you, making the interaction to be fun between the audience and the broadcaster.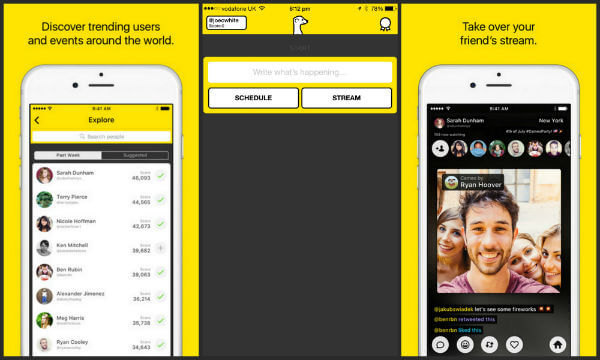 Each comment made during the process becomes a tweet. You can also place the live stream on a web page.
Download for: Android | iOS (No longer available on App Store and Google Play Store)
HangW/
Hangw/ is an established live-streaming video app and social platform that offers the people to broadcast their live feed. The streams can be saved and archived on your smartphone easily and give you the ability to share as well as stream them publicly or privately. If you own a GoPro, then you can live to stream your activity through the app without any trouble.
Download for: Android | iOS (No longer available on App Store and Google Play Store)
The smartphones are everywhere in the society we live and many might not be surprised by the fact that 1 in 5 people in the world own them. Sharing a memorable time and moments with our family members and friends is not often easy as there are a lot of barriers present in the way. There are numerous options present serving as a great alternative to the Twitter-owned app Periscope offering them a bit more than what it lacks. Choose the live stream app for Android or iOS devices in order to share a live stream on your social network.