Disclosure: This post may contain affiliate links. We receive a small commission at no extra cost to you when you make a purchase using some of our links.
All of us live in a world where we see every person with their heads down and tapping their thumbs on the screen of their smartphones. People are engaged on their devices for most of the time during the day and night. Live streaming is there serving as a great way to interact with the people in real time. Talking about live streaming apps, the name of Twitter-owned Periscope is the first app to be talked about. Due to its simplicity, it is a favorite of many individuals.
But are there any apps that far better than Periscope? Here is the list of Periscope Alternative Apps for Android and iOS that might answer your question.
Meerkat
Many critics term Meerkat as the biggest and the fierce competitor of Periscope. This live streaming app came first in this category and was present in the market long before Periscope. While live broadcasting, the viewers can text chat with you, making the interaction to be fun between the audience and the broadcaster.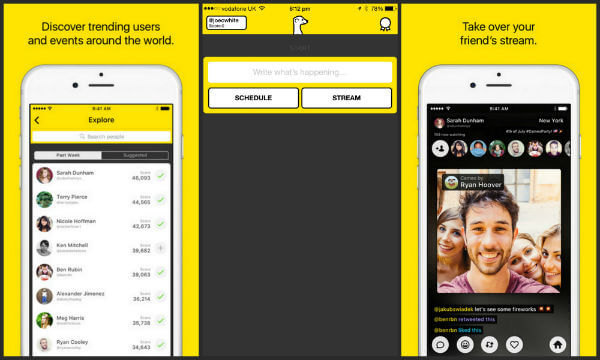 Each comment made during the process becomes a tweet. You can also place the live stream on a web page.
Download for: Android | iOS
Related: 7 Best Skype Alternatives for Windows, Mac & Smart Phone
Facebook Live
After launching the service earlier just for celebrities with a verified page, the Zuckerberg-owned empire has expanded its accessibility to a larger audience. This live streaming app has a significant benefit that it is built on the social networking site itself.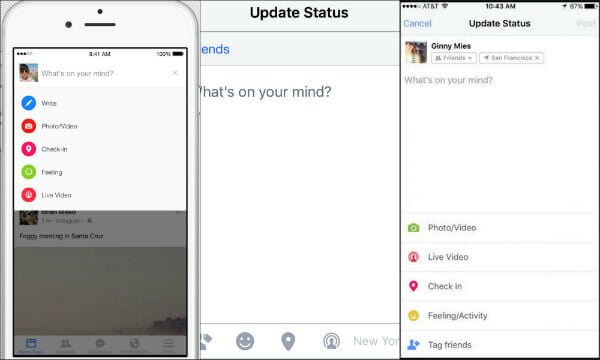 No need to download any additional app other than the official Facebook app for use. Just tap on the video link present on the bottom right and you're good to go after the instructions.
YouTube Live
All of us access YouTube for the sole purpose of video streaming, but with the launch of its live streaming, the scenario completely changed. The live streaming is allowed to anyone who has 100 or more subscribers giving all the same footing.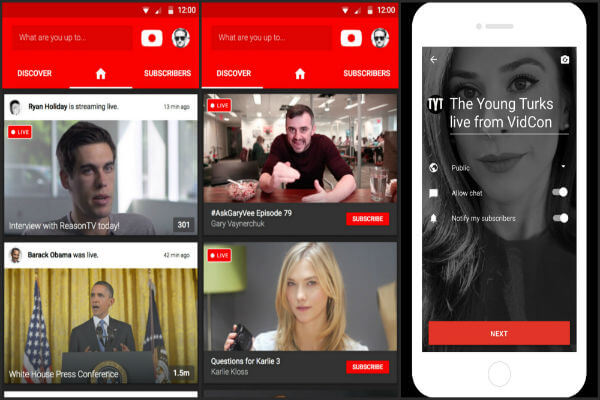 The feature is handled by the site and can be accessed by clicking on the 'Enable' button on the Account features page.
YouNow
On YouNow, you can chat with live broadcasters and connect with your audience by going live! Have fun joining broadcasters as a guest, creating selfies, sending gifts, interacting with your community, and capturing moments. DISCOVER: Browse live broadcasts and catch up on what you missed in the Moments feed. Connect with creators, artists, musicians, and your favorite personalities.
Related: 7 Best WhatsApp Alternatives for Free Text and Call
Glide
In the midst of several live streaming services providing an app, there is Glide that has some unique capabilities making it different from others. It is simple to use and just requires an account to use the services for the purpose of doing live streaming. Like Periscope it also offers the person to have a real-time conversation and has a message limit that is about five minutes.
Livestream
Livestream is a great app to let your family, friends, colleagues or anyone else to join in an event they can't make to. It allows you to discover, experience and broadcast live events to encounter a more social live event service and broadcast in HD quality direct from iPhone or Android. With its live vlogging tools, Livestream maintains a consistent user experience. Post, record, like and comment even when are using the app offline.
Stre.am
It gives you the option to stream whatever you are doing whether watching a game or encountering a great moment at the same time. Designed for all sorts of users the multi-platform service is free to use. As soon as you make your account on the app, it initiates the search of your friends using the app and provides a list of popular users that helping you to figure what the app is about. Offering easy and understandable options, it is a viable option other than Periscope.
BIGO LIVE
Another famous live stream app that supports talented performer shows and personal live streaming. This supports the Vlogs as well as live streaming, and explore the start Broadcasters and celebrities. There are various paid and free virtual gifts are prepared in this app to show your passion and appreciation to live streamers. You can invite your friend to co-host the streaming with this BIGO LIVE streaming app.
HangW/
Hangw/ is an established live-streaming video app and social platform that offers the people to broadcast their live feed. The streams can be saved and archived on your smartphone easily and give you the ability to share as well as stream them publicly or privately. If you own a GoPro, then you can live stream your activity through the app without any trouble.
Skeegle
If you are looking for a more private app than Periscope, then Skeegle might be the best option. It allows only a selected number of people to be able to access the live streams. Any person chosen by you will get an alert via app during the live streaming and if they don't own the app then a text with a link will be sent to them. Videos are stored in the cloud and can be played any time by the chosen streamer.
Download for: Android | iOS
Related: How to Call US Land Phone & Mobile for Free While you Abroad
The smartphones are everywhere in the society we live and many might not be surprised with the fact that 1 in 5 people in the world own them. Sharing the memorable time and moments with our family members and friends is not often easy as there are a lot of barriers present in the way. There are numerous options present serving as a great alternative to the Twitter owned app Periscope offering them a bit more than what it lacks. Choose the live stream app for Android or iOS device in order to share live stream on your social network.