Apple's AirPods Pro have been the TWS to beat since their launch. Even though some like Sony do manage to do that in some areas, they fall behind in some others. One such unbeaten feature of the AirPods Pro is spatial audio.
However, you can now get Spatial audio on Pixel phones and Pixel Buds Pro as well.
How to Enable Spatial Audio on Pixel for Wired Headphones
AirPods Pro are a pair of TWS, whereas the Pixel is a phone. So, some of you might be confused. I would be, too, if I didn't know better. Apple has their ways, and Google has theirs. Instead of keeping their spatial audio tech limited to the Pixel Buds Pro, Google has added the feature right onto their phone.
Unfortunately, spatial audio on Pixel devices only works with Pixel 6, Pixel 6 Pro, Pixel 7 and Pixel 7 Pro. But, if you have any of those Pixel devices, you can use any pair of headphones with them and spatial audio will work. That means any pair of headphones connected via USB-C or USB-C to 3.5 mm connector will work. Not only that, any audio devices such as earphones or even speakers connected via Bluetooth will work as well.
You need to have January 2023 security update or later installed to see the spatial audio feature in the settings.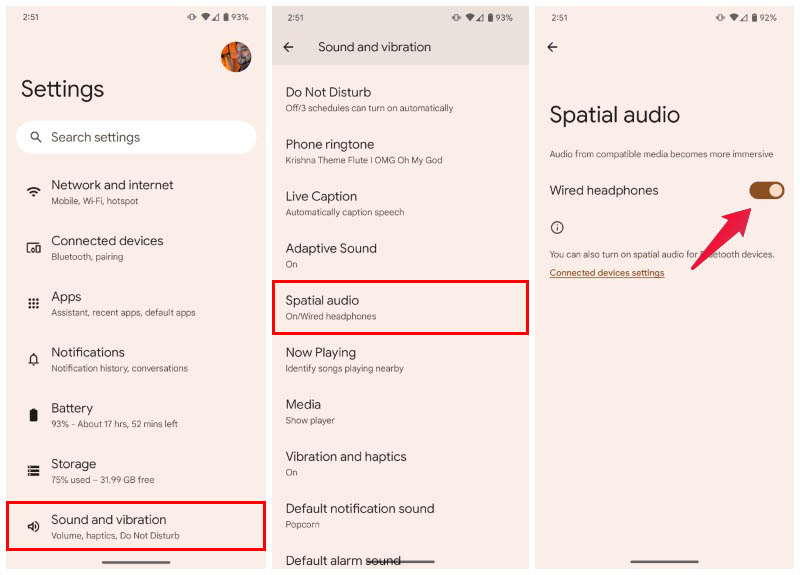 To turn on spatial audio on Pixel, go to Settings.
Scroll down and tap Sound and vibration.
Scroll down again and select Spatial audio.
Turn on the toggle next to Wired headphones.
How to Turn on Spatial Audio on Pixel Buds Pro or Other Bluetooth Devices
If you have the Pixel Buds Pro, or any other Bluetooth audio device, you have to turn on Spatial audio for it individually. This also works with any wireless headphones or speakers. First, make sure the Bluetooth audio device is connected to your Pixel. Then, follow the steps below.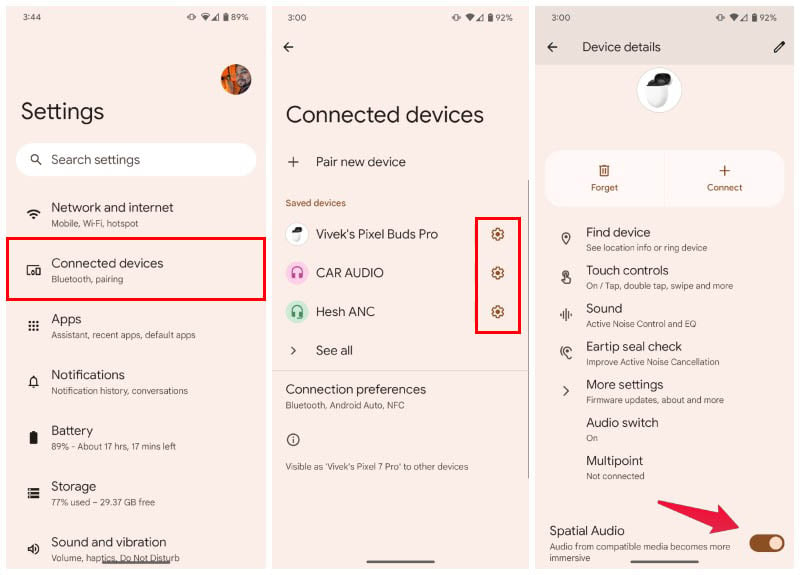 Go to Settings and select Connected devices.
Tap on the gear icon next to your Bluetooth device's name, which in my case is the Pixel Buds Pro.
Scroll down and towards the bottom if you don't immediately see it, and you should find Spatial audio.
Turn on the toggle next to Spatial audio.
How to Find Spatial Audio Content on Netflix and Other Streaming Services
As is typical for many Google features, spatial audio is not just a switch you can flick and assume everything you now listen to has spatial audio. Currently, YouTube, Google TV, Netflix, Amazon Prime Video, Hulu, Paramount Plus, Peacock, Sling TV, AT&T Now, HBO Max and Disney Plus support spatial audio. Music streaming services that support spatial audio include Apple Music, Amazon Music, and Tidal.
App developers have to implement the Android spatial audio API in order to support the feature. We have to assume Google will eventually roll out this feature to other Android devices to encourage app developers to support the feature. But even if an app supports spatial audio, this won't make all their content compatible.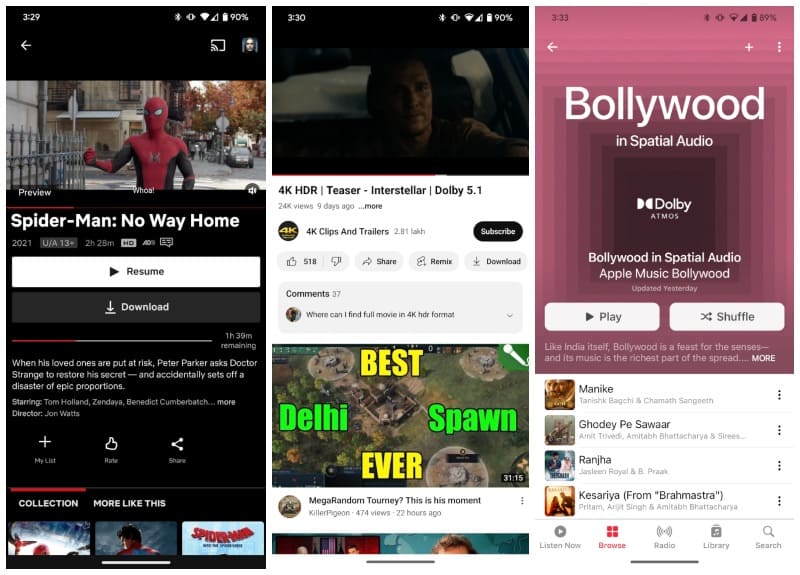 If you go on YouTube and search for "spatial audio content" you won't necessarily find content compatible with the spatial audio on Pixel. It might be using 360VR audio like the AirPods Pro, but the Pixel spatial audio is different and requires EC3 encoding. Only content marked 5.1 (or higher) surround Dolby Atmos or DTS-X content with an EC3 audio codec is Pixel spatial audio compatible.
For those unaware, spatial audio is a feature that makes it seem as if the sound is coming from the front and from behind you. Typically, when you put on earphones, you're aware that the sound is coming from the right and left. So, Spatial audio adds a new level of immersion to your content.