You probably have come across the Focus mode all iPhone users have been bragging about. Your Android phone now has a Focus Mode that does exactly the same thing as the one in iPhones.
Let's see how you can enable and use Android Focus Mode.
What Is Focus Mode on Android?
Android Focus Mode is basically a kind of Do Not Disturb mode that applies only to certain apps. Apple and Google are now implementing the Focus mode, after the implementation of Screen Time and Digital Wellbeing features that help you reduce smartphone addiction. As a part of the same, the Focus mode helps you reduce distractions while doing important tasks, or at work.
This is more like putting your phone in Do Not Disturb mode, except you can choose which notifications to show at a particular time. You can choose to show all work messages from 9 to 5, and set to hide all work emails during your family time. This flexibility lets you keep in touch with important notifications while staying away from other distractions.
Related: What Is Focus Mode on iPhone and How to Use It: A Complete Guide
Do Not Disturb vs Focus Mode
Android's Do Not Disturb is a similar feature that lets you block notifications from apps, among other distractions. The key difference is in the fact that you have to prevent apps from being blocked by Do Not Disturb. By default, it will block all the apps.
Whereas in Focus Mode, you select the apps that you want to block. Focus Mode is convenient when you only want to block a few apps, while Do Not Disturb is more convenient when you only want to allow certain apps to disturb you.
Enable Android Focus Mode on Your Phone
Focus Mode is a Digital Wellbeing feature found on stock Android. That means it will likely be the same on every device that's not a Samsung or even perhaps Xiaomi.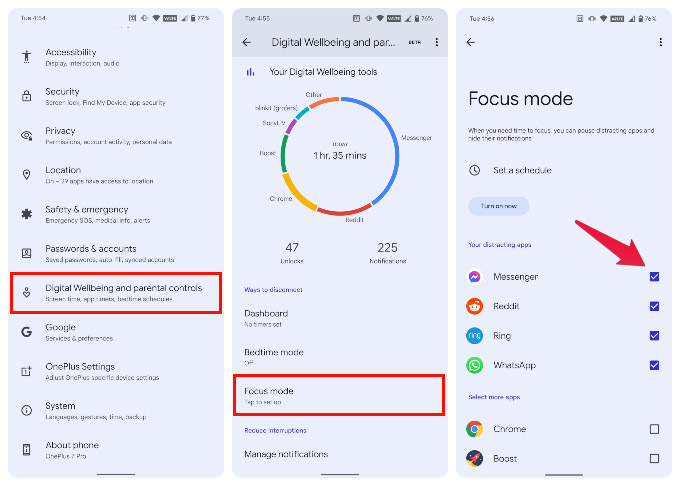 Go to Settings. You can do so from the quick settings panel or from the app drawer.
Scroll down and click Digital Wellbeing & Parental Controls.
Find and select Focus Mode.
You'll be shown a list of apps in an order based on your usage.
Select the apps that you would like to stop notifications from when the Android Focus Mode is on.
Swipe down twice from the top of the screen to open quick settings.
Tap on the Edit (Pencil icon) button.
Scroll down and find the Focus Mode tile.
Tap on the Focus Mode tile or drag and drop it into your quick settings panel.
Tap on the back button to return.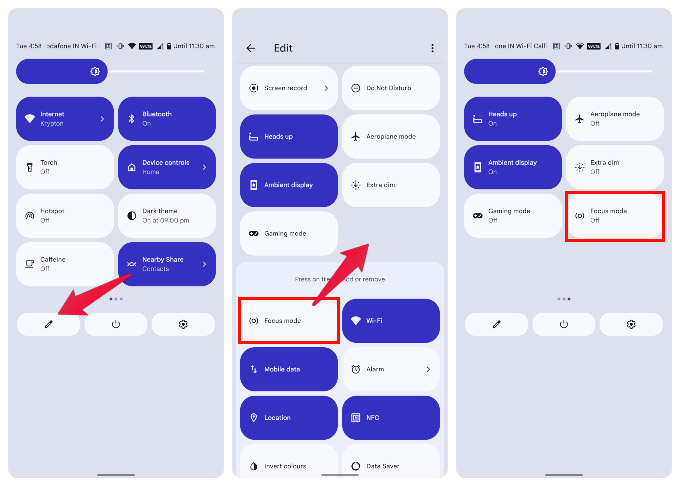 From now on, Focus Mode is just a quick toggle away. You can enable or disable Android Focus Mode using this quick setting tile.
Related: How to Get Android Notifications on PC with Windows 10
Schedule Automatic Focus Mode on Android
If you use Focus Mode for a fixed amount of time every day, you might find it more convenient to automate it. Fortunately, that's a built-in feature, so you don't need any additional apps.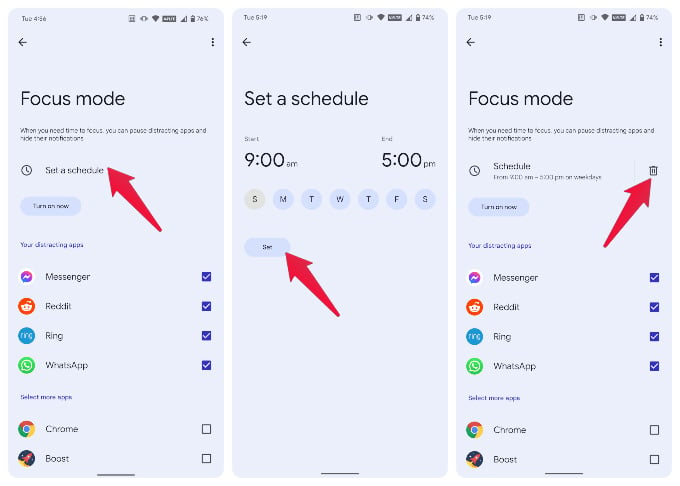 Go to Settings > Digital Wellbeing & Parental Controls > Focus Mode.
Tap Set a Schedule. You need to already have at least one app selected for this option to be available.
Select a start and end time and the days that you want the schedule to operate.
Tap Set when you're done.
Android Focus Mode will now automatically turn on and off at the scheduled times and days. While Focus Mode is on, you will see a persistent notification. It gives you the option to Take a break.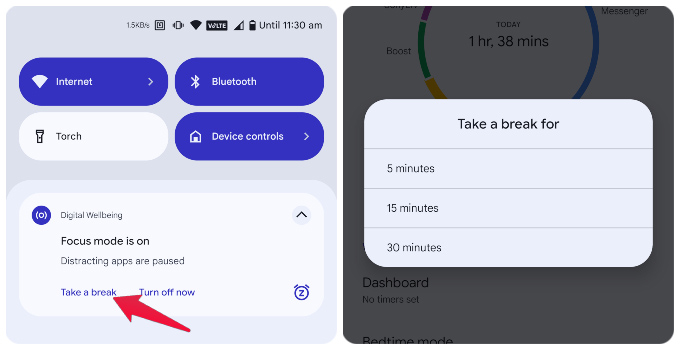 It allows you to turn off Focus Mode quickly and conveniently for a limited amount of time. During this time, you will receive notifications from blocked apps, while you take a break from your work. This does not affect your set schedules.
Related: How to Enable Android Game Mode for the Best Gaming Experience
The surrounding hype may have died down a bit, but smartphone addiction is still a thing. Android's Digital Wellbeing tools are meant to help users avoid their smartphones when they're not needed. If you feel the urge to respond to those distracting notifications while you're trying to work, Focus Mode on Android can really come in handy.