Are you planning to switch from iPhone to Android? It is not an easy process if you used to keep all Contacts, Calendar, Tasks and all other data in your iPhone. You have to move all these information from your iPhone to new Android. There is an easy solution to transfer all your iCloud contacts to your Google Contacts without using any apps. Just follow these simple steps to copy all your iOS contacts to Google Contacts.
This is a two-step procedure, first we are transferring all the contacts from your iPhone to a single VCF file, then importing that contacts to your Google Contacts in next step. Please see additional instructions for pushing those Google Contacts to your Android Phone.
First you have to back up your iPhone contacts to a file. You need an iCloud account for this. Please see here if you don't have an iCloud account. Once we have iCloud account, then we can transfer all your iPhone contact list to iCloud. This post describing the step by step instruction to transfer your contacts to iCloud and finally allow you to save as a file to import to your Google Contact List.
Now you will be able to save vcf file in to your pc that exported from iCloud account. Now go to www.google.com/contacts/ and log in with your Google credentials.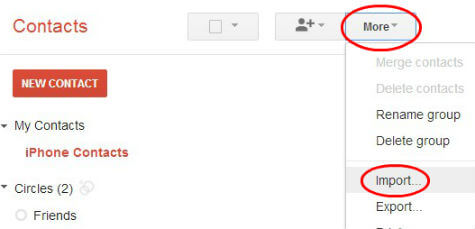 Click on the more button on top bar of the Google Contact and select Import from the pull down menu. Click the Select button, you will get the next pop up window to pick the file that you want to import. Please select the file that you exported from iCloud account. Click on import to add the contacts to your Google Account.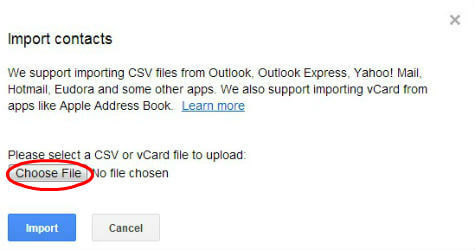 Now you transfer the iCloud contact list to Google Contacts. You are almost finished the transfer process of iPhone contact to Android. The last step is to push these contacts to your Android phone and that is the easiest part.