Here's the million dollar question: Can you FaceTime on Android? Technically the term "FaceTime for Android" is incorrect. FaceTime is the feature introduced on iOS devices for video and audio calls between iOS devices without counting cell phone minutes. Apple FaceTime is one of the most renowned Video call apps that work on iOS and Mac devices just with a phone number or iCloud email ID.
FaceTime for Android hasn't been developed until now, and it won't be anytime soon. But Android as always has a few tricks up its sleeve. So, let us rephrase the "Android FaceTime" question to "Can I Video or Audio Chat on Android device?" and the answer is a big Yes. Android has a wide variety of apps including its own Google Duo to achieve the similar or better experience on Android like FaceTime on iPhone.
Let's now look at the best FaceTime alternatives for video chatting available on the Android platform.
Google Duo
Google Duo is from Google can be considered as the FaceTime app for Android. The Duo app is the best video chat app available for Android users, that can provide better features and options compared to iPhone FaceTime app.
Duo Android app is also available on iOS which makes a great cross-platform video calling solution. This Video Chat app for Android interface is pretty straightforward and minimalistic. The interface presents you with the selfie camera upfront and the icons below to invite to a video chat.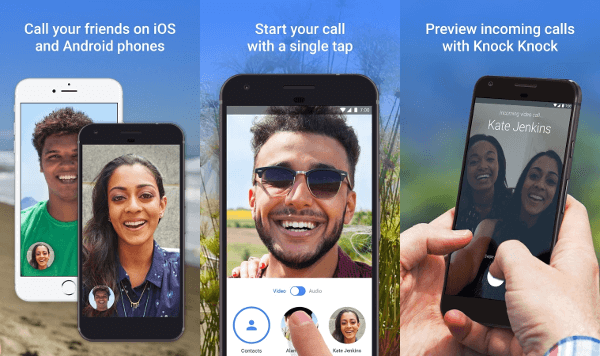 Most notable is the 'Knock Knock' feature which is a preview of the caller screen even before taking a call. Here, when a contact invites you to a video call, the whole screen fills up with the real-time video of the caller just like FaceTime on iOS device screen. Google Duo is a standalone app which can work as a video call app and audio-only calls when you can't have a video call.
Google has never been friendly with user privacy, but here the tech giants have ensured that the app will have an end to end encryption. In the end, the Google Duo app can surely be considered for the position of an Android version of FaceTime with added cross-platform functionality for iOS users as well. You can call any other Google Duo users just with their phone number.
Download: Play Store | iTunes
Skype
Well, the name Skype has been a synonym for video calling from the time the technology was available to the users. First introduced and predominantly used in the PC platforms, Microsoft's Video chat Application has now embraced the Smart Phone market with already over 1 billion downloads. Unlike the other apps, the relevance that the application holds in the PC platform leverages the cross-platform capability of this best Video chatting app.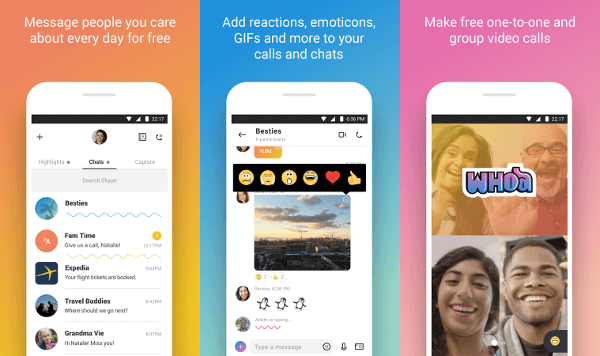 In addition to the standard calling features, there is a group calling function which supports up to 25 people! The presence of high-quality emojis and emoticons in text chatting makes it fun to use. Microsoft has enabled Facebook account integration, and the calling of regular Phone numbers with a standard fee is highly appreciated by many.
However, due to the uncompromised quality of calling, bandwidths may be high while using Skype apps for video calls. For this, Microsoft has a separate Lite version for 2G/3G connections. The calls can be made either with a phone number or Microsoft email account.
Download: Play Store | iTunes
Also Read: Best 10 Free Android Apps to Make International Calls.
Facebook Messenger
Facebook doesn't need much introduction for users to recognize the potential that holds with the official Facebook Messenger app. The signing in process is done with the particular Facebook account of the user. The cross-platform chat app has video calling option which has been a hit right from its inception.
The app itself is not picture perfect as the users have reported a lot of bugs. It is a feature-filled communication option that can reach billions of users worldwide. Further, the presence of Emoji's, GIFs and stickers make chatting fun too. The video calling has many masks that let you choose the avatar of your choice.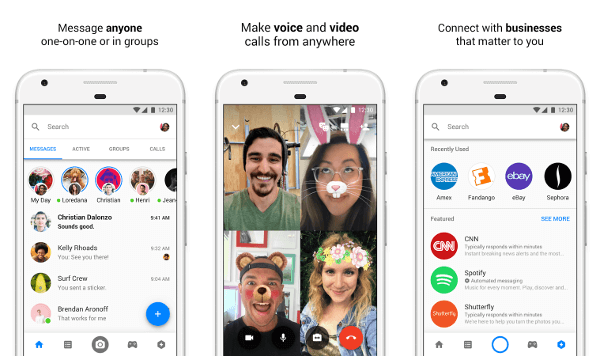 There isn't much negative to add to the Android video chat app from Facebook as it is highly useful for business conversations having the Group Video call functionality. The call quality is decent thought other apps like Duo performs much better.
The storage space occupied and the high resource usage which effects the battery has always been talking points by the users from long before. The video or audio calls can be made from the Facebook chat apps to any other Facebook user.
Download: Play Store | iTunes
Google Hangouts
The instant messaging app Google Hangouts has been a part of the Google apps released with all Android OEM Smartphones. Hangouts was initially a simple messaging but turned out to be a mess when its actual purpose was coming in to question.
Google already has Duo and Allo as separate Video calling and messaging apps. Hence, Google announced an opulent feature overhaul to Hangouts making it more of a business solution app.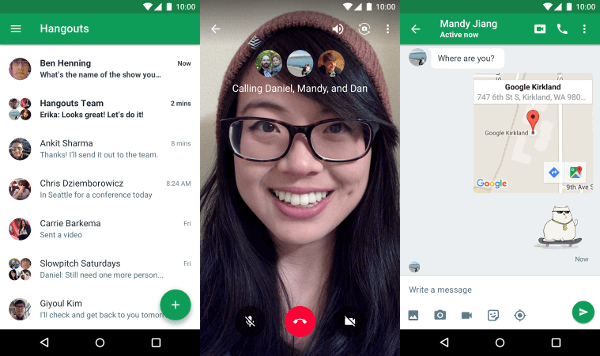 The current plan makes sure that Hangouts will no longer be the flagship messaging and communicating app moving forward. Nevertheless, it serves its purpose as being more business oriented in the future.
The official sources claim that group chats can be done with an impressive group of 150 people. Also, users can call phone numbers other than the free call to Hangout accounts. As already said before, hangouts use the default Gmail account added to the device and verify the phone number at the time of first sign in.
Download: Play Store | iTunes
WhatsApp
Whatsapp is now a Facebook product, and it can be very much a FaceTime alternative on Android due to its large user base and popularity. The messaging app has been one of the top downloads ever on the Android Play Store, and hence the recently announced Video calling is well worth mentioning. The feature has a lot of active users as it supports even low-end data speeds. Sign up option is only available through a valid phone number with the device.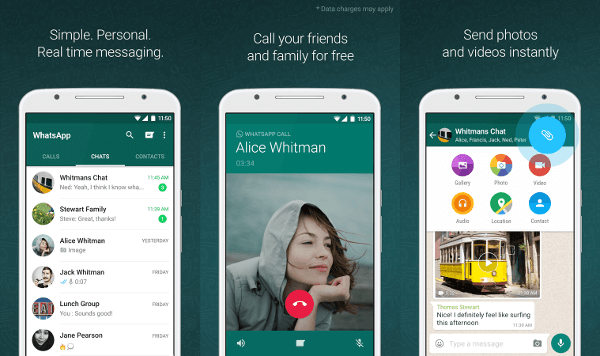 The call option both audio and video is present on the third tab and is initiated from any chat screen. The missed call notifications and the voice calling facilities also make the app super useful.
This isn't a surprise addition by any means as most of the people are already using it as a cross-platform calling app owing to end to end encryption as well. WhatsApp is registering the user based on the phone number and the free video calls can be initiated to any user based on their phone number.
Download: Play Store | iTunes
Tango
The Tango app has been around for quite a long time now. The Android app has evolved into a much mature version regarding the Video calling service and stands out from the rest as a social platform. In addition to the standard video chatting, users also have fun games and masks to spend time with.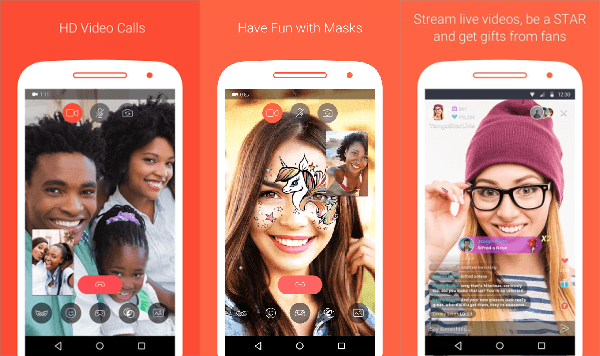 Moreover, the newly added discover feature enables users to search for people with common interests and likes. There's again the live broadcasting and public chatrooms to have general communications.
The Video calling is free with Tango app. Some in-app purchases are present for the different themes and customizations. If you are searching for an Apple FaceTime on Android, you must give this app a try. Tango uses the user phone number in the sign-up process.
Download: Play Store | iTunes
Viber
Viber was one of the first Cross-platform apps dedicated to the voice calling feature. Since its beginning, it has evolved into much better quality with messaging and Voice calling functionalities.  Furthermore, the application has Emojis with paid and free stickers along with an end to end encryption.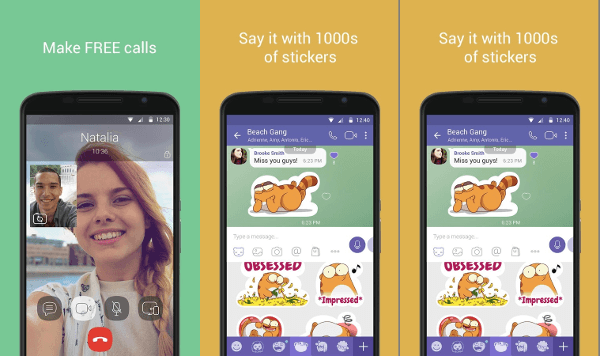 There is a bit too much in the app with many hidden stickers and games to check out. Initiating the calling service is straightforward. Just tap on the camera icon next to the contact, and you are good to go. The support for Android wear is noteworthy. Viber app registration with the user phone number existing on the Android smartphone.
Download: Play Store | iTunes
LINE: Free Calls & Messages
Line boasts over 200 million active users and having VoIP services, instant messaging and more features. The registration is strictly through phone numbers. Adding to the list is the ability to call phone numbers with a paid fee comparatively cheaper than the rest.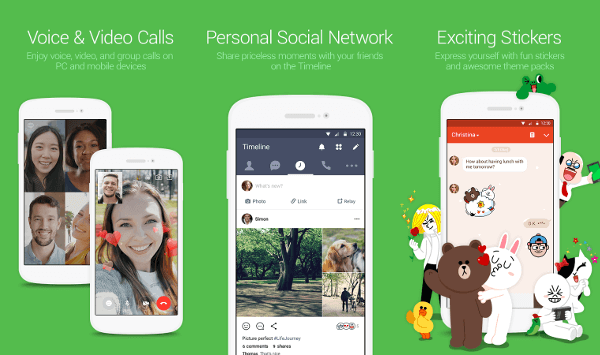 Group chatting has the highest capacity yet with the developers claiming up to 200 participants each! Even though the chances of users needing that are slim, but a unique advantage nonetheless. Line is dominantly famous in many Asian countries and in countries with restrictions on other apps. Its intuitive interface makes it a worthy alternative for FaceTime for Android.
Download: Play Store | iTunes
imo free video calls and chat
The first thing to note about imo is that it supports all 2G/3G/4G or Wi-Fi connections. The one thing that has always helped imo to gain userbase is its compatibility with all bandwidth speeds. Apart from stickers and text messages, it doesn't have much over the top features like others but still stands its ground concerning quality.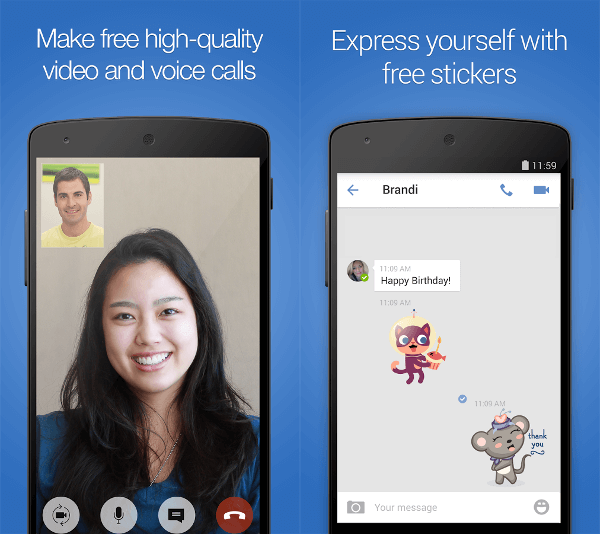 Being one of the best video chat apps for android, it is highly optimized and even has a native iOS app as well. Along with message and data encryption, the best thing to explain imo is that it's simple and straightforward. It has a loyal following through the years but now sadly holds some ad content. The most notable feature is that it consumes the minimum data when in use. imo services work with an active email account.
Download: Play Store | iTunes
Apps to FaceTime on Android and iPhone
As we mentioned before, Apple used the term FaceTime for Vidoe and Audio call chatting between Apple products. You can have these best FaceTme Apps for Android device those are bringing more features to the table in addition to the cross-platform compatibility. As always we can introduce native Android Video chat apps which are on par or even more powerful than Apple FaceTime.
Video chatting feature has always been a strong crowd puller, and Android has never been short of those. Hence these Android Video chat apps can ultimately be worthy alternatives to the esteemed flagship features of Apple's iPhone itself.