There are many apps that let you make free calls wherever you are in the world. These Android apps are your companion to keep you in touch with your family and friends. These are free Call Apps for Android, and there are no roaming charge or extra fees to call your family while you are traveling away from them. None of these apps utilizing your monthly minutes or roaming charges if you call through these apps. Here, we are listing ten apps, tested; using most of them in daily life as an alternative Android Apps to Make National and International Calls.
All these apps are capable of working with your WiFi/3G/4G network to make international calls from Android even if you are out of your WiFi range.
Google Hangout Dialer
Google Hangout integrates with Google Voice number, and now you can turn on this dialer service and start calling using the app Google Hangout Dialer from Google play. This is one of the best free online International calling apps from Google for Android users to make free international calls anywhere in the world from their phone.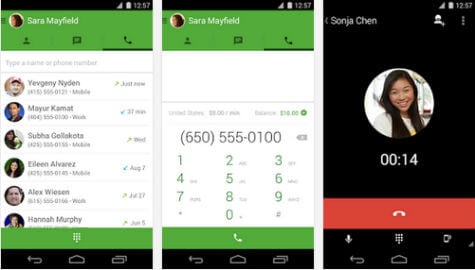 After installation, you can access all phone calling features directly from Hangouts or use Hangouts Dialer for a shortcut to the dialer screen in Hangouts. This app offers you free calls to US, Canada, and other Hangouts users.
Download from PlayStore
Related: How to FaceTime from Android Phone and Tablet?
WhatsApp
WhatsApp is one of the best messaging apps that support text, audio and video texting between mobile platforms. This app supports almost all of the mobile platforms like iPhone, Android, Windows Phone, Blackberry, Nokia, and Symbian.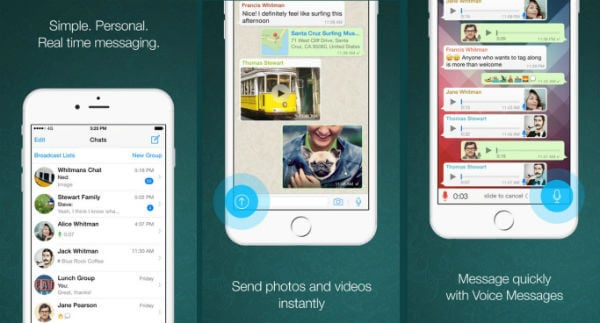 In addition to the easy user interface, this International free calling app packed with excellent features for mobile users like message delivery status information, option to control data usage for the mobile phone, etc. Additionally, the app mainly uses free audio and video calling along with free texting.
Download from PlayStore
Related: Best 5 Android Apps to Make Free Calls to Any US Landline and Mobile Number
Facebook Messenger
Messenger is from FaceBook let you text for free. With this app, you can message people in your phone book and just enter a phone number to add a new contact.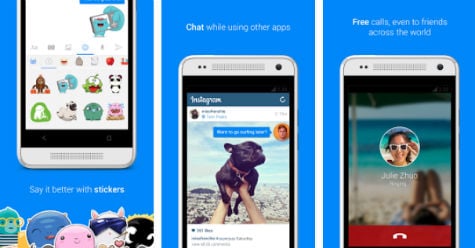 Messenger let you make free calls, and you can talk as long as you want, even with people in other countries. Calls are free over Wi-Fi. Otherwise, standard data charges apply. Messenger is a pretty popular app for smartphone users, and this makes free international calling and free texting over WiFi so much accessible and more accessible.
Download from PlayStore
Viber
Free Phone Calls & Text: Viber lets everyone in the world connect at a cheap rate. Viber users are enjoying free call, text, and able to send photos and locations with each other worldwide for free with no subscriptions or purchases. You can call and text other users, on any network, as much as you want.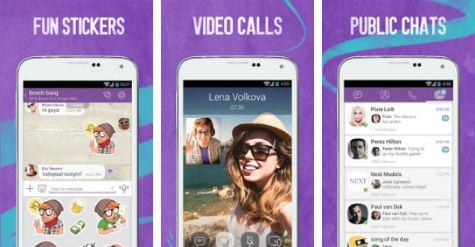 All you need is a 3G or Wi-Fi Internet connection, and friends who get Viber too. It syncs with your mobile phone number and contact list to instantly show who already has Viber. Never again must you seek out your contacts, create new usernames, or build new records. Viber runs in the background without draining your battery, so you always receive incoming calls and message notification. Being an early entry into the International calling and free online calling and free texting app on the market, Viber can give you cheap rates for international calling compared to the standard rates.
Download from PlayStore
Also Read: How to do Facetime on Android and iPhone?
Tango Video Calls
Tango app lets you make free video calls, phone calls, and send free video messages to a tango member. It is allowing the great feature of free Group Video Messaging. You can now record and share personal videos with anyone in your contacts list.
You can send and receive free video messages, Group video messaging and share with multiple people at once. You can send video messages to friends who don't have Tango, and you can view your sent messages and forward to others.
Download from PlayStore
Skype
Free audio and video calls, and Instant message on Skype for free with Skype app on your Android device. Your contacts should be in online to make free audio and video call with them.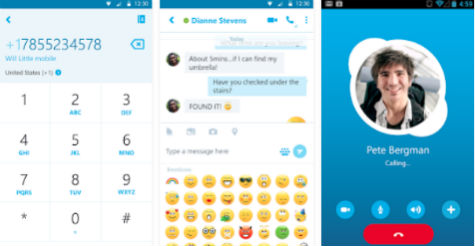 Skype for Android is free to download and works over 3G or Wi-Fi. You can share lovely moments over free video calls with front and rear-facing cameras of smartphones. You can connect your friends while they are on Android, iPhone, or iPad, compatible mobiles, PCs, Macs or Skype-enabled TVs.
Download from PlayStore
Rebtel – International Calling
Rebtel is one of the newest titles to be included as a cheap and free international calling app. The basic idea behind the Rebtel app is to find the best connection available be it local phone line, mobile data or WiFi to make the free calls with high quality. This best International calling app for Android is working by forming a connection between the smartphone devices app.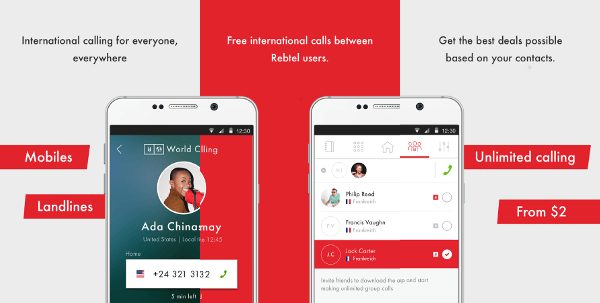 So the flexibility it offers when International calling is taking place with the even cross-platform support of iPhones and Android makes this an excellent free calling alternative. Hence the prices are very low similar to the local rates rather than international calling rates.
The app makes a big deal by offering free International calling of limited time to newer customers, and successful signing up for subscription will give you almost a week of free calling services. The worldwide positive reception of this Rebtel International calling app means that you will have free calling services to over 50 countries.
PlayStore Link: Rebtel-International Calling
Fring
Another free app for free Video Chat, Voice Calls & Texting with Fring members. Moreover, you can join Fring with your Gtalk, Yahoo, MSN, Aim, MSN Live and SIP accounts. This app also offers free group video chat with four friends at the same time, free calls to other Fring users anywhere in the world, free live texting. You can work this app on 3G, 4G, WiFi with exclusive DVQ technology™.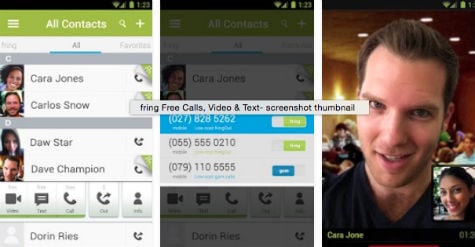 Fring's video calling DVQ™ technology (Dynamic Video Quality) gives you the best video and audio quality possible by automatically and continuously adjusting your video call quality to match your connectivity. You can watch your friends real-time status; you can chat with your friends before video-calling them.
Download from Website
Nimbuzz Messenger
Combines the power of the internet and smart phone messenger into one, and lets you make free video calls, voice calls, send chat messages, share files, on any mobile device across popular messengers. Nimbuzz Messenger is available for Android, iOs, Blackberry, Symbian, Java, Windows, and Mac. Nimbuzz Messenger lets you chat with your buddies on Facebook, Yahoo Messenger, Live Messenger (MSN) and Gtalk for free.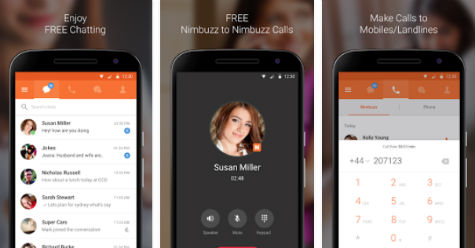 Connect your address book and share unlimited photos, make unlimited audio calls and video calls, files, music, and videos with other friends of yours on Facebook, Yahoo Messenger, Live Messenger (MSN) and Gtalk. You can also connect with your friends on Twitter using our favorite chat buddy. You can make free video calls over 3G, 4G and WiFi from iPhone to iPhone call and iPhone to PC. Appear always online and be available to chat with Push Notifications.
Download from PlayStore
Vonage Mobile
Talk and text for free, worldwide. Vonage Mobile is a free app that lets you talk and text for free worldwide with anyone else who has the app. You do not need to be a Vonage phone service customer to use the Vonage app.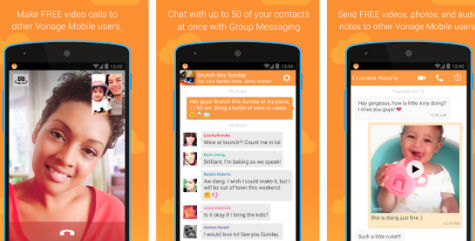 You can make free calls and texts with all Vonage friends. It is capable of sharing photos with your friends. It is allowing to make free calls and texts to any Vonage numbers.
Download from PlayStore
ooVoo Video Call, Text & Voice
ooVoo Android app lets you can make free, high-quality voice calls, video calls and send text messages to connect with your friends and family around the world easily.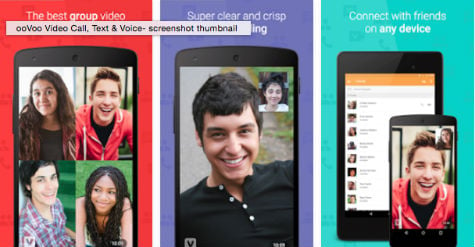 With ooVoo app, echo cancellation and crystal clear audio to make the voice quality always great and you can talk to friends and family right next door or across the world, as long as you like.
Download from PlayStore
Related: How to Call US Land Phone & Mobile for Free While you Abroad
No need to pay high roaming charge to your provider or don't worry about expensive calling cards. These apps let you make free International Calls from your Android phone either using 3G data or WiFi network.