Nothing is private in the online world and your data either. Hope you might not have forgotten the Cambridge Analytica Scandal which has created a negative emotion among the loyal Facebook users. Based on the report from NYTimes Facebook has been sharing the user's data with many tech companies. However, we want to keep both personal and public information with our social media accounts including Facebook. How do you keep these data secure? How to keep your Facebook account secure?
Let's take a look at the list of Facebook privacy settings which will help you to protect your sensitive information from traveling freely around the web.
1. Control Who's Seeing your Posts
Won't you feel a bit annoyed to see a lot of posts on your Facebook feed from unknown people? Have you ever thought about this? Do you know who will be seeing all your posts? No? Surprisingly, all your posts will be public as the default setting for the post is Public. Hence, anyone can view your posts just by searching your name on Facebook. Sometimes, it is not recommended as you might share personal & sensitive information unknowingly. It is always better to keep those messages only to your close circle. Right?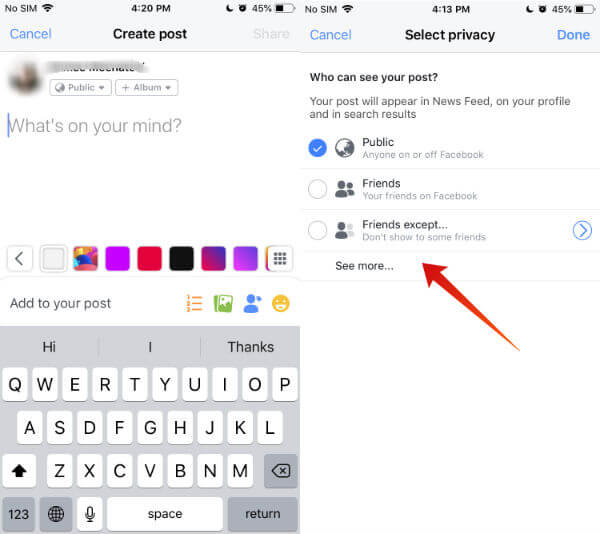 Let's us how to protect your Facebook information from public and limit to your freinds and family circles.
Tap Facebook app on your iPhone and log in to your account, if not done already.
On the top of the page, you will find your user name. Tap the drop-down box (with a globe icon) just below your name.
Here, you will see the following options listed under Who can see your post:
Public – Anyone can view your posts
Friends – Only your friends
Friends except – All your friends except the ones you have selected.
Specific friends – Only the friends you have selected
Only me – Only you can view the post
4. Select the desired option and tap Done button on the top right.
Now, your posts will be only visible to the group of people (your friends, family or specific friends) as per your privacy setting.
2. Hide Your Personal Information
You don't need to reveal all your information to public or family on Facebook. For example, you don't need to reveal your birth year, age, education etc. Facebook Privacy Settings allows you to limit the access to your personal information like birthday, contact info, location, education etc.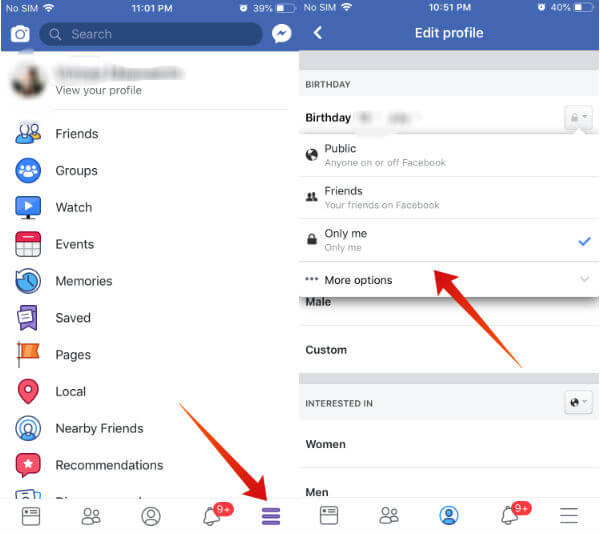 Tap Facebook app and log in to your account.
Next, tap the Three Lines icon on the bottom right of your screen.
Then, tap on your profile name and then tap About link.
Here, tap the corresponding Edit button of the personal information for which you would like to set the visibility to any one of the following: Friends, Friends of Friends, Public or Only me.
Now, your personal information will be visible to only those people you like. For example, you can allow only your friends to view your location or contact information instead of keeping that public.
3. Limit Friend Requests
Are you getting too many friend requests from unknown people? It is really annoying indeed and you may not know all of them. You can stop these friends request on Facebook Setting.
Tap Facebook app and navigate to Settings-> Privacy Settings by tapping the Three Lines icon.
Under the section HOW PEOPLE CAN FIND AND CONTACT YOU, tap the option Who can send you friend requests?.
Here, you will see two options: Everyone and Friends of friends.
It is highly recommended to select the second option so that you can avoid getting friend requests from complete strangers.
4. Block Spammers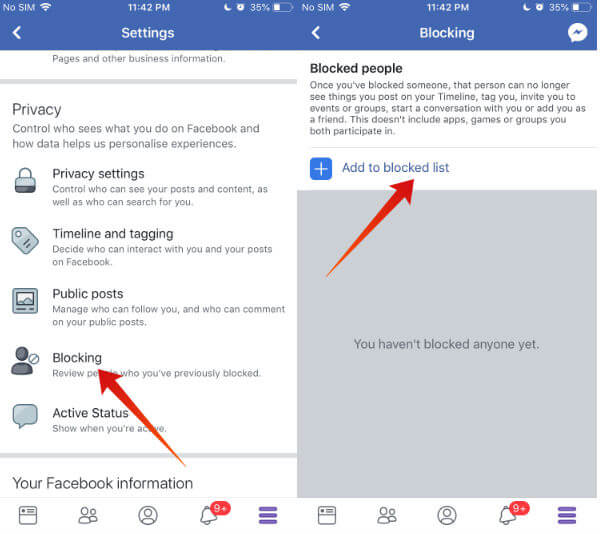 Like blocking numbers on your phone, you can also block someone on Facebook so that the contact will not be able to view your timeline, photos, and your posts. Tap the Facebook app and navigate to Settings. Under the section titled Privacy, tap Blocking. Then tap '+' icon and type or search the person's name to add to your blocked list.
5. Hide Your Profile From Google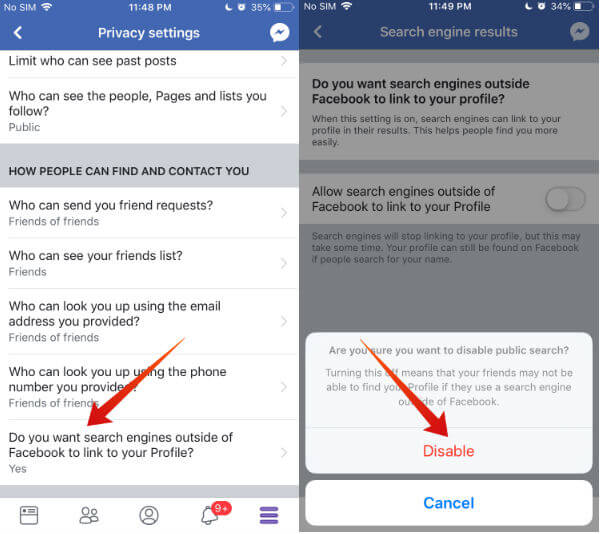 Would you like to hide your Facebook profile on Google or other search engine results? Tap the Facebook app and navigate to Settings->Privacy Settings. Under the section HOW PEOPLE CAN FIND AND CONTACT YOU, the last question looks something like "Do you want search engines…". Just tap that question and toggle the position of the switch to the left. Then, tap the Disable button on the next screen. Now, your Facebook profile will not appear on the results of the search engines like Google, Bing and more.
6. Avoid Sharing Your Location With Strangers
Do you really need to share your location with strangers? I don't think so. It is highly recommended to share your current location with only your friends in case of emergency or meeting purpose.
Tap Facebook app.
Next, tap the Three Lines icon on the bottom right of your screen.
Then, tap on your profile name and then tap About link.
Under the section titled Places you've lived, change the visibility to your friends instead of Public.
Now, your current location will be visible only to your friends. In addition to that, set the value of Location Services for Facebook to While Using so that Facebook doesn't track your location always.
7. Limit Access for Old Posts
You might think like "Ok. Now, I have learned to use the Facebook privacy settings for my current posts. What about old posts?" Do you want to show all the old photos to Facebook? If not, you can hide past photos on Facebook.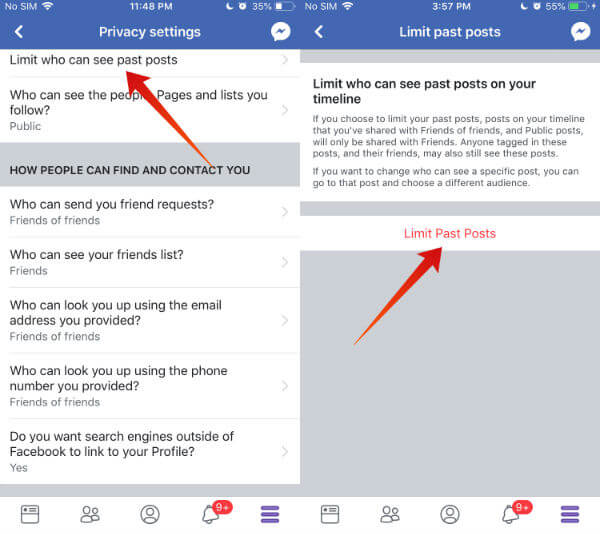 Facebook allows you to modify the access settings for older posts as well. Tap the Facebook app and navigate to Settings->Privacy Settings. Under the section titled YOUR ACTIVITY, tap the option Limit who can see past posts->Limit Past Posts. Now, all your posts can be viewed only by your friends.
8. Limit Information Shared with Apps
These days a lot of iOS and Android Apps provides sign up option via Facebook or Google. Maybe, the users will find it easy to use their existing accounts instead of creating and remembering a new one. Do you know? This kind of apps can access a lot of personal information from your Facebook profile.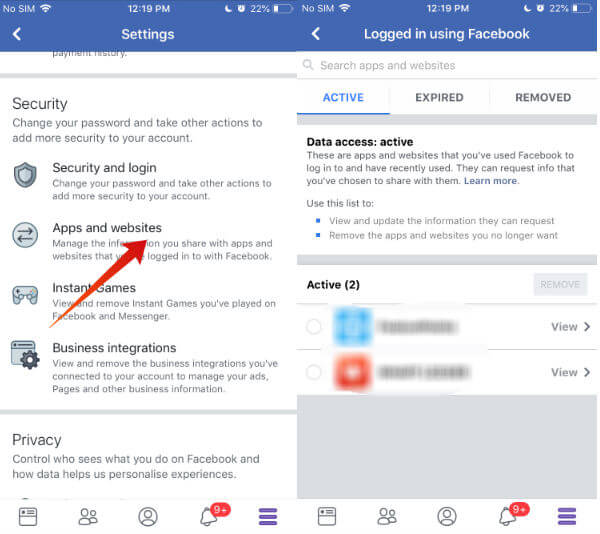 For example, let's imagine that you had created an account in a health-based app using your Facebook profile. And, you had stopped using that app after some time as you don't like that. Even you have uninstalled the app on your phone, it can still access your Facebook profile. Sounds scary? Yes, it is true. How to avoid this situation?
Tap Facebook app and navigate to Settings.
Under the section titled Security, tap Apps and websites.
Next, tap Logged in with Facebook.
Here you will see the list of all apps and websites which has access to your Facebook profile. If you are not using an app anymore, then tap the Remove button so that the app can't access your data. Also, make sure that the app visibility is set to Only me to ensure better privacy.
Some apps will allow the users to deselect the data shared with them while the majority of the apps don't provide that feature. In that case, think twice before linking your Facebook profile with that app.
We highly recommend the users to revisit the privacy settings on Facebook and make sure that their data is kept secure. To protect your data privacy, it will be a good option to create a dummy Facebook account and use that to sign up with apps or websites which requires the same.