After upgrading to iOS 16, with new iPhone or Old iPhone, there are a lot of users are complaining on the web that the battery life has become worse and it drains very fast. Enabling any new feature will always increase battery usage and turning them off might help to improve battery life.
In this article, let's see some of the troubleshooting tips to fix the battery drain issues on your iPhone.
Wait First Few Days of New iPhone
You have to wait first few weeks after you buy your new iPhones. Since your iPhone is doing a lot of activities in the background. Especially, when you move entire data from old iPhone to a new one, your new iPhone will take a couple of weeks to settle down everything.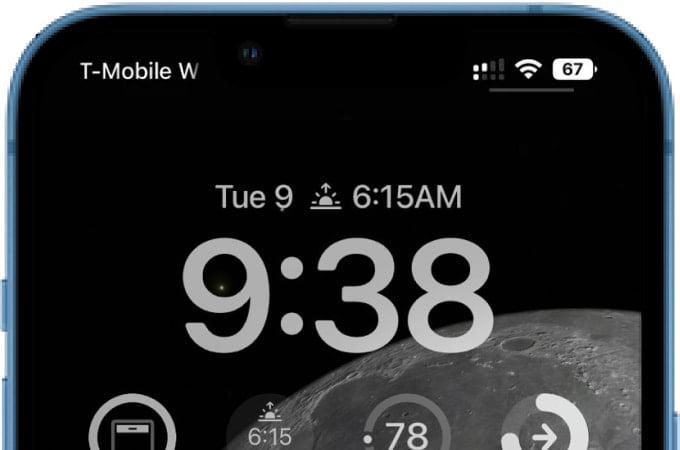 This includes downloading the email, messages, etc. Also iPhone will download the latest updates and all these activities drain iPhone's battery. Before you get worried, wait for a few days and follow the steps below if you see your new iPhone draining battery fast.
Get Rid of Widgets from Lock Screen
iOS 16 allows you to add any widgets to your lock screen like World Clock, Fitness app, Spotify player, Weather, and more. However, if you add a widget like Weather that is continuously active. Since the location based apps constant use the locations service. This will drain your battery faster.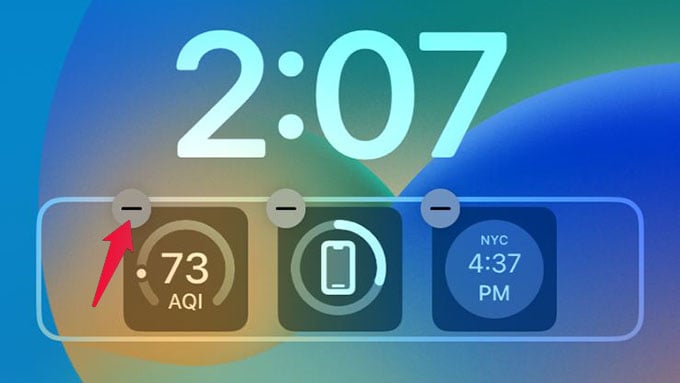 It is better to get rid of the lock screen widgets like the apps use GPS to improve the battery life. Tap anywhere on the Lock screen of your device and tap Customize at the bottom. Then, in the widgets panel, tap the "-" button on the widget to remove it.
Turn Off Haptic Feedback on Keyboard
Apple introduced the long-awaited haptic feedback feature for its built-in keyboard on iOS 16. Whenever you press a key on the keyboard, you will feel a tiny vibration under your fingertips to provide physical confirmation of the key press.
Apple has mentioned on its support page that turning on keyboard haptics might affect the battery life of your iPhone. In case you have enabled haptic feedback on your device, turn it off and see if it reduces the battery drain issue.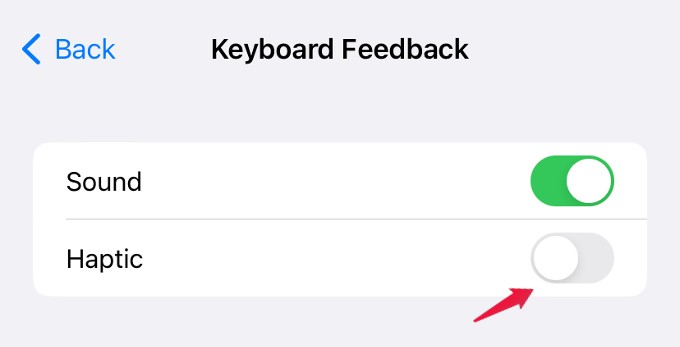 Go to Settings->Sound & Haptics->Keyboard Feedback and toggle the field Haptic to off.
Turn Off Always On Display
By default, Always on Display will be enabled on compatible devices like iPhone 14 Pro or iPhone 14 Pro Max. When turned on, this feature will dim the screen instead of making it dark, whenever your device is locked or idle. If you think the dimming will consume more battery, then you can disable the feature.
Go to Settings->Display & Brightness and scroll down to toggle the field Always On to off.
Disable Wallpaper Effects on Home Screen
Apple added a lot of customization options for the wallpaper on its iOS 16 release like slideshow of wallpapers, perspective zoom, and depth effects. For example, if you turn on the depth effects, you can see the subject popping out of the image and overlapping with the time or widgets on the lock screen, giving a 3D effect. The perspective zoom will move the picture as you move your iPhone.
It is worth trying disabling these wallpaper effects and seeing if there is any change in the battery life. To know how to customize the wallpaper effects, you can check out our post on Wallpaper Customization in iOS 16.
Check Battery Health for Apps
After updating to iOS 16, you might have installed some third-party apps which might also cause the battery drain on your device. To check that, go to Settings->Battery. Below the ACTIVITY graph, you will see a section BATTERY USAGE BY APP.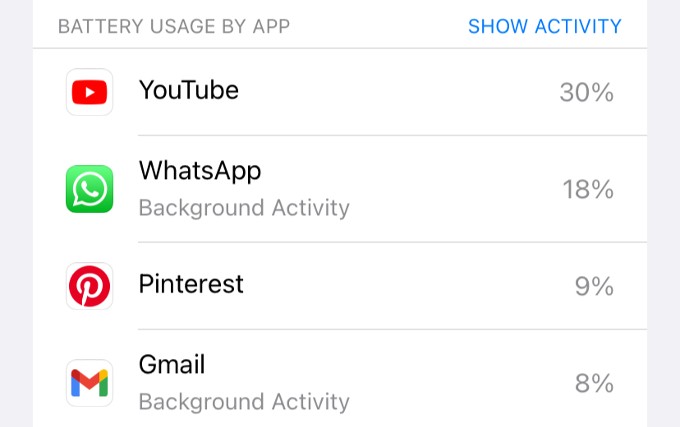 Here, take a look at the battery usage for the apps you have recently installed. If you find anything odd, then delete that app and check if your battery drain issue is resolved.
Disable iPhone Location Service
The iPhone access the location for various apps and the system. The apps have the option to access the location "Only While Using the App". But for the iPhone system, it may access location for various services like the map, FindMy etc. There are a few things that does not need the location access in general. Go to iPhone Settings > Privacy & Security > Location Services > System Services > Significant Locations > Turn-off.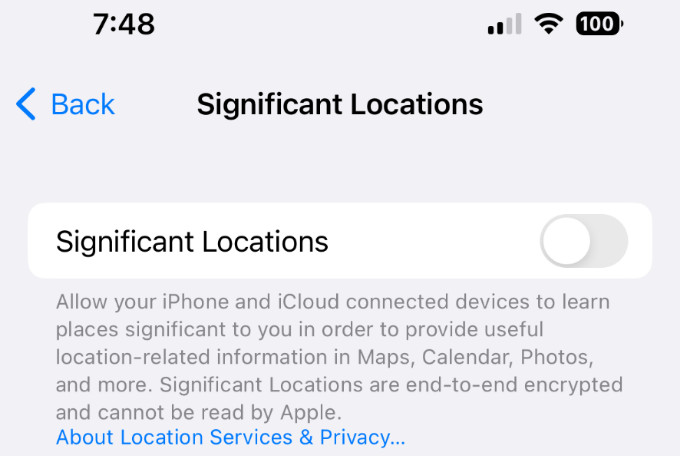 The Significant Locations is the one that usually track where you take your iPhone with you. According to Apple, "Allow your iPhone and iCloud connected devices to learn places significant to you in order to provide useful location-related information in Maps, Calendar, Photos and more."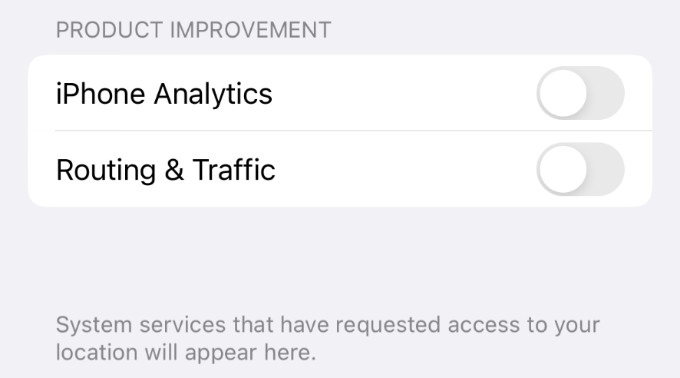 In addition to that, Apple use the "iPhone Analytics" and "Routing & Traffic" with the location service. As a user, you don't need to have this enabled for the regular operation of the iPhone. You can turn this off these services: Go to iPhone Settings > Privacy & Security > Location Services > System Services > Product Improvement> Turn-off: iPhone Analytics and Routing & Traffic.
Check 5G Settings on Your Device
Support for the 5G cellular network is available on iPhone 12 and later models. If you are using 5G, you might have seen two options 5G Auto and 5G On on your device. 5G Auto will use 5G only when it doesn't affect battery life whereas 5G On will always use the 5G network and it might lead to faster battery drain.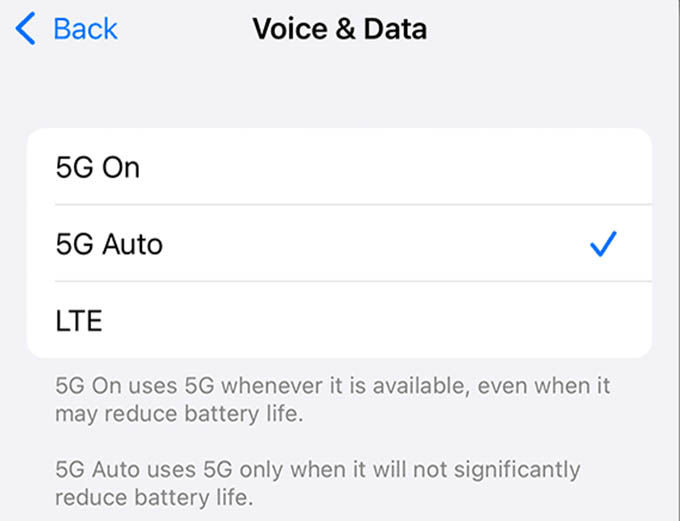 To save battery power, go to Settings->Cellular->Cellular Data Options->Voice & Data and set the value to 5G Auto. Or you can also set the value to LTE to disable 5G.
Disable Unimportant Notifications
Too many notifications not only create distractions but also might lead to fast draining of the battery as your screen need to be lit every time to notify you. For example, let's say you have enabled alerts for both Severe Weather and Next-Hour Precipitation on your iPhone.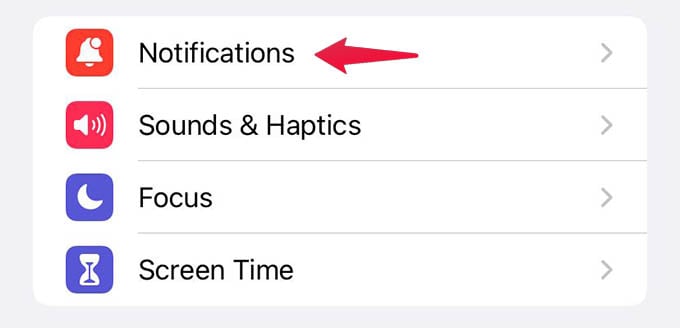 While you may not get severe weather alerts every day, the hourly updates on Precipitation will consume a certain amount of battery. Turning off unimportant notifications like this will help you to improve the battery life of your device.
Disable Background App Refresh
Background app fresh feature on iPhone allows apps to keep their content updated even if you are not using the app. Though it is a helpful feature, it consumes battery power as the apps are running in the background. To reduce battery drain, you can either completely disable the feature or turn off Background App Refresh for the apps that are not used frequently.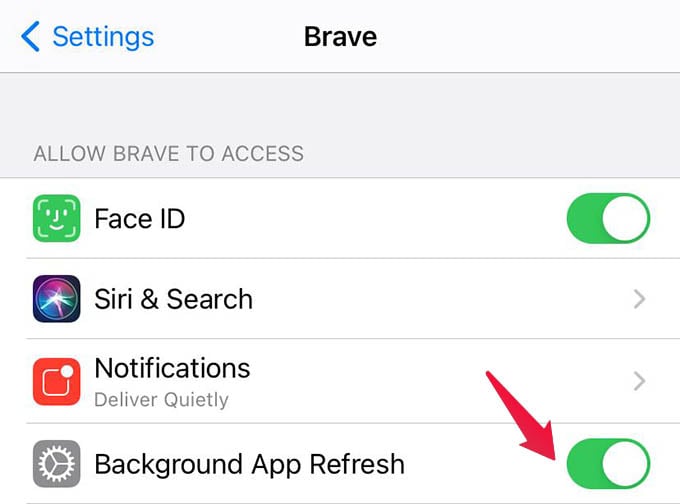 Go to Settings->General->Background App Refresh and toggle off the feature for the individual apps.
Check Location Settings for Apps
Turning on location services for apps will always consume battery. Therefore, navigate to the location settings on your iPhone and enable location only for apps that need location services. For example, you can disable location for apps like WhatsApp as it doesn't affect their functionality whereas location needs to be enabled for Weather and Google Maps.
To reduce battery usage, you can also set the value as While Using the App instead of Always while providing access to location services for apps.
Update All Apps on Your Device
Besides the iOS software, third-party apps used on your iPhone like Facebook, Twitter, WhatsApp, etc will also get updates regularly. And, the outdated apps that are not compatible with new technologies in ‌iOS 16‌ might also lead to battery drain.
Therefore, you need to make sure that all your frequently used apps are updated with the latest version. Launch App Store on your iPhone and check if there are any pending updates that need to be installed.
Replace iPhone battery
Appel recommends to replace iPhone's battery when the battery life fall below 70%. The iPhone battery will not last at least one day if the battery health is below 70%. Check your battery health on your iPhone Settings > Battery > Battery Health & Charging > Maximum Capacity.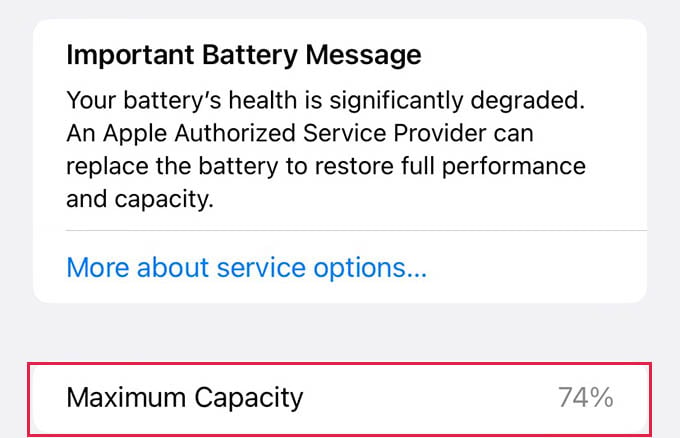 Apple will charge pretty cheap to replace your iPhone battery. Usually, this cost less than $79.00 including the battery and labor cost. You can see more details about the iPhone battery replacement in this article.
You can go to Apple Store and request an appointment to
Reset All Settings On Your iPhone
Do you face battery drain after updating to the latest software? Then, try resetting all the settings on your iPhone and see if that helps. Don't erase the content on your device.
Go to Settings->General->Transfer or Reset iPhone->Reset and tap Reset All Settings. After entering the passcode, tap Reset All Settings in the confirmation menu that pop-ups on your screen.
I hope one of the above step will work for you. If your iPhone have low battery, it is time to replace the battery. if you have enough battery health, then follow the above steps to improve the battery life of the iPhone. However, you have to wait few days if you transferred data to a new iPhone.