Instagram is the coolest image sharing social media site in the world. Most people who use Instagram at least once a day. But what happens if you forget your Instagram password or even worse, your email id and username? There can be many reasons behind it. Instagram allows users to maintain more than one accounts and you can easily switch between them from right inside the app. The developers built it that way.
If you are someone like me, you have more than one Instagram accounts and now your memory is all messed up. You forgot to note all your Instagram IDs and passwords somewhere safe or you did but can't find it anymore. Either way, you can't log in and that's a problem.
Fortunately, there is a way you can log in to Instagram in both the scenarios. Even when you don't remember your ID, password, number, and username.
Open the homepage of Instagram and click on the Log-in button as you always do. Here, I am using the browser for screenshots, but you are free to use Android or iOS mobile app too. The process remains the same and so does the layout.
Also Read: How to Download High-Quality Instagram Photos into PC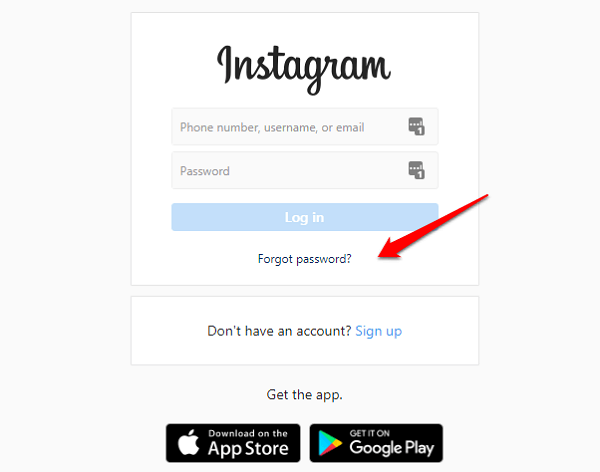 Under the familiar log in button, you will see a Forgot password option. Click on it to move on to the next screen. Here, you have three ways to reset the Instagram password. You can enter your Instagram profile's email id. Don't remember it? You can also enter your mobile number, the one you used at the time of creating and verifying your Instagram account. When you do so, you will receive a text message with an OTP code using which you can log in and create a new password.
What if you don't remember both your email id and mobile number? In this case, you must remember your username. The one that is used by your friends to tag you in all the crazy images they take. If you enter your Instagram account's username, you will receive an email on your registered email id with a reset password link.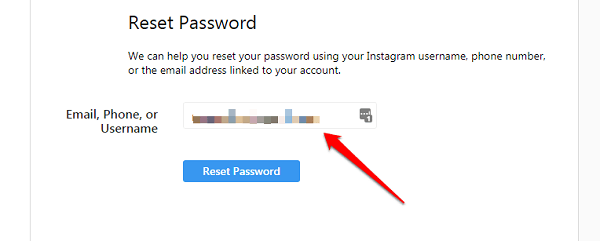 Now, it may be possible that you don't remember anything at all about your Instagram account. You are probably freaking out right now thinking about all the important updates that you will miss, and all the hard work that went behind developing this account, but there is still a way. Facebook!
Facebook bought Instagram for $1 billion!. By now, everyone knows how much Facebook likes to harvest our personal data and keep all kinds of stuff on us on their servers. Facebook, like all big players, also like to keep all their services tightly integrated with one another.
This is why your Instagram account is linked to your Facebook account. In fact, Instagram encourages users to link both the accounts together so they can harvest even more data from you.
Open Instagram and right below the sign in box, you should see the Login using Facebook option. Simply click on that link and use your Facebook credentials to log in.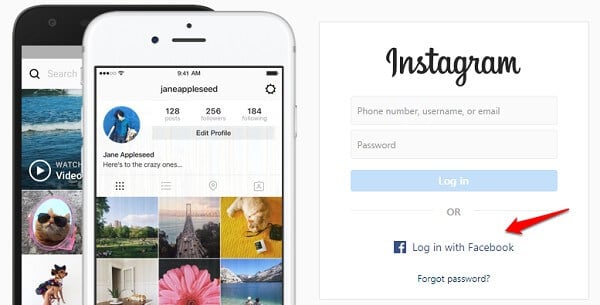 If you are already signed into your Facebook account, no matter whether you are using the mobile app or browser, Instagram will automatically identify the Facebook associated Instagram account and ask you whether you want to continue or not. You should see your Instagram user id along with your profile pic.
Also Read: This is the Easy way to Find Out Nearby Friends in Facebook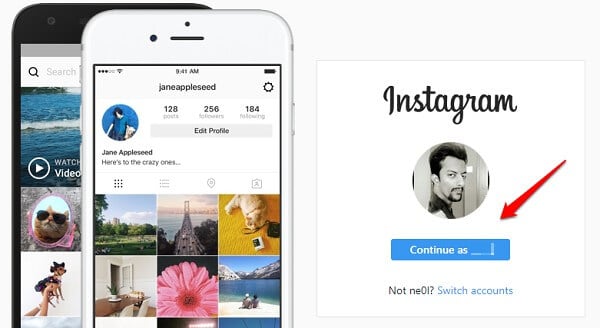 If you aren't signed into Facebook, you will see an option to log in. Enter your Facebook credentials and you will see the above screen. When you click on Continue as 'username', Instagram will ask you to create a new password.
Note this password somewhere safe or remember it this time. You can now log into Instagram using your newly created password.
When you create a new password, you should also receive a confirmation email to your Instagram registered email id to notify you of the change. This way, you will also know what your email ID was. Also, you will be prompted to create a new password but never a new username.
There is a caveat. This trick will only work if you have your Facebook account linked to your Instagram account. If it is not, then you are in trouble. The only option you have left now is to create a new Instagram account and be done with it. Reconnect with all the people/users all over again.
How to Log in to Instagram Without ID, Password?
Now you know how to log in to your Instagram account even if you don't remember anything. This is not usually the case and most people are able to find their registered email id, mobile number or username details. If everything fails, there is always Facebook to save your Instgram account and log back in.