Apple watch can give you an hourly reminder with a cute bird chime. Apple introduced this feature to add hourly chime on Apple WatchOS 6. This is a more fun way to remind you of the time every hour. Well, you can set this chime in every half an hour or 15 minutes, too.
Let's see how to set an hourly chime on your Apple Watch to alert you every hour with a sweet birds chirping sound.
Get Hourly Birds Chime on Apple Watch
You'll need to update your Apple Watch to WatchOS 6 before you proceed. Please check here for the WatchOS 6 supporting models.
Open Settings from Apple Watch.
Scroll down and tap on Accessibility
Now scroll down and tap on Chimes
Tap on Chimes to toggle ON.
Now, tap on Schedule to set Hourly.
Tap on Schedule header to back Chimes screen.
Tap on Sounds and set Birds.
You can set the Chimes schedule for 30 minutes or 15 minutes. There are only two sounds you can set from the Sounds screen; Bells and Birds.
Add Hourly Chime on Apple Watch with iPhone
You can do the same settings from the iPhone for your Apple Wath. If you don't want to do the same on the tiny screen, you can depend on your iPhone to add the hourly chime on Apple Watch.
Open Apple Watch App on the iPhone.
Scroll down for Accessibility and tap on it.
Swipe down for Chimes settings and tap.
Toggle ON Chimes.
Tap on Schedule and select Hourly 30 minutes, or 15 minutes interval.
Select Sounds to Bells and Birds.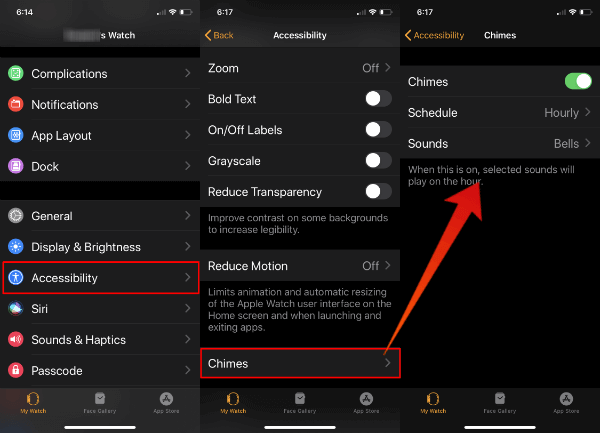 That's it. Now your Apple Watch will make a cute sound every hour or half an hour based on your settings.
Change the Hourly Chime Volume on Apple Watch
Do you think this is a bit annoying to your co-worker? Or you need more volume while you at work? You can change the Hourly Chime Volume from Apple Watch
Go to Apple Watch Settings
Select Sounds & haptics
Tap on Alert Volume.
Change the volume to the desired level.
As usual, Apple took care of the minute details of this feature. Based on our experience,
The Bird chime switch in every hour.
The Apple Watch will vibrate every hour if you set your Watch in silent mode.
In silent mode, Watch will vibrate several times based on the time, e.g., six times for 6'O clock.
I hope you enjoy this feature on your Apple watch. This Hourly Chime feature is available for all the Apple Watch models that have Apple WatchOS 6 and above.