There are dedicated iPhone music download apps that can use to download free music for your iPhone and iPod to play offline. Downloading free music into the iPhone is very easy with the help of dedicated music downloaders for iPhone. When you play music offline, your phone is not consuming much battery compare to online music streaming. Your capability to play music offline on iPhone or iPad is helping to save your device's battery life.
We listed here the best apps for downloading and playing music from millions of free songs, remix, audiobooks, etc. with an integrated multi-featured player on your iPad and iPhone.
Google Play Music
Google Play Music, Powered by Google, gives you millions of songs and thousands of playlists. This app we serve up music based on where you are and why you're listening. With this app, you can subscribe to create playlists, listen offline, and get ad-free YouTube with YouTube Red (where available).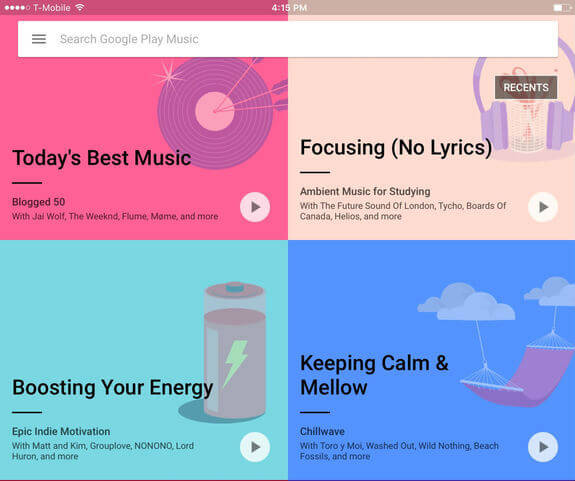 This app offers storage and streaming for up to 50,000 songs from your personal collection, at no cost and offline listening under subscription. This offers YouTube Red membership at no additional cost, with ad-free YouTube and more (where available).
Download from: iTunes
Spotify
Experience the best way to listen to music on mobile or tablet with Spotify. Spotify lets you search for almost any song, album, and stream them free on the app. You can create and share the playlists with others easily to build your biggest and finest music collection.
Personal recommendations are also there to motivate you to listen and add more music. The handy and app's playlists do cover almost everything that you want to listen to. Listen with little interruption with ads or upgrade to Spotify Premium. Keep listening to music even offline if you do not have a good internet connection as you can download music and stream offline.
Download from iTunes
TIDAL
Tidal is the world's first music service with High Fidelity sound quality, High Definition music videos, and Curated Editorial by music journalists, artists, and experts, making for a simply superior experience.
TIDAL offers pure sound experience with lossless audio experience, and you can enjoy your music the way the artists intended with limited access to over 40 million tracks. This app lets you download albums, playlists, and tracks, and bring your music with you anywhere using offline mode for up to three devices.
Download from: iTunes
---
Related
---
Musify
Search and browse for music with unlimited access to Musify. Single tap streaming for music lovers and allows users to manage their playlists with ease. The iPhone user can search for an artist, DJ, or song without any trouble with the app.
Musify app offers the album covers that allow you to identify the song and artist easily. You can easily manage the music with the locked screen through the lock screen playback controls. Play the entire top hits repeatedly as well as automatically without any trouble. Listen to songs before adding them to your playlist in order to be sure about the song.
Download from iTunes
Offline Music Player Mp3 Cloud
Listen to almost over a million songs with Offline Music Player Mp3 Cloud app online as well as offline. The app comes with 30+ genres that include classical, country, popular, EDM along with others. You can enjoy music while using other apps with background music support. This iPhone music app lets you make playlists quickly just with a tap over the song. Background playback controls and track info give you more control over the music listening experience.
The app media player is fully featured allowing you to do more than just repeat and shuffle. Experience an effective way to listen and download your favorite music on the go through the app.
Download from iTunes
Editor's Note: Instead of downloading MP3 and other music files, you can directly stream your music or MP3 files directly from cloud services using few dedicated free iOS Apps that can stream music both Online and Offline
Free Music – Unlimited Songs Player & Cloud Music
A totally free app that allows you to browse and stream unlimited free music. Witness the hottest music of diverse genres over the app. Search for your favorite songs or artists for seamless streaming to encounter the best user experience. Create, customize, and manage the streaming playlists of the app to get more grab over your music listening means.
Sort the music in recent, name, or date over the app to get instantly to the particular song. The powerful and advanced music player of the app gives out the best encounter amongst the available apps. Play songs in three modes, normal, single, and shuffle. You can also download your songs from diverse cloud storage.
Download from iTunes
How to Transfer & Play MP3 on iPhone/iPod, No iTunes Required
Musify Streamer PRO
You can discover, stream, listen, and add unlimited free music to your iPhone/iPod touch/iPad. You can have millions of free songs, DJ sets, remixes, and live concerts absolutely free to listen. The app provides enhanced search that helps to search for an artist, DJ, song, remix, cover, etc. You can use advanced filters and sort like sort by artist, track name, date, duration, size, over 100 combinations.
Download from: iTunes
Musicly – Free Mp3 Player
Musicly let enjoy your favorite songs, listen to unlimited mp3, and play music for free. With Musicly, you can easily search for your favorite songs, artists, DJ's, play them with a single tap. You can easily create playlists and put unlimited songs for your modes. Please be aware that this app uses Soundcloud API and only lists songs regard to terms of use of it.
Download from: iTunes
Musify Free Cloud Music
Free Cloud Music is an amazing music player, which enables you to enjoy your favorite Music anywhere anytime. Using the app, you can easily search and enjoy your favorite music in the collection of millions of tracks available. You can simply search for the music you are looking for and play from the results instantly with a sound equalizer for better audio control. This app is coming with radio features with over 20,000 radio channels on many different radio categories.
Download from: iTunes
Related: 5 Free iOS Apps to Stream Videos and Photos to Chromecast TV from iOS
The best choice is to download and store music when you are on a Wi-Fi network rather than streaming online from radio stations and other online resources. If you have your favorite songs on your local PC drive, we published an easy solution to Add Music to iPhone /iPod from PC over Wi-Fi. If you are the one worrying about your data plan limit, this is an ideal solution for you. You can download the entire list of songs while you were in Wi-Fi and enjoy later as many times as you want.
Next time, enjoy your free downloaded music right from your phone without any worry about your data plan and any interruption or annoying advertisement and popups.