Whether you are a mechanic or a regular car owner who is looking to learn more about the internal mechanisms of his/her car, there is an app for that. As far as I am concerned, there are some basic skills that every car owner must possess. You should be able to repair your car in case it breaks down. While you will need a mechanic eventually, you don't have to depend on him for every little thing. If you are a mechanic, you already know your way around cars, but you can still use some help from technology. It will help you get more clients, diagnose problems quickly, and run necessary tests without laptops or computers.
This is why, today, I will discuss the best iOS apps for the mechanics of the car useful for both car mechanics and car owners.
1. Your Mechanic
Your Mechanic is a handy app that will come in useful on a rainy day. You are driving around with your spouse in the middle of nowhere and suddenly, your car breaks down. Just switch your iPhone on and use the app to call in a mechanic.
The app will also help mechanics as customers can diagnose problems more accurately. Your Mechanic has created an open marketplace for car owners and mechanics in the area. Report your problems and a mechanic will attend to it.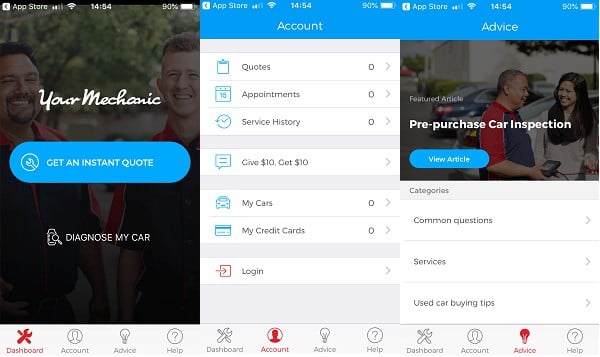 Each mechanic will have a profile with ratings, number of orders completed, and reviews from customers. This will help create an open environment of trust. The app will also notify users when it is time for servicing and maintenance.
Download Your Mechanic for iOS
Also Read: Car Dash Camera Buying Guide: Things You Should Know
2. EOBD Facile – Car Diagnostic
Every car that was manufactured in and after the year 2001 comes with an OBD2 port. You can connect a laptop or a computer with the port to run a number of diagnostic programs. Modern smartphones like iPhones are capable of handling these programs which is where this app comes into the picture.
All you need is a connecting cable and the correct device.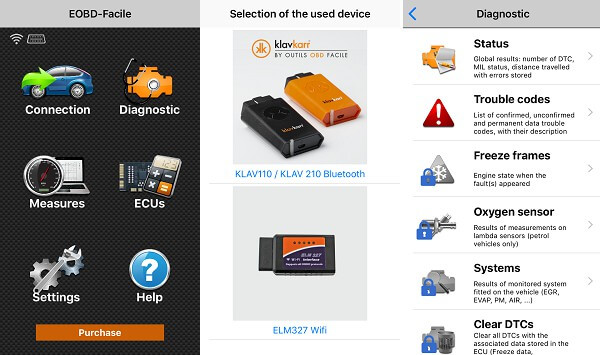 EOBD will help you diagnose issues like temperature, sensors, speed, torque, inlet air, and so on. This will help the mechanic narrow down on the potential problem.
EOBD Facile Car Diagnostic is a free app that comes with no ads but offers in-app purchases.
Download EOBD Facile for iOS
3.OBD Auto Doctor
One of the most popular OBD2 app on the iOS platform. OBD2 Auto Doctor will connect to your car's port using a separate adaptor which is available on their site. You can then configure the settings from the app itself.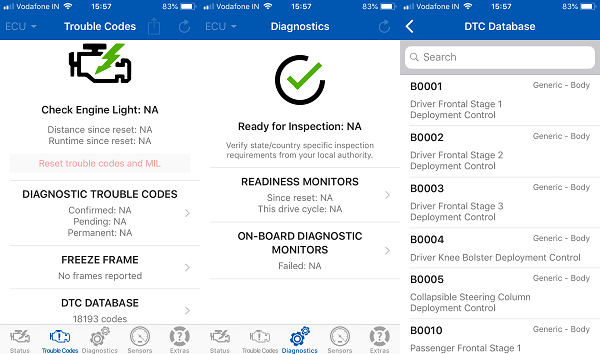 You can do monitor reading for running, emission tests, sensor details, recalibrating and more. There is a database of error codes (over 14000) that will tell you what each code means and how you can make it all go away.
What I liked about the app is that you can export all the data in CSV format and share it with your customer/mechanic. The app is free to use and download but comes with in-app purchases.
Download OBD Auto Doctor for iOS
Also Read: 8 Best Wireless Car Chargers for iPhone and Android
4. Where is my OBD2 port
There are so many automobile manufacturers with hundreds of make and models available in the market. In such a situation, it can be difficult to remember where the EOBD port (onboard diagnostic board) is for every one of them. To make matters worse, new models keep hitting the road every few months.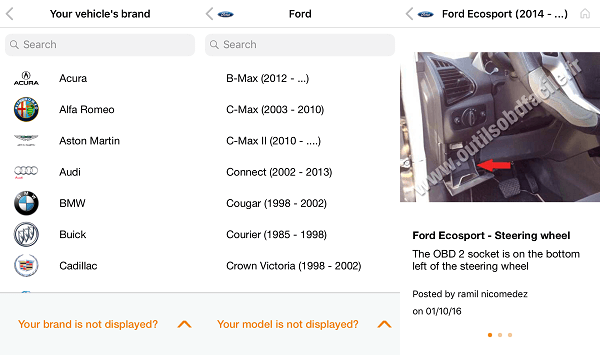 There are more than 500 cars in the database and new ones continue to make the list. Once you find your OBD2 socket, it becomes relatively easy to run car diagnostics and identify the problem.
Most popular automobile manufacturers like Ford, GM, Renault, Audi, BMW, Toyota, and Opel are there along with the others. The app is free to use with no ads or in-app purchases.
Download Where is my OBD2 port for iOS
Also Read: 7 Best iPhone Parking Apps with Parking Lot Finder & Parked Car Locator
5. Engine Link
Engine Link is an OBD2 diagnostic app that also supports Bluetooth and WiFi connectivity. This will make life easier for mechanics. This will also reduce chord clutter when you are working with the car in the garage trying to find what is wrong with it.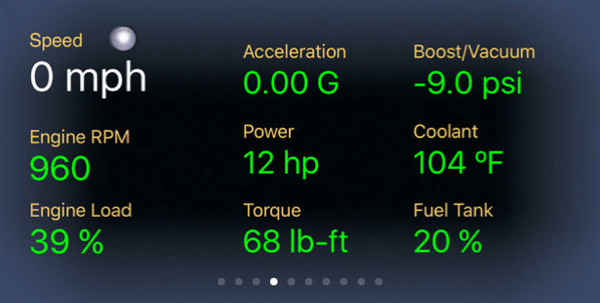 You can run different types of diagnostic tests like emission, power, coolant, torque, engine RPM & load, temp, transmission, and so on. For each individual issue, you will see an error code flash on the screen. Check the database to find out what the error code means.
Note that while Engine Link works amazingly well, it only supports WiFi and Bluetooth adaptors that are compatible with ELM. So make sure you get the right one. Otherwise, test results may vary.
Download Engine Link for iOS
6. iOBD2
Last but not the least app in the list, iOBD2 is another OBD diagnostic tool for your car. It comes with a beautiful interface and a colorful scheme. The app will collect live data like DTC info, ECU parameters, and read vital vehicle info like VIN, CALID, CVN, and sensor information.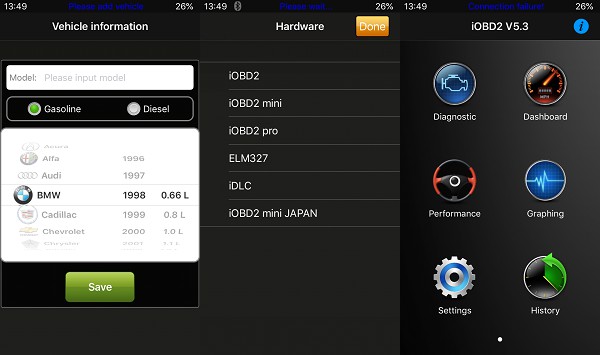 Then there is dashboard information like temperature, rotational speed, power, torque, water temperature, and so on. You can run various performance tests to see where the car is coming out as short and what can be done to improve the situation.
Every time you the diagnostics, a report will be generated and stored for later perusal. You can access these reports in the history section. This is useful if you want to gauge performance over a period of time to see how well the car is responding to the new upgrades or tuning that you have applied.
Download iOBD2 for iOS
iPhone Apps for Mechanics of Cars
There are plenty of other iOS apps for mechanics that you can use to your advantage. I think these will get you started in the right direction and help you get more clients. Some of these apps are good for diagnosing problems while others are good for managing and acquiring clients.