Apple revealed the AirPods Pro a while ago. Apple did it's best to address the complaints about the sound quality of the original AirPods and the lack of any kind of noise cancellation. Google has also upgraded its Pixel Buds this year, so has Samsung and now Microsoft has their Surface Earbuds as well. So which of these deserve your money?
See here the quick comparison between AirPods Pro, Pixel Buds, Galaxy Buds, Surface Earbuds, and Echo Buds.
Pixel Buds vs AirPods Pro vs Galaxy Buds vs Surface Earbuds vs Echo Buds
Unlike Phones or Laptops, you can only mention so many specs about earphones. Yet, we've tried to put this comparison table up for you to give you a quick idea of the hardware you'll get with either of these earphones.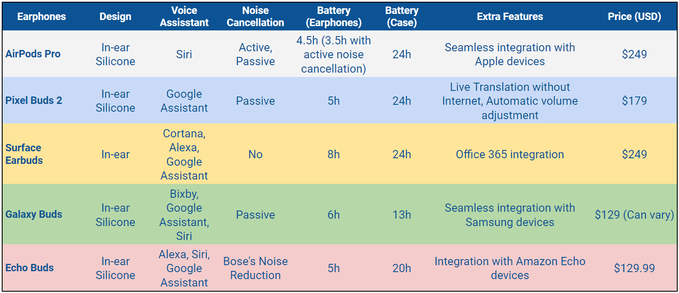 Common aspects such as the IP ratings have not been included in this table. That said, all these earphones are resistant to splashes and sweat. They should be able to survive some light rains as well. However, none of these truly wireless earphones will last if submerged underwater. Moreover, companies do not provide a warranty for ingress, be it water or another fluid, even if the devices are certified for ingress protection.
Apple AirPods Pro
Any smartphone, tablet, laptop, or earphones you buy, the thing you notice first is the design. The design becomes even more important for truly wireless Bluetooth earphones because they have to fit so much tech in a design that should be comfortable in everyone's ears. We've all seen the ridiculous looking AirPods but they are comfortable in anyone's ears with tons of features. The new AirPods Pro isn't any different.
You still have a white stick, sticking out of your ear. It's personal preference but yes, it still looks odds years after the original AirPods came out. That said, the stem of the AirPods Pro is slightly shorter than the AirPods and against your ears, the difference could seem significant.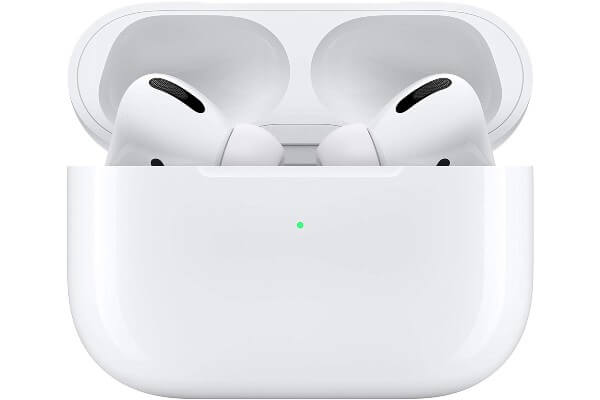 Unlike every other earphone of its kind though, AirPods Pro doesn't have a small tube sticking in your ear canal, covered in a silicone tip. They're essentially AirPods with silicone tips. That makes them the most comfortable to wear.
The design also allows air to pass through the earphones. This keeps the air pressure inside and outside your ears balanced. The case is larger than the original AirPods but still provides 24-hours of battery. The AirPods Pro themselves can last up to 4.5 hours, and only 3.5 hours with active noise cancellation.
Pros
Comfortable in the ear.
Recognizable design.
Seamless pairing and switching between Apple products.
Active noise cancellation, not found in any other truly wireless earbuds except the Sony WF1000XM3.
Cons
Stick out of the ears.
Sound quality not at par with similarly priced headphones.
Battery life is not so great.
White silicone tips attract all kinds of things.
Key Features: One-tap connect with Apple devices | Easy switching between Apple devices | Active Noise Cancellation | 4.5h battery life (3.5h with active noise cancellation) | 24h battery with charging case | Siri integration | Comfortable fit | Small carry case | Buy from Amazon: Apple AirPods Pro
Related: Should I Choose AirPods Pro or AirPods?
Google Pixel Buds 2
Pixel Buds 2 is Google's first truly wireless earphones, but not their first Bluetooth earphones. At this point, it is hard to say if the Pixel buds will sound any better than the competition, we can definitely say they will sound different. Unless Google does similar software magic that it does with the Pixel camera, the sound probably won't blow anyone's minds. The USP of the Pixel buds is integration with Google services such as Google Assistant and features like live translation.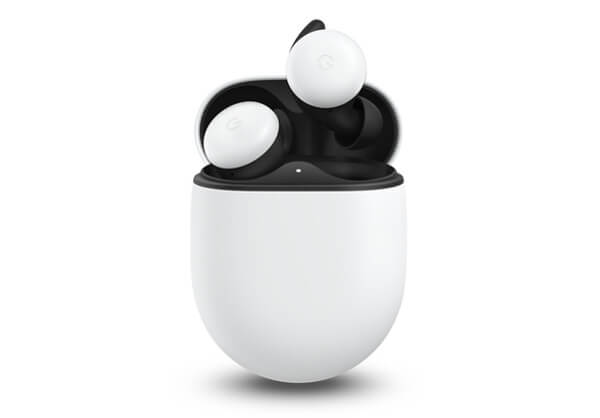 They're also the smartest earbuds around. Pixel Buds, when paired with Android 7 and above, can sense the noise from the environment. This allows them to adjust the volume accordingly, automatically.
There are other features such as a Bluetooth range of 100 yards, or up to three rooms if you're indoors. It also detects jaw motion to provide better call quality. When you put the Pixel Buds 2 vs the AirPods Pro, Google does offer a lot for less. However, the convenience AirPods Pro offers, if you're into the Apple ecosystem, might still convince you to ditch all those other features.
Pros
Google Assistant is one of the best voice Assistants.
Offers live translation.
Small size
Automatic volume adjustment.
Cons
Untested design and features since Pixel Buds 2 aren't yet released.
Key Features: Works best with Android devices running Android 7.0+ | Google Assistant | Live translation | Small size | Small carry case | Detects jaw motion to provide better call quality | Automatical volume adjustment | 5h battery life | 24h battery life with case | Buy from Google: Google Pixel Buds
Also read: Choose the Right iPhone: Quick Comparison of iPhone XR, 11, 11 Pro and Price Details
Microsoft Surface Earbuds
Microsoft has also jumped into the wireless earbuds game this year, although they did launch a nice looking, premium quality over-the-ears headphones before. The Surface Earbuds opt for a different approach than other earphones on this list. They're on-ear, like the original AirPods rather than in-ear.
AirPods 2 vs Surface Earbuds would be the comparison that may lean in favor of the Surface Earbuds. However, their $249 price tag pits them right against the AirPods Pro and that's not good for them. Surface Earbuds get their name from the rather large, flat circular surface they have for registering gestures and taps.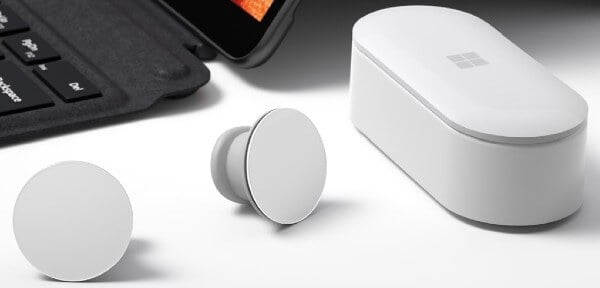 Do they look weird? Yes, they probably even take the cake away from the AirPods Pro. They're also the most expensive on this list despite having the poorest sound quality of them all. Moreover, the lack of silicone tips means they don't even offer any passive noise cancellation.
Surface Earbuds are geared more towards productivity and integration with Office 365, allowing you to add voice transcription in Powerpoint, for instance. They're also the only ones that let you choose alternative voice assistants. You can, of course, use Cortana, but also Google Assistant or Alexa.
Pros
Comfortable fit.
Large surface area makes gesture control easy.
Excellent battery life.
Office 365 integration.
Cons
Design is a bit on the larger side.
Sound quality not good enough for the price.
No noise cancellation at all.
Pricey.
Key Features: Choice between Cortana, Google Assistant or Alexa | easy gesture controls | Large surface area for gestures | Office 365 integration | 8h battery life | 24h battery life with case | Buy from Microsoft: Microsoft Surface Buds
Samsung Galaxy Buds
Galaxy Buds could've been the Android equivalent to Apple's AirPods. Samsung has decided to let Google take care of that though. The company has opted for providing an Apple-like seamless integration but only with other Samsung products.
More specifically, a Samsung Galaxy smartphone or tablet which is what you're more likely to have. In terms of design, the Samsung Galaxy Buds are smaller than the AirPods Pro, or the Surface Earbuds and fit comfortably in the ears. The only comparison of the Galaxy Buds in size might be the Pixel Buds 2.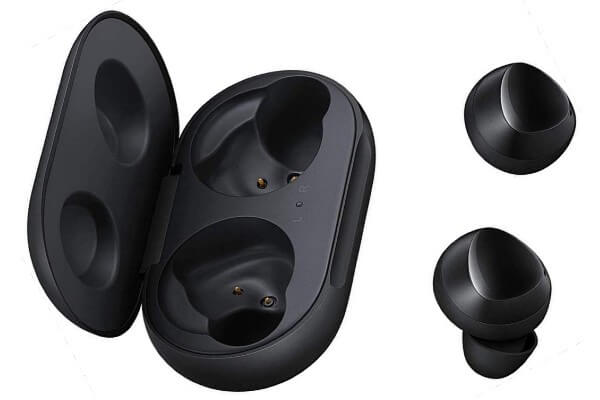 Apart from the noise blocking silicone tips, they also have silicone fins that provide a snug fit. It does the usual things like music control, access to Bixby on Samsung devices, or Google Assistant on other Android devices.
The touch controls on the Galaxy Buds are customizable. The Galaxy Buds do support iOS but act like any regular pair of Bluetooth headphones when paired with iOS devices. The downside though is that the setup process is not quite as seamless as AirPods. You'll need two apps and a Samsung account for that.
Pros
Comfortable, lightweight, and discreet.
Small size, and a small case with wireless charging
Cheapest name brand truly wireless earbuds on the market.
Cons
Average sound quality lacks bass.
Bluetooth connectivity not on par with others.
Poor microphone performance
Key Features: Small & discreet | Small charging case | Affordable | Customizable touch gestures | Works best with Android 5.0+ | Lacks features on iOS | 6h battery life | 13h battery life with case | Buy from Amazon: Samsung Galaxy Buds
Amazon Echo Buds
Amazon is also a new entrant to the truly wireless earphones market with its Echo Buds. Compared to other manufacturers like Apple, Google, Microsoft, Sony, etc. the Echo Buds are very aggressively priced. What stands out is the amazing sound quality they manage to deliver at this price.
The Echo Buds also include Bose's proprietary Noise Reduction technology. It's not quite active noise cancellation but it's better than simply passive noise cancellation. There are no color options offered other than black, unlike Google and Samsung's offerings.
Touch gestures on the Echo Buds are customizable. Depending on what you set them up to do, you can change tracks, activate Siri/Google Assistant, or enable noise reduction with a tap, two taps, or by tapping and holding. A caveat, like the AirPods Pro, is that you can't control the volume directly from the buds.
You either have to take out your phone or ask Alexa to do it for you. The case also only has a micro USB for charging and in 2019 that's pretty… not pretty. Compared to AirPods Pro, the case quality is also not that great. It looks cheap, but then it actually is cheap so, can we actually complain?
Pros
Comfortable, snug fit.
Good sound quality for the price.
Bose's Noise Reduction technology is better than not having it.
Cons
micro USB charging port
No wireless charging options.
Looks cheap/generic.
Key Features: Integration with Amazon Echo Devices | Alexa integration | Comfortable fit | Good sound quality | Bose's Noise reduction technology | Affordable | Customizable touch gestures | Buy from Amazon: Amazon Echo Buds
Google's Pixel Buds, Microsoft's Surface Earbuds, and Amazon's Echo Buds aren't out for sale yet. Pixel Buds won't actually go on sale before spring 2020. That means right now you can only buy the Samsung Galaxy Buds or the Apple AirPods Pro and between them, the AirPods Pro is a clear winner but also cost twice as much.