Geofencing apps are built to alert you when you reach a destination that set on your iPhone. These iPhone apps can alert you when you reach you a destination with the location alert apps. Enable one of this location alert apps in iPhone, and you won't miss the bus or train station even though you fall asleep.
These iPhone geofence apps can remind you when you reach your library to return books, or grocery store to pop up the shopping list or alert you when approaching your bus stop.
Reminders
Keep track of your daily activities and actions with Reminders. Use it for any project, purchase, or anything else to get reminded when you want. All your reminders are up to date across all the devices due to continuous synchronization with iCloud. Set location reminders allowing the app to alert you when leaving or arriving at a location.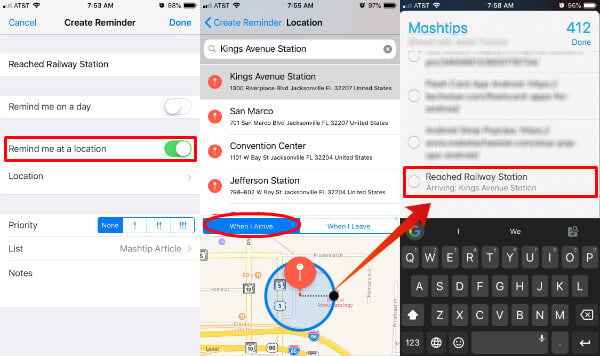 Reminders are good to set location alerts on iPhone or iPad. For the location-based reminder, you need to turn on the Remind me at a location toggle and then tap on location while setting the alarm or alert. Mention the location or choose your current location as well as select whether you want the alert on leaving or arriving at the location. Select the perimeter by dragging the black dot on the circle in or out in the location area.
Details from Apple: Reminders
Any.do
Recommended by many people, Any.do is a great app to ensure that your life is in your control and get the things done. Get the reminders on the app for a pre-scheduled time on your mobile, desktop, web and tablet easily. The app inherits a simple yet powerful calendar outlook.
You can easily create reminders with a simple voice entry. It allows you to simply say what's on your mind and add it to your to-do list. You can also add the location-based reminders over the app. Set the reminder in a recurring mode to overcome the process of making a new alert all the time.
Download from iTunes: Any.do
Google Keep
Capture, edit and share the notes on any device with Google Keep. You can easily collaborate with others anywhere easily with the app. Organize your notes with customizable labels and color to distinguish them from each other. You can quickly filter and search for the notes over the app.
Set a location-based reminder to pull the grocery or perform a particular action when on the place. Every note you add synchronizes across your phone, tablet, and computer. Find what you are looking for even faster and let the app to remember the things for you. Get things done faster and collaborate with others to work as a team.
Download from iTunes: Google Keep
Checkmark
Checkmark iPhone alert app can remind you of all the things you have to do in your busy life.

 Using this geofence app, you can add your favorite locations from a map, contact list, or current location

.
You have to simply double-tap a location icon to create a reminder. You can view a list of all your tasks, sorted by distance

 and can add a timer to location-based reminders, so the alert goes off when you're ready. This nice app offers more features like time-based reminders on a location, set up recurring reminders for things you need to do every day, every week, or every month

.
Download from iTunes: Checkmark
Related: Best 7 Music Apps for iPhone For Great Listening Experience.
2Do
Take a completely diverse approach to manage your tasks with the 2Do app. Extremely simple to use interface and a comprehensive, flexible set of powerful features; it allows you to focus on what is important at the moment. Create simple tasks and checklists on the app easily with the app.
Control the information you wish to see with a simple pinch to zoom gesture, filters, and search pre-sets. You can attach the locations to the tasks and get the alerts as you approach the place. Nearby alerts feature of the app does tell you about the actions or tasks as you get close to the assigned locations.
Download from iTunes: 2Do
GPS Alarm Clock
This location alert app is essential for those who work all day, especially the students and office workers. Just by one click, you can set up your destination with this App, and the app will wake you up when you near the destination by a notification.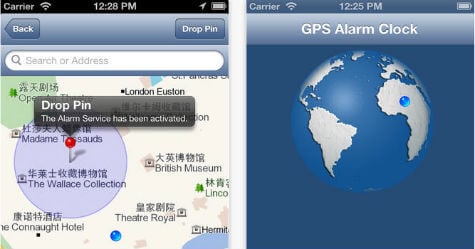 The additional features include search & go, battery saver working with GPS, auto-stop when arrived, notification in the background, etc.
Download from iTunes: GPS Alarm Clock
Related: How to Enable Location Alerts for Android and iPhone?
WakeMeHere
WakeMeHere is a location-based alarm clock which wakes you up at the location of your choice. Functioning as a location-based alarm clock, WakeMeHere alerts you to wake up at a pre-determined location of your choice. Most of the time, we do miss our stop and station because of being asleep. Due to a simple nap in public transportation, we do suffer a lot. Overcome the worry of being left out with the app and have a great time while moving around.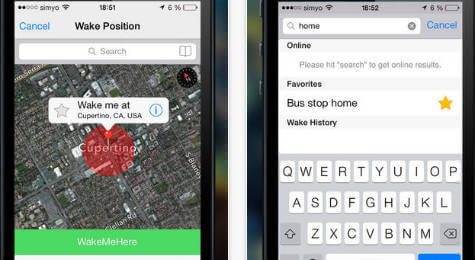 It is easy to use and comes to accurate location tracking with an intuitive drag as well as drop of location. The clean and appealing interface of the app allows you to control "your wake location" easily. Working in the background it allows you to function and use other apps easily without any trouble. In addition to this, WakeMeHere app allows saving your favorite wake locations, full multitasking capability, and more.
Download from iTunes: WakeMeHere
Toodledo
Access the features of a powerful productivity tool like Toodledo for organizing your to-do list and notes. Working with your Apple Watch, it allows you to view, add and complete tasks on with your watch. The app is flexible enough to match your productivity styles. View your tasks on the map and get proximity alerts on being near a location to do the things that you want to.
Import the reminders from your inbuilt iOS Reminder app and add the tasks simply with your voice. Create the tasks that repeat on a schedule as per your preference and assign the task to a folder or goal.
Download from iTunes: Toodledo
iWake
iWake helps you to find out your destination by simply searching for your chosen destination using the built-in map, and you can set how far in advance you want to be woken.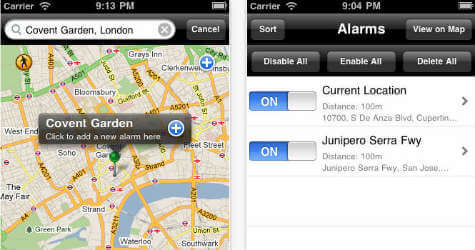 The additional feature like you can choose to be woken anywhere from 50m to 10km from your destination; you can search locations anywhere in the world by postcode/zip code, address, a point of interest, or simply browse the built-in map. With iWake app, you can select previously searched locations 

and add all these premium features with an in-app purchase. You can set up multiple alarms, choose time limits for your alerts, select alarm locations from addresses in your contact list, etc.
Download from iTunes: iWake
Related: 5 Free iPhone Offline Messaging Apps to Save Data
Location Based Alert Apps for iPhone
In addition to the above list, Apple has an inbuilt Location Based Reminder for Your To-Do List to create your grocery list. With this list, iOS can remind you when you reach the location that you set on the app.
With these iPhone geofencing apps, you can set tasks on your iPhone based on the location. No more worry while you travel on the bus or by train. These iPhone GPS location-based alert app can alert you before you reach the destination in advance.