Whether you have an Android or an iPhone, you can set an alert based on the location. There are built-in location alert app for iOS and Android. However, these apps are well known for note-taking. Android users can depend on Google Keep note-taking apps for location alert and iOS Reminder app for iPhone users to alert when you reach a destination. When you travel on the train, set up a location-based alarm for your destination and take a good nap. The phone will alert you when you reach the destination. Now, you will never forget your grandma's medicines next time you pass the drugstore! Your Android phone can inform you when you drive nearby the drug store.
Now we will see how to set up a location-based alert on Android and iPhone with built-in location alert apps.
Enable Location Alert on Android
Google Keep has emerged as one of the best note-taking apps, firmly holding its own against the likes of heavy hitters like Evernote. In more ways than one, it works more like a cross between Evernote and Google Calendar. Google Keep is not only amazing for taking notes and adding reminders, but it also allows you to add location-based reminders. This location alert app will allow you to add images, audio, and even draw on the screen using a stylus or just your fingers.
It is easy and quick to use and offers a more simplified approach to something like Evernote, which is more suitable for a filing cabinet. If you don't have this note-taking app from Google on your Android phone, download Google Keep from Google Play Store for free. Let us see how to create location-based alerts with Google Keep app.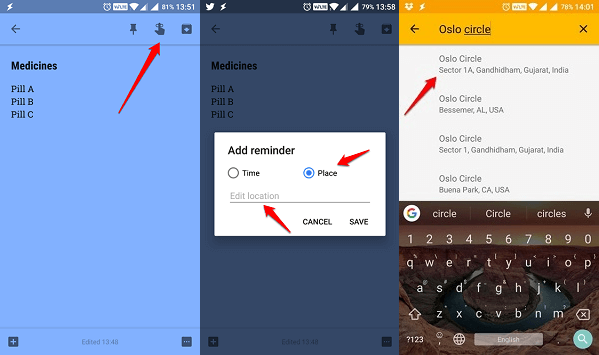 To go ahead, open the note you want to add a reminder to. In my case, I have created a new note. When you open the note, you will see a hand with the index finger pointing upwards. This is used to add reminders. Clicking it will open a popup that will offer two options. You can either choose Time or Place. Select the latter and click on Edit location field.
Related: 6 Top Apps to Create Location-Based Reminders on iPhone
Now, Google Keep is powered by Maps which is another amazingly powerful and accurate tool from Google. In the next window, you can enter the address and Google will provide suggestions. I would suggest choosing nearby landmarks instead of being too specific so you can always get reminded of the task even when you are passing from nearby.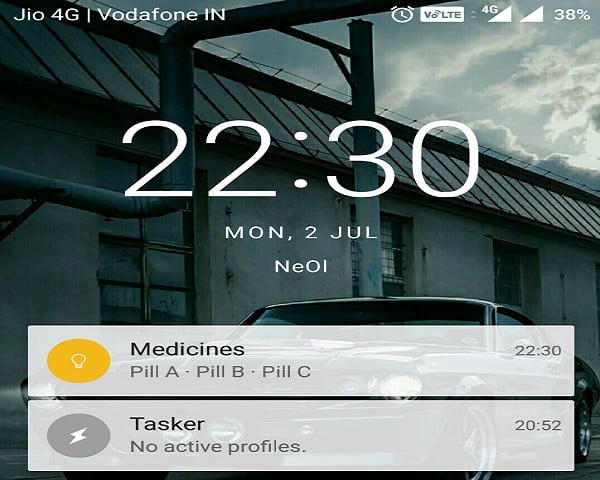 When you have selected the landmark or the address, you will be taken back to the previous screen where you just have to hit the Save button.
Here is what a location-based reminder on Google Keep looks like. Google Keep will send you a notification to your Android home screen when you reach that destination with the note that you entered on the Note app.
Also Read: How to Find Location of an Email Sender?
Enable Location Alert on iPhone
You can use Google Keep on iOS too and the process remains the same. However, there is an inbuilt iOS app that does the same for iPhone and iPad users, called iOS Reminders. This Reminder app is the default app that comes pre-installed on all iOS devices.
Open the Reminders app on your iPhone. Create a new reminder as you would usually do by clicking the '+' icon. On the right, you would see 'i' with a circle around it. Toggle the Remind me at a location button which should now look green.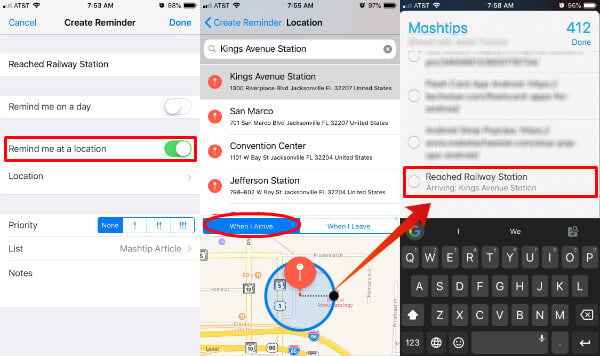 You will be asked to search for the location using the built-in Apple Maps app instead of Google Maps for obvious reasons. Select your location and save. You can select the radius of the location that you want to get the alert. Also, a reminder offers you to set the location-based alert when you enter in or leave out the location you set.

Now, when you will reach that location, you should see the reminder pop up. This is how it looks like on the locked screen. A simple yet effective to get location-based reminders but the default Reminders app lacks the advanced features that Google Keep offers.
The Reminders app is only available on iOS devices so if you are looking for cross-compatibility with advanced features, look at some of the below apps.
Also Read: How to Set Google Assistant to add Shopping List on iPhone Reminders?
Location Reminder Apps for iPhone and Android
The Google Keep and iOS reminders are built-in apps made for iPhone and Android OS. In addition to these built-in location alert apps, there are third-party apps that you can consider for both mobile platforms. These apps are capable of reminding you to take care of important tasks when you are in the vicinity. There are others like Any.do and Todoist. The only difference is that these two are not free but jam-packed with features.
Any.do is a popular cross-platform to-do app that you can actually use to plan your entire life. Yes, it is that powerful and that is why it will cost you $2.99/m. Apart from location reminders, you can also use it to create recurring tasks, collaborate with others by sharing notes, attach files from your local hard drive or the cloud, and customize it endlessly. Needless to say, it is a powerful app.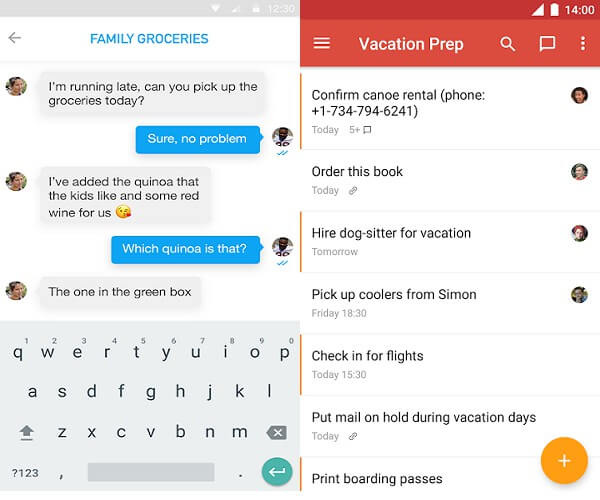 Todoist is Any.do's number one competitor that offers similar features for a similar price point. At $3/m, you can create projects with individual goals and collaborate with others to work towards them. There are location-based reminders with attachments from cloud, templates and more.
We have a good list of Android location-based apps and location apps for iPhone that you can refer for more free apps to alert you based on the location. All of these location alerts apps are similar in nature and which one you choose will depend on you and the mobile platform you use.
Also Read: 6 Best Cross-Platform Note Apps for Windows, Mac, iOS & Android
Get Location Alert or Android and iPhone.
There are premium and paid apps to alert you when you reach the destination. However, these are inbuilt location alert apps for Android and iPhone users, for free.
You can now receive a reminder whenever you visit that place or are passing by from that point. You will never forget a task again. Note that for this to work, you will have to keep your GPS on which will drain your battery quickly.