You can watch hundreds of live TV channels for free using your Fire TV. You can completely get rid of your cable TV provider and save a few hundred dollars every year. Plus, you don't need to worry about relocation as just need to carry only your Firestick to your new place.
In this article, let's take a look at some of the best live tv apps for Firestick that lets you watch your favorite tv channels anytime anywhere in the world.
Best Live TV Apps for Firestick
Since most of the free live TV apps for Firestick given below are not listed on the official Amazon app store, you need to sideload the app using their APK files. If you are new to installing an APK file on Fire TV, you can check out our article to Sideload Apps on Fire TV.
Redbox TV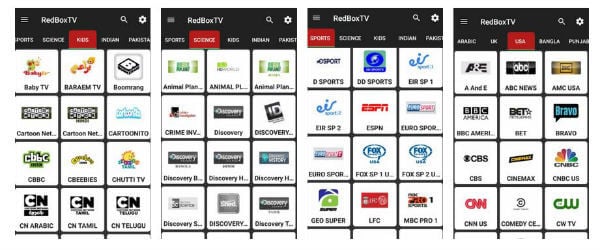 Redbox TV is a free live streaming app that provides 1000+ TV channels from more than 20+ countries around the world. The best part is you don't even need to sign up in order to watch live TV. Just install the app, select your favorite show and start watching. Redbox TV offers 22 categories of entertainment to choose from, including sports, news, movies, kids, and more. Some of the popular live TV channels offered by Redbox TV are CBS, CNN, ABC, ESPN and more.
Download Redbox TV APK (Free)
Live NetTV
Live NetTV lets you watch not only the US live TV channels but also from other countries like the UK, Canada and more. The good thing about Live NetTV is that it provides multiple sources for a particular show/channel. If one source doesn't work, you can always try another source to watch your favorite content. It offers various categories to stream TV channels such as Sports, Entertainment, Movies, Kids, News and more. Plus, the app has an on-demand section for movies and TV shows as well.
Download Live NetTV APK (Free)
Sling TV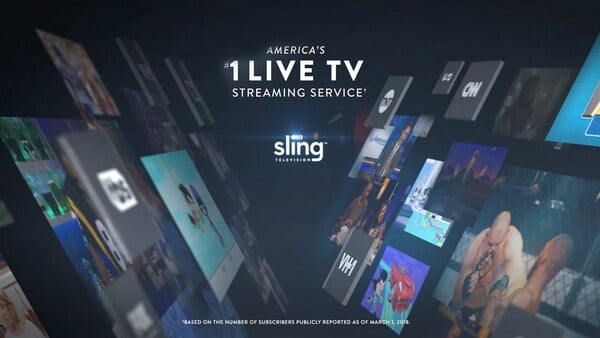 If you are willing to spend some money for watching your favorite live TV channels on your Firestick, then Sling TV is an ideal choice. It is an excellent option to cut down your cable costs as the basic plan starts only at $20 per month. Sling TV not only lets you customize the channels you watch but also supports multiple devices including Firestick, Firecube, Roku, iOS, and Android.
Download Sling TV (Free)
Also read: Best 4K HD Digital TV Antenna (Long Range)
Swift Stream
Swift Stream allows you to watch more than 700+ live TV channels across the world in HD Quality, without spending even a cent. And, you don't need to sign in or register to watch your favorite channels. So? Swift Stream is good for those who would like to watch international tv channels for free of cost. Since there is no official app on the Amazon store, you need to sideload the .apk file on your Firestick.
Download Swift Stream (Free)
Pluto TV
With Pluto TV you can access to 1000+ movies and episodes of popular TV shows. Plus, you can watch free content 24/7 from over 70+ television channels in HD quality. It also offers a VOD (Video On Demand) service for its users at free of cost. Whenever you stream any content using a free app, you cannot get rid of advertisements and Pluto TV is not an exception on that. However, the good thing is that the number of commercials is a bit less when compared with other free live tv apps for Firestick.
Download Pluto TV (Free)
Mobdro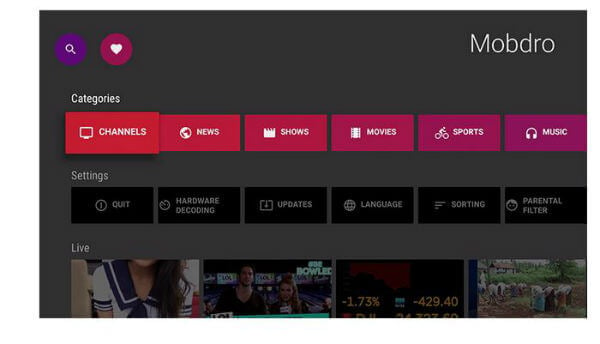 Mobdro doesn't have a default or fixed database of content/channels that the users can choose from. Instead, it searches the web for free streams and organizes them into categories so that users can select their desired ones. It offers both free and paid versions. Mobdro is legal as long as you don't use that to watch restricted or copyrighted streams. It supports multiple devices like Firestick, Chromecast, Smart TV and more.
Download Mobdro (Free/Paid)
TVTap
TVTap lets you watch live tv channels free on Android-based devices like Firestick, phones, tablets and Android boxes. It is totally free to us and you do not need to pay a single penny to use this application. Unlike most of the free live apps which are flooded with ads, TVTap has a 'Remove Ads' option to remove advertisements.
Download TVTap (Free)
VueTV
VueTV allows you to watch over 600+ live channels on various categories like sports, movies, TV shows, music, news and more. It supports devices like Fire TV, Firestick, Android phones/tablets/set-up boxes. It allows up to 5 devices in the same household. VueTV can be accessed anywhere in the world, as long as you have a high-speed internet connection. And, the basic plan costs $18 per month. It also offers a free one day trial as well.
Download Vue TV (Paid)
Nitro TV
Nitro TV is one of the reliable streaming services that allow you to watch live tv channels on multiple devices like Firestick, Fire TV, Windows/Mac computer, Xbox one and more. It lists over 2500 HD streams and offers multiple plans with different device limits (2, 4 or 8). The basic monthly plan costs $20 per month and supports 2 devices.
Download Nitro TV (Paid)
Kodi (Free)
Kodi is ideal for someone who doesn't bother spending some time to explore new things. There are 100+ addons on Kodi that allow you to watch live TV, sports, news, entertainment and more. As long as you are trying to access any copyrighted/restricted content, Kodi can be considered as one of the best free live TV apps for Firestick. If you are new to the world of Kodi, then you can check out how to Install Kodi on Fire TV. In addition to this, you can enhance the capabilities by installing Kodi Addons on Firestick.
Well, if you have a Firestick and some of the above listed live TV apps, then you can watch your favorite local/international channels anytime anywhere in the world. Most of the Fire TV channels can provide live TV sports and shows.