We all are depending on smart phones to save personal files, passwords, contacts, pictures and videos. Obviously we can't think about loosing those valuable data and our smartphone. But once you lost your phone, sad to hear that, there are several ways we can try to retrieve it. It is good to know what are the possibilities you can explore before you loose your iPhone.

File a Report
File a report with the police in the city where the phone was stolen. This may or may not directly lead to the recovery of your phone, but having documentation of the theft may help in dealing with cell phone and insurance companies and, if you can get information about the location of your phone, having the police report on file may be necessary for getting the police to help you recover it. It may require your IMEI or Serial Number of phone, that can help them to track it.
Report to the Service Provider
Immediately report to your service provider like AT&T, Verizon, Airtel…. This may help them to block all calls from that phone or that can be helpful you you to track it. It is a good idea to provide them your phones IMEI to them, that can help them to track it. Also reporting to your carrier disables your SIM card, meaning the thief will no longer have access to your account's data, phone, and text plan.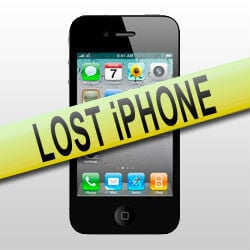 If you misplace your iPhone, iPad, iPod touch, the Find My iPhone app will let you use another iOS device or your iCloud account to locate it. You can choose to display a message or play a sound (Sound will play in full volume), and that may help you to locate your device if it is in your home. You can see your device on map and figure out the location of your device.
If you realize that you left your iPhone in a public place, you may want to protect its contents until it's safely back in your hands. Remotely set a four-digit passcode lock to prevent people from using your iPhone, accessing your personal information, or tampering with your settings.
If you lose your iPhone and displaying a message on it hasn't resulted in its safe return, you can initiate a remote wipe to restore it to its factory settings. When you eventually find your iPhone, you can restore the data using your most recent backup from iCloud or iTunes.
Change Passwords
Your iPhone likely has access to your email, your bank, Amazon, eBay, PayPal, Facebook, Twitter or any other accounts. Sign on to your iTunes, look at the apps you've downloaded and change all the passwords. Then change your iTunes password. This is the least thing you can do to protect your other valuable information.
If you stuck any of the above technical steps, that means you did not took enough precautions with your iPhone before losing it. Please read 4 Essential things should do before lose your iPhone to avoid such mistakes in future.