Apple Watch, being one of the most premium smart wearables in the market, does offer tons of functionalities and features. Even though most of its users are unaware of many of these unique features, there is a lot more you could do. One of such demanding feature is Blood Pressure measurement with Apple Watch. However, lacking the feature to measure Blood Pressure with Apple Watch can be overcome with a budget-friendly solution.
In this article, you will find out how to measure your blood pressure using Apple Watch.
Can Apple Watch Measure Blood Pressure?
Well, considering the number of sensors equipped within the Apple Watch, the device is much ahead of most of its rivals. However, when it comes to the Blood Pressure monitor, one of the basic features that most users want, is not present on Apple Watch. You cannot use the Apple Watch directly to measure your Blood Pressure.
However, you can take advantage of pairing other devices with Apple Watch to gather data and analyze. You can get a third-party Blood Pressure monitor device that can pair with your Apple Watch and iPhone. QardioArm is such a smart blood pressure monitor for Apple Watch and iPhone. Using QardioArm, you can monitor your Blood Pressure using Apple Watch.
Related: 10 Best Smart Body-Fat Scales to Sync with iPhone & Android
How Do I Check My Blood Pressure on My Apple Watch?
As mentioned, you can use the QardioArm Smart Blood Pressure Monitor to check your BP (Blood Pressure) using the Apple Watch. Since there is no inbuilt sensor on Apple Watch for the same, it is important to have one of these devices with you.
To start with using the QardioArm, you need to set it up initially with your iPhone. You can have the Qardio App on your iPhone from the App Store and pair it with the QardioArm. Although, after setting up, it is important for you to install the Qardio App for Apple Watch as well. Here is how to enable Qardio App for your Apple Watch.
Pair Apple Watch with your iPhone.
Open Watch app on your iPhone. Make sure you have the Qardio App installed.
From the My Watch tab, scroll down until you find the Qardio App.
Tap the Qardio App from the list.
Toggle on "Show App on Apple Watch."
The app will now be visible on your Apple Watch too. Now, you can pair the QardioArm on your hands with the Qardio App on your iPhone. If you are done settings up and pairing the QadioArm device with your iPhone, you can now move further measuring your Blood Pressure.

Fasten the QardioArm on your upper arm after pairing it with your iPhone.
Open Qardio App on your Apple Watch and tap "Blood Pressure."
make sure the Start button is green. If it is grey it means the device did not yet pair with the iPhone.
Tap Start.
Stay still until the measurement is finished.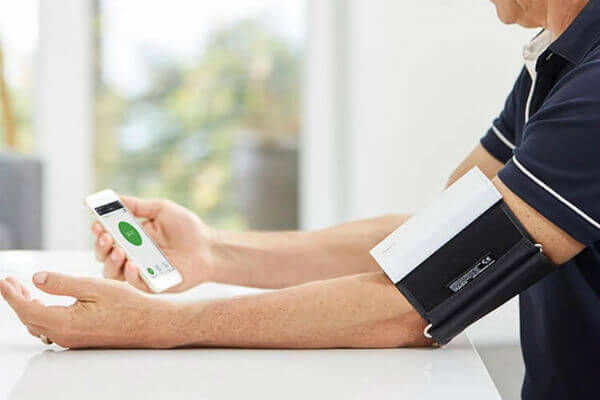 You can then find your Blood Pressure right on the Watch screen with your average heart rate as well. The app will store and sync your Blood Pressure data each time you measure your BP using the QardioArm. Well, you can sync the same data with Apple Health as well as the Google Fit platforms to keep track of your daily health and habits.
Since it records each and every measurement within the app, you can check them at any time through the app. Here is how.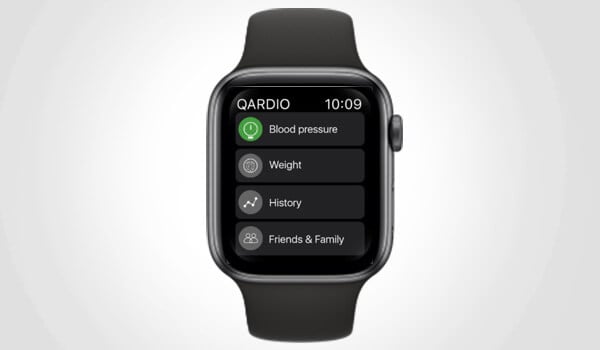 Open Qardio App on Apple Watch.
Tap History option.
Scroll through your Blood Pressure history from past days.
Related: i12 Best Health Monitoring Devices to Work with iPhone & iPad
How to Connect QardioArm with Apple Health?
You can connect the QadioArm Smart Blood Pressure Monitor to your Apple Health to your iPhone or Apple Watch. This is will store data of your Blood Pressure every time and can be used to live a healthy life with suggestions to improve. Follow the steps to enable Apple Helth integration with your QardioArm.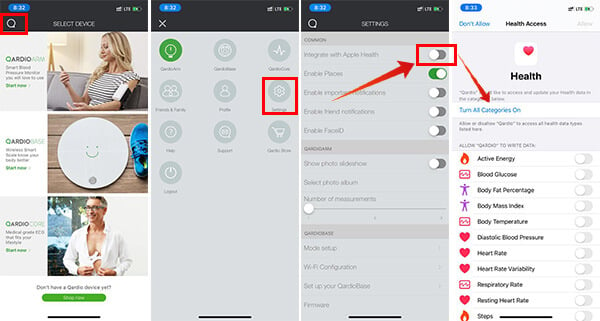 Open Qardio App on your iPhone.
Tap Q icon at the top.
Enter Settings.
Tap to enable 'Integrate with Apple Health.'
Allow permission to share basic data between Apple Health and Qardio.
When you are done, you can also look upon the Health app to find out the Blood Pressure obtained from QardioArm.
Related: 10 Best Portable Power Banks for Apple Watch and iPhone
Overview: QardioArm Blood Pressure Monitor
QardioArm is considerably one of the most accurate smart wireless Blood Pressure Monitor available in the market. Unlike most other devices on the market, you can use this device by connecting to your smartphone or smartwatch including Android Wear and Apple Watch.
The functionality to keep track of your blood pressure patterns and lifestyle habits helps you in many ways. In terms of design, the QardioArm comes with a power bank sized rectangular box where all the sensors are located, surrounded with a durable elastic strap to fasten the device on to your arm.
The company claims it to be clinically validated. Therefore, you do not have to worry about the accuracy of the data obtained from the QardioArm. It has been approved and used by many clinicians to measure blood pressure.
There is no room for doubt in using the device and trusting the data obtained to take as the real-world measurement. With the QardioApp provided along with the device, you can easily set up and start using, which is way more convenient than you can think of.
If you are so concerned about the privacy of the data, it is not being a problem here. Qardio only stores your monitoring data on their HIPAA compliant cloud platform, which means that they can't share any of your data with Medical organizations for advertising or marketing purpose.
With QardioArm paired to your iPhone and Apple Watch, it keeps a record and the same copy within the Apple Health app as well. You can still share your Blood Pressure chart with your doctor using the Qardio App. A single user can connect the device up to eight smartphones, and use it with as many people as you can. You can also send the report then to the doctor as well.
QardioArm Blood Pressure Monitor Features
The major features include irregular heartbeat detection and triple measurement. When you use the QardioArm, it generally checks for your Blood Pressure, Heartbeat, etc. So, when it learns about your heartbeat pattern, it can easily detect an abnormal variation in your heart rate. A similar feature is already there on your Apple Watch (series 3 and later) which helps you early-detect AFib before it hits.

It uses the triple measurement average method in every Blood Pressure measuring in order to ensure accuracy in data. QardioArm generally measures your Blood Pressure three times and takes the average as the accurate measurement value. You can also schedule routine measurements using the app. Here are the other major features of QardioArm.
Irregular Heartbeat detection to find AFib.
Triple Measurement Average calculation.
Result interpretation.
Interactive charts/graphs to find out the history and BP pattern.
Inbuilt geo-tracking.
Easily share data with family and doctors.
Schedules Measurements using reminders.
You can easily carry the QardioArm to wherever you go since the largest face of the device is only around 5-inches. QardioArm uses 4 x AAA batteries, which you can replace very easily at a very lesser cost. Therefore, it is one of the cost-effective smart blood pressure monitors out there.
Get QardioArm BP Monitor for Apple Watch
The QardioArm Blood Pressure Monitor is not that cheap device you could buy from the market. However, since it offers connectivity compatibility and the most accurate data, the price tag can be justified. You can get one QardioArm for yourself at just below 100 bucks from Amazon or direct from Qardio. There are many other combos offers from Qardio line of products if you want to take a leap on your healthcare with a smart device. Qardio offers 3 years of warranty and 90 days of money back policy for the QardioArm.