Meross is taking home automation to the next level with a wide range of HomeKit gadgets. This time, Meross is up with a smart air purifier with Apple HomeKit support. It comes with HK compatible air purifier that includes the HEPA H13 filter.
It's been quite a lot of days since we got our hands on the Meross Air Purifier with Apple HomeKit support. Ever since then, we've made it go through some serious testing. Here, we've got our comprehensive review of the new Meross Smart Air Purifier. Take a look at what this home gadget has up its sleeves.
Watch Meross Smart WiFi Air Purifier Review (Video):
Meross Smart WiFi Air Purifier: Overview
The Meross Smart WiFi Air Purifier is an entry-level air purifier system for your homes. It comes with the Apple HomeKit support and lets you control it with voice prompts. The device features a 3-in-1 filter system which includes a Pre-Filter, True HEPA H13 Filter, and an Activated Carbon filter.
The Pre-filter can sort out animal fur, dander, dust, and other particles in the air. The HEPA and the Carbon filters are where the real action takes place. These filters work hand in hand to eliminate dust, pollen, dander, toxic chemicals, smoke, and odor from your homes.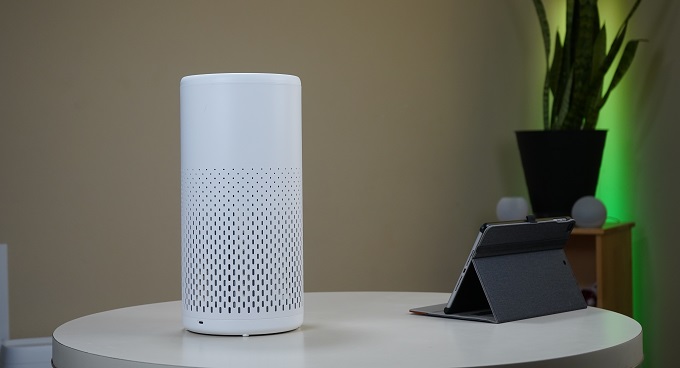 This HEPA air filter works on the 12V@2A USB-C, compatible with similar rating USB-C power adapters. There is quite a lot to talk about from design to performance and many more.
Related: Zigma Smart WiFi Air Purifier Review: Keeping Your Environment Clean and Smart
Meross Smart WiFi Air Purifier: Specifications
Before going further, let's take a look at the complete hardware specifications of Meross Smart WiFi Air Purifier with HomeKit support.
| Specifications | Meross Smart WiFi Air Purifier |
| --- | --- |
| Brand | Meross |
| Model | Meross Smart WiFi Air Purifier |
| Floor Area | 5x Per Hour in 207 Square Feet |
| Noise Level | 25 dB – 50 dB |
| Air Filter | Pre-Filter, H13 HEPA Filter, Activated Carbon Filter |
| Control | Smartphone app, Voice Control (HomeKit, Alexa, Google Assistant) |
| Dimensions | 185 x 185 x 380mm, 5 lbs |
The specs show that the Meross Air purifier is pretty much powerful enough to purify the ambient air in and around an average-sized room. Let's find out if it's a good option to consider for your bigger rooms or office spaces.
Design
The Meross Smart WiFi Air Purifier is elegant in its own way. This air purifier caught my eyes as a big fan of minimalistic design language. The air purifier, as a whole, is compact. It isn't so bulky either and can be taken around your home with ease. The 5 lbs, 185 x 185 x 380mm WiFi Air Purifier houses a stylish metal casing with a 360-degree air intake area.
The tall design with a small footprint makes it ideal for your office or bedroom. According to Meross, this WiFi Air Purifier can purify a collective area of 207 sqft, that too 5 times each hour. The cylindrical design has a touch control panel right at the top. It is surrounded by air vents that reminded me of aircraft turbines. No, they don't move at all, it's just for the clean air to come out.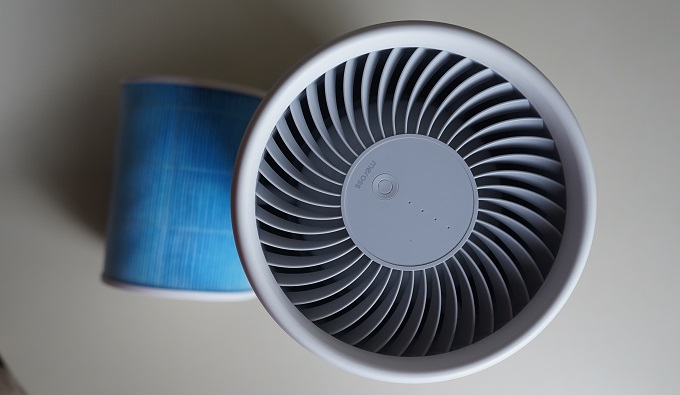 The central control panel is touch-enabled and has the power as well as the airflow controls, all clubbed into a single button. You can get up to 4 air speeds by tapping on the only button you get. This caused some confusion at the beginning, but getting used to it was really fun.
The Air Purifier draws power through the USB C port that you can see right at the bottom. There is a detachable bottom lid that can be popped open with ease. You can find the HEPA H13 filter that can be remounted.
It is important to make sure to place the open part aligned with the air vents of the air purifier. There are also markings to show the position the lid should be in when you're locking or unlocking. If you are planning to get one, don't forget to remove the plastic covering for the internal HEPA filter before trying it out.
Related: 12 Best Air Purifiers with HEPA Filters for Home & Office
Control Panel
The Meross Smart WiFi Air Purifier comes with a touch-sensitive control panel. It is limited to just a single button that I was left dumbstruck with all the functionalities this single button can do. It acts as a power button, speed controller, and as a Reset button.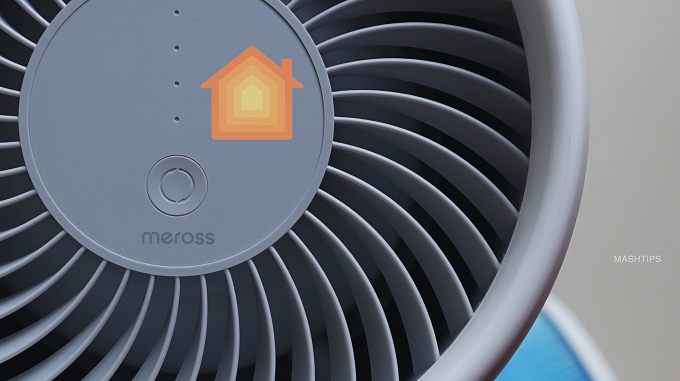 A short touch on the button lets you turn on the Purifier. A short tap on it toggles the speed of air circulation. There is the Sleep, Low, Medium, and High and these are also idealized with a set of 4 green LEDs. A long press on the button switches on or off the Air Purifier. There has been a bit of lag in powering up once the device shuts off. Apart from the physical control panel, everything is controllable via the Mersoss App or via the Apple Home app.
Connectivity
This Smart Air Purifier comes with inbuilt WiFi support. You can connect it with your home WiFi and can control almost all the aspects right from your phone. The Meross Smart Wir purifier comes with Google Home, Amazon Alexa as well as Apple HomeKit support and lets you control everything with your voice.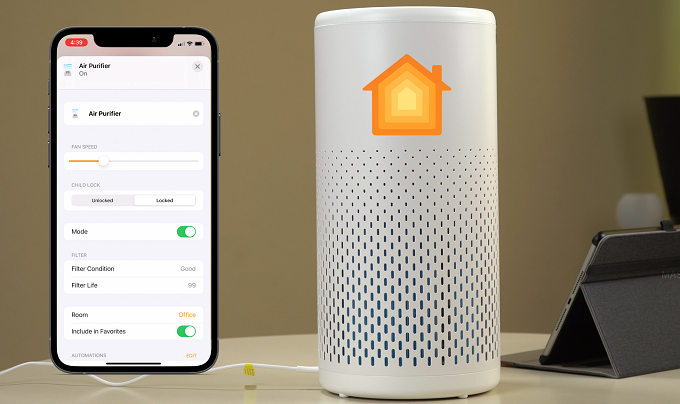 Apple HomeKit features
Once you scan the HomeKit QR code on the Meross Air Purifier you can add the device to the Apple Home App. You will see a bunch of settings and tweaks that you can do to enhance the performance right within the Home app on your iPhone. You can turn on the Air Purifier, adjust the speed levels, and many more. Scrolling down lets you access other features like child lock, filter condition, and filter life. You can even set the automation with the Air purifier right from the Apple Home app.
Google Home Features
Likewise, pairing the device up with the Google Home app also gives all the settings and access to control the Air Purifier. Apart from the basic functional features, like the automation and wireless control, you can connect it with Google Assistant-enabled smart Display for speed control and more. Google Home app only lets you turn on or off the air purifier and nothing else.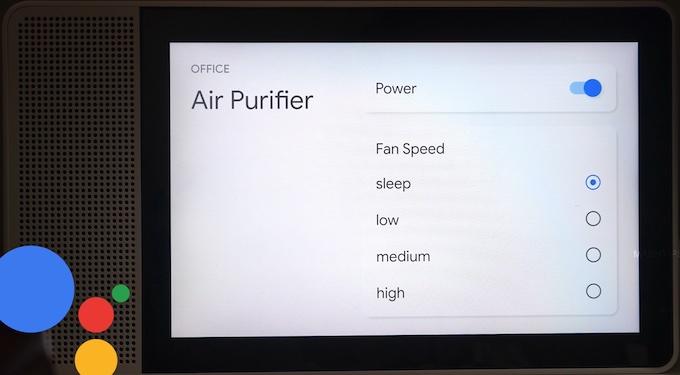 Amazon Alexa Features
Pairing with the Alexa app also gives you access to control the Air Purifier. There isn't any automation setup available with the Alexa ecosystem right now and hence the app-based operations are a bit limited. Although, you can still use your voice to control the Meross Smart WiFi Air Purifier from the Alexa speaker.
Meross App features
Scanning the Setup QR code directly takes you to the Meross Home App. The app will update you with the air filter life. There is a quick selector button for speed, modes, and child lock right at the lower end of the home screen.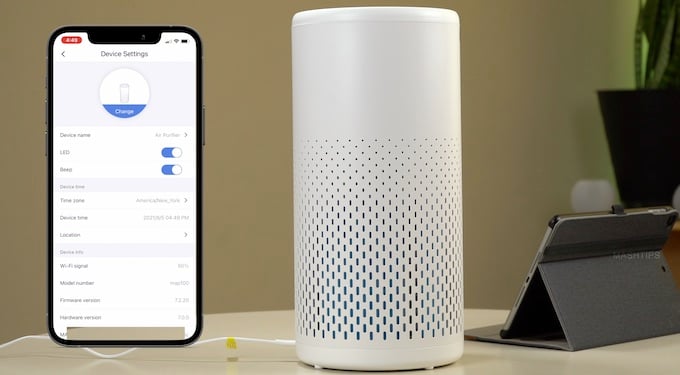 There are other settings and options if you go to the menu. you can find the LED and Beep disable option, Auto Time Zone, location detection, and many more. You can even find the software version details and update features with ease.
Related: 15 Best Smart Home Devices Compatible with Apple HomeKit
Air Purifier Perfromance Tests
The Air purifier was put through some serious testing for us to make sure it acts on time. We did the air quality check and to our surprise, this smart air purifier idealized the values of air quality in and around the room within no time.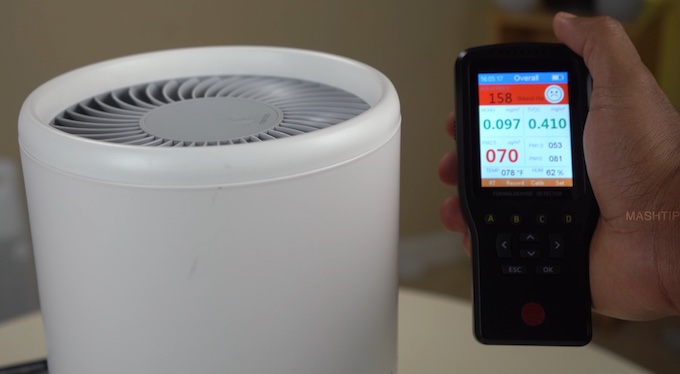 We filled the room with smoke from incense sticks, which were in the potentially harmful level of pollution, and then tested the air coming out of the Meross air purifier. You can see the below picture to get an idea of how well it works even in such conditions.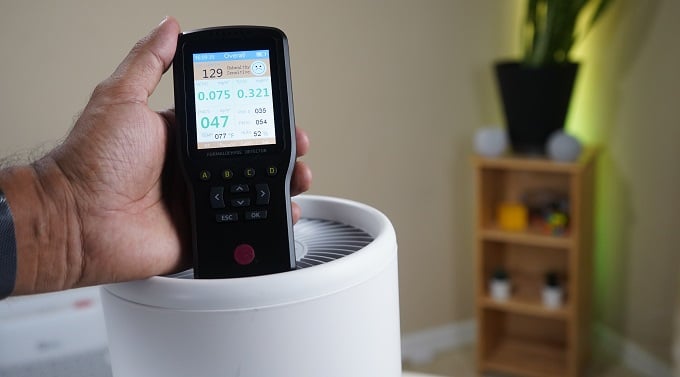 We have explained our pollution experiment with the Meross Smart WiFi Air Purifier in our review video. Check it out on YouTube.
The HEPA H13 filter coupled with a prefilter does a great job in keeping the ambient atmosphere pure. There is also the activated carbon filter to cleanse the air with particulate matter. So far, we were pretty much happy with what the Meross Air Purifier can do with its high-speed air purification action.
We also did a bit of noise level test and compared it with some of its rivals. The Sleep mode clocked the most silent operation. Apple Watch couldn't detect since it was less than 30 dB (which is the lowest noise it can detect) so the air purifier is running at around or below 30 dB. For instance, a silent night is as loud as 30 dB in which we can have some sound sleep without any disturbances. Meross sleep mode is quieter than your usual nights, so nothing to worry about.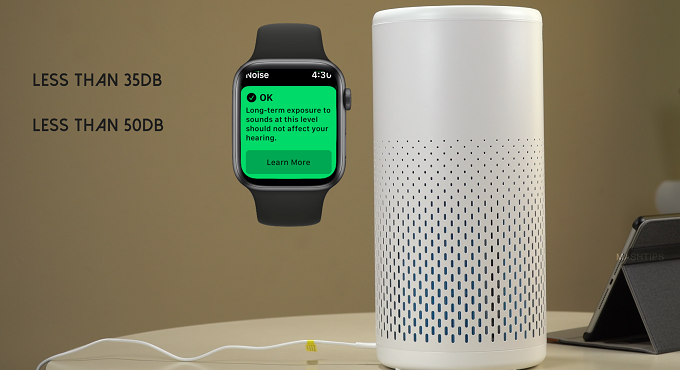 The Medium and the High-speed settings do have a bit of noisy operation but that's acceptable. On the whole, the noise level test, as well as the air quality check, was aced quite well by this smart air purifier. The highest noise level we have found so far is 50 dB which is not too loud for daytime conditions.
Related: 12 Best Noise-Canceling Headphones for Great Music Experience.
Filter Maintenance and Cleaning
The Meross Smart Air Purifier comes with an internal detachable HEPA filter. The cylindrical filter unit has one of the sides open to facilitate airflow. According to Meross, this is a 3 stage air filtration setup that includes a pre-filter, the True HEPA 13 filter, and a carbon-based filter.
On average use, we cleaned the filter at least once in a couple of weeks. It can change based on your usage. Cleaning the HEPA H13 filter was pretty easy with a hand vacuum (better with a brushed tip). Meross advises replacing the filter every 4 to 6 months to keep its performance top-notch.
How to Reset Meross Smart WiFi Air Purifier with HomeKit
When we started using the device, the connection with the Meross Home app was a bit unstable, which was fixed in a recent update. However, a quick reset fixes the Air Purifier connectivity issues, and here is how to do that.
To reset Meross smart WiFi Air Purifier, switch on the purifier and then long-press the top button for around 5 seconds until you hear three beeps. If the four LEDs are blinking together, it means the smart air purifier is in setup mode and you can set up using the app as new.
Meross Smart WiFi Air Purifier: Pros and Cons
The Meross Smart WiFi Air Purifier has many features that are pretty much essential for your home. However, there are some adverse sides too. Here are the best and worst things we experienced about the Meross WiFi smart air purifier.
What we like:
Compact design
Supports all 3 SmartHome set up (HomeKit, Alexa, Google Assist.)
Universal USB-C power supply
Quiet operation
What we dislike:
Small capacity, ideal for small rooms only
No auto-mode available
No built-in AQ meter.
Only 2.4GHz WiFi support
What Is in the Box
Now let us see what you will be getting with the whole delivery apart from the Air Purifier. Within the Meross Smart WiFi Air Purifier package, you will find,
1 x Air Purifier Unit
1 x USB Type C power adapter
1 x Detachable HEPA H13 filter
1 x A pre-filter unit
1 x User manual
Thanks to minimal accessories, there aren't any hectic installations. All you need to do is to pop out the rear mount and place the HEPA filter within the purifier. We'll talk more about it in the design part.
Pricing and Availability
The Meross Smart WiFi Air Purifier is a great entry-level air purifier that supports Apple HomeKit. It is a great choice for your homes or office spaces where you require quick and reliable air purification.
As of now, you can get it only from Meross' official website at a discounted rate. At present, you cannot head to Amazon to look for the Meross Air Purifier. We will let you know once they are listed.
Final Verdict
The Meross Air Purifier is one of the entry-level Apple HomeKit supported air purifier available as of now. It suits an average-sized room and has a compact design. The touch-sensitive control panel combined with the metal housing gives it a premium look. The 3-speed modes, as well as the sleep modes, are all working within the safe noise level.
The sleep mode is so quiet that you'll barely notice any but of sound from the gadget. However, the coverage area is too small compared to its rivals in the market. As far as we are concerned, the WiFi purifier does what it's meant to do, its own way and that earns it a thumbs up from our side.
There isn't quite a lot of other cons to worry about and being an entry-level smart air purifier with support to Apple HomeKit makes Meross Smart WiFi Air Purifier a great choice to look out in its league.