Your iPad or iPad Pro is so powerful that it can even handle many tasks so easily than an average Windows PC. But sometimes you might need a Windows PC to get things done and the apps on iPad won't be enough. If you are not a PC guy, here are some methods you can access and use Windows PC on your iPad at times.
Let's begin. Some of the methods need you to have an actual Windows PC while one method lets you use Windows on an iPad without a PC at your home or office.
Use Windows 365 on iPad
Microsoft announced the new cloud computing platform Windows 365 for those who want to access Windows apps without having an actual PC. The subscription-based model gives you access to a cloud-based Windows PC where you can run any Windows apps, and use it as your home PC.
If you are an iPad power user and have been waiting for something like this to run Windows on your iPad, you are now closer to this reality. As of now, Windows 365 is rolled out to selected businesses and enterprises. Hopefully, Microsoft will roll out Windows 365 for personal usage very soon. Once it is out, you can sign up and subscribe to any of the models from the Windows 365 website.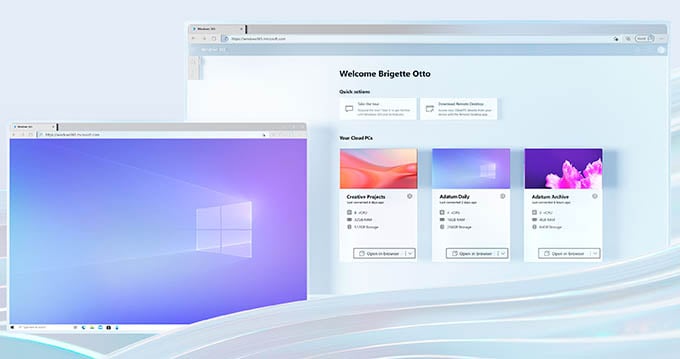 Here are the Windows 365 subscription plans that are currently available:
| | Basic | Standard | Premium |
| --- | --- | --- | --- |
| Cost/mo | $31 | $41 | $66 |
| CPU | 2 vCPU | 2 vCPU | 4 vCPU |
| RAM | 4GB | 8GB | 16GB |
| Storage | 128GB | 128GB | 128GB |
| Usage | Web, Word | Business apps | Power usage |
Once you configure and purchase any of the Windows 365 plans for your usage, you can now run the Windows on your iPad or iPad Pro.
Although you can access Windows 365 from Safari or other web browsers, it is better usable from an app. Microsoft lets you access your Windows 365 right from the Microsoft Remote Desktop app.
You can then use your iPad like a Windows PC and install apps on them. Plus, you can switch between apps however you want and then switch back to Windows apps anytime you like.
Access Your Windows PC with Microsoft Remote Desktop
The above method with Windows 365 works perfectly fine if you do not have a Windows PC. But you need to spend a hefty amount of money every month to get it on your iPad. If you already have a Windows 10 PC, consider yourself lucky.
You can use Windows on your iPad without even spending another dime All you need is the Microsoft Remote Desktop app installed on your iPad and PC.
The remote desktop app allows you to establish remote connectivity with the PC from your iPad. You can see your PC screen on the iPad and control it using the touch screen.
One interesting fact about this is that it is totally free and you can access your Windows PC from any corner of the world. But for that, you need to keep your Windows PC turned on full time and make sure it is connected to high-speed internet.
Use Chrome Remote Desktop
Another trusted way to use Windows on your iPad is to use this remote desktop tool from Google. The Chrome Remote Desktop is a lightweight tool that you can use to access your PC from anywhere.
Like the Microsoft RDP, Chrome Remote Desktop is also an app for iPad and you can access your Windows or Mac as you like. For that, you should have the Google Chrome browser installed on your PC in the first place.
Play PC Games on iPad
We totally get you if you have been trying to run Windows on an iPad for gaming purposes. It will obviously help you excel in games with the iPad's touch screen. But to play PC games on iPad, you do not need a fully-fledged Windows OS. There are many platforms you can sign up to play PC games on the cloud. You can use the same on your iPad to start playing PC games.
Some of the cloud gaming platforms are paid of course, but there are some free ones too. GeForce NOW is a free cloud gaming platform you can sign up to. As of now, you can use GeForce NOW only if you are from the United States.
From within the GeForce now app, you can choose any game, choose the game launcher like Epic or Steam and start playing. For a better gameplay experience, connect some MFi game controllers as well to your iPad.
Using an iPad, you should be able to do many tasks quickly. But you can still access the Windows counterpart right from your iPad anytime using the methods we described here. Make sure to choose the right method that works for your need.