Are you annoyed with the camera shutter sound on your iPhone every time you capture a photo or screenshot? Unfortunately, iPhone does not have any direct option to turn off the camera sound. However, there are some workarounds using which you can mute the camera sound or reduce it to a bare minimum on iPhone. There are different ways to mute shutter sound on Android as well.
Here are the best ways to turn off camera sound and screenshot sound on iPhone.
Why Does My iPhone Camera Makes Sound?
The iPhone camera makes a shutter sound while clicking photos in order to mimic the shutter noise in actual cameras. Despite being a fancy feature that makes a shutter clicking sound, this is to ensure others' privacy so that one will know if they are being photographed.
Why Cannot I Turn Off Camera Shutter Sound on iPhone?
Although there are plenty of ways to turn off the camera clicking sound on iPhone, some models do not still disable the sound. If you purchased an iPhone from Japan (or iPhone models made for Japan), you cannot turn off the camera shutter sound. Apple made it impossible to disable camera shutter sound in such countries to abide by the law that ensures all smartphone cameras make noise while clicking photos.
In case you have an iPhone made for Japan, there is no way you can disable this sound. The iPhones made for other markets have the option to turn off camera sound. Are you confused about which country model iPhone you do have? On your iPhone, go to Settings > General > About and see the model number. If the model number ends with J or JP, you have a Japanese iPhone, and does not let you turn off the shutter sound.
Best Ways to Turn Off Camera Sound on iPhone
Unlike Android phones, you will not find an option to toggle off the Camera Shutter sound or Screenshot sound on iPhone. There are, however, certain workarounds through which you can turn off the camera sound and screenshot sound on your iPhone.
Turn Off Ringer Switch to Put iPhone in Silent
Do you know the quickest option to turn off the Camera sound on any iPhone? By using Silent Switch. Go ahead and toggle off the ringer switch on the side of your iPhone (make the orange visible).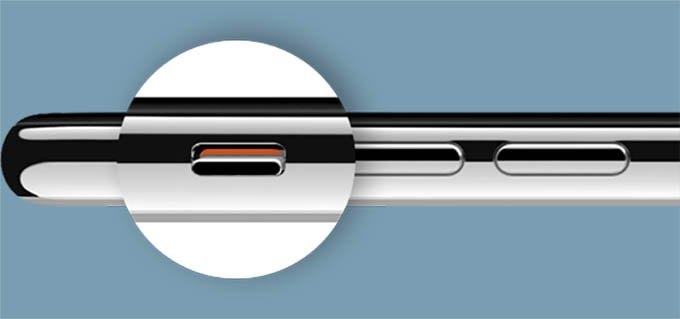 Then, you will see a message "Silent Mode On" on the top of your screen. Now, if you capture photos or take screenshots on your iPhone, you won't hear a sound at all.

Make sure you turn off the silent switch you are done capturing photos. Otherwise, your device will be in silent mode and you will miss ringing alerts.
Related: How to Quickly Set iPhone Mute (in Silent Mode) By Tapping Back
Turn off iPhone Camera Sound Using Volume Buttons
The camera shutter sound will be definitely irritating especially if you are capturing photos at night or in quiet places. If you plan to take many photos on your iPhone, then reduce the volume using the volume down button on the side. Keep pressing until the Ringer sound lowers, as shown in the below screenshot.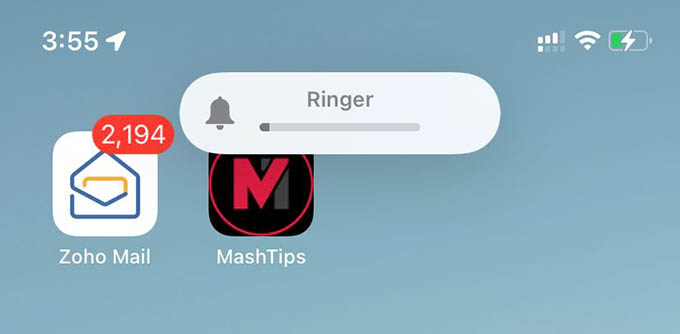 Do remember that you need to do that before opening the Camera app. Because, if you try to use the volume buttons while in Camera mode, it will only take pictures.
Lower Volume of Camera Sound from Control Center
Another way to reduce the volume of Camera sound while taking photos is by using the Control Center. Even if your camera is ON, just swipe down from the top-right on your iPhone to launch Control Center. In older models like iPhone 6, you have to swipe up from the bottom edge of the screen to open Control Center.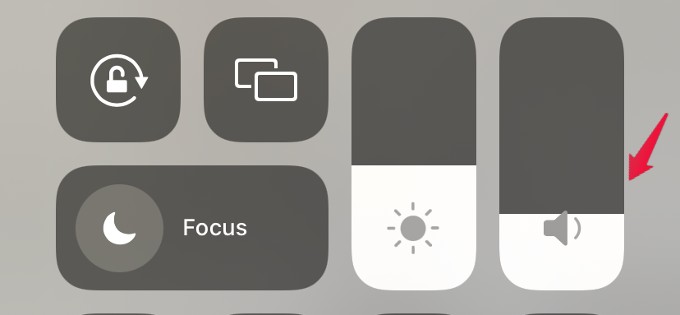 Then look for the speaker icon and drag the slider down with your fingers. If the slider is dragged all the way to the end, then the volume will be reduced to zero so that the camera sound is completely turned off.
Related: 6 Best iPhone Control Center Features to Access Settings Quickly
Enable Live Photos
When you enable Live Photos, you will not hear a sound while capturing photos. To capture live photos, open the Camera app on your iPhone and tap the Live Photos icon (circles) at the top right.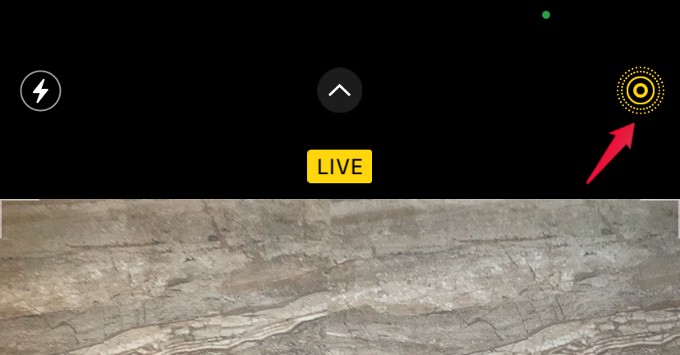 Now, if you take photos you will not hear the shutter sound anymore. However, this is not applicable for screenshots and you will still hear a sound while taking that.
Related: How to See Photo Size and Other Photo Metadata on iPhone Photos App
Take Photos Without Sound While Recording Video
Did you know that your iPhone allows you to take pictures while recording a video and you will not hear the shutter noise during that time?
Open the Camera app on your iPhone and tap Video. Then, tap the Red button to start recording a video. Once the recording has started, you will see a small white circle at the bottom right of your screen. If you tap that white circle, the image will be captured without any sound.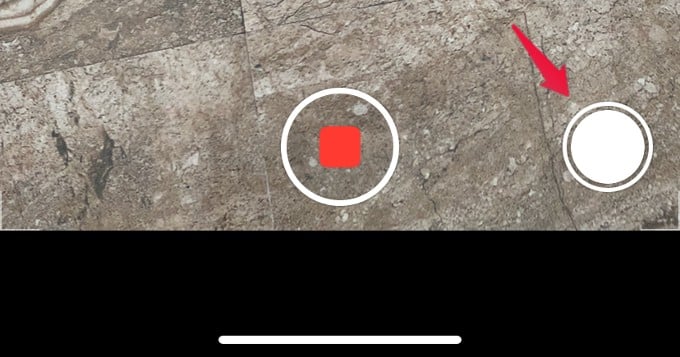 Though you might think this is not an effective option as the recorded video will use storage on your iPhone, still this gets the job done.
Related: How to Record Videos with Stereo Sound on iPhone
Connect Headphones to Turn off Camera Sound
If you connect any headphones (Wired or Wireless) to your iPhone while taking photos or screenshots, you will not hear the shutter sound. Because the sound will be redirected to your headphones. Of course, if you wear headphones while using your iPhone camera, you will hear the camera sound.
Well, we hope that these workarounds will help you to turn off the camera sound on your iPhone Apple provides an option to mute the camera sound.