Have you noticed that your phone's camera makes a fake shutter sound when clicking pictures? On most Android phones, the camera makes this sound even in silent mode. Unfortunately, Android doesn't make it very easy to turn off camera shutter sounds.
Here are the best ways to turn off the annoying shutter-clicking sound on your Android phone.
Turn Off Camera Shutter Sound on Android
This is not because Google just forgot about it, though. It is rather illegal in many countries to turn off the camera shutter sound. For example, Japanese laws mandate that phone cameras make a sound when clicking pictures. So, if you live in such a country, your Android smartphone would very likely not allow you to turn off the camera sound.
If you don't live in Japan, or a country with similar laws regarding camera shutter sounds, you can easily turn off camera sounds.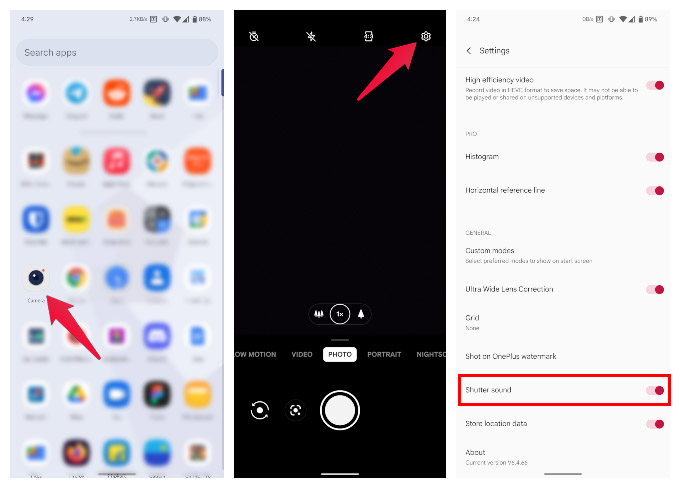 Open the default camera app on your phone.
Tap on the Settings (gear/cogwheel) icon at the top.
Once in the Camera settings, scroll down until you found a setting labeled Shutter sound.
Turn off the toggle next to Shutter sound.
Different phones may have a slightly different look and placement for the settings. For instance, on Mi phones, you'll have to tap on the menu icon before you see the settings icon. On Samsung, the settings icon is located on the left side instead of the right. For Oppo, & Vivo, things are the same as OnePlus.
Similarly, on a OnePlus device, the concerned setting had the Shutter sound label. This is the same for most other smartphones such as Samsung, Oppo, Vivo, Xiaomi, and more.
Related: How to Turn Off Screenshot Shutter Sound on Android
Disable Camera Sound on Google Pixel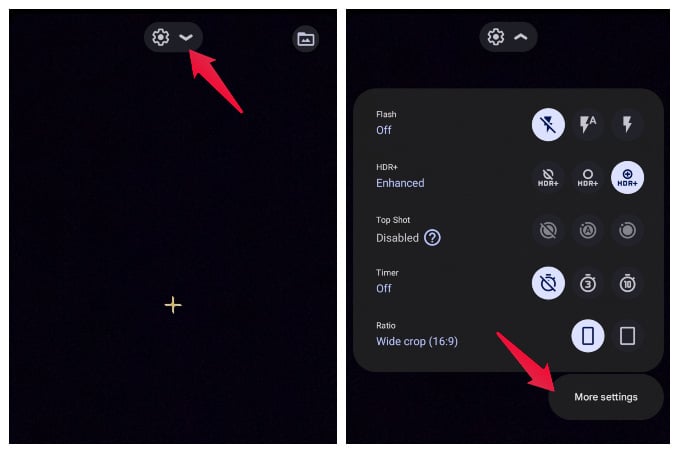 For Google Pixel, you have to tap on the downward arrow at the top, then tap More settings at the bottom. On the Pixel, you will find the Camera sound toggle towards the top. It is, in fact, only the second option on the list.
These settings are the same if have a phone with the Google Camera app installed. Otherwise, make sure to check the first method mentioned in the previous section.
Turn Off Camera Sound on Samsung Phones
On a Samsung device, there are a few other ways to turn off camera sounds as well. If you have a Samsung phone, you can turn off camera sounds just by putting it in silent mode.
Moreover, you can lower or completely mute the System sound on a Samsung device from the Volume slider. This, too, turns off camera sound on a Samsung device.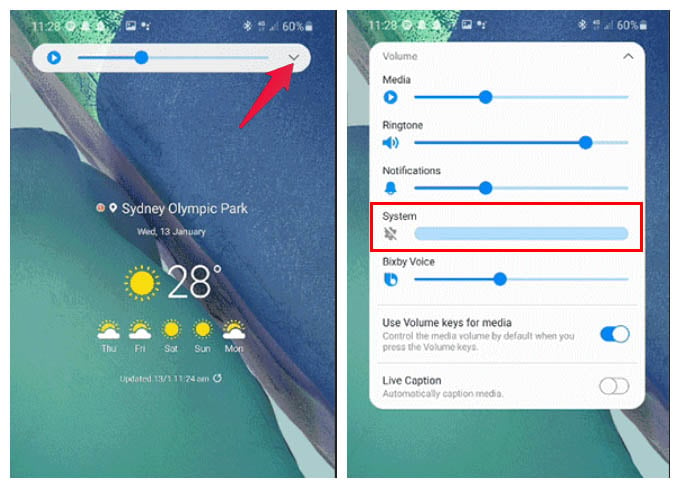 Press either the Volume up or Volume down button.
Tap on the downward arrow on the Volume slider.
Drag the System sound slider all the way to the left.
Related: Find and Control Which Android Apps Can Access Your Mic & Camera
Use Third-Party Camera Apps on Android
The default camera on your phone will keep making the shutter noise whenever you take a picture. Plus, the options are very limited there. You can, instead, use third-party camera apps to get an all-out solution for this issue.
Most of the third-party camera apps for Android let you silence shutter sound and change many other settings as well. If you are confused about which one to use, there are tons of selfie camera apps and split camera apps available for Android phones.
If your Android device does not support turning off the camera sound from the camera settings, you can still do this. But you might have to use third-party apps or mods. We would encourage you to check your local laws first, however.