Apple first introduced the Haptic Touch feature to iPhone XR models, and has since extended this part to other iPhone models. This touch-and-hold gesture opens a second pop-up menu that allows you to perform many functions without opening the app. iOS 16 allowed you to adjust the speed of Haptic Touch, but Apple has greatly improved the speed with iOS 17.
How to Enable Fast Haptic Touch on iOS
With iOS 16 or iOS 17, you can set how quickly secondary or overflow menus appear when you press and hold an app or icon. iOS 16 has only two speeds, whereas iOS 17 offers three options. Let's see how to configure the haptic touch.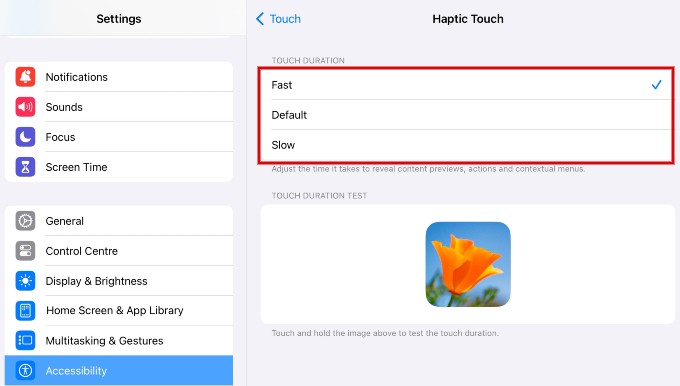 On your device, go to Settings->Accessbility.
Tap Touch under the section PHYSICAL and MOTOR.
In the Touch screen, tap Haptic Touch.
Under the section TOUCH DURATION, you can select any values: Fast, Default, Slow.
Note: iOS 17 has not been released yet, and the above feature is tested with the developer version of iPadOS.
After selecting the value, you can touch and hold the image below to check how it works. For example, if you have set the value Fast, the overflow or contextual menu will show up in a shorter time than the other values.
If you are using iOS 16, you can see two options Fast and Slow. The Fast and Slow in iOS 16 are equivalent to Default and Slow in iOS 17. The Fast in iOS 17 is much faster than the Fast in iOS 16.
If you are a fan of the 3D touch functionality that Apple discontinued, you will love the Haptic touch as it mimics that.
The introduction of Fast Haptic Touch on iPhone/iPad running iOS 17 provides users with an enhanced and efficient way to interact with their devices. Fast Haptic Touch utilizes the device's haptic feedback feature, allowing users to perform actions quickly and conveniently by applying pressure to the screen.
With Fast Haptic Touch, users can access additional functionality and shortcuts through a simple touch-and-hold gesture. This feature enables quicker access to various app actions, previews, and contextual menus, enhancing productivity and convenience.
To make the most of Fast Haptic Touch, users should familiarize themselves with the specific gestures and actions supported by the feature. They can explore and experiment with different applications to discover the various functionalities that can be accessed using Fast Haptic Touch.
Fast Haptic Touch on iPhone/iPad with iOS 17 is a valuable addition that enhances the user experience by providing quicker access to frequently used features and actions. It streamlines interactions with the device, saving time and effort while improving productivity.